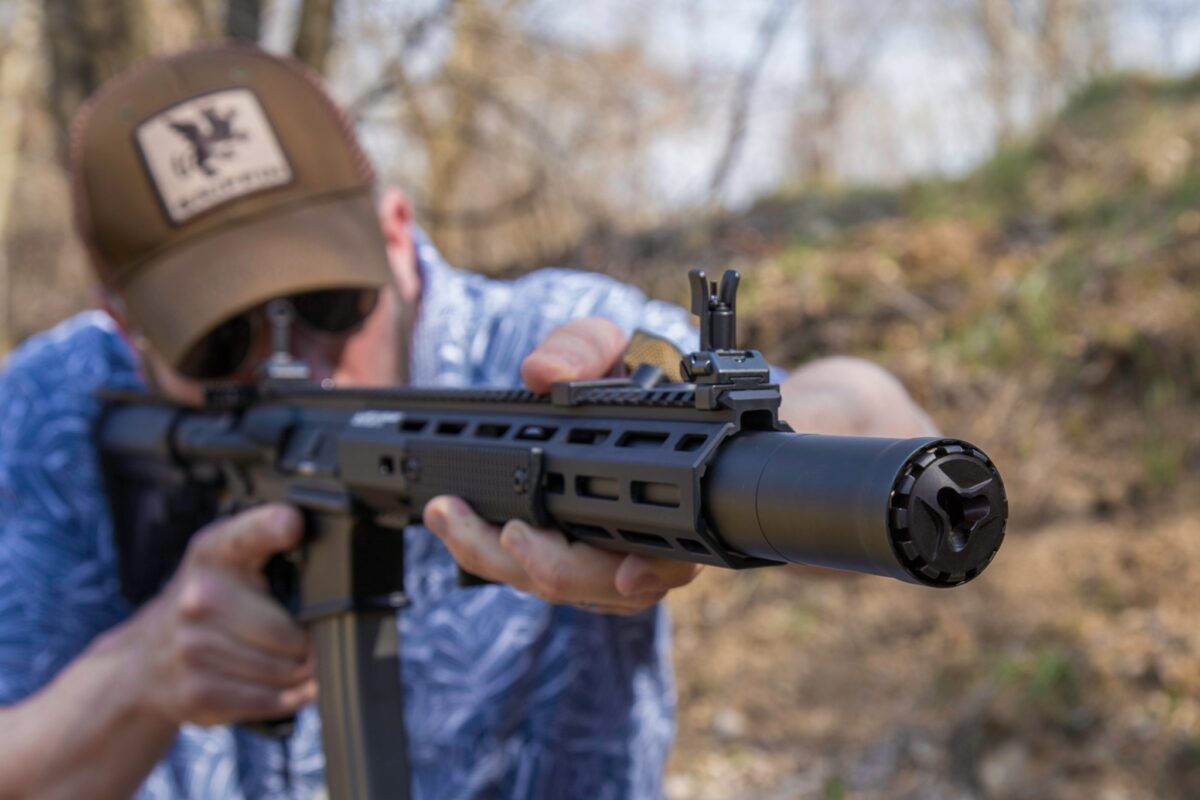 Griffin Armament is a veteran-owned and operated company that offers a wide variety of suppressors and firearms accessories. We recently sat down with Christopher Snay from Griffin Armament to discuss why you might want to use a suppressor, and the company's offerings, including their new SR-RIGID, which allows you to fit a suppressor underneath it.
Q: Christoper, thanks for your time. Let's start with a bit about Griffin Armament and why you think suppressors are worth considering for those new to the idea.
Christopher Snay, Griffin Armament – Griffin Armament is a privately owned company started by two brothers after their service in the military. They had first-hand experience using firearms, suppressors, and accessories, and due to that, they had lost a significant amount of hearing. The company's goal was to help further shooting sports while helping their customers protect their hearing at an affordable cost, making suppressors available for everyone.
I think that silencers are something that everyone out there who reads your website should strongly consider. For myself, I worked on a range for over a decade, and over time, I lost some of my hearing as well. Even wearing hearing protection, you can get sub-cranial vibrations, where the sound is still penetrating your eardrums and causing damage. The only way to protect your hearing is to shoot suppressed, in my opinion. Of course, a suppressor isn't going to make your firearm "movie quiet," but the difference is still quite profound.
It's also just quite simply a lot more fun to shoot suppressed. There are many benefits to having a suppressor, but to be honest, there's kind of a cool factor to them as well. That's especially true for me when I'm shooting at steel targets downrange. To get those audible confirmations downrange is always very satisfying. It also makes it easier to teach your kids or someone new to firearms how to shoot effectively.
A big reason that I own multiple suppressors is for home defense. My nightstand gun has a suppressor on it. God forbid that someone breaks into my house, I won't have time to put on ear protection, I'd be focused on addressing the immediate threat. Firing a gun indoors is like a flashbang. There's going to be a bright flash and concussion that occurs, both of which can be mitigated with a suppressor.
It's just an excellent investment and something that should be on everyone's shortlist, depending on the laws in their state. There are many myths out there, and I would encourage your readers to get up to speed about what is required and then begin researching what suppressor is right for them. There is a ton of information out there, and we're also happy to help.
Q: Can you talk about what Griffin Armament offers?
Christopher Snay, Griffin Armament – Silencers are our bread and butter and what we are most known for, but we are also a firearms manufacturer. We offer AR-15s, parts, and accessories. We have a scope mount line, a wide variety of muzzle devices in just about every thread pitch you can think of. The first product that we did that has been a flagship is our Recce series of suppressors. They are a tank of a can and are incredibly overbuilt, with the idea that they will last the end-user a very long time. There are no barrel length restrictions, stainless steel in its entirety, and it utilizes our taper mount system, which is ideal for minimal and repeatable POI shift. It's not a true quick detach suppressor, but the taper mount system ensures solid lock up while ensuring that your suppressor is concentric to the bore of your firearm.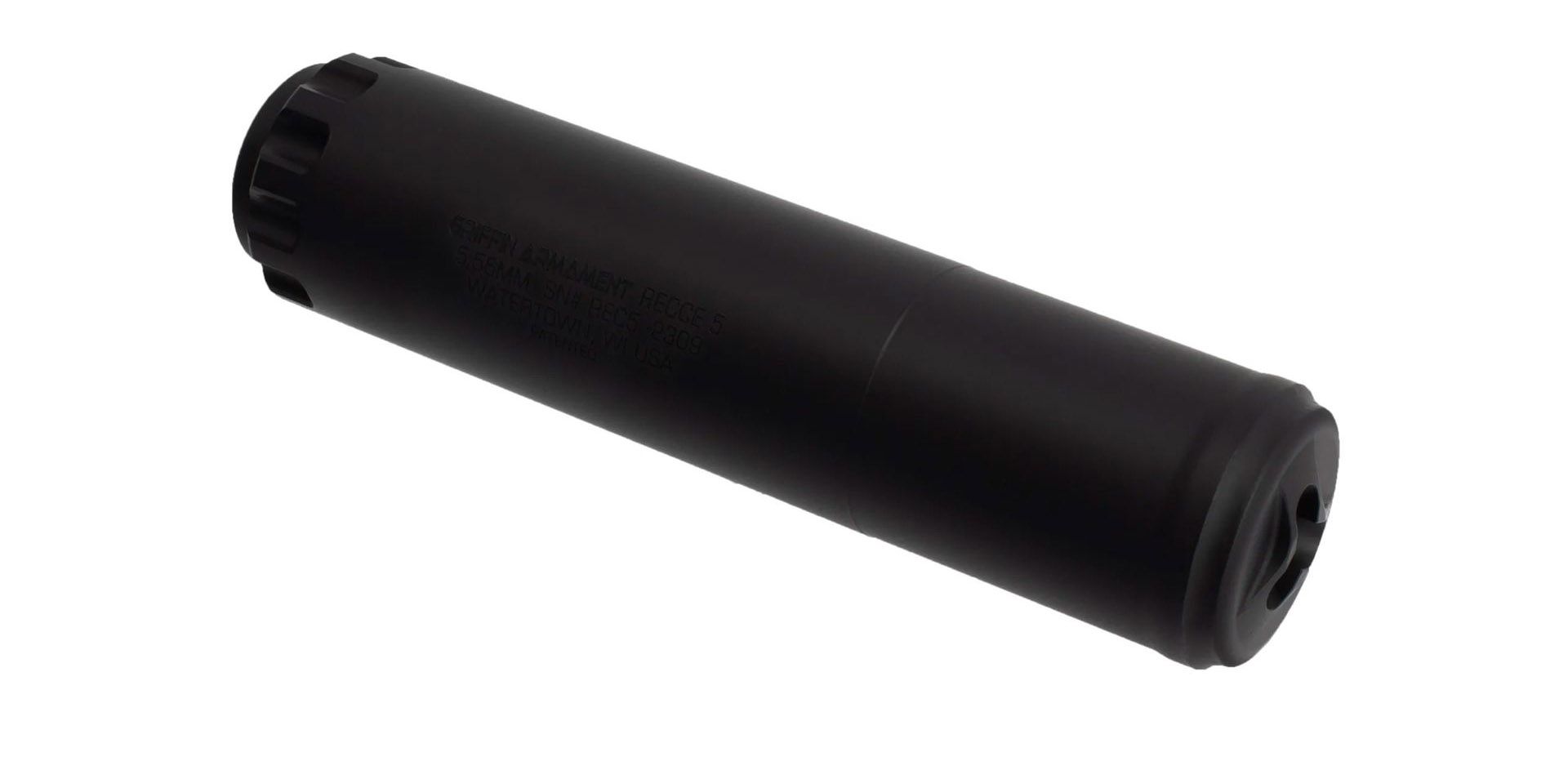 Griffin Armament Recce 5 5.56 Suppressor With Taper Mount
We are also known for our Optimus and our Bushwacker series of suppressors, which are offered as sort of a "one-size-fits-all" silencer for end-users who do not want to drop a thousand dollars on five or six different cans. Instead, they want one in their safe that can do anything. The Optimus is phenomenal because it can cover everything from .22LR to 300 Win Mag, and just about everything in between, such as .223, 300 Blackout, 308…
One of the biggest questions we get from those new to suppressors is just how many they need, as they often own several firearms and want to know what is compatible. Having something like an Optimus or Bushwacker is a great, simple solution, especially if you are shopping for your first can. It gives you a tremendous amount of versatility in a single package. That said, if you are just looking to suppress an AR, I'd likely lean towards something more dedicated to just that platform, as you'd probably get better sound performance than from a more universal can.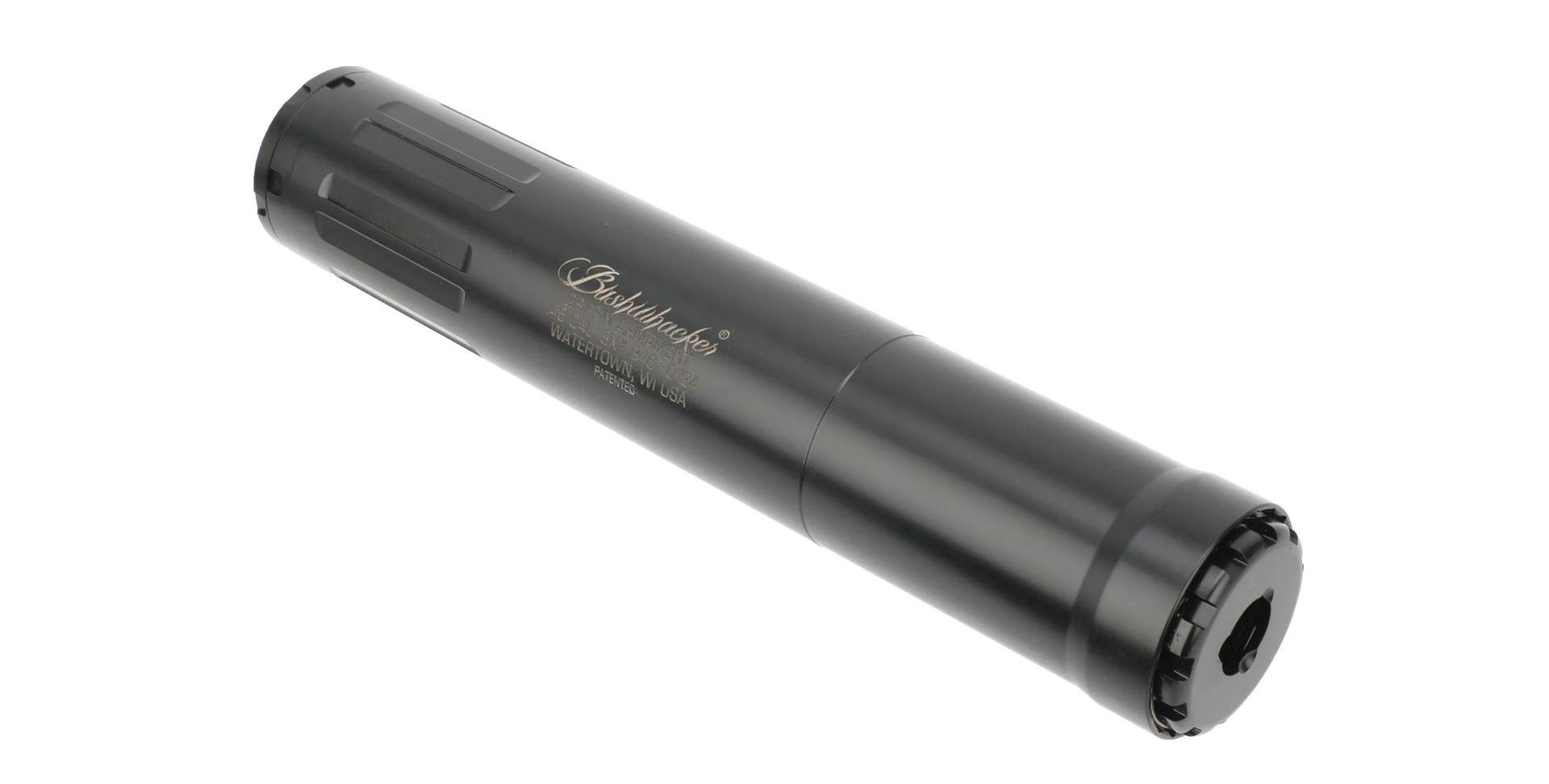 Griffin Armament Bushwhacker 46 Cal Modular Suppressor
Q: What is the story with the Bushwacker that you offer?
Christopher Snay, Griffin Armament – The same can be said for our Bushwacker can as well. It's a bit bigger, but it can handle larger calibers…it can take everything from .22LR to 45-70, and anything between, like .458 SOCOM. We don't rate it for .338, but it can shoot that as well, so it's a highly versatile can that also uses our taper mount system. It comes with that out of the box, but it can also use 1.375 x 24 rear interface, which is somewhat becoming a loose standard in the silencer industry as it allows end-users to swap mounting devices. So, if someone has a competing brand's can and wants to run our devices, they can.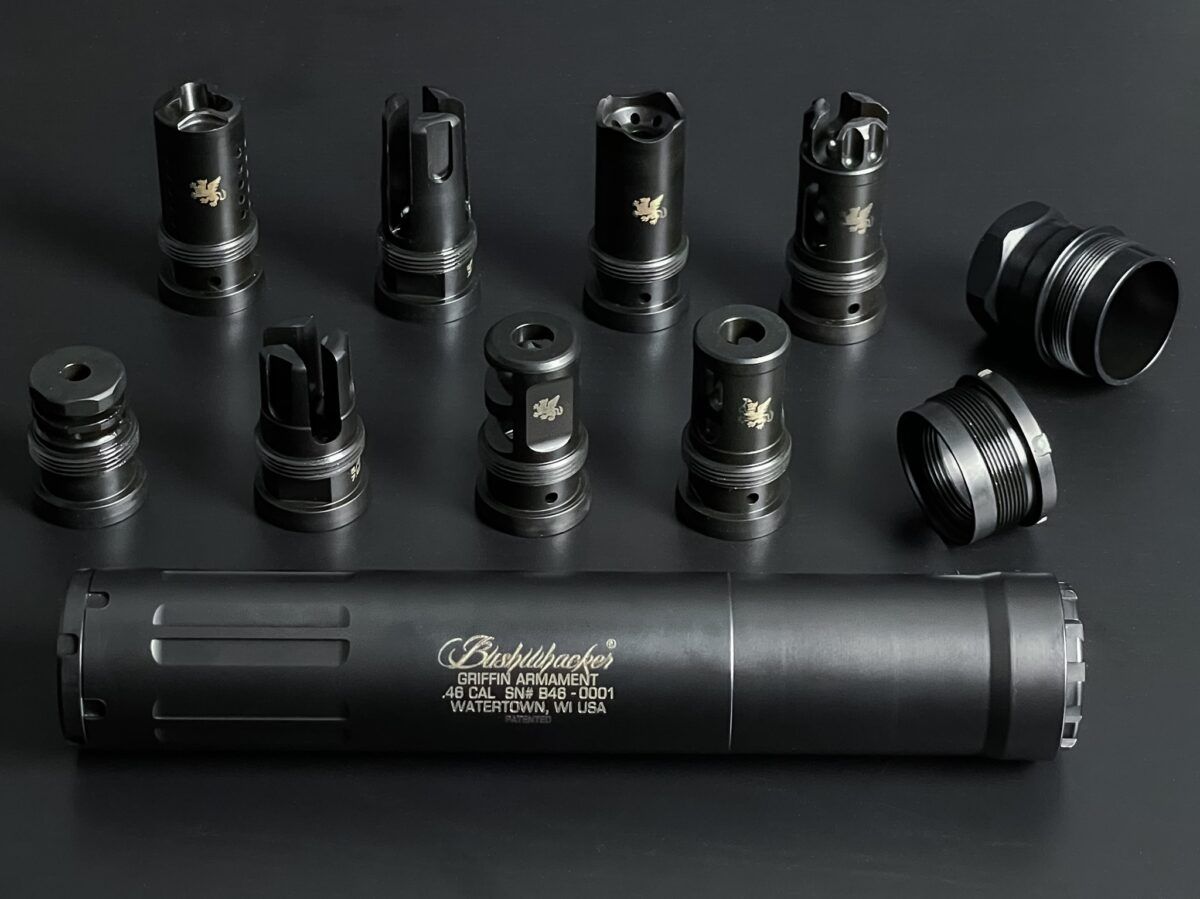 Moving on from there, The M4SD series is a part of our Gate Lok family, of which we own several patents. It's an extremely simple, low wear-prone geometry, so you don't have to worry about ratcheting systems or anything like that. It's a straightforward process of opening a gate and then closing it onto your muzzle device.
The cool part about the Gate Lok family is that they will work on many USGI A2 government contract compliant muzzle devices, not just ones from Griffin Armament. Each unit does come with its own muzzle device, but as long as the muzzle device you have has a Colt Mil-Spec Muzzle device on it, the suppressor will lock down tight to the grooves on it, and you're then good-to-go. You can mount it and then forget it.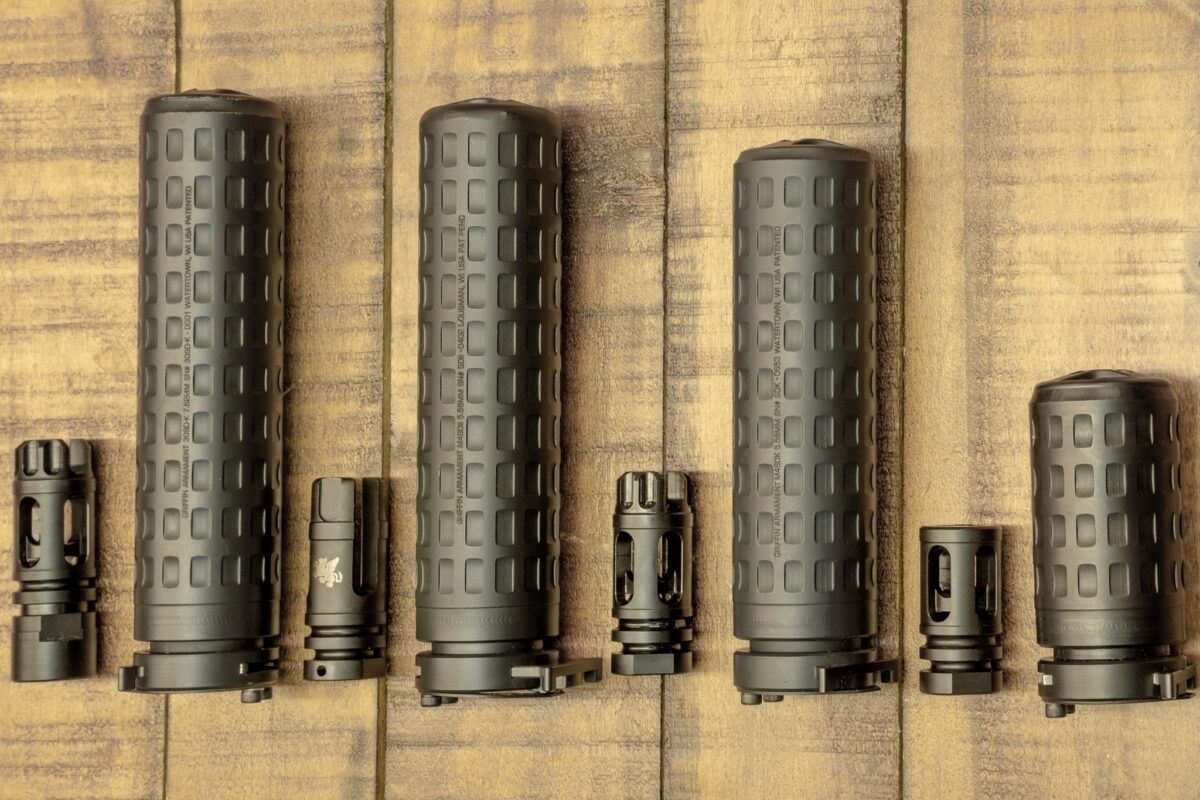 We also offer a K version, with those who will be doing close-quarters shooting in mind. It allows for a smaller footprint on the front of your gun. It's the same width, with a shorter length. Again, it's something to consider if you're going to be moving in and out of vehicles, in a house, or if you just like a smaller overall look on your host firearm. I'd also note that we also offer this can in a 30-caliber option, and it's a phenomenal can.

Griffin Armament M4SD-II 5.56 QD Suppressor
Q: Can we talk about your SR-RIGID rails that allow a suppressor to go underneath it?
Christopher Snay, Griffin Armament – The big benefit of a rail like the SR-RIGID is that it gives you a shorter package by allowing you to recess your suppressor or muzzle device underneath the rail. It enables you to have more attachments toward the front of the firearm. It does this without sacrificing any strength or rigidity in the rail. In the past, there were other rails that would allow this, but they were often thin and flimsy, in my opinion.
With our SR-RIGID, we are offering something that can accommodate a 1.5″ suppressor underneath it while still being duty-ready. We want things that are over-built, if necessary. We wanted to give the end-user a rail that could accommodate what it does while eliminating any concern about its durability.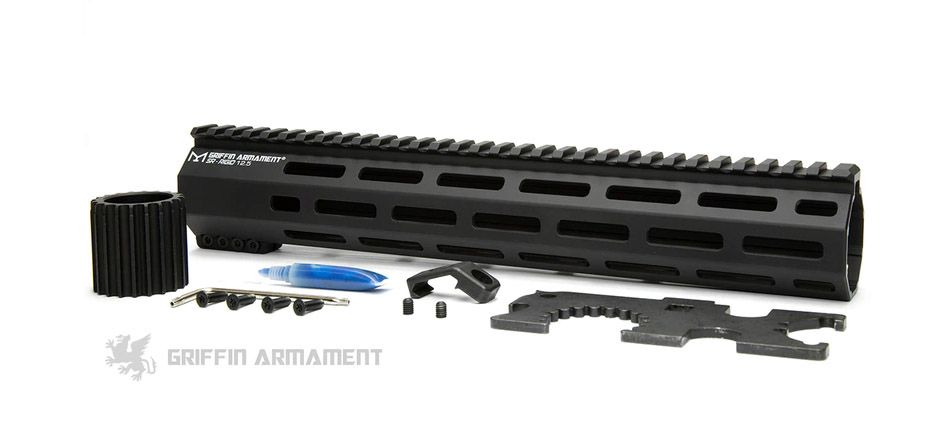 Griffin Armament SR-RIGID M-LOK Suppressor-Ready Rail
Making this sort of rail was a natural step for us, and they work wonderfully with something like our GP line of direct-thread suppressors. They are a very cost-effective suppressor, and they come with a pre-drilled hole so that you can more easily pin and weld them to a short barrel to get to a 16″ overall length, avoiding the need for two stamps for your suppressor and SBR.
Right now, we make the SR-RIGID rail in seven different lengths, so it just depends on the look you are going for and what you want. For example, you can do a 12.5″ rail and have your suppressor stick out only a few inches from underneath it.
Q: Anything else you'd like to add?
Christopher Snay, Griffin Armament – A big thing that we like to boast is that we are a vertically integrated company, so we do manufacture everything in-house on our own machines. This allows us to maintain a high level of quality control during every step of the process.
We also have an excellent customer service team. If you ever had a mishap or an issue with a can, we stand behind what we create, and we're committed to fast turnaround times…days or a week, tops, most of the time, depending on the severity of the issue. We're very proud of everything we do, and we hope that your readers will take some time to research who we are, what we do, and why we do it. If you look at what we're offering, it's an ideal combination of quality, price, and a commitment to excellence.
###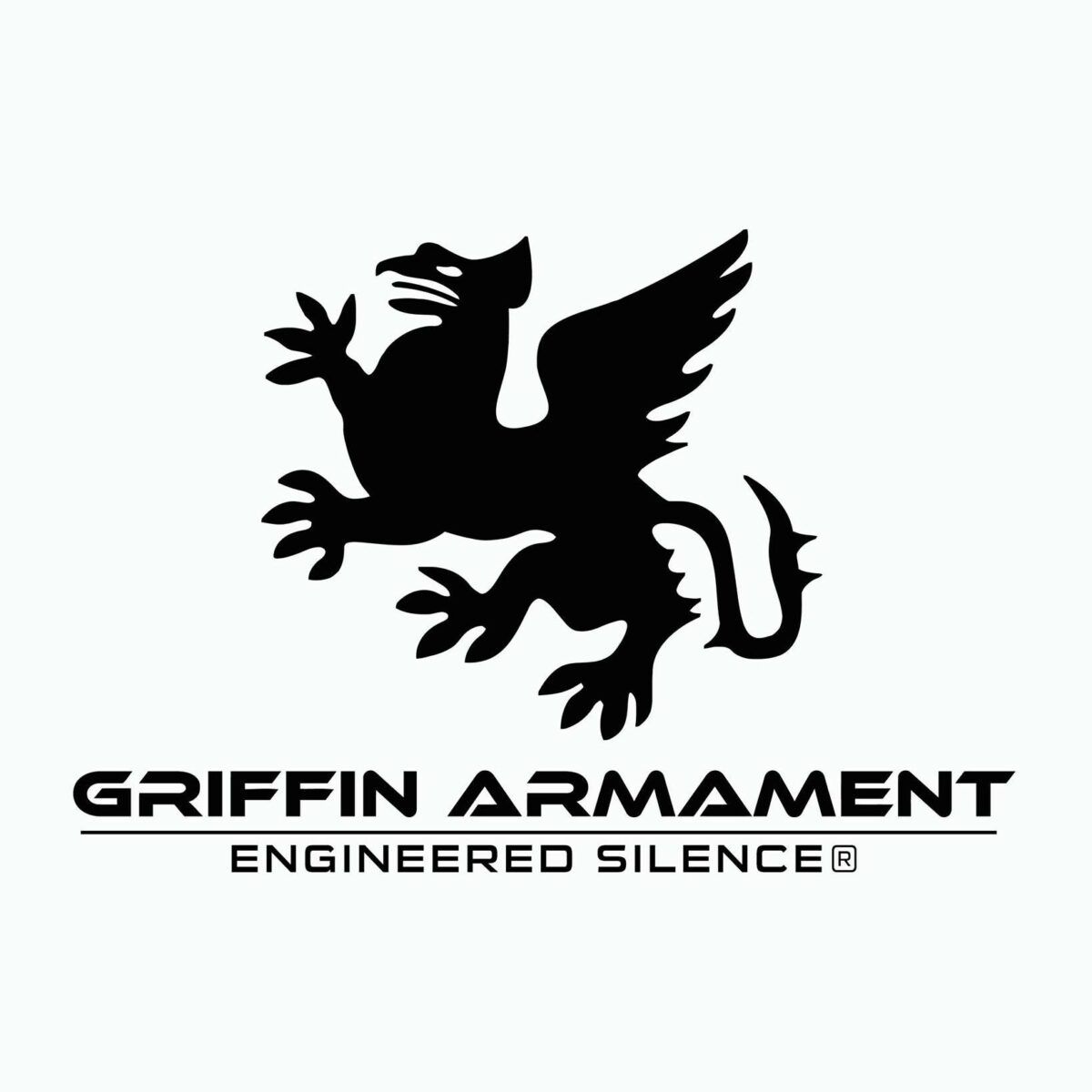 We are sorry that this post was not useful for you!
Let us improve this post!
Tell us how we can improve this post?