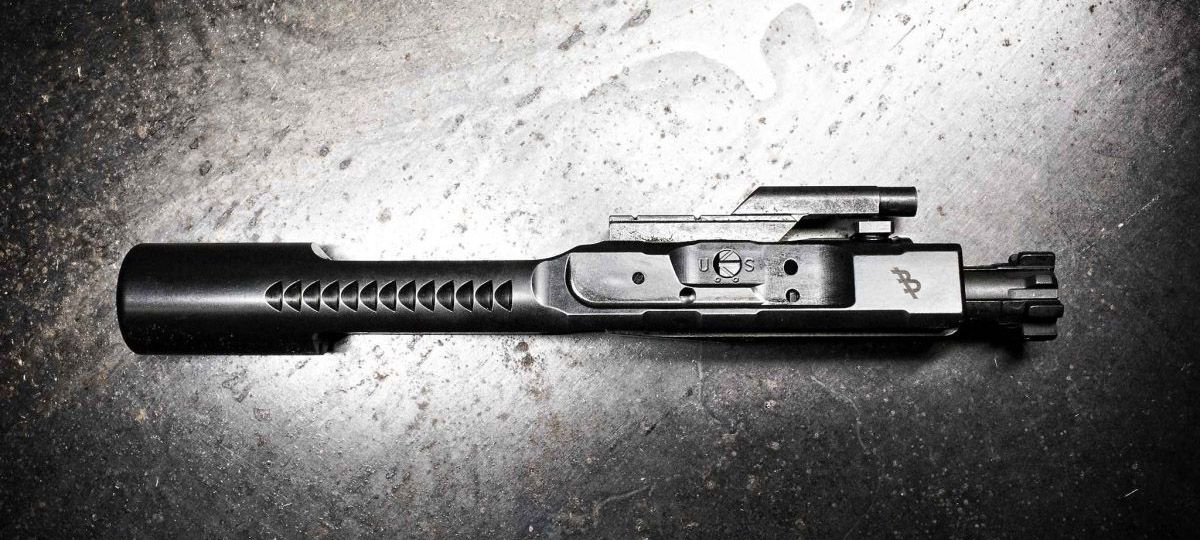 We recently sat down with Andrew and Becca Pike of Bootleg Inc. to discuss the company, products they offer, including their Lightweight Adjustable Carrier, which features a four-setting vent system, making it ideal for both suppressed and unsuppressed ARs.
Q: Can we start with your company background. I can recall first hearing of Bootleg Inc. on a P&S ModCast with Primary Weapons Systems.
Andrew Pike, Bootleg Inc. – It all started with Becca working in research and development at Primary Weapons Systems (PWS), a company well-known for their piston-driven ARs. Bootleg Inc. started as a sister company to PWS. The goal was to prevent confusion as PWS began making more direct impingement accessories. Since then, the two companies have separated, and Becca is full owner, minus one partner. I ended up joining her after working as the sales manager of Gemtech for several years. I also worked with PWS, and it just felt like a good, natural fit to help her build her company.
Becca Pike, Bootleg Inc. – Today, Bootleg Inc. focuses fully on offering products to builders to assist them with the completion of the upper receiver. We don't do anything for the lower. We do everything for the upper receiver, including gas tubes, gas blocks, barrels, upper receivers, handguards in both mil-spec and our adjustable carrier. That said, the flagship product that has really given Bootleg Inc. our name and reputation up until this point has been our adjustable bolt carrier.
Q: Can you talk about how that bolt carrier came about?
Andrew Pike, Bootleg Inc. – It came from the need for something that was easier and more user friendly than trying to rely on an adjustable gas block. Does an adjustable gas block do the same thing? Yes. An adjustable gas block vents gas out of the system prior to cycling, like our carrier does. However, an adjustable gas block isn't always easy to work with or even gain quick access to.
People were choosing to have guns dedicated to being either suppressed or unsuppressed, leading them to buy multiple guns to serve multiple purposes. The Bootleg Inc. adjustable bolt carrier group allows you to have a single rifle serve different purposes. You can do so without making massive changes or going through a labor-intensive process to make the gun adjustable.
I think the adjustable gas block on an AR can be an issue for people because there's just not much you can do with them as far as ease of adjustability. The Bootleg Inc. adjustable carrier eliminates this. It saves you time and effort. It's easy to operate, easy to use, anyone can put it into their gun, and you don't have to spend a lot of time at the range figuring out how to fine-tune it.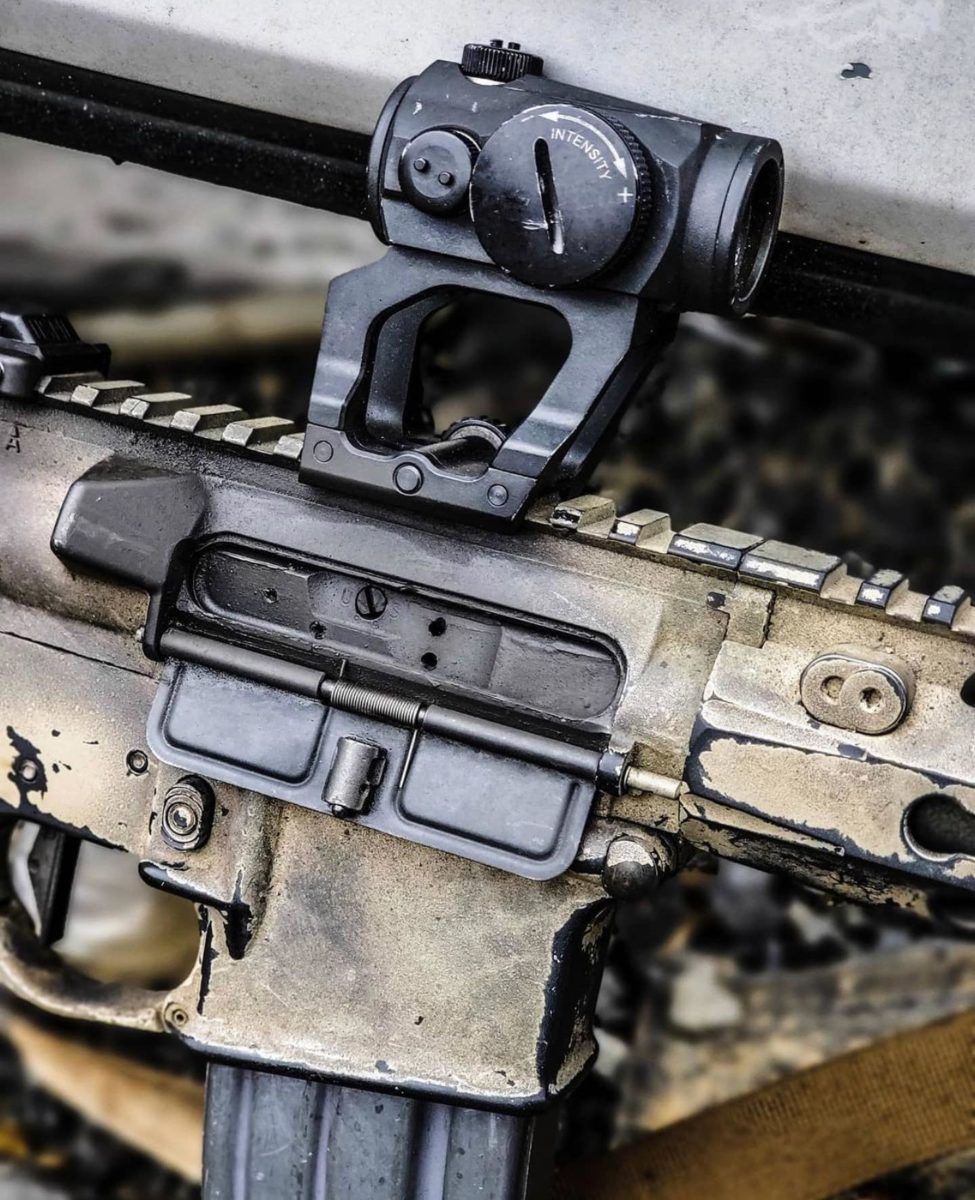 The Bootleg Lightweight Adjustable Carrier is machined from S7 tool steel with a lithium coating, which is really just a salt bath. It's a coating that was first used in the automotive industry. It's good at handling high frequency/high-temperature situations. It's also easy to clean. It then features a four-setting vent system to relieve excess gas pressure from suppressor use. It's great because it's something that a user can easily adjust…I've even used a spent shell casing to adjust it. It has an unsuppressed or "U" setting, and then by turning it 180 degrees, you have a suppressed setting. There are two other settings in between those settings, which can be used to fine-tune it for your particular AR.
Over time, we've found that some users simply use the adjustable carrier to tone down their system slightly. Perhaps they are running hotter loads, and they want to lighten up their recoil a bit. This is where the other two middle-range settings can help fine-tune, with or without a suppressor.
You can fire and see where your shells are ejecting. I always encourage people to try firing with and without their suppressor on the Unsuppressed setting, then the second, third, and then Suppressed setting. Every system is a bit different. Gas port sizing can be different from manufacturer to manufacturer, so we encourage people to play with it, fine-tune, and determine what works best for their system.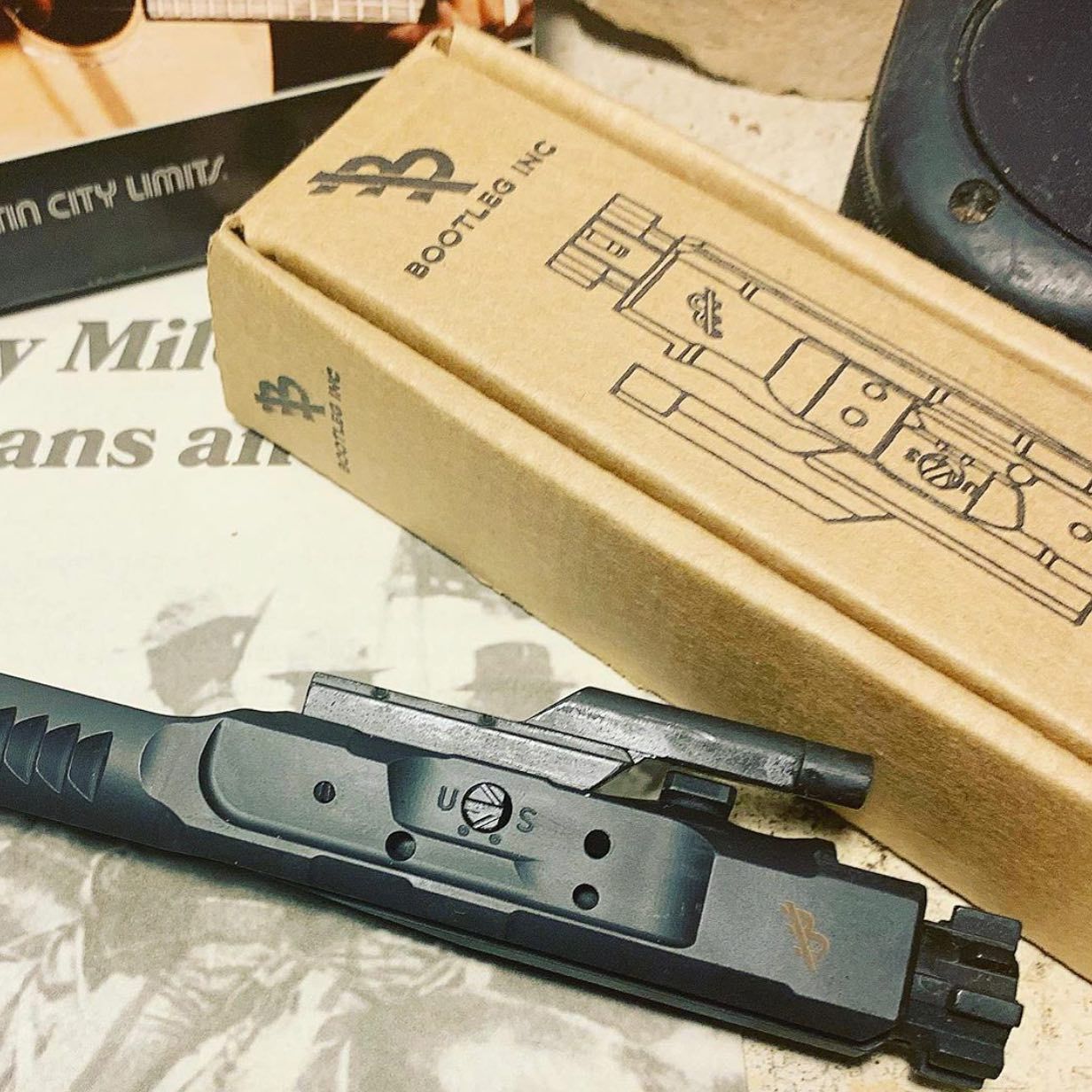 Bootleg Inc. Four Position Adjustable AR-15 Bolt Carrier Group
Q: How has the reception been to this bolt carrier group?The feedback I've heard from those I trust and who have used it has been excellent.
Andrew Pike, Bootleg Inc. – From its launch, we knew we had a winner. I think everyone was tired of working with adjustable gas blocks and the pain of working with them. When this launched, the feedback we got was that it really changed the game as far as ease of shooting with and without a suppressor. When we met at Triggercon, I knew we had something great when Truexodus approached us. We had never sent him one for review.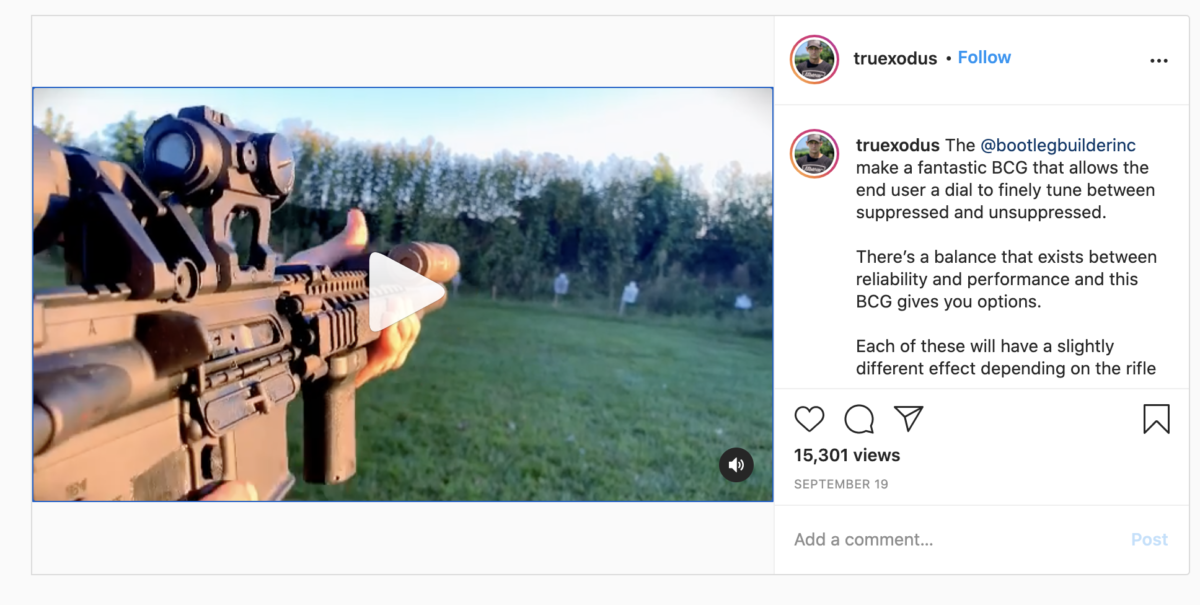 He had purchased it himself. He was at our booth, and when someone began asking about the carrier, he just jumped right in and started talking about its features and benefits on his own. When I saw that, I knew that what we were offering was indeed something special.
Q: Anything else to add on the adjustable bolt carrier before we move on?
Andrew Pike, Bootleg Inc. – Since we launched the adjustable bolt carrier, we've had many requests for a .308 version, and I can announce we are starting to work on the prototype and testing of one now. It will have the same features and the same adjustability, but it will be for the DPMS platform.
Q: Can you give our readers an overview of your handguards?
Andrew Pike, Bootleg Inc. – Our quick-mount 6061 aluminum handguard works off of a cam system that we designed thinking about ease of use for the end-user. It has a perfectly round barrel nut with a grove in it that the cam lever sits into. We did that so that there was no timing needed. With ours, you just tighten it up and then put the handguard on. It's straightforward. This installation ease is also nice for those shooters out there who use adjustable gas blocks, who don't run our adjustable carrier. They can get the handguard on and off quickly and easily to adjust their gas block only using a flathead screwdriver.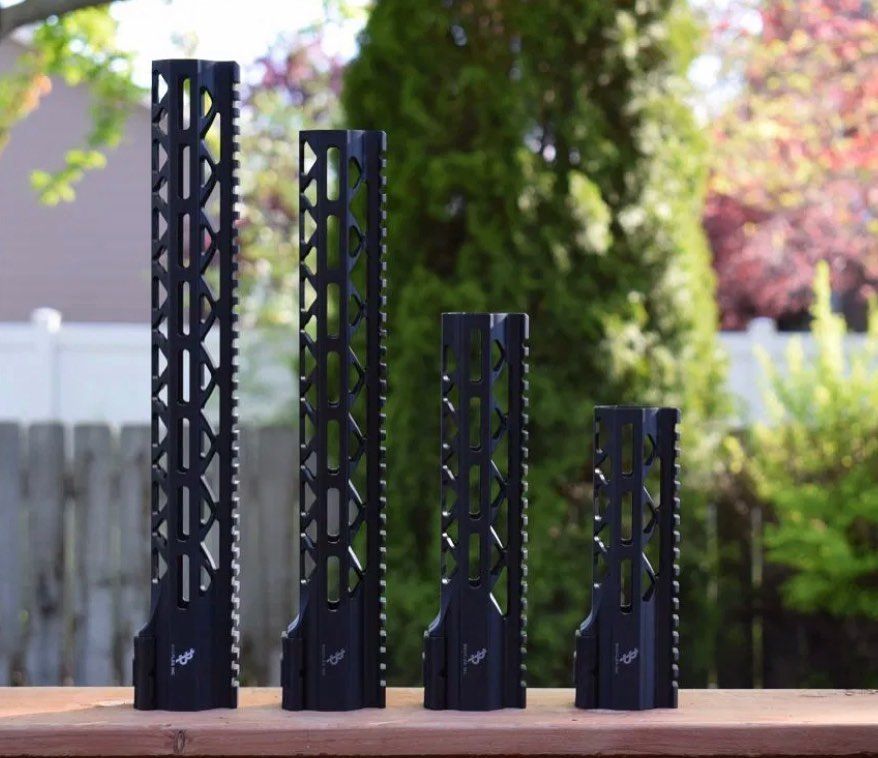 Another thing we offer is a lightweight upper receiver. It does not have a forward assist, and it's trimmed down to be very light. We left the forward assist off because we don't see a huge need for one in most cases.
My rule of thumb is that if an explosive round does not fit into a chamber, the last thing I want to do is force it in there and then force it to have a reaction that will result in a small explosion. (laughs). If I have an issue, I want to stop and look rather than force a round into the chamber. Not having a forward assist also makes it attractive to some of the PCC builders out there that are very popular right now.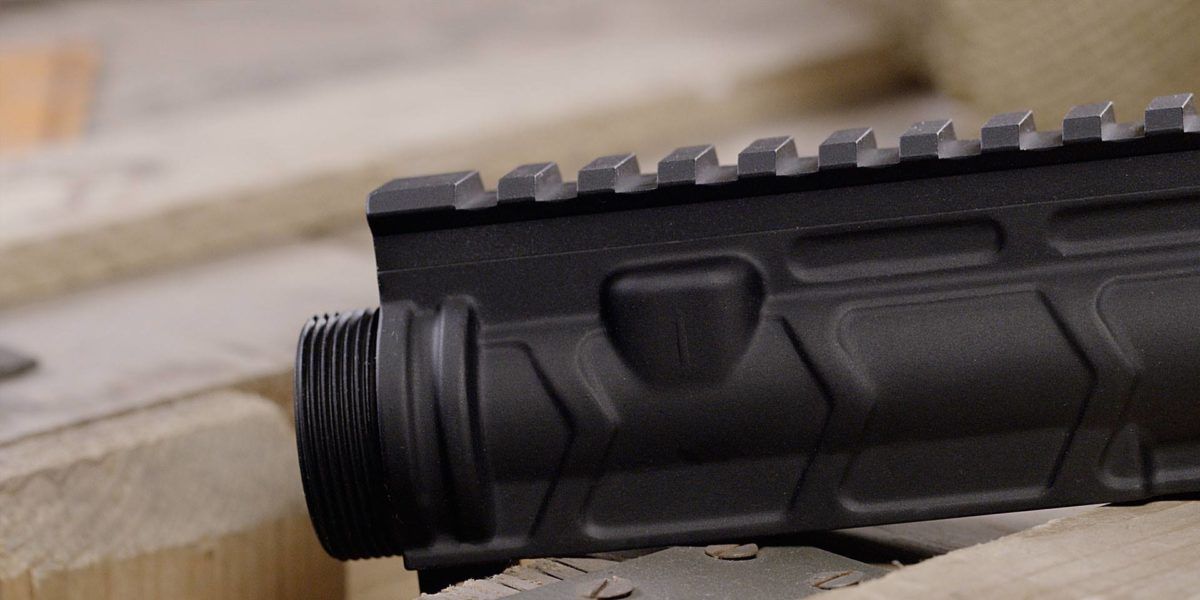 Q: Anything else you'd like to mention that I've not asked you about Bootleg Inc.?
We're here for builders. We're consumer-driven and based. Our goal is to put out quality products that don't break the bank, whether you are looking for components to upgrade an existing build or if you are doing a build from scratch. We're a mom-and-pop shop, and we operate almost solely out of our garage for shipping, packaging, etc. We're here for the consumers, and they're why we do what we do. We're committed to being the type of business we'd want to deal with and offering the kinds of products consumers ask us for.
###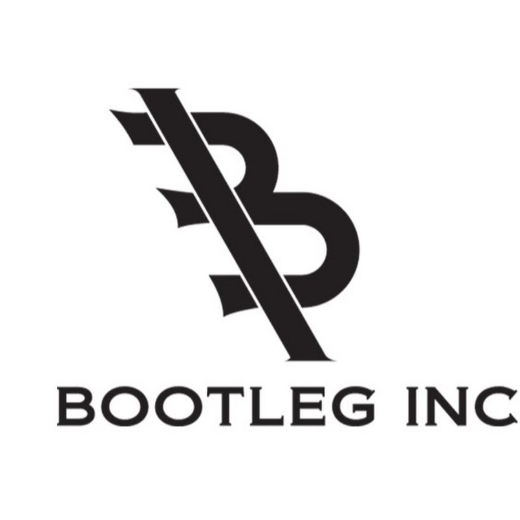 We are sorry that this post was not useful for you!
Let us improve this post!
Tell us how we can improve this post?