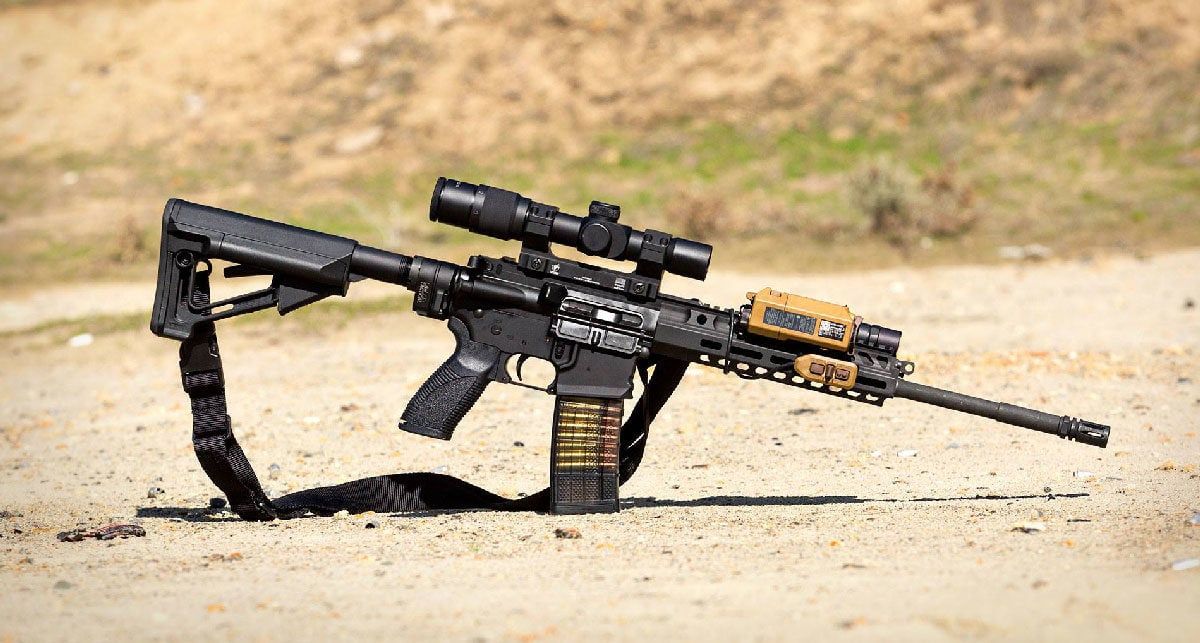 So, just what is the Caracal CAR816 A2? It's something we had mentioned to us several times after our recent article on the H&K 416.
We were told specifically it was a decent piston AR that was more than a bit influenced by the 416.  To learn more about Caracal and the Caracal CAR816 A2, we reached out to Jeff Spalding, Caracal USA's president.
Q: Jeff, thanks for your time…your company was mentioned a few times by our readers after we did a brief post on the H&K 416…I did a bit of research and learned that your parent company is based in the UAE. Can you give us a basic company overview?
Jeff Spalding: Caracal International is our parent company. They are based in Abu Dhabi in the UAE. That's where the company began in 2006. They were making what I call military grade firearms, essentially…doing everything in-house. They began with the first pistol, which was the Model F and Model C pistol line.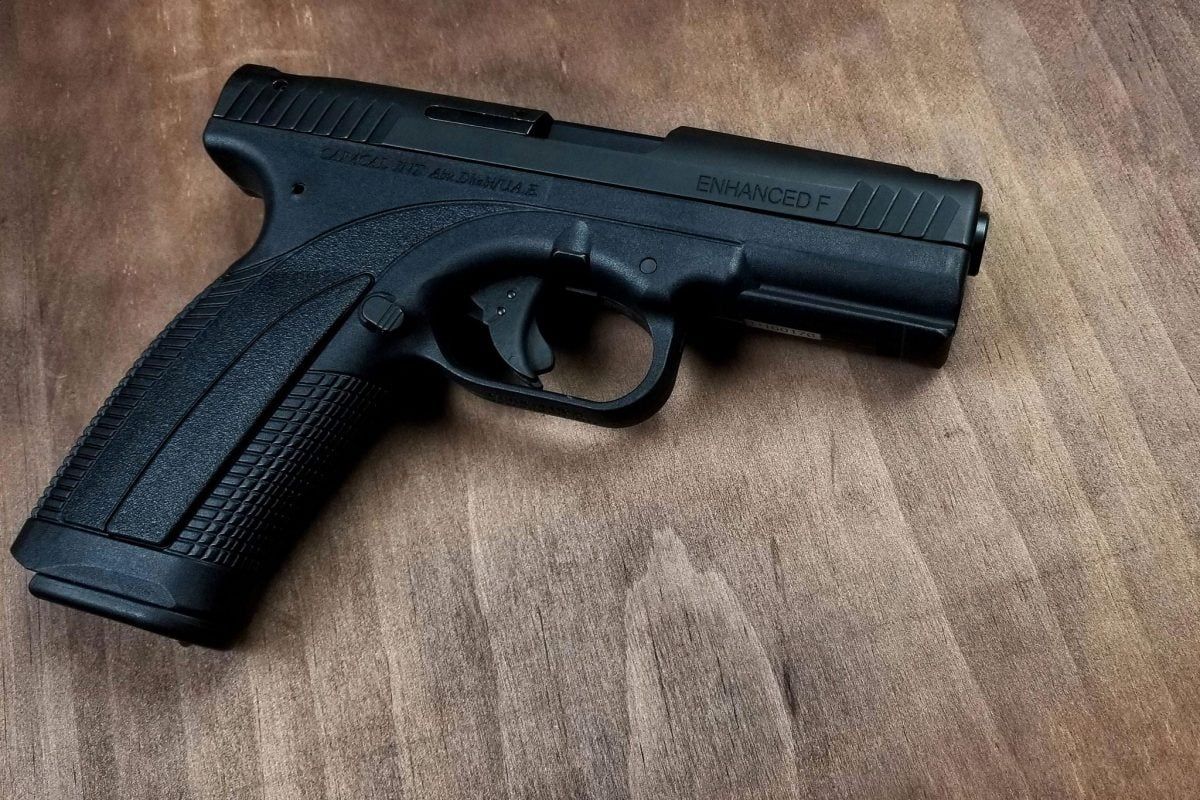 Caracal International then branched out and purchased Merkel and Haenel Germany, and that then created Caracal GmbH which is our German affiliate. We also have Caracal USA, which was initially established in 2010, but only on paper. All we did in the U.S. was import and distribute to third parties. Manufacturing operations at that time were in UAE, as well as Germany.
Q: So, can you talk a bit about the start of Caracal USA?
Jeff Spalding: The logistics of import and distribution were just a nightmare. Then, when Caracal International began manufacturing rifles such as the CAR816 and the 814, they were not importable since they were not "sporting arms" according to the ATF. So none of that product line was able to come to the United States.
I tried for years to get Caracal International to set up what we are doing now with a stand-alone manufacturing operation here in the U.S. That was approved and actually began in September 2016. We then started getting licenses and fitting out some of our initial offices. Then in November 2017, we began manufacturing operations within the United States. The first products we brought over were the rifles. We brought over the CAR814, which is our direct impingement rifle, and the CAR816 which is the short stroke piston rifle.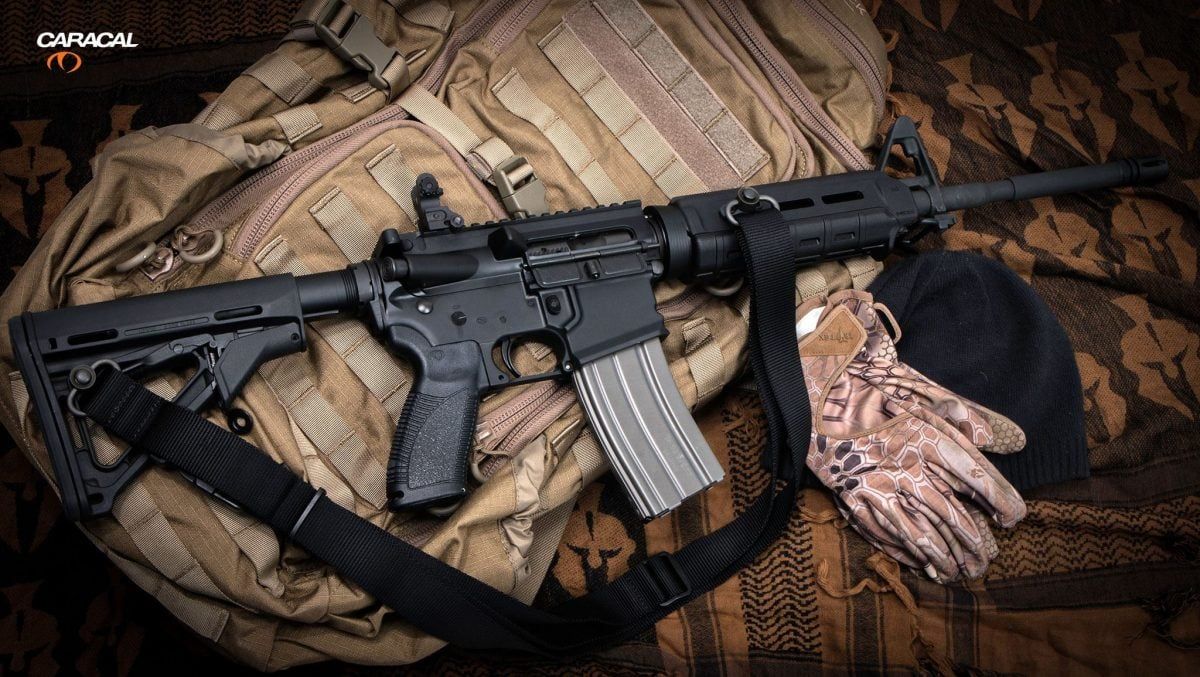 Prior to that, I'd say in about 2015, Caracal had wanted to go hard after the military/law enforcement tenderers and procurement requests and the international defense and military sectors. They had rifles….they had a piston rifle, a direct impingement rifle, as well as some bolt guns, and machine pistols and such…but they were not what they needed to be.
Q: So, what changed then?
Jeff Spalding: They hired two gentlemen that were at Sig Sauer who were previously with H&K. These gentlemen originally did the design, engineering and testing for the H&K 416 and then worked with Sig and developed essentially every black rifle that came from Sig beginning with the M400, then the 516, then the MCX, MPX.
"…make a better rifle than the 516, the 416"
Essentially, what Caracal did was give engineers carte blanche to say, "here's what we make now, we want you to make a better rifle than the 516, the 416. We want to be able to compete at the world stage."
They essentially had unlimited manufacturing and R&D capability in our facilities in the UAE, and that led to the birth of the CAR816 A2, which is our short stroke piston rifle. We have had tremendous success with it. We have about 150,000 of those in service that have been shipped out to various governments and militaries around the world.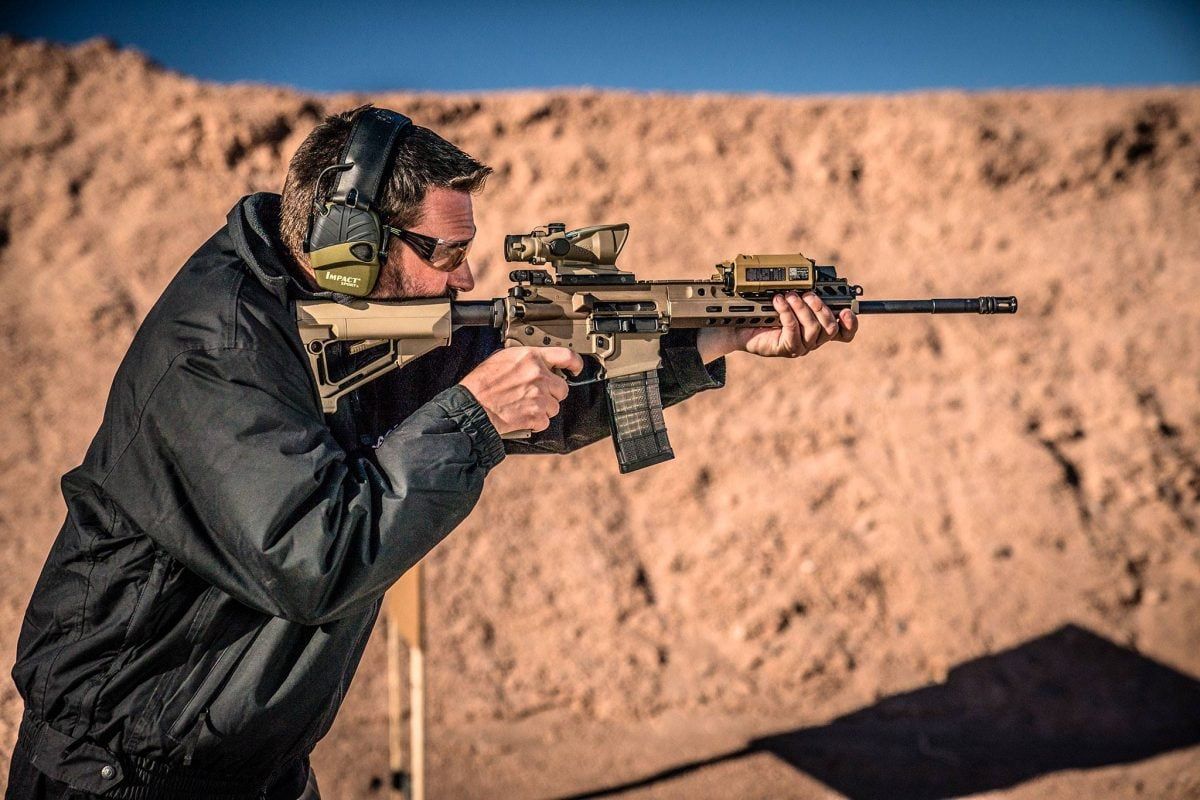 Tackling what you say amounts to a sequel to the 416 seems like a tall order…can you talk a bit more about who was brought in to improve on the design?
That all falls on the shoulders of my operations manager, Mr. Chris Sirois. He's the brainchild behind all the modifications and enhancements of the original 416 platform, which he did at Sig Sauer with the 516, and the M400, MCX, MPX.
So when Caracal brought him on board, they brought that legacy, wealth of knowledge, and history of testing. Chris knew what works and what doesn't work. When he came over to Caracal and was given a blank slate to make it work, he knew exactly what needed to be done. The end result of all that work brought forth the Caracal CAR816 A2.
What have you changed in the commercial guns versus the military guns?
We've kind of sweetened up the aesthetics for the U.S. commercial market for as much as everyone says they want what the military uses…they don't. They want it to do what the military's does, but they want to do it with a 5-pound trigger press with a lightning fast reset, and an ambidextrous charging handle and all these features that are not typically found in military requests. So we have fine-tuned our commercial stuff to meet the needs of the US consumer while ensuring that it has the same bulletproof durability, reliability, and functionality.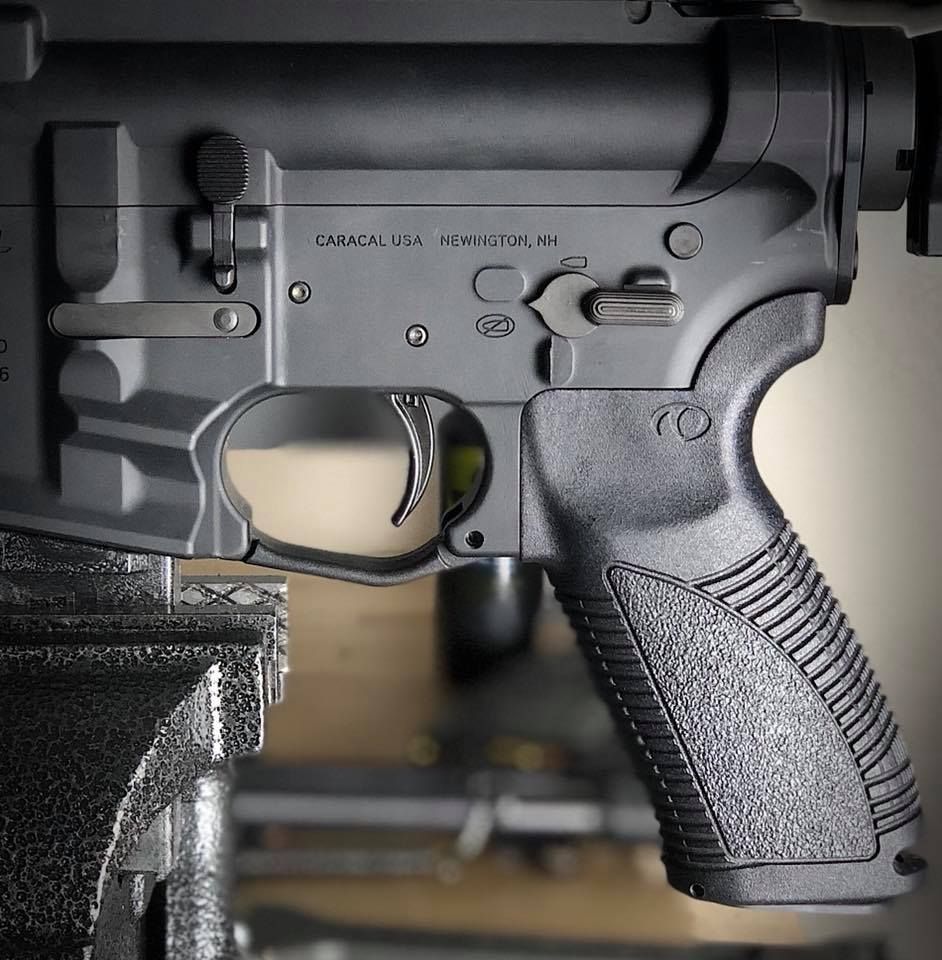 Meeting and Surpassing NATO Tests with the CAR816
You'll find our rifles have a lot of features that most all other rifle manufacturers do not have, such as tensioning plungers and supported extractor pins, which gives us the ability to surpass the over the beach testing and bore obstruction destructive testing. The design and engineering that's required to meet and surpass the NATO tests for military service is what we kind of hang our hat on, and that's in all our products…We built them from the ground up to serve that purpose solely. The only one of our operations that is serving the commercial market is the U.S. That's not surprising, as there's not much of a commercial market outside of the United States.
Can you talk a bit about how you see piston-driven rifles like the 416? They seem to be designed for a specific purpose, for a specific environment.
Jeff Spalding: Looking at the H&K 416….it's purpose is to fight in austere conditions. And it does this very well. Now, it's a little bit bulky. It's a little bit heavy. The gas system itself a little over-engineered if you will, coming from that German mindset.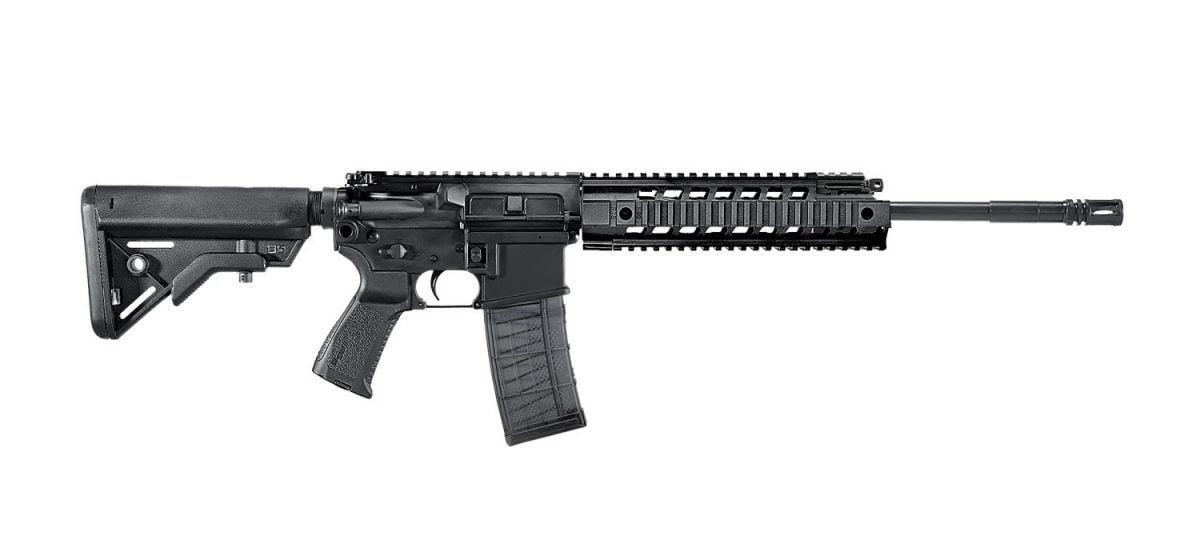 H&K 416 to Sig 516
If you look at the Sig 516 which was the next evolution of the 416, you start to see a little bit of weight savings. You see some enhancements to the gas system which create weight saving.

Sig 516 to CAR816
Then you look at ours, the CAR816 A2…it's the just the next step of that short stroke piston system. Ours is a little more refined. Its smaller, lighter, still just as reliable and durable. Functionality wise there's not much out there that can hold a candle to the 816 as a far as endurance testing or austere conditions testing.
Reliable, durable and cheaper
The primary goal was to make it reliable and durable and lighter and more cost effective and that's really what we've done… From the design and engineering side and from the high quantity manufacturing side, the little changes in the engineering that allow us to make high volume and high quantity runs allow us to reduce the cost.
Obviously its made in the U.S. so we don't have the import excise tax you are going to see on the 416 which really drives that cost up through the roof. We just took the steps needed to shave some weight, increase that reliability and reduce costs…and doing it in the U.S. is the only way we could do that.

Any final word you'd want to impart on our readers before they go out and do their own research on the CAR816 and decide if it's right for them?
Jeff Spalding: Caracal creates solid performing, lightweight, ultra reliable and ultra durable rifles. We've spared nothing as far as materials, or processes or tolerances. We don't sell toys, we sell firearms built to serve a purpose…firearms that won't let you down when you need them. We're not going to ship a firearm that I personally would not issue to my son in a combat zone. That's the mindset of Caracal International, Caracal GMBH, Caracal USA and Caracal in general.
###
Thanks to Jeff Spalding for taking the time to give us an overview of Caracal and the basics on the CAR816. To learn more about the 816, you might want to visit Small Arms Solutions, who did a great write up on the rifle last year. Chris Bartocci of Small Arms Solutions also put together the video below…
We are sorry that this post was not useful for you!
Let us improve this post!
Tell us how we can improve this post?