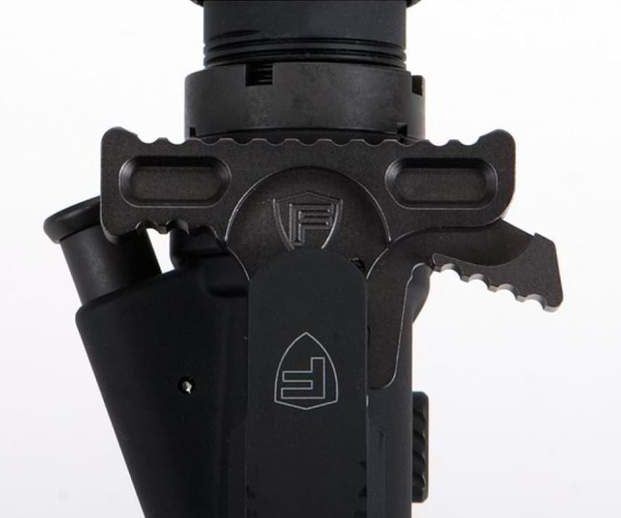 I'll admit it. I've not always taken charging handles seriously. However, hard-earned experience has taught me how important choosing the right charging handle for my AR builds is.
Just think about all of the important functions your charging handle accomplishes.

Operating the charging handle pulls back on the bolt carrier group, during rearward travel, the bolt carrier group rides over the hammer, cocking it and preparing the fire control group for the next ignition cycle.
Engaging the bolt (and the BCG) by pulling back on the charging handle also serves the function of clearing spent shell cases or unfired rounds
In addition to the above functions, engaging the bolt (and the BCG) by operating the charging handle will help clear various types of malfunctions such as double-feeding, stovepipes, and it can help clear 'failure to fire' malfunctions. NOTE: failure to fire malfunctions are extremely dangerous and should not be taken lightly. Always seek out professional assistance with this malfunction if you think a live round may still go off. Please keep all firearms, loaded or unloaded, pointed in a safe direction at all times.
Verifies that no rounds or other objects are obstructing your chamber.  Operating the charging handle allows you to open the bolt and visually confirm there is nothing obstructing the chamber of your AR platform.
So then, it should be clear that a quality charging handle, also known as a cocking handle or bolt handle, is an important part of your build. Thankfully, If you are building a custom AR-15, this can be an easy and relatively inexpensive part to replace and install.  Let's take a look at the types of charging handles available…
Standard Charging Handles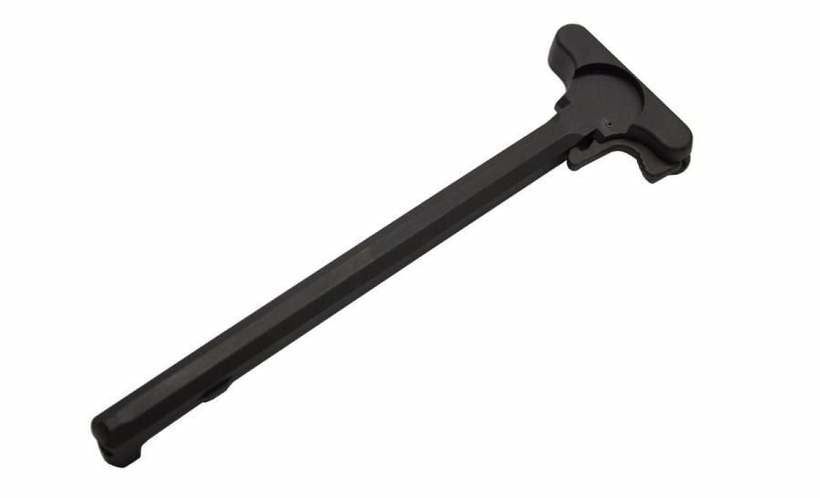 If budget is a concern, a standard charging handle may be just what you need for your custom AR-15 build. It's mil-spec and made from 6061-T6 aircraft aluminum.  It's a low budget option, but it should get the job done.
Extended Latch Charging Handles

The main difference between an extended latch charging handle and a standard one is a larger latch. This extension can make it easier for a shooter to grab the charging handle, especially while wearing gloves. You won't need to remove your firing hand from the grip.
It can also come in handy at night, or in situations in which time is of the essence. The APOC Armory Extended Latch Charging Handle is an excellent value at a minimal cost.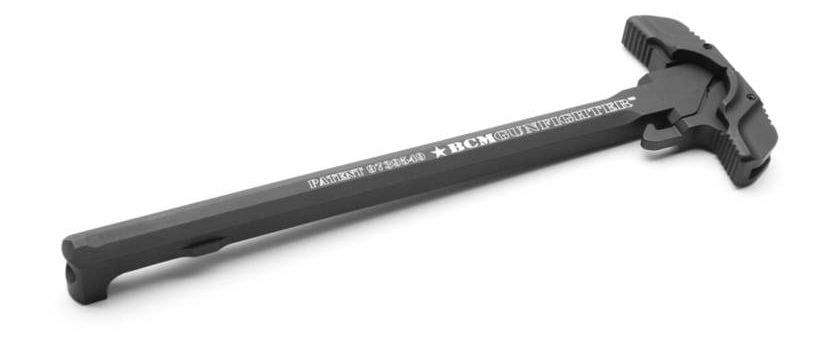 The BCM Gunfighter Charging Handle 556 MOD4 is an excellent option as well. It also comes with a large latch, plus a design that reduces stress on the roll pins, ensuring a long, reliable lifespan even with repeated hand manipulation from the support side.
Thanks to its innovative design, the handle moves in a linear fashion, and won't angle off to the outboard side when pulled directly to the rear. 
Ambidextrous Charging Handles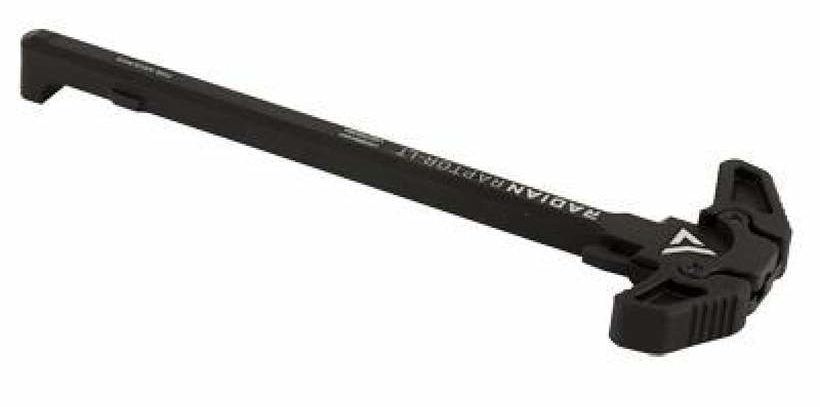 As their name implies, ambidextrous charging handles can be used proficiently by either hand. Both right-handed and left-handed shooters can access it easily from either side.
Aero Precision's Radian Raptor-LT Ambidextrous Charging Handle is on our list of best ambidextrous handles, due to its patented ambidextrous functionality and high-strength, fiberglass reinforced polymer over-mold. 
Strike Industries offers their Latchless Charging Handle in various colors to help you personalize your custom AR15 to your preferences. This quality 7075-T6 forged Aluminum, hard anodized charging handle is built to function in tough conditions, and designed to last for many years. It features a polished, ergonomic design to give you a smooth, frictionless pull of the handle.
Enhanced Charging Handles
Looking for the best of the best? The following charging handles offer top-of-the-line materials and some interesting extra features.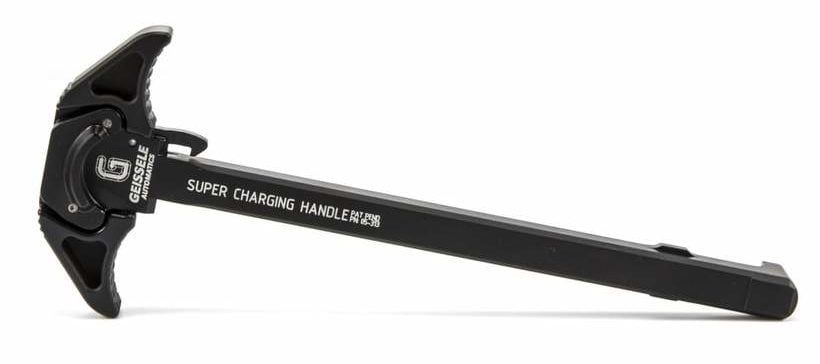 Geissele Super Charging Handle .223/5.56 – DDC
This one goes above and beyond from its beginnings: it's 3D machined from a solid block of aircraft grade 7075-T6 aluminum. Extra features abound— the heightened rear lip of the SCH aids in mitigating gas blowback to the shooter when shooting with a pistol brace, short barreled rifle or a suppressed weapon system. The handling surface of the lever is also textured for ease of use in adverse conditions.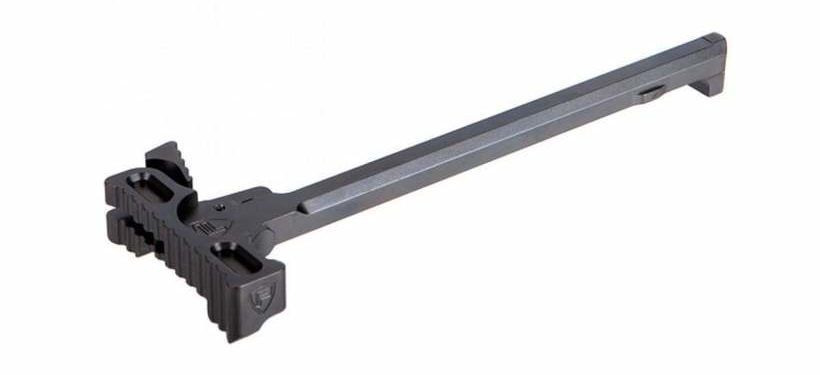 Fortis Hammer 556 Charging Handle
Get a distinct look with the Black Teflon finish of this military grade charging handle. With a Rockwell hardness of 45C, Black Teflon has a low co-efficiency of friction and excellent lubricity characteristics. The design of the back-stop reduces the stress on the roll pin, and aggressive serrations ensure ease of use with or without gloves.
We are sorry that this post was not useful for you!
Let us improve this post!
Tell us how we can improve this post?