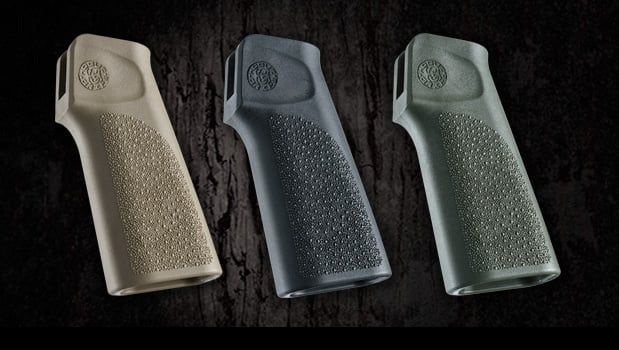 The grip is one of the first things you may want to upgrade on your AR-15 rifle. Choosing the proper grip style allows you to place your hand correctly and comfortably on your firearm so that you can operate it in a safe, stable manner.
The grip you choose will center around how you are going to use the AR its attached to, and the budget you have for this particular component. The fact that there are so many to choose from can be both a good thing and a bad thing.
It's good because there is a grip style for every personal preference. The bad is that having so many options can make it harder to choose.
Lets take a look at specific aspects of the various grips on the market, and go through what you should take into consideration when purchasing a new grip for your AR-15.
Comfort
This is decidedly the biggest factor to take into consideration when it comes to pistol grips, because your hand will be holding and manipulating the grip constantly while shooting. Here's a handy list of grip features that can affect comfort:
Hand Size & Orientation
Grips are made for both left handed and right handed users, and some grips are made to accommodate larger hands or gloved hands.
Texture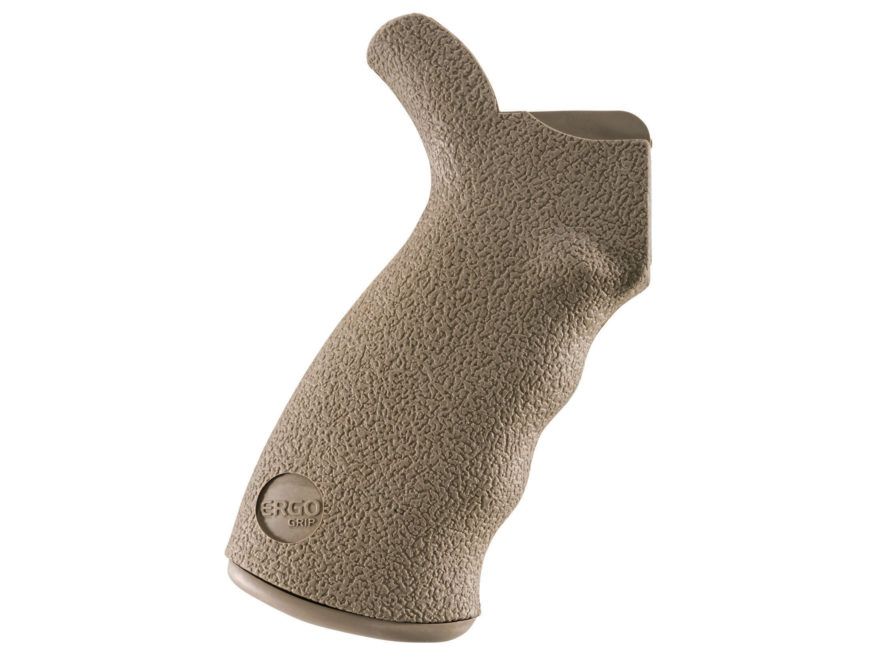 ome grips are smooth textured; others have "aggressive" texturing for better grip when your hands get sweaty. Aggressive texturing can be uncomfortable for some, but it's great for when your firearm gets wet for any reason or when you have to shoot for an extended period of time.
Finger grooves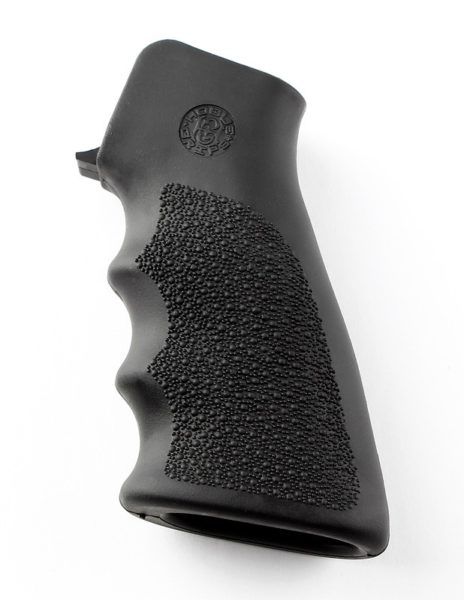 These are small indentations to place your fingers in. Some grips have them, others don't. Some shooters prefer them because they provide a more customized grasping surface and increased control, and some shooters dislike them because they "lock them into a specific grip" and don't allow the user to grasp higher or lower on the grip itself. It's definitely a personal preference decision.
Finish
Some grips have a rubberized, softer finish, others have a simple, harder finish to them. A rubberized finish is great for combating sweat after using your AR-15 for a long, drawn-out shooting session.
Palm swells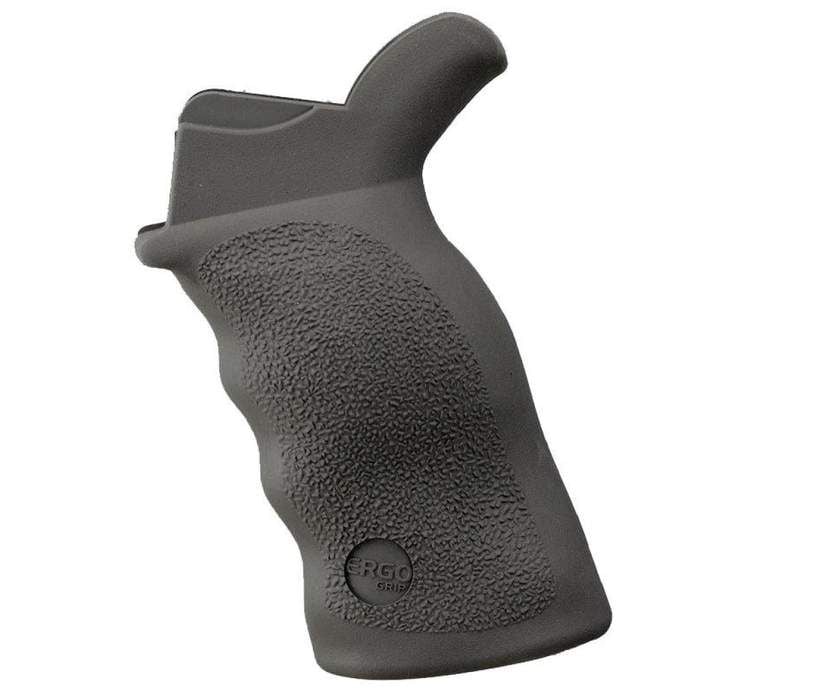 Palm swells can absorb shock & vibration and can help to keep your hands in the same position. This can help alleviate hand and finger cramps and fatigue, which in turn will allow you to control your gun with greater ease. Not all grips are designed with palm swells, but they can be very beneficial.
Design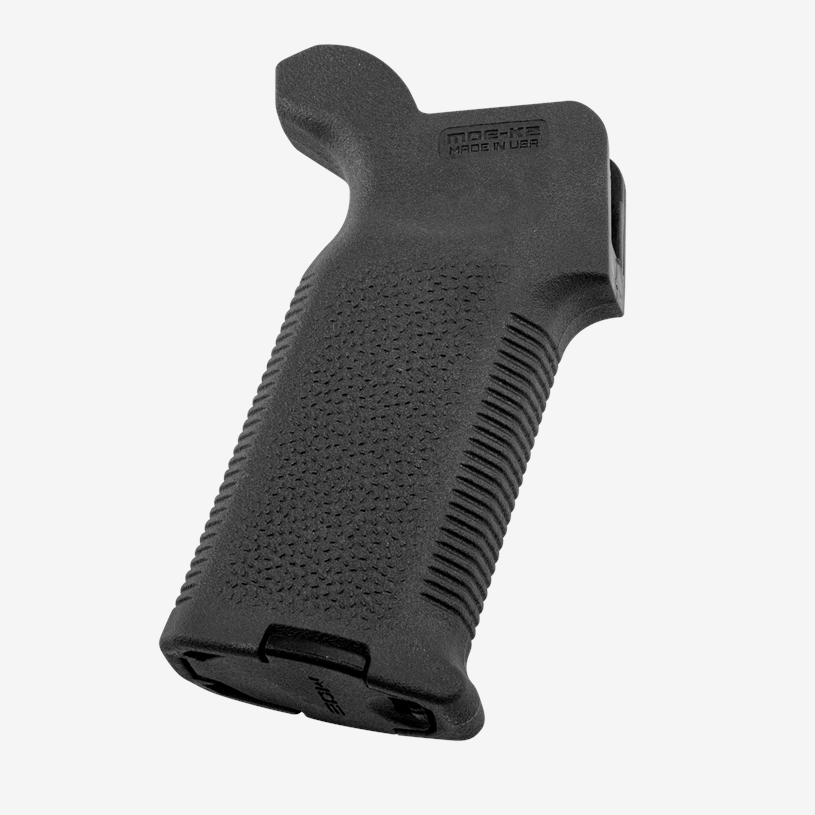 Finger-to-trigger positioning varies among grips. Most use the standard grip angle; others use a reduced grip angle. Just like handguns, those angles will vary from grip to grip. There are also grips that have an adjustable angle to them and even ones that have the ability to switch out parts of the grip to change the swell, finger grooves, and more.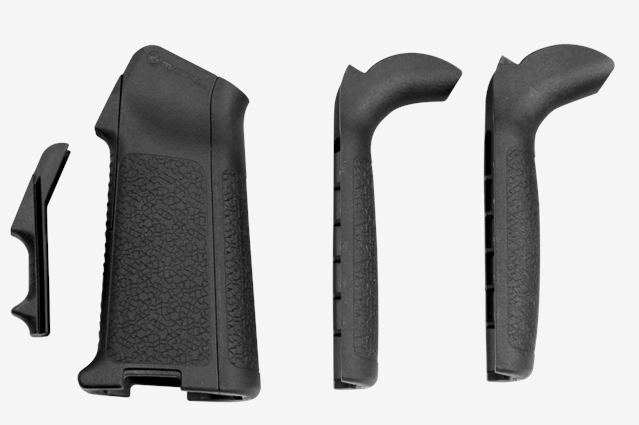 Aesthetics

How do you want your AR rifle or AR pistol to look? Do you want your furniture to match? Grips come in many different colors other than the standard Black or FDE. Hogue offers their AR grips in multiple colors, at the standard 30 Degree angle or at a modified 15 Degree angle they say is better for CQB applications.
VZ Grips offers their AR grips machined at a 17 Degree Angle, and they come in Black, Black/Blue, Black/Grey, Dirty Olive, and Hyena Brown.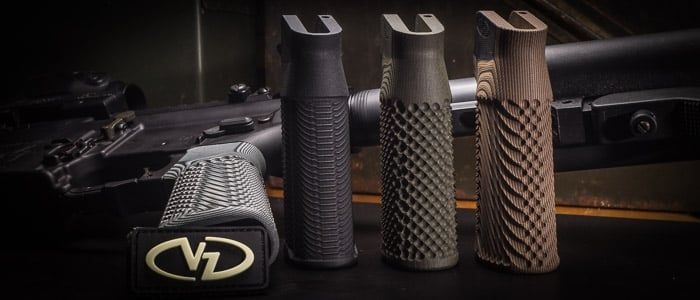 There are also multiple G10 grips that are two-tone. If you are building an AR-15 that is already two-tone, consider seeking out a G10 grip that matching the tones you are already using.
Attachment
The screw that attaches the pistol grip to your AR-15 is another factor to consider. Some come with the standard Flat head screw, while others come with a Hex or Allen head screw. And then some of the higher end models of AR pistol grips come with Torx head screws for reliable retention.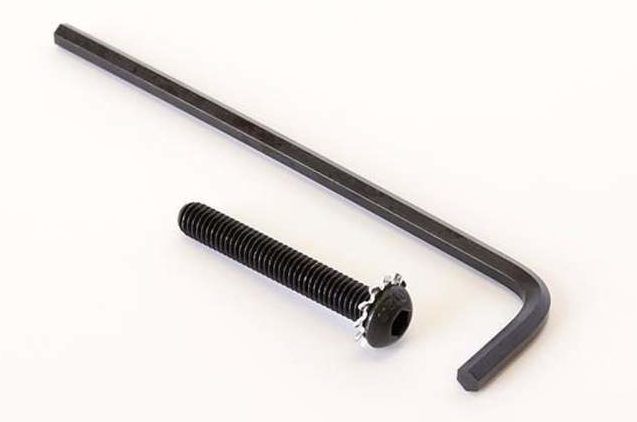 No matter which type of head your AR15 grip has, it should also include a washer or lock washer of some sort. Generally, the flat head screws can be a real bear to get in an out.
Hex or Allen head screws can be alot easier but can strip out if you don't use the right size bit. Torx head screws are usually the easiest to use but will usually only be included with higher priced grips due to the cost of most Torx head hardware. You definitely need to make sure you have the right bit that fits any screw head the manufacture includes, tightly.
Also note, when installing a new pistol grip, do not use Loctite unless absolutely necessary. The lock washer and torque should easily hold the pistol grip in place. If Loctite is required for some reason, be sure to only use BLUE Loctite, and allow adequate time for the adhesive to dry.
Materials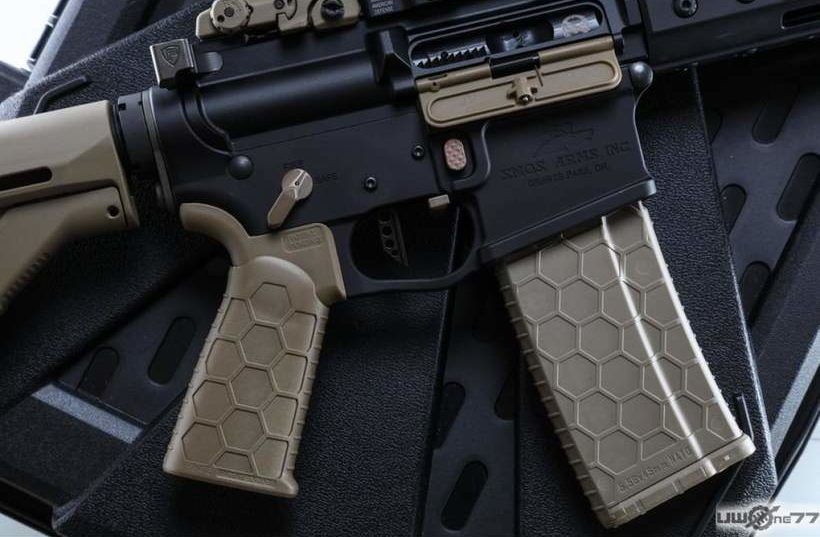 Most AR-15 grips are made from durable polymers or reinforced fiberglass, but designs and materials can vary greatly.
Hexmag's Advanced Tactical Grip gets particularly creative with a patented three-angle adjustment to accommodate most shooting styles and Hexmag's signature HEXTURE™ pattern for superior grip.
Hogue and VZ Grips offers their AR15 grips in G10, and in a variety of colors only available in G10 grips. So, what is G10?  G10 is an extremely strong fiberglass composite material used for a multitude of applications including Knife Handles, Gun Grips, Electronics, and many others. G10 is extremely durable, resistant to moisture, and lightweight.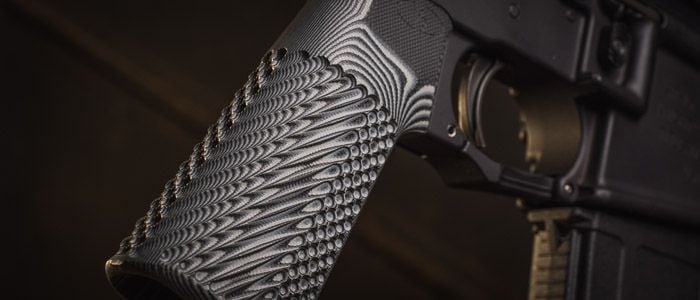 If you purchase and use G10 furniture, and it gets scuffed up, starts to look a bit lighter than it used to because of the gun cleaners you got on it, or just doesn't look as nice as it used to…apply a thin layer of oil to it to bring back its original color and then wipe off any excess oil. This will make your G10 look nice again.
Price
An AR grip certainly isn't the most expensive AR-15 part you'll purchase for your build. You can even grab a basic A2 style pistol grip for under ten dollars!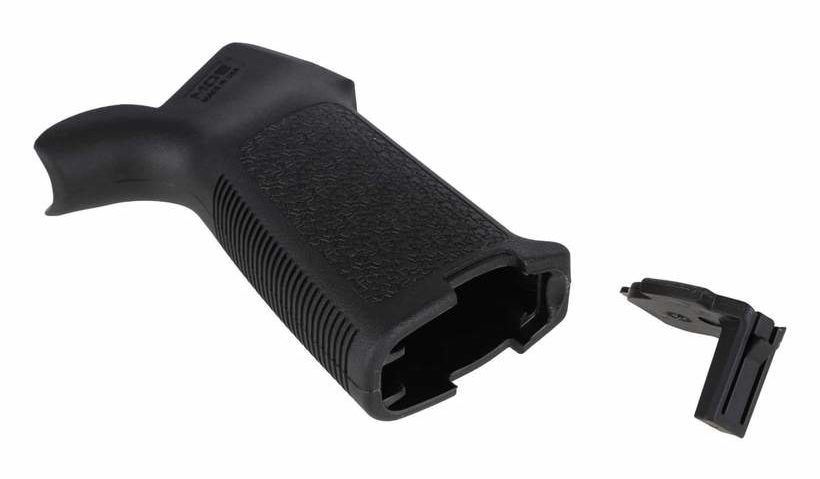 There are plenty of mid-range options too, including the Magpul MOE Pistol Grip, dubbed "the most popular grip on the market."
If you are looking for something a bit more pricey and loaded with features, check out Ergo Grips' Ergo Tactical Deluxe Grip with Adjustable Palm Shelf. The rubberized adjustable palm shelf supports your firing hand, and the ambidextrous palm swell will help you get the best performance possible out of your weapon.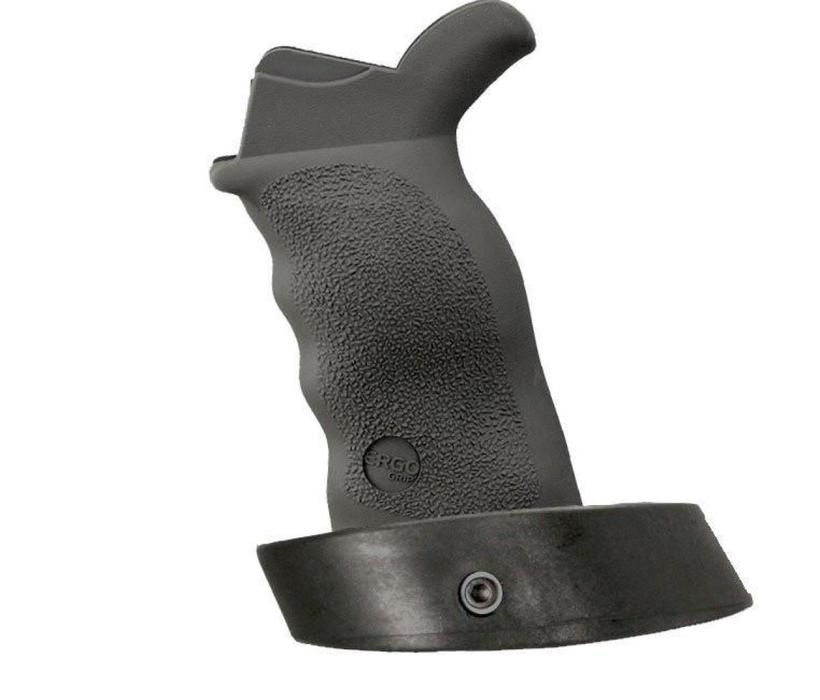 Conclusion
These are just a few of the multiple options available to replace or upgrade your AR-15 pistol grip. Consider the type of AR you have, the type of AR you want it to be, the application or applications you are likely to use it for, the color of your AR and if you want the grip to match it, the environments you may take it into and what material will perform best, what type of grip you can afford and how much you want to spend on your furniture. Get out your AR, give it some thought, and get shopping.
We are sorry that this post was not useful for you!
Let us improve this post!
Tell us how we can improve this post?