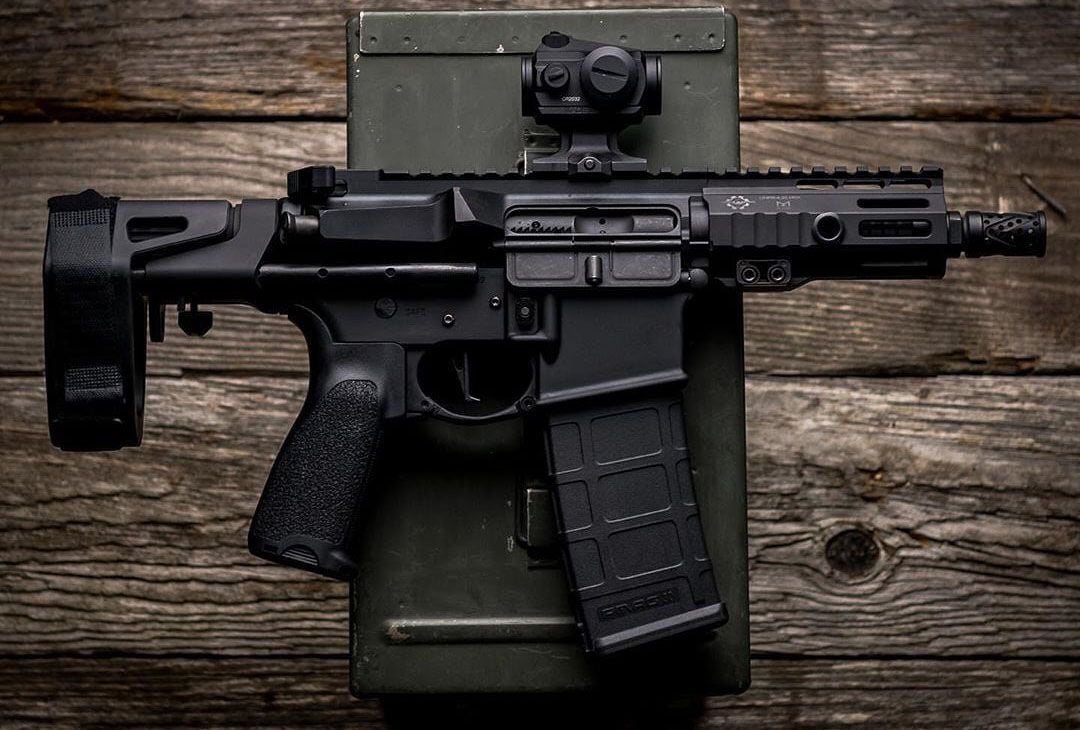 Veritas Tactical is currently making some very interesting and eye-catching extreme short barreled AR-15s. From time to time, we like to reach out to different firearms manufacturers like Veritas Tactical to hear first hand what they're all about. Also, when it comes to building an AR, we find manufacturers always have some interesting perspectives.
We learned about Veritas Tactical during a visit to Triggrcon 2019, and then heard them mentioned during a conversation with Kris "Tanto" Paranto. Curious about their extremely short barreled ARs, I reached out to Alex Ferrer, owner of Veritas Tactical to learn more…
Q: Alex, can you give us a bit of background on your company?
Alex Ferrer, Veritas Tactical – I established the company in 2015, and my background is I am retired law enforcement. I have also done private security work, as well as training.
I have always been around the AR platform and have been working on them since the 1990s. I did several armorer's courses with the sheriff's office and I always had a love for the platform. As time went on, I started building a lot of guns for myself, and that led to people asking me if I could build guns for them as well.
Even though the AR market was somewhat full, I decided to dive in and begin building things with a quality-first focus. I also gravitated towards the really short rifles, which we felt were a necessity in certain arenas in private security and in law enforcement. That's where we started. We make longer guns as well, but we started by working on a 5" and a 7.5" short barreled AR-15 and working to get those sizes reliable. The biggest thing on the short guns was us coming with our own micro gas tube.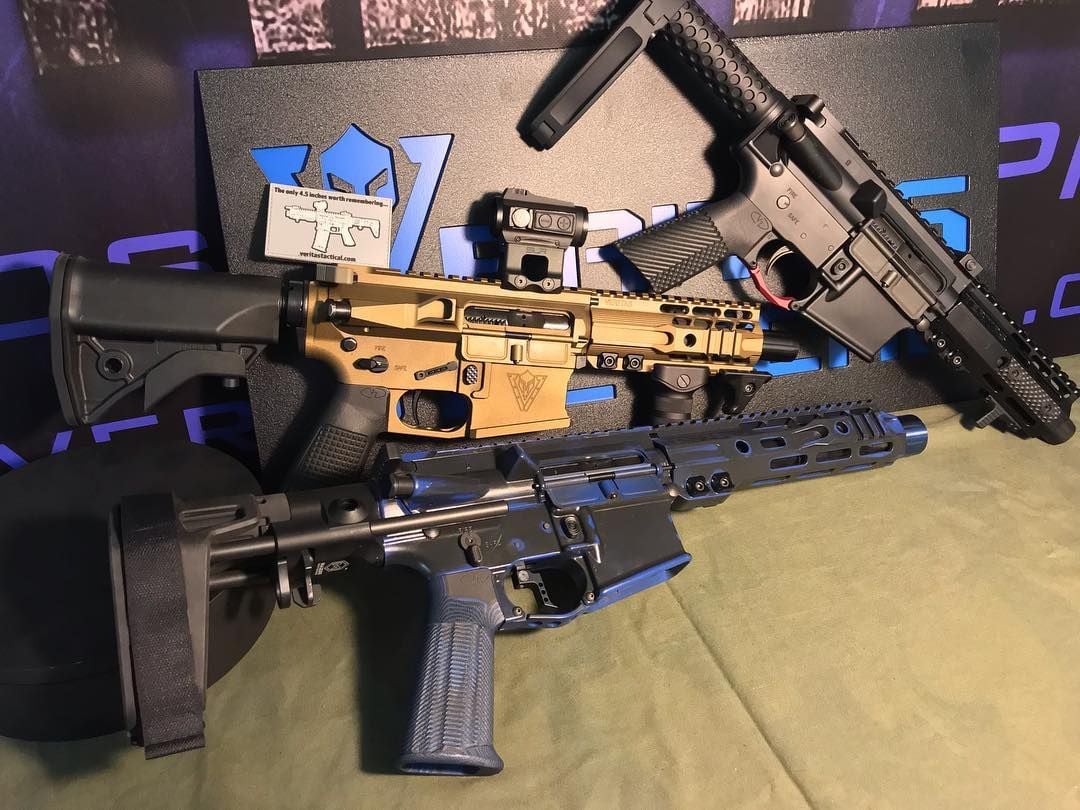 Q: I've always thought of guns this short as novelty guns, however you say that's not actually the case…can you explain that potential misconception of the short barreled AR-15?
Alex Ferrer, Veritas Tactical – When I started messing with them back in 1996, there really was not anything under 10.5" that was reliable. Back then, you may have had things from Olympic Arms or the old Kitty Kat from DPMS, but those were considered novelties, even though they ran.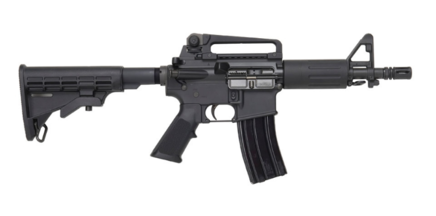 Fast forward to now, where we're building guns for guys in the private security business, that's my other company, and we had a lot of requests from professionals for something that they could put in a small backpack or in a messenger style bag.
The bottom line though is that the gun had to run. But as we started to explore these short barrels, finding the right combination with the gas port and our gas tube to make it run where it would not overgas the gun and beat the gun to death.
We finally found a happy medium after about a year or so, with the help of our barrel machine shop and testing different tubes and bending them. That's how we got what I call the "right recipe" to make it reliable. The barrel blanks also had a lot to do with reliability, as far as stabilizing the rounds when we were going down to around 5."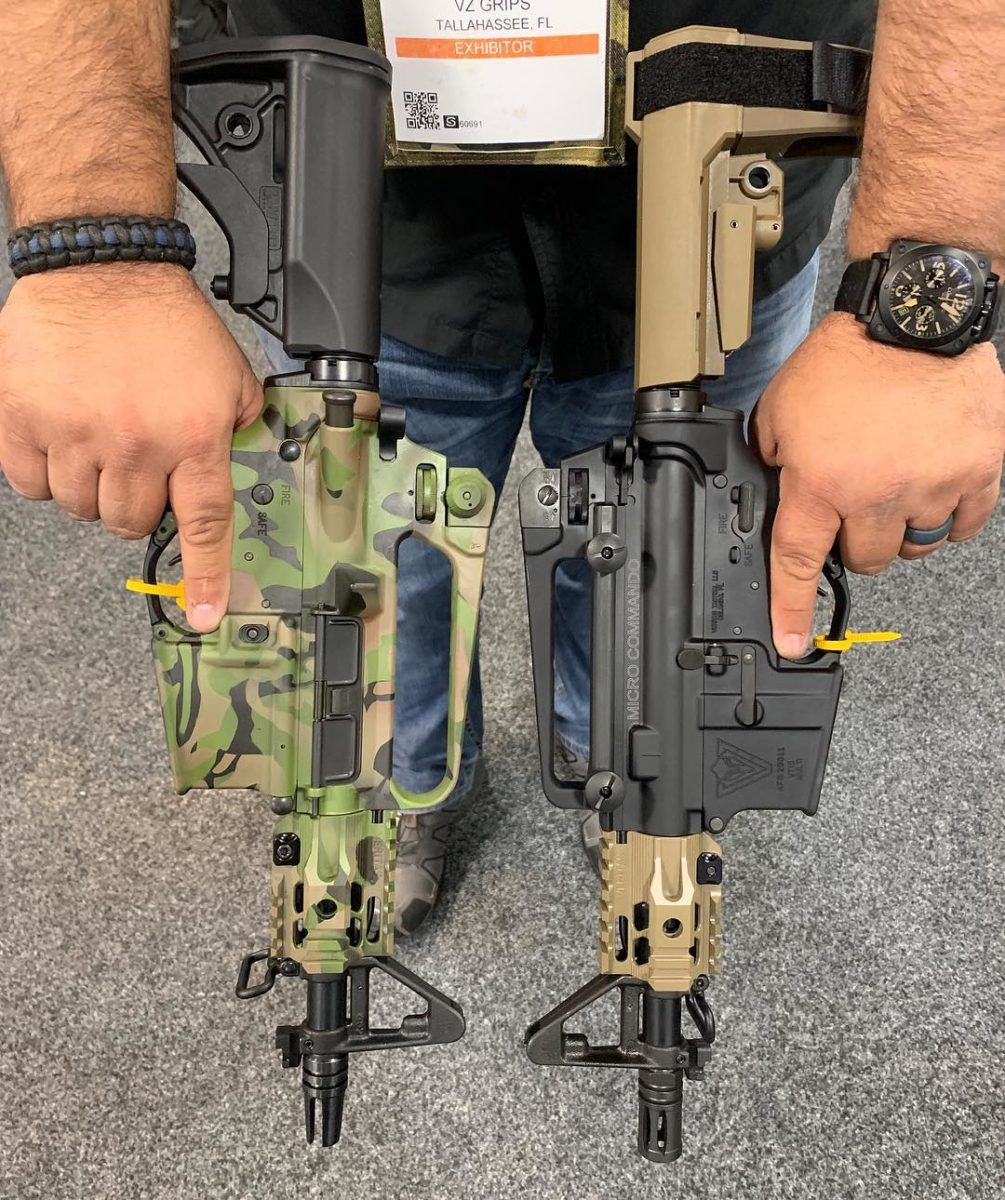 I will say that early on it was a challenge finding a gas tube manufacturer that would be willing to make something as short and with as minor of a bend as we had. We did find them eventually. We also didn't sell our barrels by themselves for a long time. We would sell complete uppers because we actually hand tuned and bent every gas tube up until the time where we got a manufacturer to do it for us to where it was consistent. We needed to feel confident enough to where we could sell the barrel and the gas tube, and someone could put it together with very minimal experience.
Q: Where can things go wrong when trying to build a short barreled AR-15?
Alex Ferrer, Veritas Tactical – The biggest mistakes builders make with these ultra short builds is they think they need to go to either lightened BCGs or a higher H2 or H3 buffer.
From day one, we wanted a gun that functioned reliably with as many standard mil-spec parts as possible, meaning a standard M16 BCQ, a standard carbine buffer spring, and no sort of adjustable gas block. We wanted to make it as simple as possible to build something that did not require proprietary parts, or any of what I call the competition-style lightened accessories to make the gun run.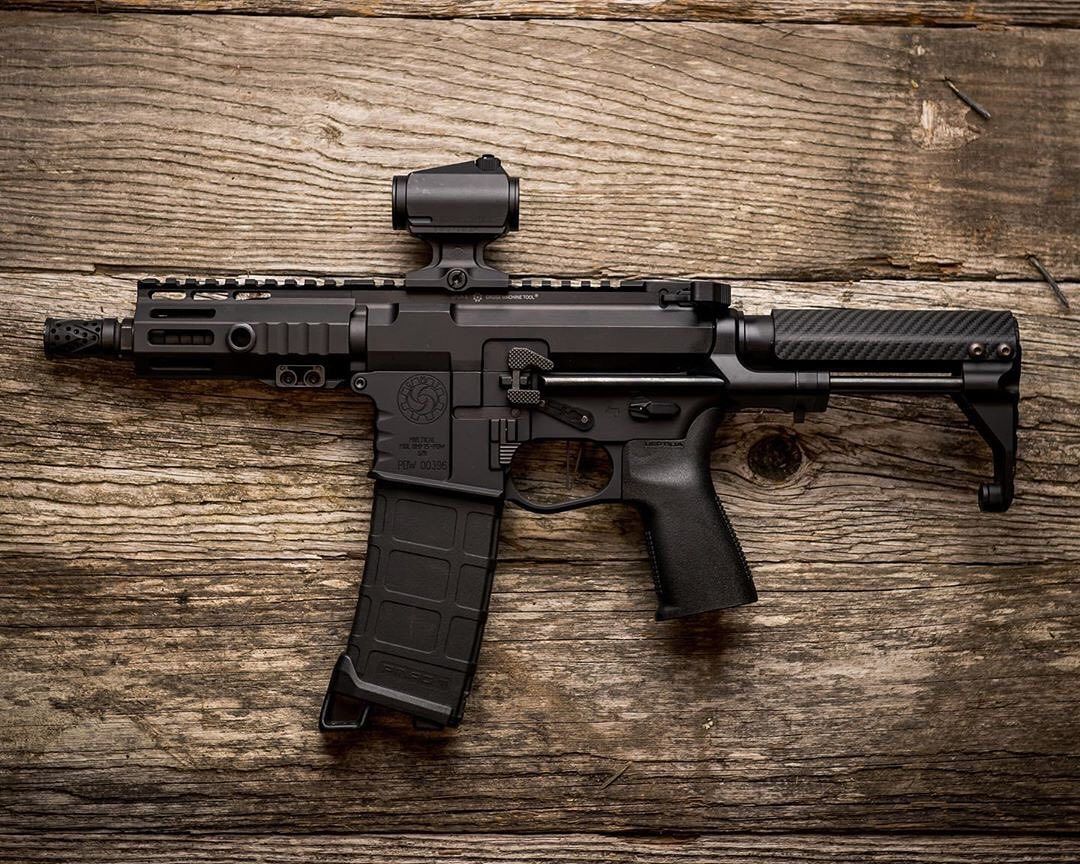 Q: Can you talk about what happens with the 5.56 round when you chop the gun's size this much, and discuss how the rise of 300 Blackout changes the complexion of these firearms?
Alex Ferrer, Veritas Tactical – The 300 Blackout is a unique animal and nothing that you learn from any other caliber translates with 300 Blackout, so that's been a whole learning experience in getting the proper blank and proper gas port to run.
With our 5" 300 Blackout short barreled AR-15, it will run suppressed, unsuppressed with both supers and subs without an adjustable gas block. It took a little bit of work to get it to that point, but you don't need any sort of special buffer or any special bolt carrier group.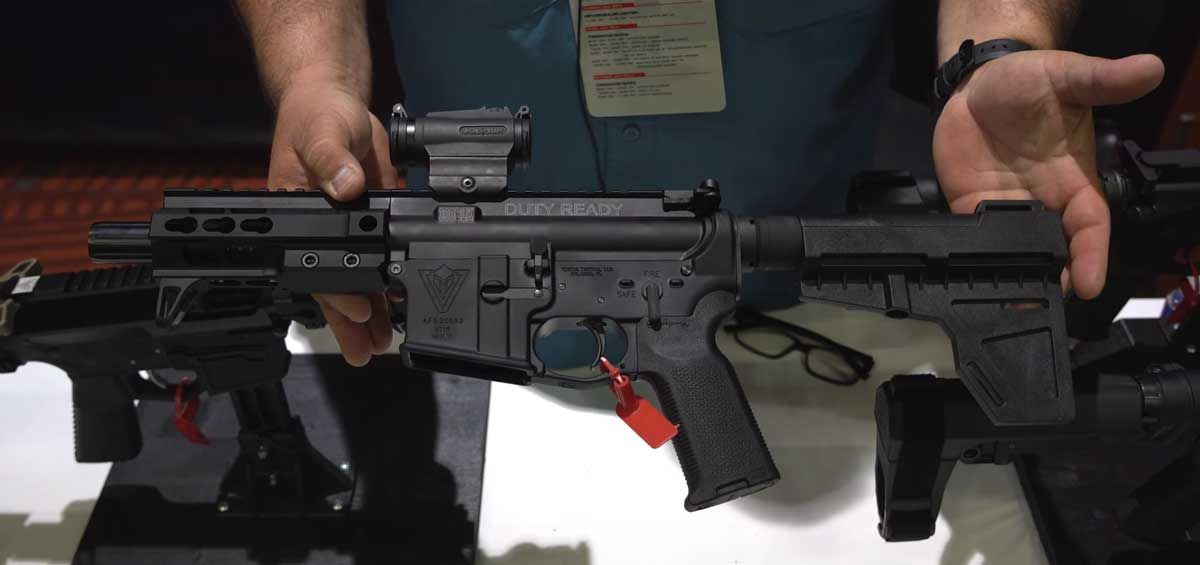 Q: I'm having trouble thinking of where I'd ever want 5.56 out of anything shorter than an 11.5″. In your opinion, Is 5.56 viable out of this short of a barrel?
Alex Ferrer, Veritas Tactical – We got lucky with a few third party companies who did ammo testing for us and we actually have charts where even a 5" gun is penetrating anywhere from 12-14"and still getting expansion. These are rounds like the Speer Gold Dot, HST, some of Hornady's rounds.
So, we were able to show that even though it's so short, for the PDW purpose of the gun, our short barreled AR-15 was still getting the penetration and expansion that we needed. It's the same thing with the 300 Blackout. We've had a few law enforcement agencies try it out, and as far as accuracy and penetration, it has been there.
The misconception that I think a lot of people have is that the round will tumble and keyhole, or it will not have velocity. We are getting 1,700 to 1,800 feet per second out of 55-grain standard American Eagle. So, the rounds work for what the gun is…now if you're looking to shoot 200-300 yards, that's a different story then, but that's not the purpose of it.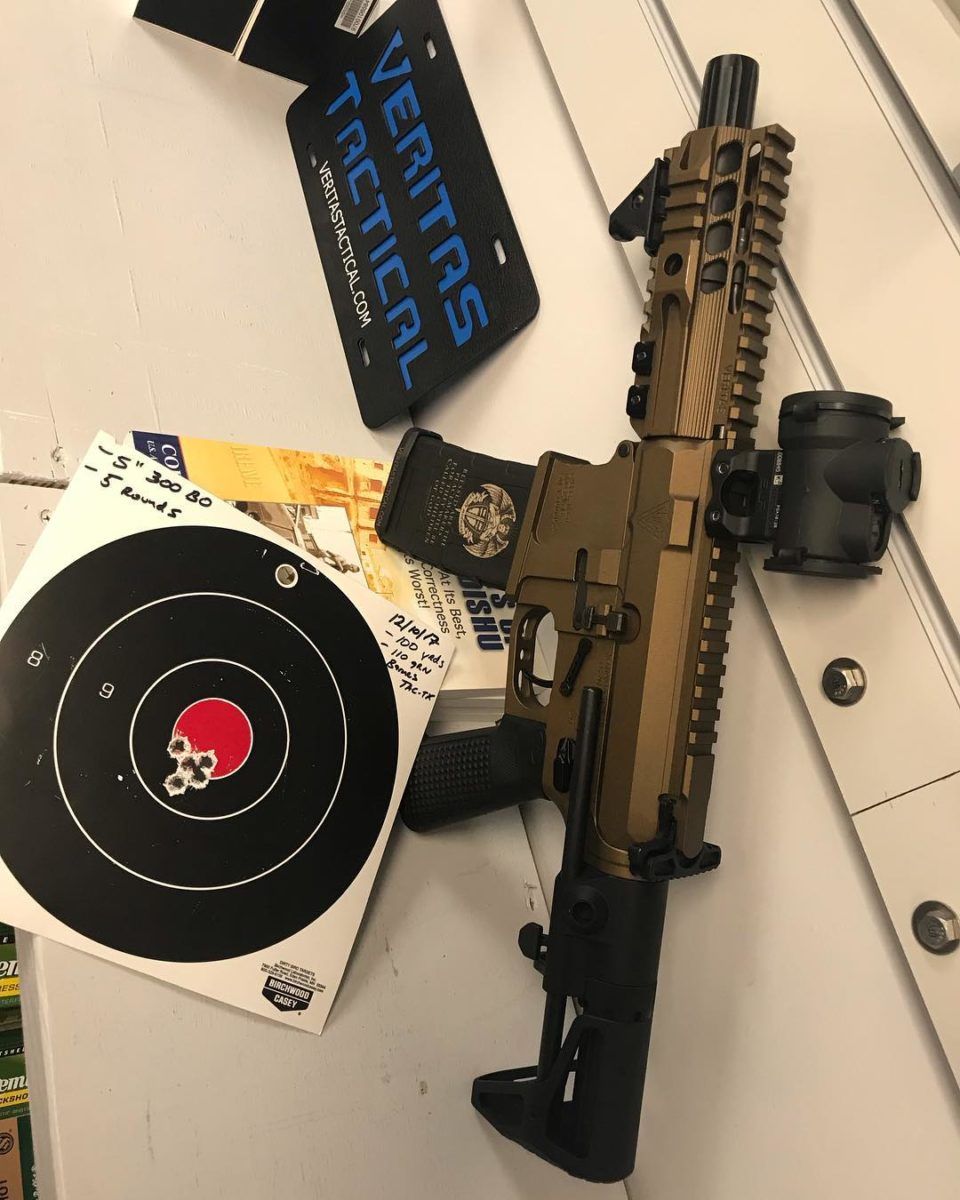 Q: I'm wondering what the purpose of your short barreled AR-15 would be, versus just having an MP5 or a B&T…
Alex Ferrer, Veritas Tactical – The purpose of doing the rifle caliber that short was being able to penetrate armor. The other purpose was SROs in schools wanting something in a backpack or something that they could conceal. As you know, some active shooters wear armor, and that was one of the reasons to go with a rifle cartridge.
Q: Are there other misconceptions out there about the short barreled AR-15 that you'd like to address?
Alex Ferrer, Veritas Tactical – One of the biggest misconceptions is that they don't run, or that they're a novelty. We've been making them for about for four years, and we tested for over a year. The guns run reliably…we run them select fire just to beat them up a bit, and the guns have always worked. They work and they are reliable, but it's important to understand the context of their purpose. If you're looking for long distance, this is not the gun for you, but if you're a specialized unit in an urban environment, or you're in the private sector and you need a rifle round, the guns will be reliable for you.
###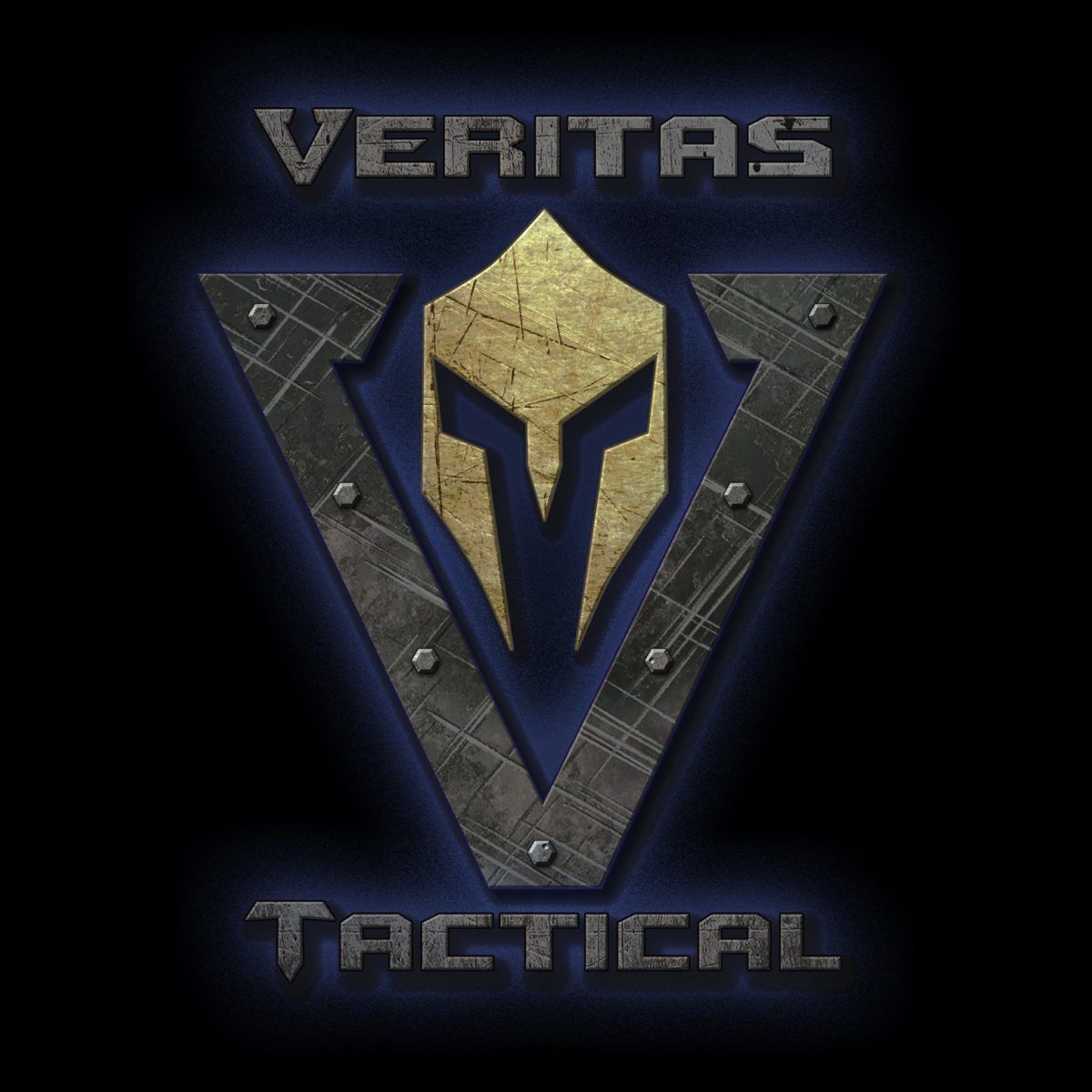 We are sorry that this post was not useful for you!
Let us improve this post!
Tell us how we can improve this post?