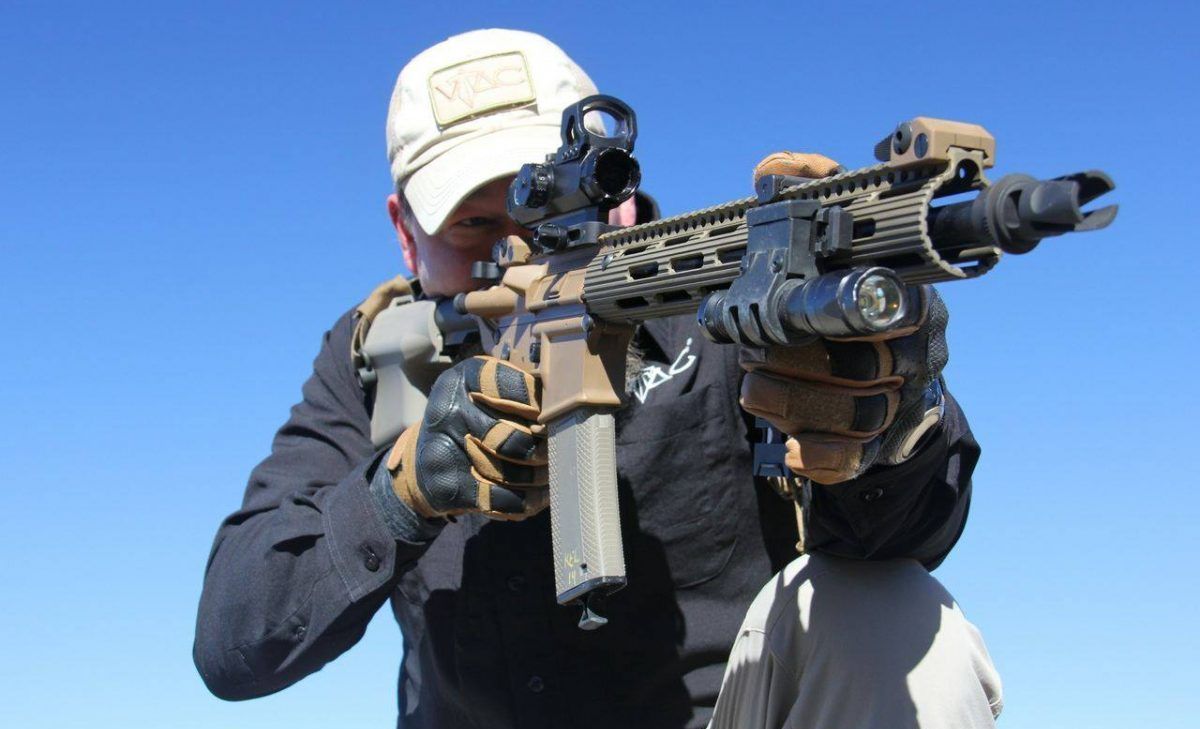 Weapons light for your AR-15? For being something widely agreed on as a vital component of a defensive carbine build, it's something that is easy to ignore.
For a reminder and perhaps a wakeup call, we touched base with Kyle Lamb of Viking Tactics to tell us why having a weapons light for your AR-15 is a smart idea.
Q: Kyle, what would you say to folks who have forgotten to add, or perhaps don't think they need a weapons light on a defensive carbine?
Kyle Lamb: If you don't believe you need a light on a fighting firearm, be it a carbine or pistol, I'd say you're absolutely wrong. With the AR especially, you can have the light on there all the time. If you don't want to use it, by all means don't use it. But if you need it, it's there.
I might use it for shooting at a bad guy. I might use it for searching. Or, it might be used for getting to my children's side of the house quickly without stumbling down the steps to secure them and move them back to my location while the cops are en route.
For shoot and "don't shoot"
I might also use it to signal law enforcement that "hey I'm over here by the flashing light. I'm going to flash it and then lay my firearm down so that you don't shoot me."

Finally, a weapons light for your AR-15 can be used also if you want to make quick shots at night on a bad guy. It's way faster than trying to handhold that light or use ambient light…and putting that light in a bad guy's face does give you an advantage…it absolutely does.
Now, some people say the light is a "weapon." I don't know if I would say that, but it can be used, somewhat like a weapon for a second. If you light someone in the eyeballs, they can shoot at your light. But they definitely can't see beyond that light, so they don't know where exactly where you're hiding behind that light. Normally if it's attached to your gun, they've got a pretty good idea. But we do teach a lot of stuff where we'll put a light down and move away from it and shoot from another angle, as well.
Weapons Light for Your AR-15 – Useful Day and Night
Kyle Lamb: It's also important to remember that most bad things happen at night. That said, you need to have a light on your weapon because even if it is daylight, if you have to clear a space in your house, or if you're in a law enforcement or your'e a military guy, you'll definitely find yourself going from the outside to the inside. You'll want a flashlight to go into those "scary places."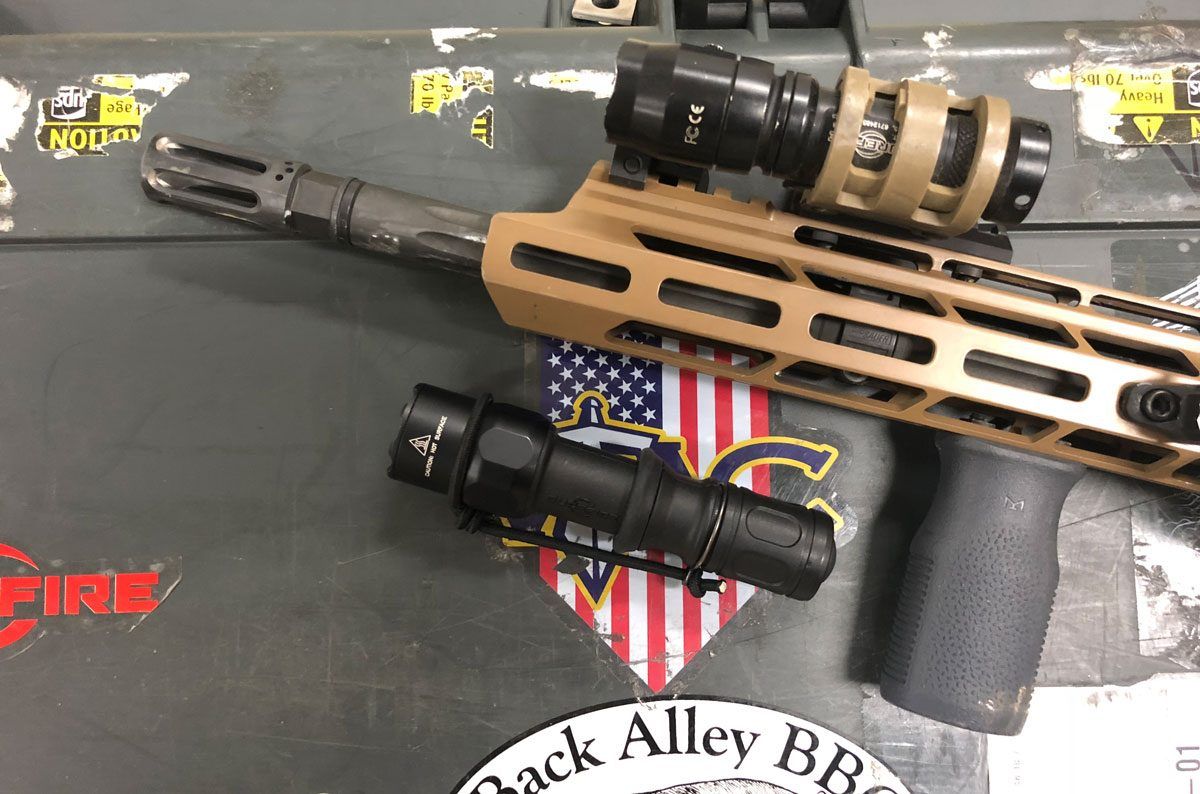 Weapons Light for Your AR-15 – Brightness vs. Focus
Kyle Lamb: Now, with the carbine light and the pistol light, we're kind of looking at a couple of different products there. But with both, I have guys ask me all of the time: "Can you have too bright of a light?"

My answer to that is "No, but you can have the wrong focus on your light."
Q: What's an example of why you need a proper focus on a light?
Kyle Lamb: If you take a Surefire Scout Light, it has a very tight focus, which means when I go under a vehicle…say that vehicle just finished being driven fast for 100 miles…It's going to be steaming. There's also possibly going to be dirt falling off it as you shoot. Perhaps it's parked in a dirty area like a gravel parking lot.
So when I get out there and I crank off that first round, all that dust is going to pop up in front of me. And now, if I have a light that doesn't have a focused beam, sometimes I actually light up my position more than I light up the bad guy that I'm trying to shoot at. So, for that reason, I'm a big fan of a focused beam light.
Q: What weapons light with a focused beam do you prefer to use on your AR currently?
Kyle Lamb: I normally use a Surefire Scout Light head with a pressure pad on the back of the light.
I just use the button on the back of the light and that works very well in a VTAC Light Mount. It fits perfectly and it saves you a little bit of money from buying another mount, when our mounts are less than 30 dollars and you can put that light right in there.
Adaptability of the Viking Tactics Mount
Really, you can put whatever light you want in there. There's a shim inside of our light mount that allows you to put in a small light. If you take that out, you can easily put a in 1" light like some of the Streamlight plastic lights, which are really good lights.
The G2X is another good light from Surefire. On that one, they made it a little bit small, so you have to put a piece of tape around the light and then it fits in there perfectly.
The light mounts that we sell…is a design that belongs to Viking Tactics, and it's a lightweight, injection molded light mount. The way that it works is that it has a clamp that goes on to any Picatinny rail. The ring on it has two different sizes.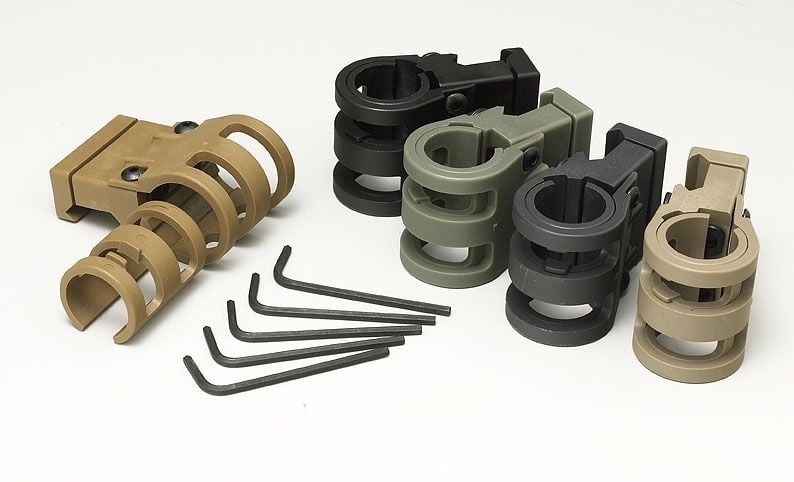 You can use the internal shim and then it will fit on the smaller lights, like Surefire and Streamlights, then it has the outer ring, once you take the shim out that will fit on a lot of those plastic-bodied lights.
Q: Can we talk briefly about those less expensive lights? I know that a lot of folks would love a light, but cannot afford some of the high quality/high dollar lights out there?
Kyle Lamb: Some people don't like those, but I would say that those lights are ten times better than the lights we saw 20 years ago. Now, I like a metal light better…but if cost is an issue, you can certainly buy one of those plastic-bodied lights for under 50 bucks, and it will fit in our light mount which is under 30 bucks, and you're ready to rock.
Benefit of a More Expensive Light
The reason people trust a light like Surefire so much is because they are just bomber lights. They're made in America, and what you have there is a heavy duty light without having a huge amount of extra weight.

It's also worth noting that they designed specifically for gunfighters. They are not a light that you go to Wal-Mart and buy…designed for someone walking their dog that they adapted to your weapons system…they are actually designed to be used by people in combat.
As far as the models…I use the Scout light head on just a regular hand held body because it fits in our light mount. It saves me some money that way. I then just have a protected tail cap on there.
Bungee for Extra Security
Also, I put a piece of bungee on all my flashlights from the front to the rear. This is so if something happens to the light on my rifle, not that an LED is going to go bad, but say if a bad guy shoots and they hit it. Or, if I'm in a car crash and the light gets broken off your gun. Well, I have a piece of bungee from the front to the rear of my light that allows me to slide it over my vertical grip or over my current light and mount it right there beside that light, or in a position I can get to. Its not perfect but it allows me to use that light.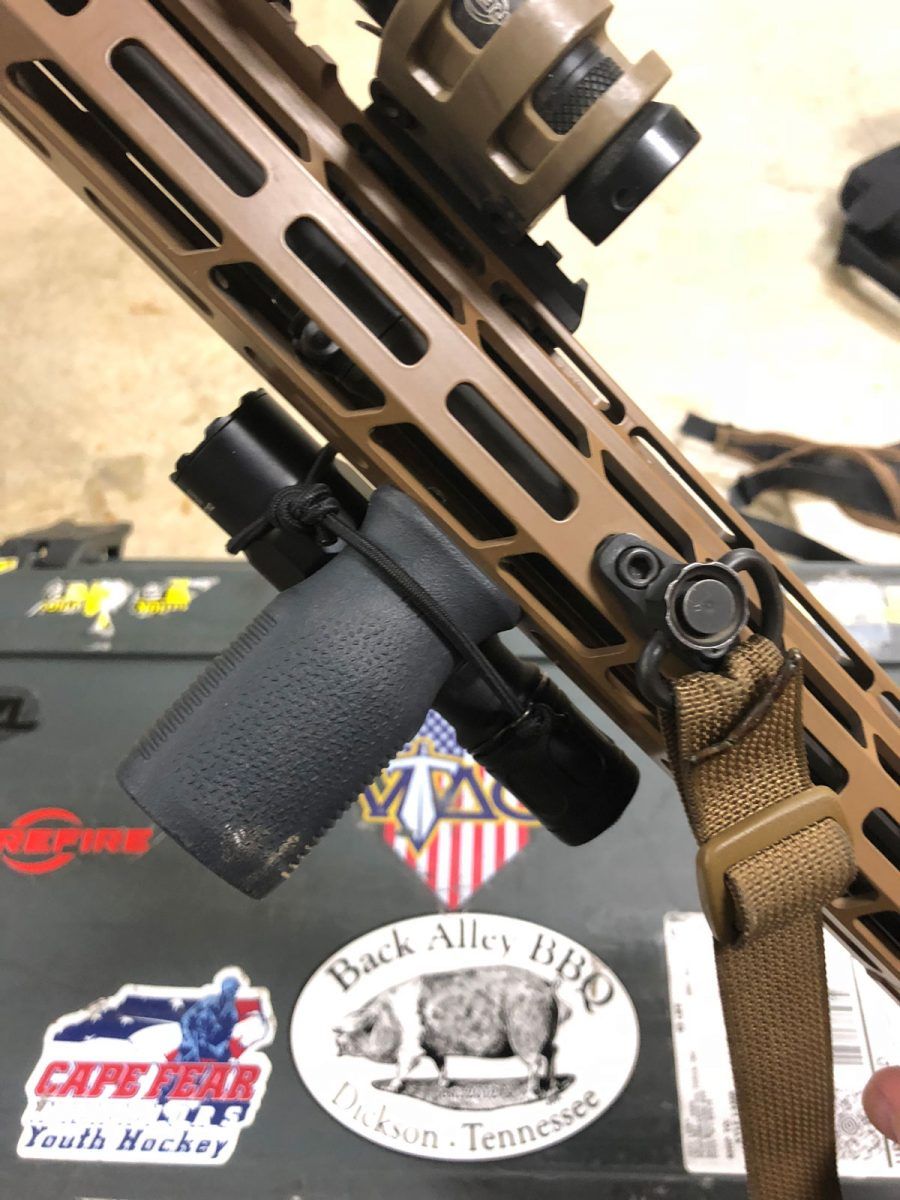 Beyond Lumens – Weapons light for your AR-15
Q: Are there any other features or advice you can give us as we seek out a weapons light?
For a weapons light for your AR-15, I would say that you should look at the lumens…then get what you can afford. But the other thing I would tell you is that there are some lights that on the first press they are bright. Then, on the second press, they are dim. Those lights I would avoid like the plague.
This is because you are going to get into a gunfight and you are going to push the light…they take a shot at you…you push it again, and its going to come up dim. I am not a fan of a light that will go dim.
I don't like my lights to make my decisions for me
If you want to make it dim and there is an extra switch, fine. But I want to be able to push that tail cap and that light always comes on bright. So, if you're going to buy something from Surefire, keep in mind they make two different versions of a lot of their lights. One is handheld, bright and then dim…and they make a tactical version of that light which is always bright. Get a light that is always bright.
This is because I don't like my lights to make my decisions for me. I want me to make the decision if its too bright or not. Now, if the light is too bright when I'm searching…I just put the light towards the ground and then I get the amount of splash I need to clear an area.

The final thing I'd say about a weapons light for your AR-15 is just that I don't ever remember saying, boy I wish I had a light that was less bright. But I do remember saying I wish it was focused more…so again, that's something to think about when you're looking at your options.
###
Thanks to Kyle Lamb of Viking Tactics for giving us the basics what to look for in a weapons light on your AR-15. For more information about what Kyle is up to, be sure to visit him on his website. To read an interview with Kyle we did on AR-15 basics, click here.


We are sorry that this post was not useful for you!
Let us improve this post!
Tell us how we can improve this post?