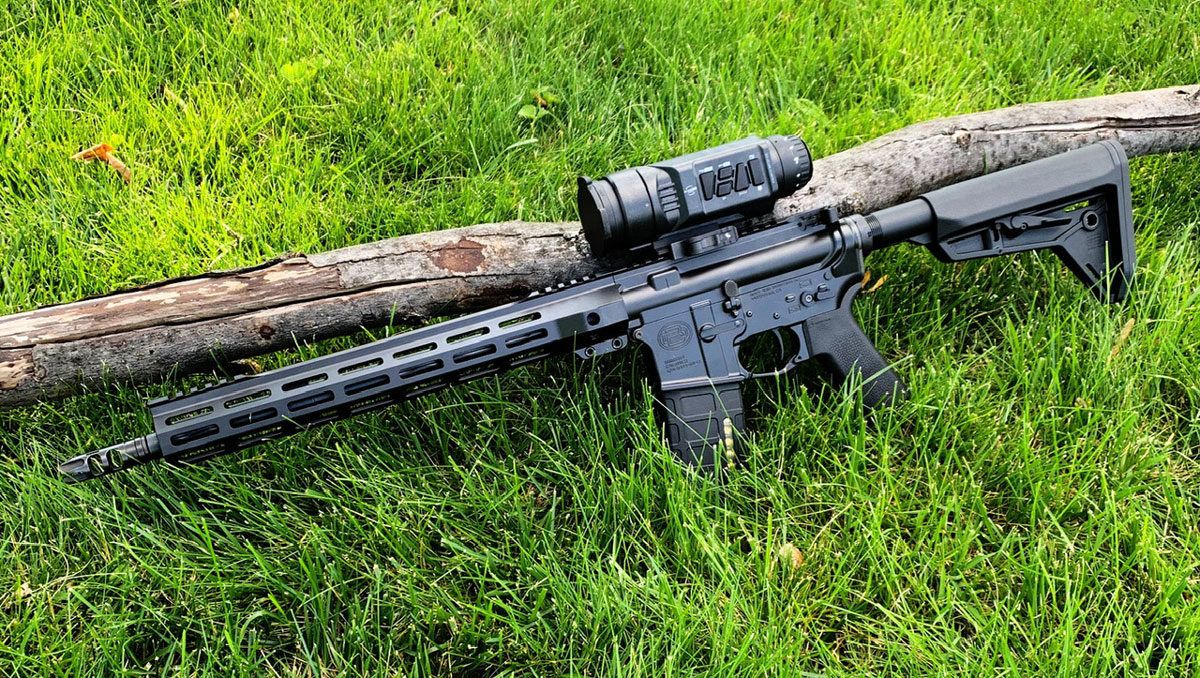 If you're a hunter, competitor or AR enthusiast wanting to build a quality, all around AR-15 build without bleeding your bank account completely dry, the Dirty Bird DB-15 Builder's Set just might be what you're looking for.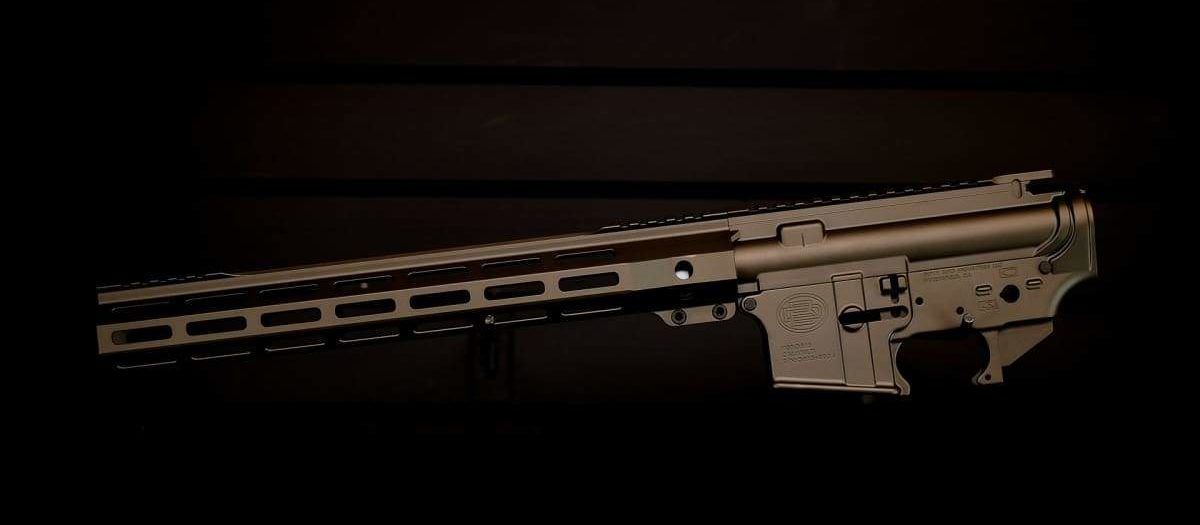 Dirty Bird DB-15 Builder's Set
Obviously, an "all around build" will vary somewhat from person to person depending on their needs. However, from my personal standpoint, this build has quickly become of one of my current favorite go-to rifles. Quite simply, it is an affordable, accurate and reliable multi-purpose AR-15.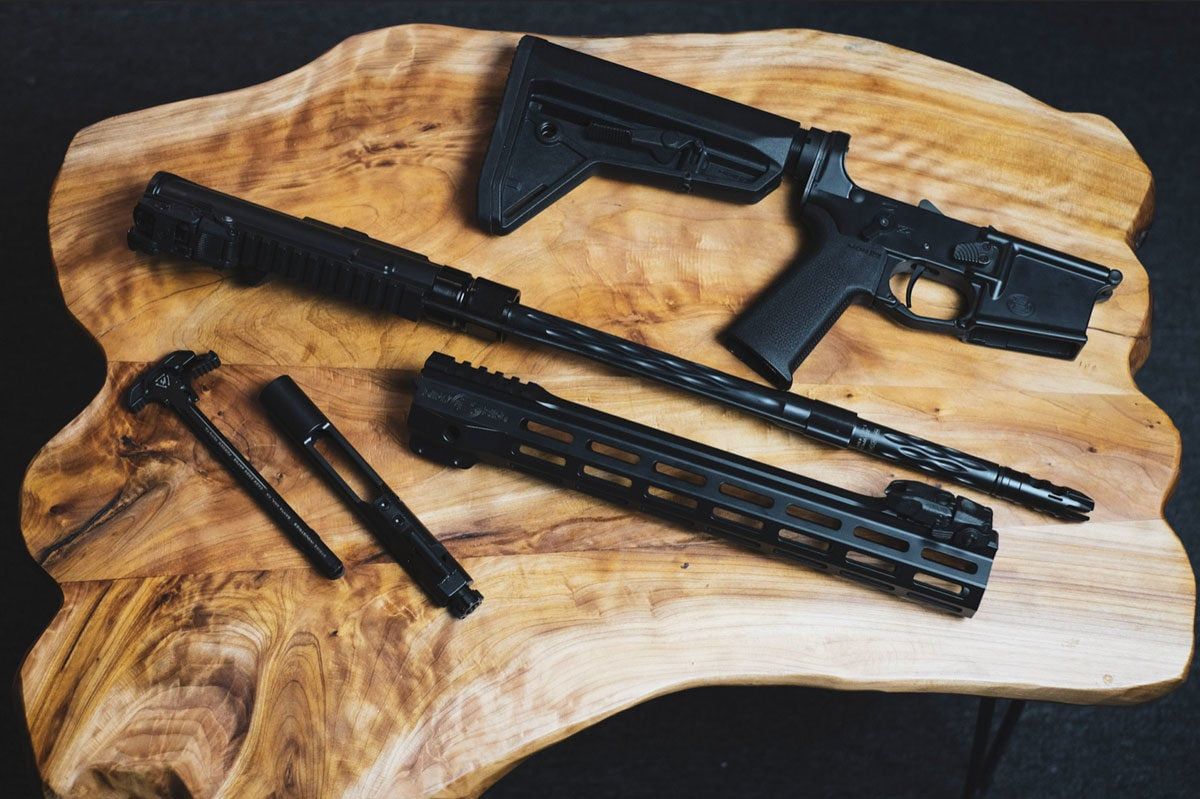 Full disclosure, as you read the following, know that ARBuildJunkie is sponsored by AR15Discounts/Dirty Bird Industries, so please keep that in mind as you read the following article.  As with any firearms purchase, do your research before you buy. Never rely on a single source of information.
Past Success with Dirty Bird Builder's Sets
My first introduction to Dirty Bird Industries and their Builder's Sets was via Dustin Pitcher at AR15Discounts.com. Not too long ago, Dustin helped us build an affordable and reliable PPC, which also used a builder's set from Dirty Bird Industries.
If you're interested though, you can read more about that 9mm build here.  In summary, the overall fit, finish and function of that Dirty Bird DB-9 was very impressive and I was eager to see what the Dirty Bird DB-15 Builder's set was all about.
Purpose of the Build
My end-goal for the build was a rugged, reliable, accurate, reasonably lightweight AR-15 build which would be used for ongoing wildlife eradication efforts. The gun would be put into action by myself and family members who hold a permit to eliminate nuisance deer (and the occasional coyote) at a local vineyard.
The gun would also be expected to pull double duty as an accurate, sub-MOA range rifle on which we could reliably test a wide variety of incoming optics.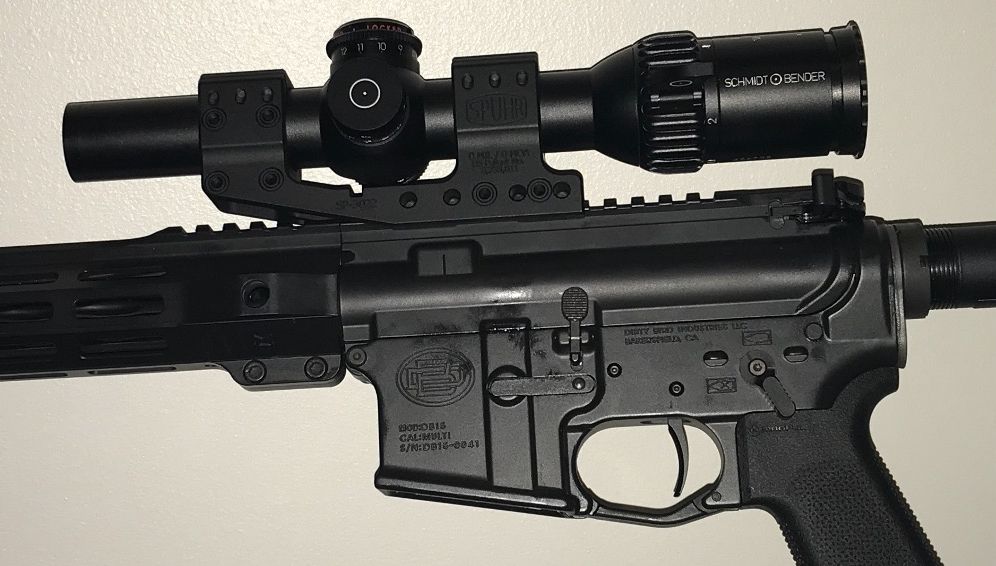 Performance at a Reasonable Cost
Simply put, I wanted a build that could perform like one of my safe queens, not break the bank, but at the same time could handle all the abuse we could throw at it while hunting. I planned on building a knock-around "tool" in the truest sense of the word.
In the end, I think I more than accomplished that with this build. But what I did not expect was just how gorgeous (or accurate) the end product would end up being.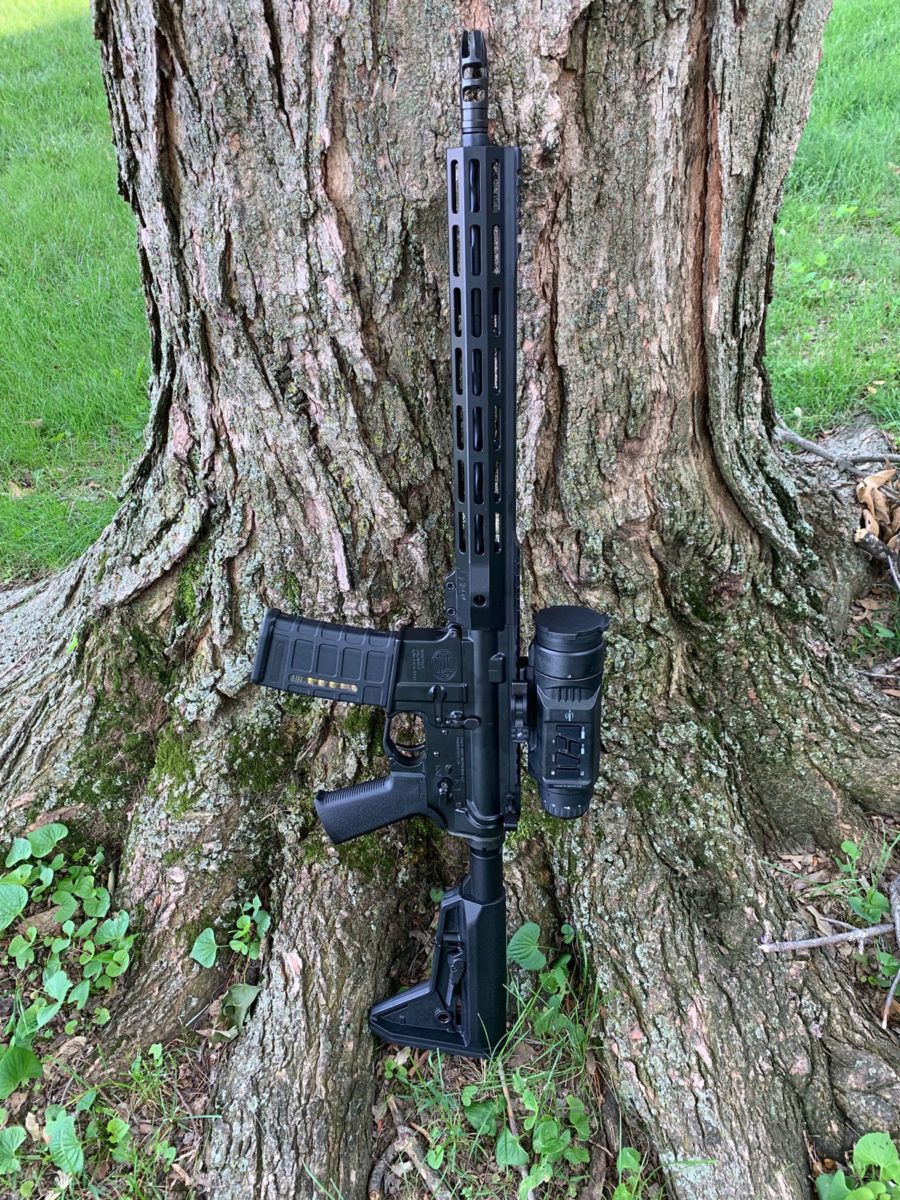 Dirty Bird DB-15 Builder's Set
After the initial unboxing, my first impression of the Dirty Bird DB-15 Builder's Set was that it surpassed expectations by a large degree. It seems very well built, and has a fit and finish that reminded me of some very high end factory rifles.
To learn a bit more about the Dirty Bird DB-15 Builder's Set, we made a quick call to Dustin over at AR15Discounts.com so that he could explain the set in more detail, as well as shoot the breeze about what components he'd use if he were in my position.
Q: Dustin, we've been using this gun hard for a few months now. It's a very simple and affordable build that has really exceeded expectations, and one of the absolute highlights is the Dirty Bird DB-15 Builder's Set.
Dustin Pitcher, AR15Discounts.com – It really is a nice set. For someone doing something like the multi-purpose build you were trying to pull off, it's a great starting point. For starters, the Dirty Bird DB-15 Builder's Set is machined to M16/M4 Mil-Spec…it's a mil-spec upper and lower receiver set. It's something sourced from Tier 1 manufacturers…these are not blems, hand-me-downs or sub par B-Grade forgings. The fit and finish of the upper and lower receivers is there. For the quality you receive, it's really one of the best kits available for builders anywhere right now.
Then you get the handguard…the DB-15 SMRS (Slim M-LOK Rail System) itself is versatile. It has M-LOK all around. It is also relatively lightweight. A newer version is coming very soon. That version will have a revised attachment/barrel nut design that has an anti-lift/anti-slip feature. This is already being employed on the 15" version of the handguard. 9.5 and 13.5" will follow in the coming weeks.
Q: Can you talk about the finish? For the cost, this builder's set is really gorgeous…especially in person.
Dustin Pitcher, AR15Discounts.com – One of the things that separates the Dirty Bird Builder's Set from a lot of the other ones out there, even though the set is offered in a variety of colors, is that even the black one comes cerakoted.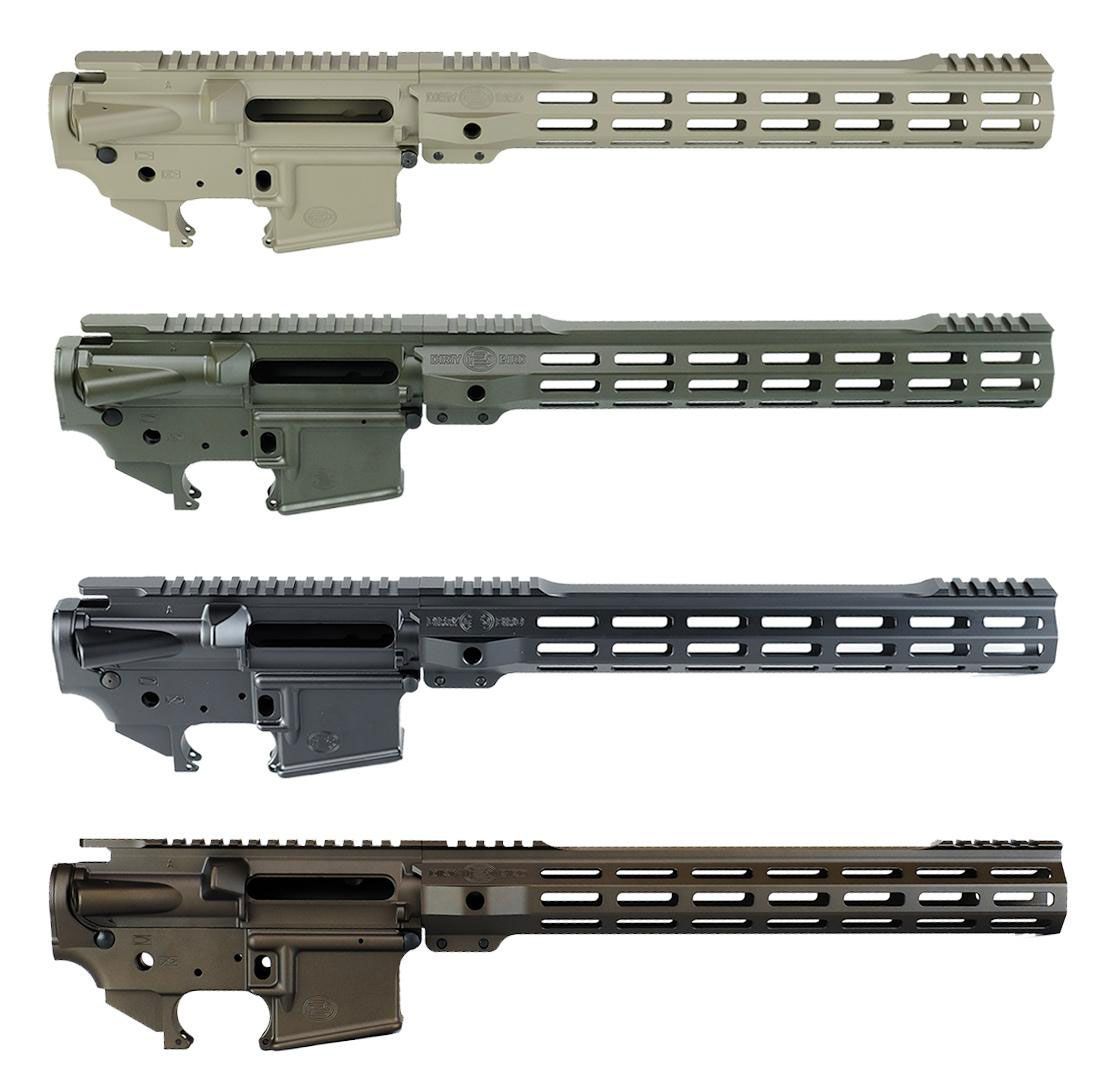 Because of that, there is a noticeable improvement in the finish. The receivers and the handguard match perfectly. The result of that is it has a very premium feel. That said, the price point also hits a sweet spot. It's not necessarily the cheapest builder's set out there, but in terms of overall value, I think it's really hard to beat right now.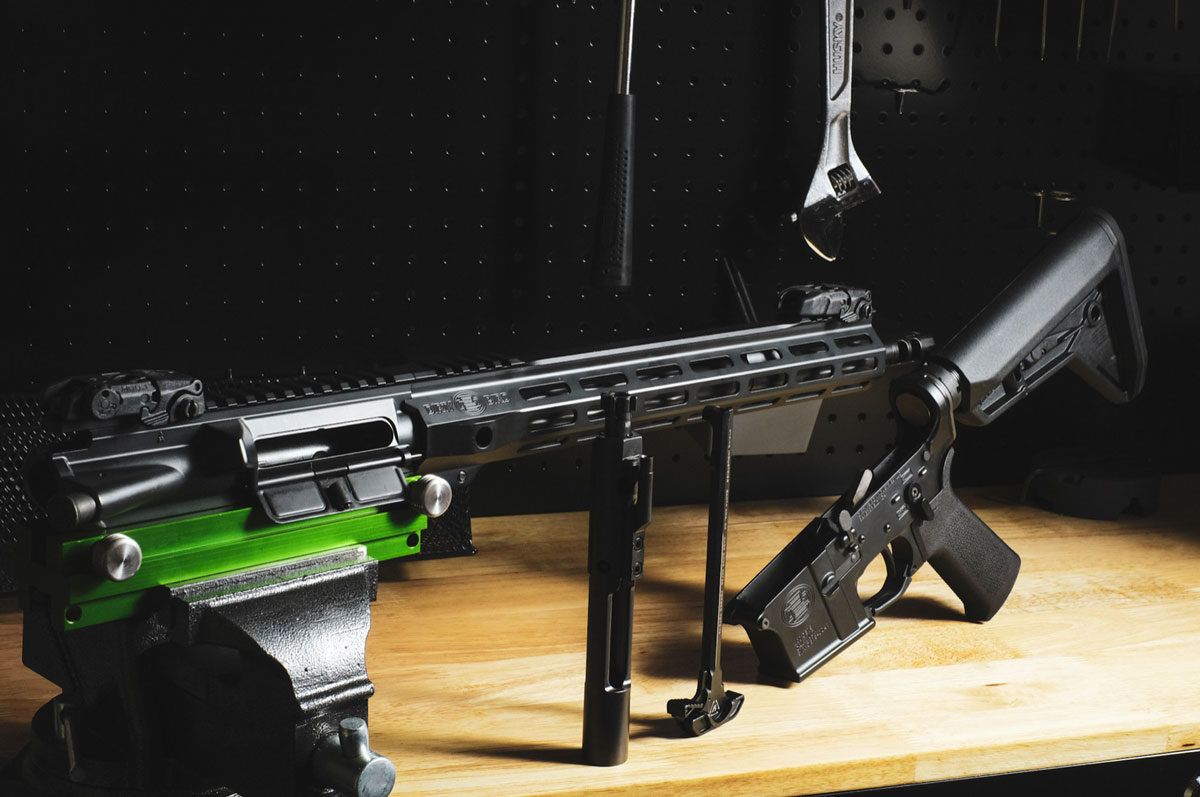 All Around AR-15 Build Components – DB-15 Builder's Set
So, equipped with the black cerakoted DB-15 Builder's Set as the foundation, I next had to decide what components to pair with it. Being that this is a multi-purpose, all around build that would be used as a daily working gun, we wanted to do something that is accurate at range so we can kill things with it. As such, we did not want to skimp on the barrel. The gun would also need to be lightweight (within reason), as it would be carried around 2-3 miles per evening…4 to 5 days a week.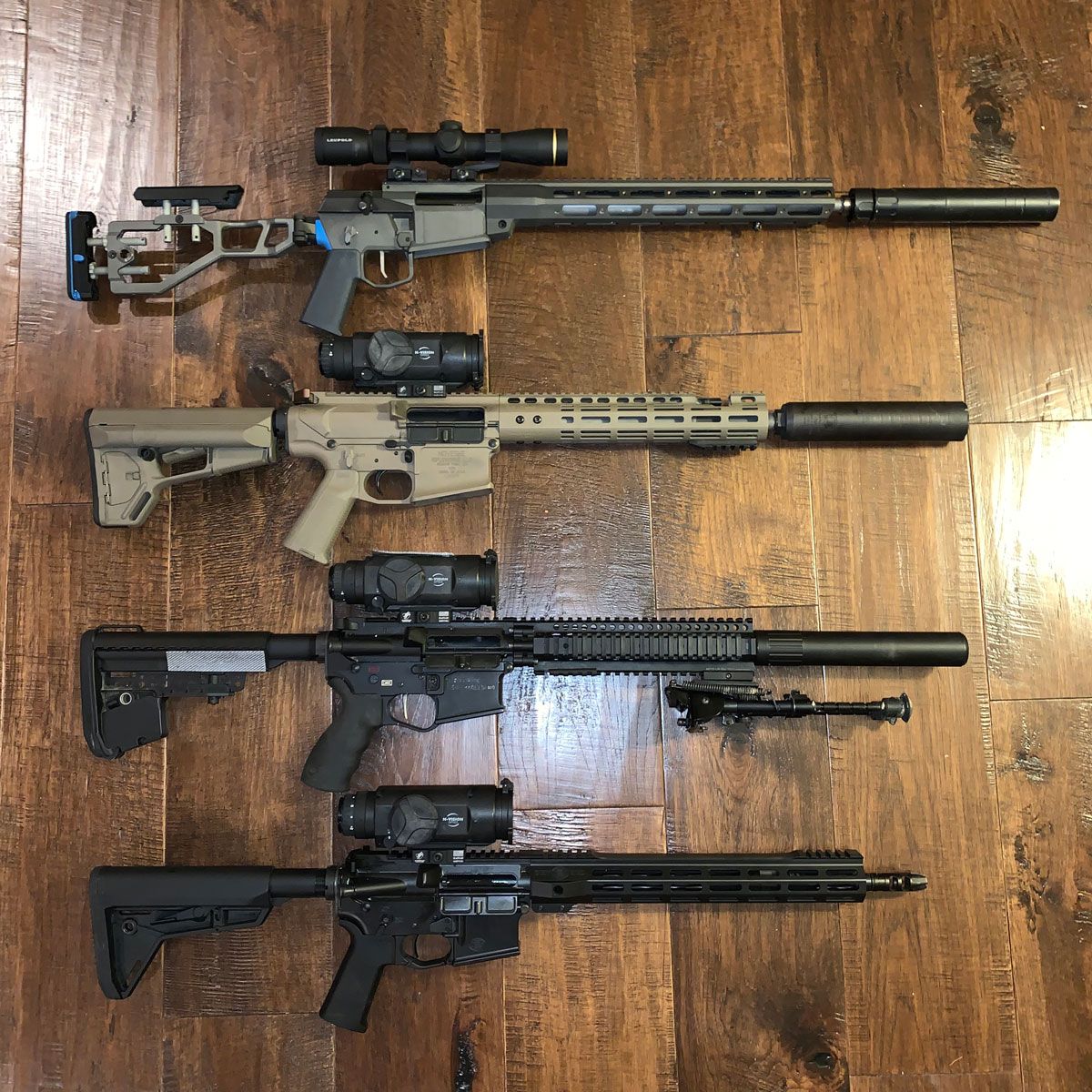 All Around AR-15 Build Components – Barrel & Muzzle Device
I spent a lot of time trying to think about what barrel I wanted to go with for this all around AR-15 build . But thinking back to a conversation I had with Bob Faxon at SHOT Show 2019, I decided to give one of his barrels a chance.
I recalled being impressed with the look of their Match Flame Fluted barrel and because looks matter at least a bit, I thought it would look really nice with the premium finish of the DB-15 Builder's Set. I bounced the idea off of Dustin and he just so happened to have a 14.5″ Faxon barrel available, which I promptly ordered and had sent my way.
As far as looks go…my suspicions were correct. The Match Series flame fluted barrel looks tremendously cool sitting inside that cerakoted Dirty Bird handguard. However much more importantly, the barrel has performed very, very well. We've gotten terrific accuracy out of it. For example, the gun shoots .5 MOA groups with 60-grain Nosler Ballistic Tip handloads.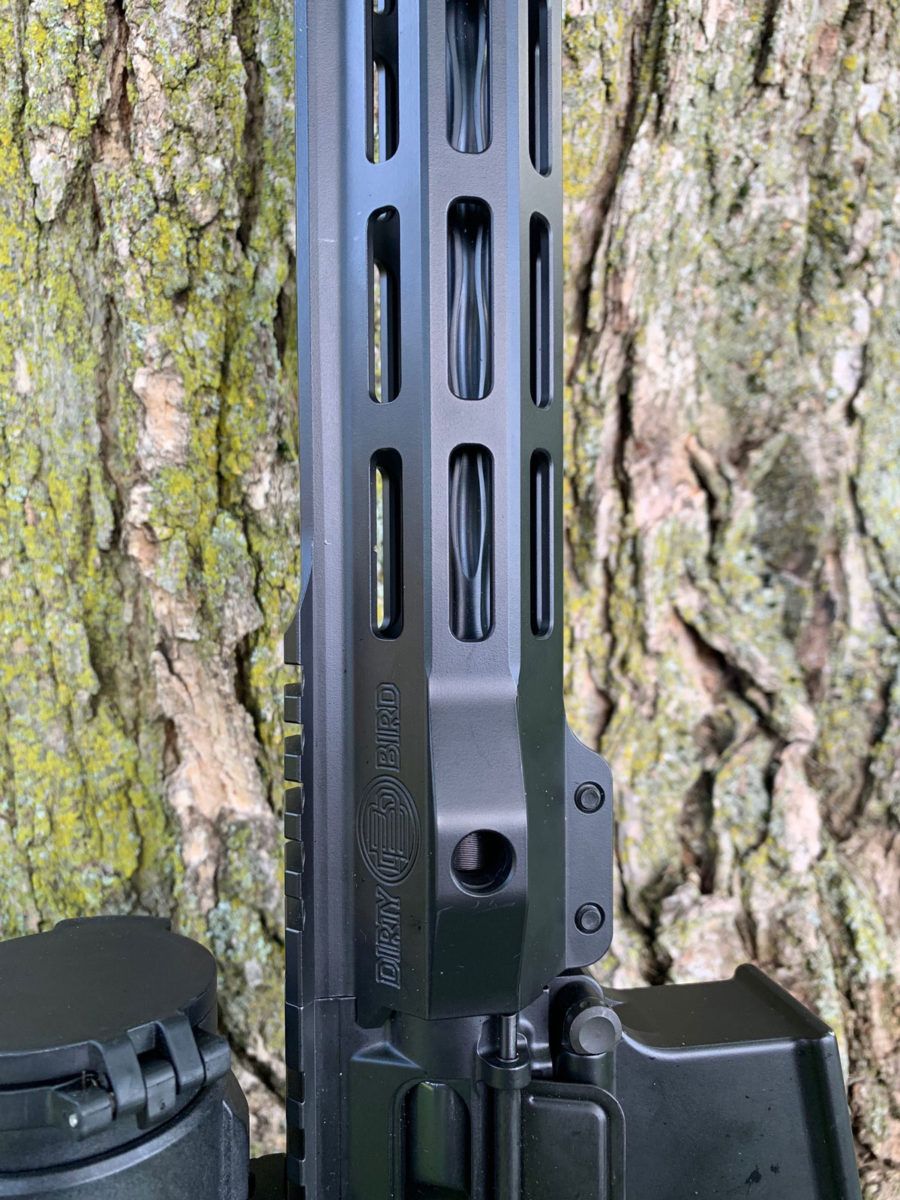 From what I gather, in addition to being accurate, it's also a very robust barrel. In doing some reading on the nitride-treated Faxon barrel, I've seen numbers that claim very long barrel life with such a treatment process. While I have no plans (nor the funds) to run that many rounds through this rifle, it's certainly an interesting footnote.
More details on the barrel…Via the Faxon website:
"Manufactured 100% in-house from gun-barrel-quality bar-stock, the Match Series starts with 416-R in 5R rifling. 5R is a hybrid rifling, with lands opposite grooves and reduced sharp angles that reduces jacket deformation increasing velocity and easy cleaning. We chamber our Match Series in .223 Wylde, a hybrid chamber that the 5R rifling takes full advantage of. Better accuracy through less bullet jump, but fully and individually MPI tested for your safety. After rigorous testing, the barrels are Nitride treated inside and out, locking in the bore, improving barrel life, and keeping the elements at bay…"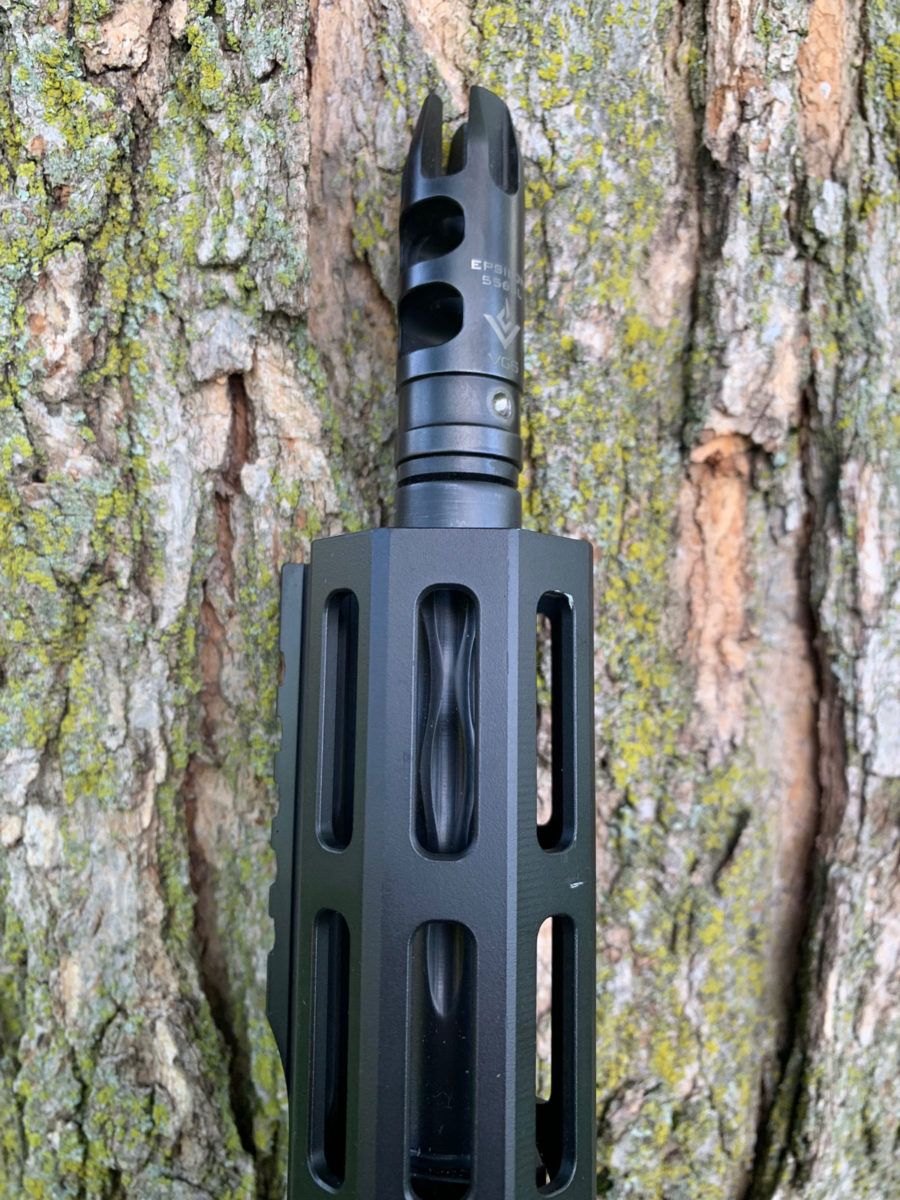 Because I ended up going with the 14.5" Faxon Barrel, I needed to pin & weld a muzzle device. I was not looking to turn this thing into an SBR or a pistol. I ended up using a VG6 Epsilon 556SL muzzle device, which is an affordable option that has good flash and recoil reduction characteristics.
What's nice about the 556SL is the slim diameter of the muzzle device matches the diameter of the barrel. It looks great with the Faxon barrel, but it also means that should I ever need to service the barrel, even though the muzzle device is pin & welded, I can still slide the gas block on and off.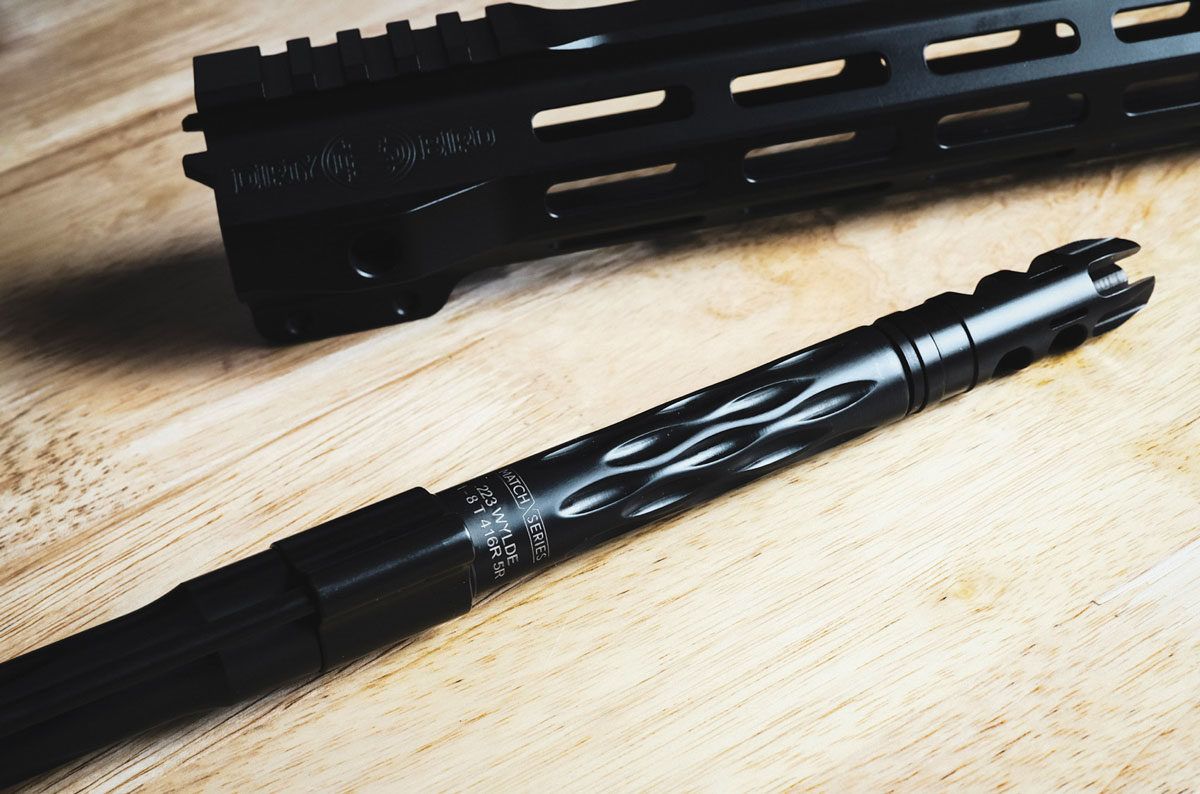 Ramifications of a Pin & Weld
One drawback is that the muzzle device does produce some noise and concussion, more importantly, we lost the ability to swap the muzzle device because we've pin & welded it for compliance reasons.
Right now, I'm enjoying this all-around AR-15 build enough that I'm seriously contemplating doing another using an inexpensive 16″ 300 Blackout barrel with a suppressor. With a vast majority of our wildlife eradication efforts occurring after dark, shooting suppressed has its appeal. So does shooting deer with 110 grain 300 Blackout. If I do end up doing that build, I'll most certainly do a write up on that at a future date.
All Around AR-15 Build Components – Bolt Carrier Group
Rounding out the build, I used a bolt carrier I had on hand…a Toolcraft BCG with a DLC (Diamond Like Coating) finish.
Via Toolcraft website, regarding the DLC finish:

Ionbond Diamond Like Coating is a metal finish applied through a Physical Vapor Deposition (PVD) process. It is a tough corrosion proof coating, with excellent friction properties. The Ionbond Black DLC will not chip, crack or peel, providing you with years of protection against wear while maintaining its integrity. It is so strong that it is virtually scratch proof.
With the combination of that bolt and the Faxon barrel, I have experienced 100% reliable function so far. To date, we have put just over 1,400 rounds through the rifle. As always, your milage may vary.
All Around AR-15 Build Components – Trigger
Being that this was an all around AR-15 build that was going to have a match barrel and be well-balanced and reasonably lightweight, I decided to give it a trigger that I could potentially use for competition. I went with a Velocity trigger that has a 4 pound pull with a clean break and quick reset. If you have a favorite trigger, you could easily opt for that on a build like this.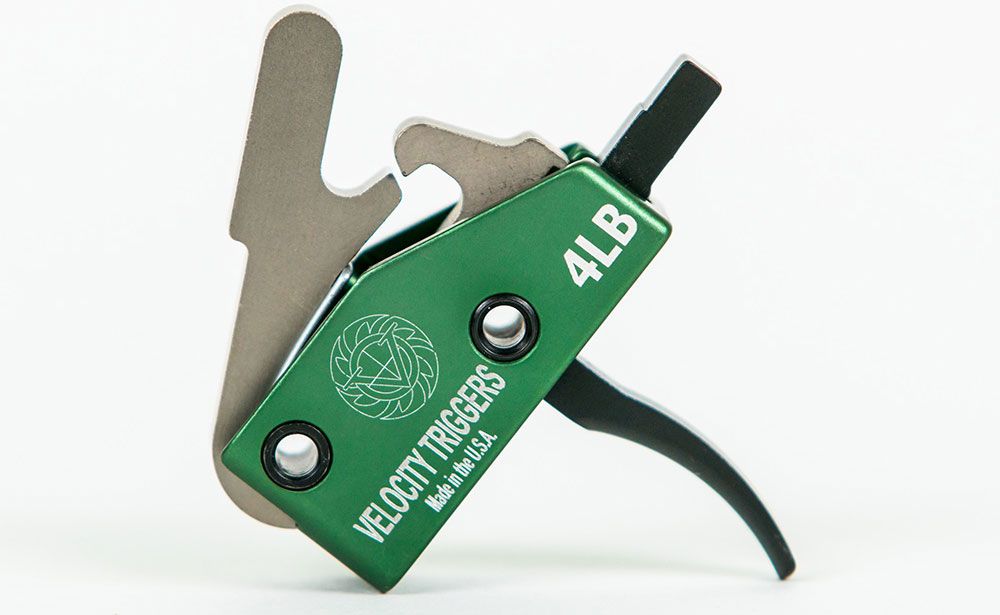 All Around AR-15 Build Components – Buffer System
This is one area where you might want to upgrade. Due to my budget at the time, I wanted to keep the costs somewhat low with this build. As such I went with a Dirty Bird True Mil-Spec Carbine Receiver Extension/Buffer kit. The buffer kit has a 7075 tube, mil-spec carbine buffer and a mil-spec carbine buffer spring.

This is certainly an area of the build where you could upgrade to something like the VLTOR A5. That said, in terms of reliability and cost, it's been ideal in my experience. As far as a buffer, the gun is ported to run a 3 oz. carbine buffer, so that's what I went with. The results have been great so far. I've run a variety of ammo (factory and hand loads) through the gun without any issues.
All Around AR-15 Build Components – Finishing Touches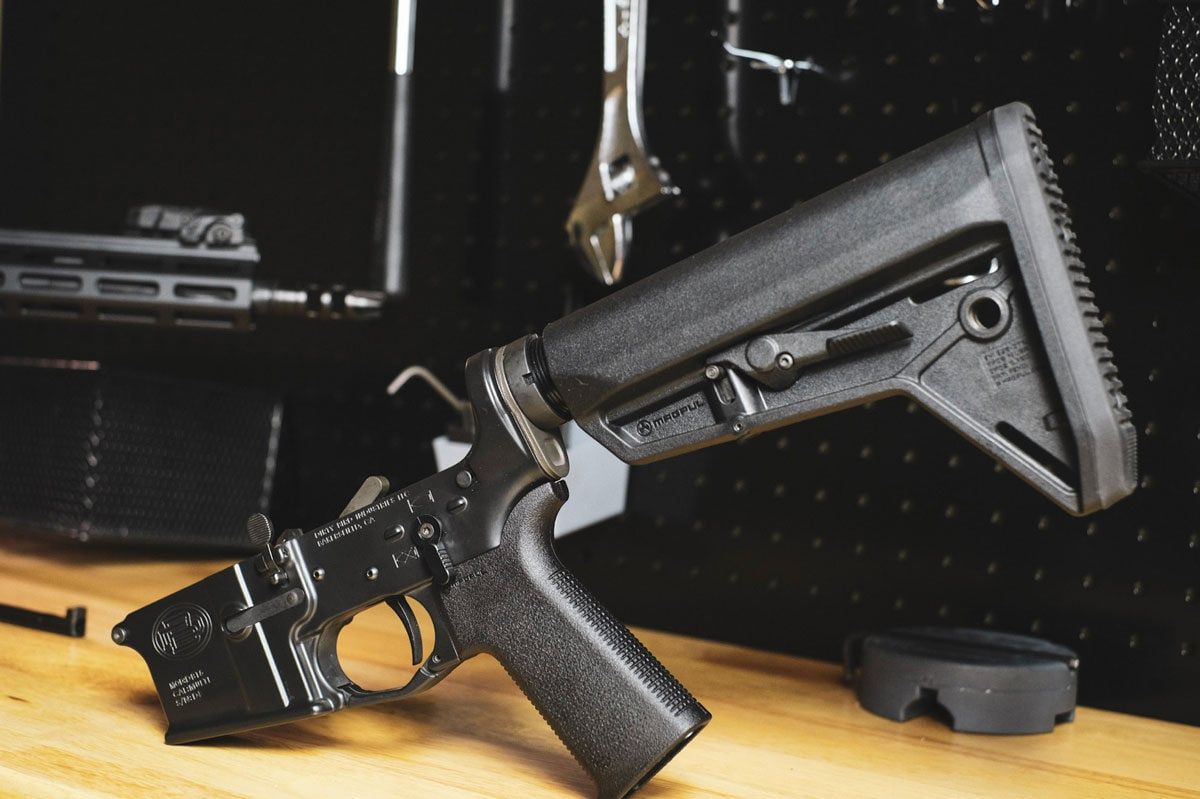 To keep the costs reasonable, I decided to use Magpul furniture…specifically, the MOE SL Grip and the Magpul MOE SL Carbine Stock…they are cost effective and good all around components for this all around AR-15 build.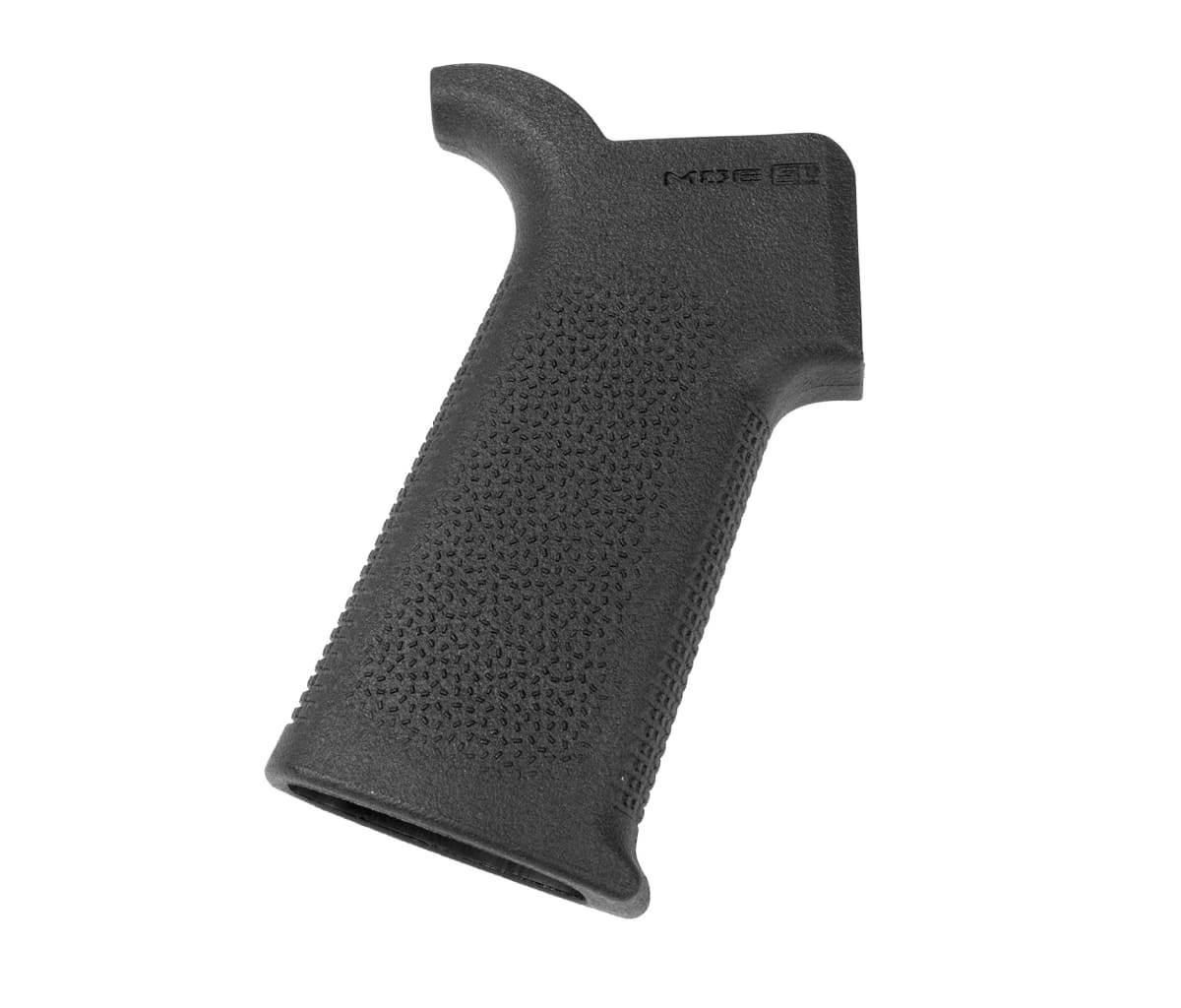 Magpul MOE SL Grip
All Around AR-15 Build – Final Thoughts
Having a goal in mind as I started this build was very helpful…even if the goal itself was quite broad. I thought about what I needed to do, and the price I felt comfortable spending. In the end, this has been a very satisfying build. Due in large part to the Dirty Bird DB-15 Builder's kit and the accuracy of the Faxon Match barrel. The gun is putting in work on a nightly basis…and it has been a joy to use. If you're looking for an all around AR-15 build that's affordable, accurate, durable and reliable for hunting, at the range or even for competition, this one has checked all the boxes.

If I had it to do over again, the only thing I would change would be perhaps pin and welding a muzzle device that could accept a suppressor. Although, this is something I might be addressing sooner rather than later. If and when that occurs I will report back. Also, should you decide to build this one…let us know. It's been great hearing all of the tremendous feedback on the DB-9 PPC build. I'm confident many of you will feel just as enthusiastic about what this build brings to the table.
###
All Around AR-15 Build – Parts List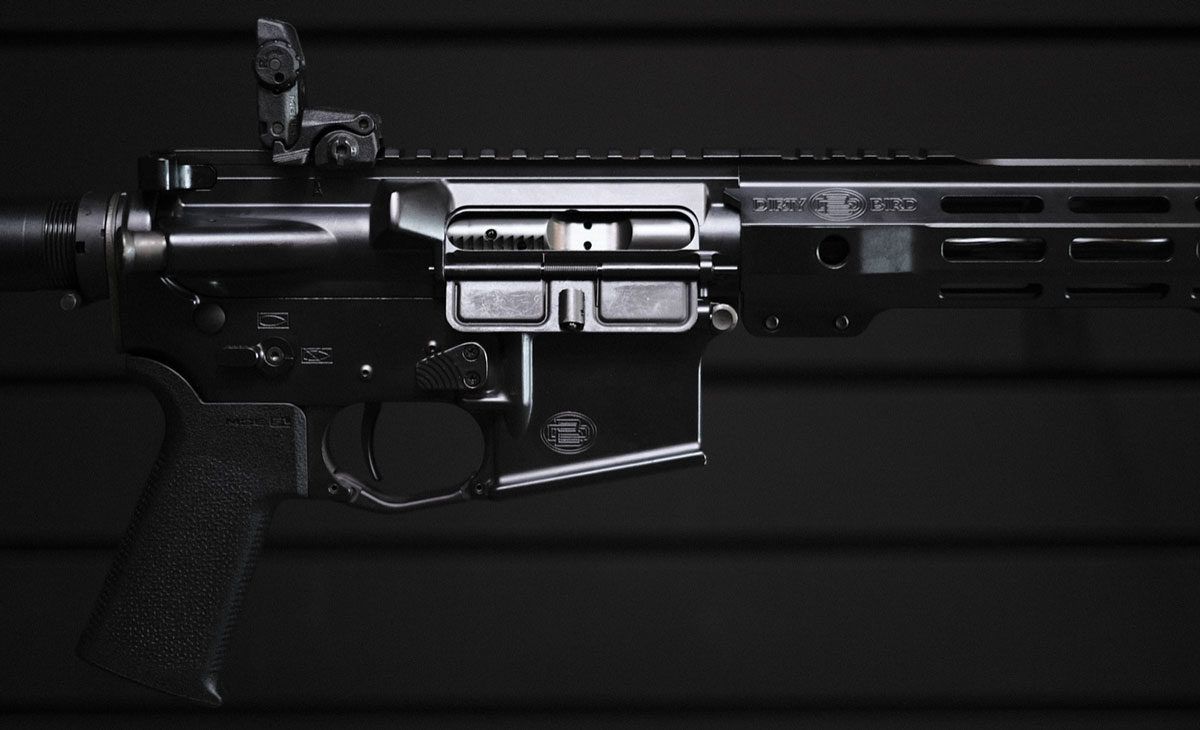 We are sorry that this post was not useful for you!
Let us improve this post!
Tell us how we can improve this post?