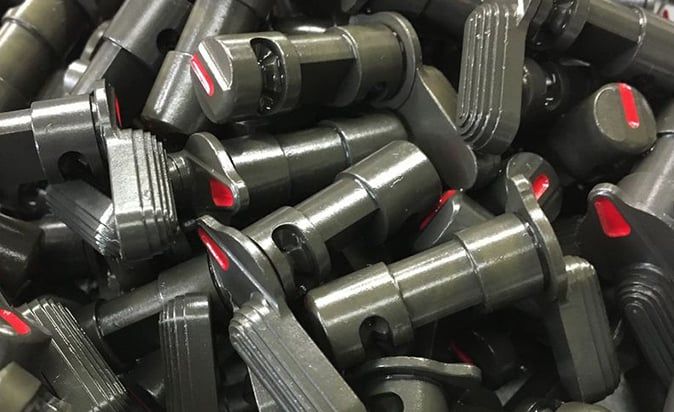 When many think of Badger Ordnance, they often visualize high quality optic rings and mounting solutions like the Condition One Modular Mount. What they may not know is that the company also offers a wide variety of high quality AR-15 small parts. To learn more about some of these offerings, we recently sat down with Jordan Gerber from Badger Ordnance.
Jordan Gerber, Badger Ordnance – When a lot of people think about Badger Ordnance and our beginnings, I believe they first imagine that we started with quality scope rings. Still, the reality is that we actually started with the AR platform. Marty Bordon, the owner of Badger Ordnance, his brother was a Vietnam veteran. He became enamored with the M16 when it first came around. As soon as he could, he bought a Colt SP1. That was actually the first rifle he had ever purchased. As he got older, he realized that there were perhaps some things he could do to improve it…this was when no one was really doing much to enhance the AR platform.
We're not claiming to be Eugene Stoner or Reed Knight. Still, Marty is a wonderful inventor and a great engineer and machinist and had the natural desire to try to improve what he could.
Because Marty had his AR and had begun to shoot National Match, one of the first things he worked on was kits to free-float handguards. He also worked on a sight installation tool that we still make today. We still sell a ton of them. This was years before rings were even a thing for us…We were focused almost fully on small upgrades for the AR, just small tweaks to make the platform work a bit better and longer.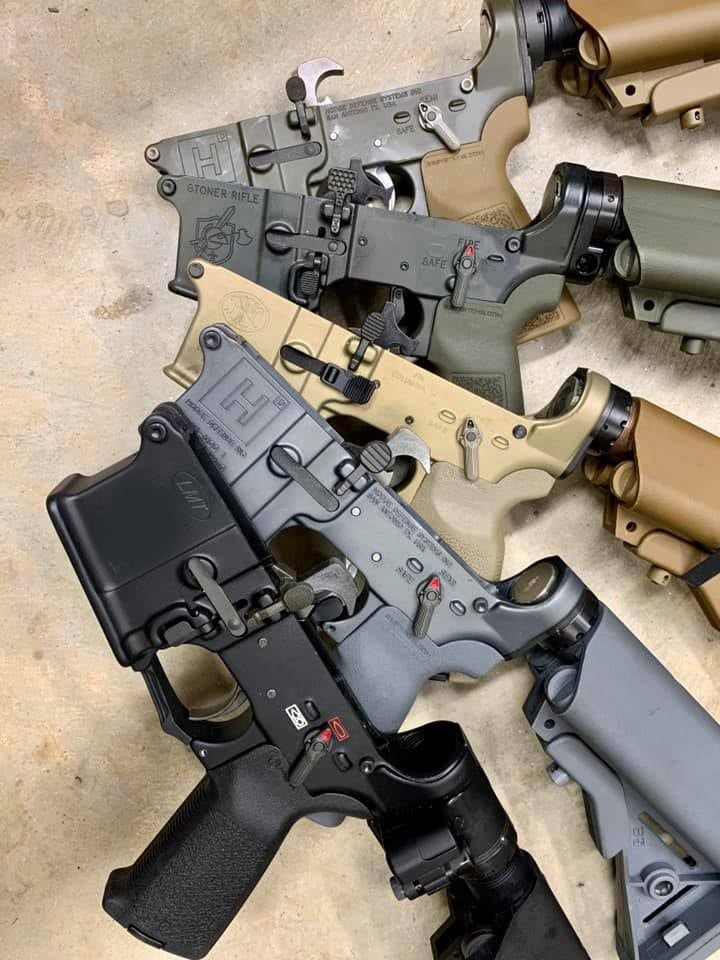 Q: Can you talk about some of the AR-related products that you offer today?
Jordan Gerber, Badger Ordnance – Starting from front to back, one of the things that we do is our gas blocks. It's been a slow burn watching them become popular. I can tell you that over the past year or so, they have really taken off. One of the gas blocks we brought to market in 2013 was the TDX…a lot of people had not heard of them until recently, but it feels like we have been making them forever. What's cool about them is that they are as low profile as you can possibly get.
At the time we designed it, it was designed to go under slimmer, tube-style handguards. We approached the design with the idea of wanting to do the slimmest gas block that we could possibly do while keeping Badger Ordnance quality and not making it a gimmick. The TDX was our answer to that.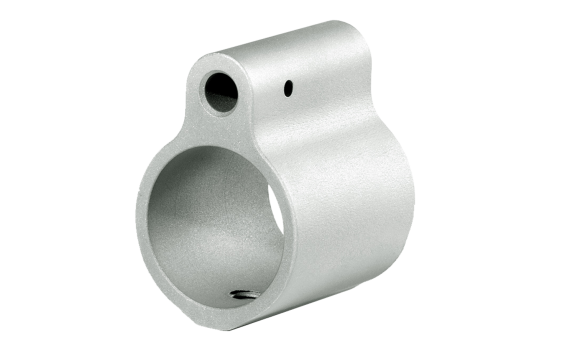 It's not a pinned gas block; rather, it's small set screws. You have to dimple the way we instruct to get the most out of it…and that can be tough because people want simple, one-trick answers. However, now that we see these very slim M-Lok handguards like what we see Hodge Defense doing with the Wedge Lock, if you go with larger gas blocks, you lose the ability to use the M-Lok where the gas block is. That is not acceptable because for many people, where your gas block sits on a mid-length gas system is also where your hand naturally sits. People like to use hand stops, handles, etc…and they lose the optimal placement of these accessories with other, larger gas blocks. The TDX was designed from the ground up to avoid this situation. Like a lot of what we do, I think its something that we developed to be purpose-driven and not a gimmick.
Bolt Catch
Jordan Gerber, Badger Ordnance – Another thing that's become really popular on the Hodge rifles is the Badger Ordnance bolt catch.
Marty developed these in around 2010 in relation to a pattern he was seeing with cast bolt stops breaking on large pattern ARs. He wanted to make a good, machined bolt stop. He machined it completely out of 4041 hardened steel. It features a larger paddle with good-sized serrations and has a bit bigger stop for locking the bolt. He was careful not to make it too large, however. It's just big enough in all of the right areas.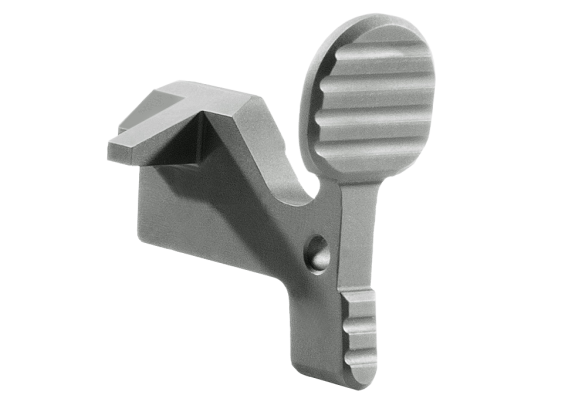 I think Hodge saw the light and began using these in his guns, and they've really caught on from there. It's one of our staples for the AR, and I think people see the value and are willing to pay a bit more for a machined bolt stop, versus a standard mil-spec version.
I would add that we do a full titanium bolt catch as well. This was something we did with Hodge's input. He is all about using the best materials that he can. He wanted something that was just as strong as what our steel stuff was, but just lighter. For something like a bolt stop, aluminum was just not an appropriate material for that. So, today we do a full titanium line of AR parts as well. These parts include hinge pins, magazine catch, grip screws, bolt stop, castle nut…they are not as popular as our standard steel offerings, but when you are trying to cut every bit of weight you can while still guaranteeing strength, they are an ideal solution.
Safety Selector
Jordan Gerber, Badger Ordnance – The Safety Selector is by far the most popular thing that we have done, I think for a good reason. We started with the Universal Safety Selector, and they have been super popular to this day. It's a full-machined safety selector. The idea with that one was to easily switch from left to right hand, somewhat like an ambi feature, but the selector itself not being ambi.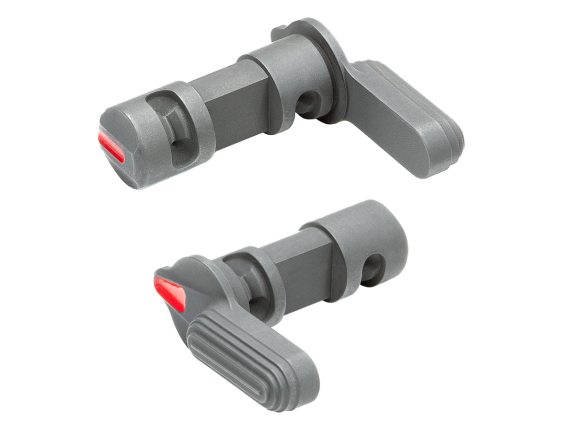 They feature a red indicator that shows if your weapon is on "safe" or "fire." That might seem gimmicky to some, but we get a lot of feedback from cadres saying that they like that feature. They can look down the line and do a quick visual check that the weapon's safety is engaged.
About three years ago, we had a request for an ambi selector…Hodge actually brought that to our attention. We looked at the ambi selectors that were out there, and we knew we didn't want to do something that required set screws. We also knew that we wanted it to be just as good, rigid, and robust as our Universal Safety Selector.
What we came up with is now known as the Condition 1 Modular Safety. This safety selector allows you to easily swap from left or right hand. You have the option of a full length selector, a short selector, or an end-cap if you do not want to have a second selector. You can also choose between a 60 or 90 degree throw because it is an entirely modular system.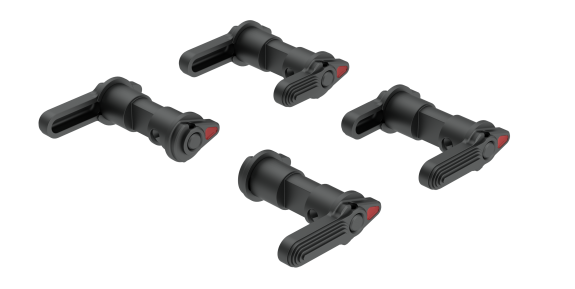 Feedback on the Condition 1 Modular Safety has been tremendous…a lot of people tell us they like how positive it is, and that comes down to care in creating them and paying attention to the small details. For example, we take the safety detents, and we harden them. We don't just take standard, off-the-shelf safety detents. We make sure to harden them, so you get a really, really crisp and positive click when you are going from safe to semi to full. That's kind of the 'secret sauce' behind why our safety feels so good whenever you flip it over.
Q: Can you discuss the idea that these small parts actually do matter?
Jordan Gerber, Badger Ordnance – We might have touched on this a bit in our previous article when we talked about why getting a quality scope mount matters. A point that we made is the idea that what you have is the sum of all the parts you've used.
When you look at "duty grade" guns like Hodge and Knight's Armament, the reason why they are so highly regarded for what they are is that they pay attention to detail and understand that what they are producing is the sum of all parts.
When Jim Hodge builds his guns, he looks at everything he has available to him and then decides what he will use. He knows that every little bit counts. We understand that this is a demanding industry. If something is not performing as it should, customers like Hodge are going to go somewhere else. He's going to choose the best parts that he possibly can.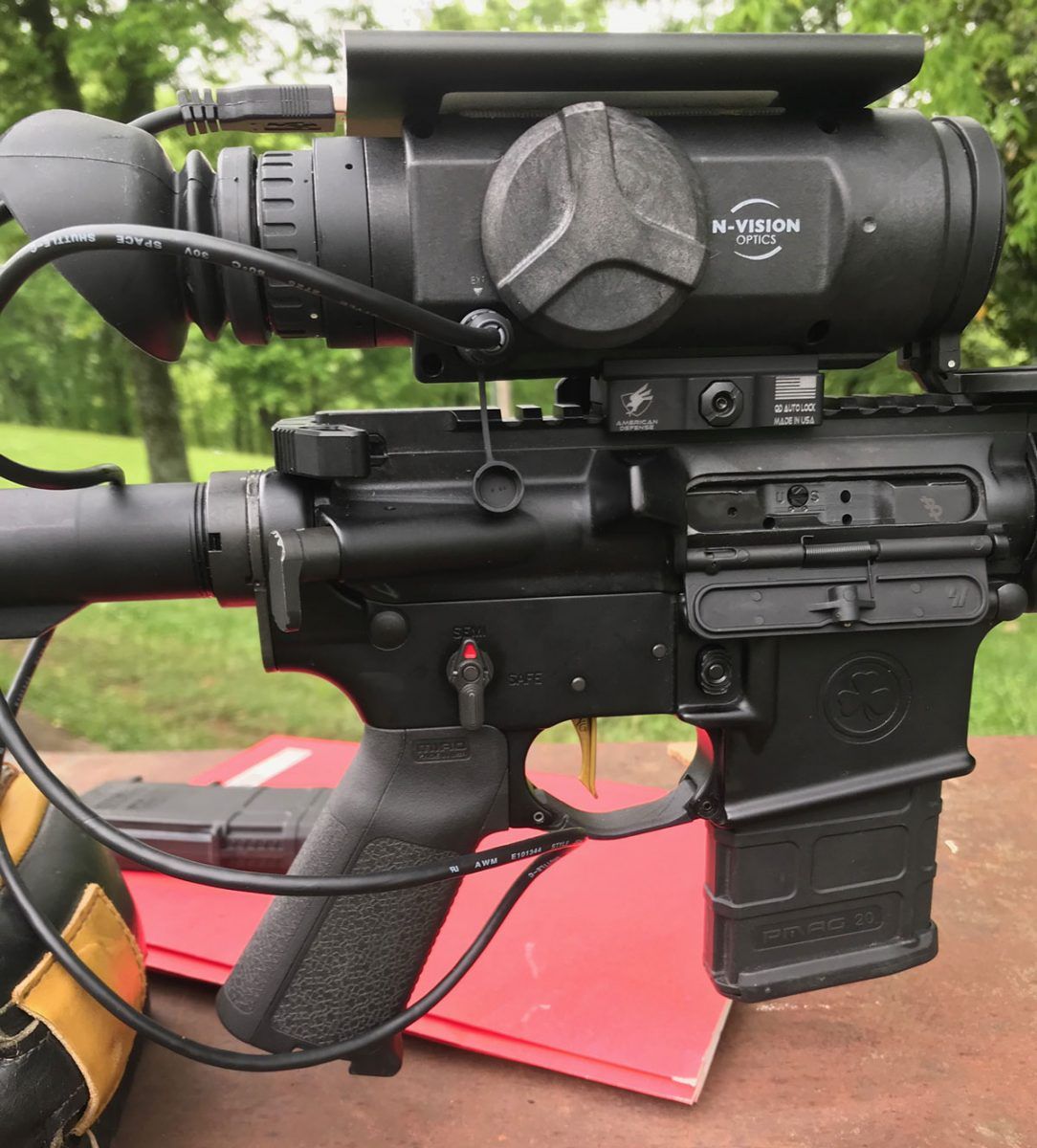 Because your weapon is the sum of all its parts, the weakest link always stands out. You can take something like a safety detent…even though it is a tiny detail and not an expensive thing, if that one piece is terrible, that is going to make the entire safety feel like garbage. When we were developing that Condition 1 Modular Safety, we had a few different variations that we tested, but what we learned is that it always came back to the detents.
Once we began hardening the detents, it was a night and day difference. We learned that the safety only really performed as well as that small detent did. I think there's a bigger lesson in there about how it's the small parts and the attention to detail that can really make or break you. If we had not done what we did, no one would know what the C1 Safety was, nor would they care. Sure, it would have looked cool, but it would have only been a small blip, and it would have gone away almost immediately.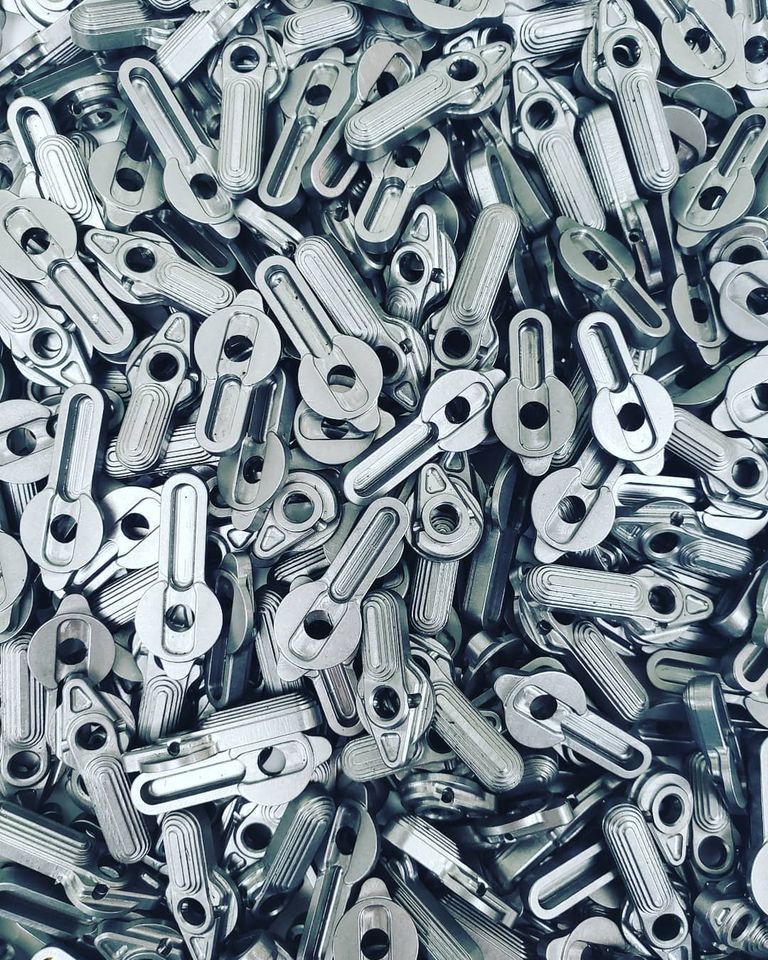 Q: Any other Badger Ordnance AR parts you'd like to highlight?
Jordan Gerber, Badger Ordnance – Another thing that we started doing is our ambidextrous charging handle and our Tactical Charging Handle Latch. This came from Marty's obsession with the M16 and just the little tweaks he could do to make it better. For myself, I have used that for work in years past, and I think over the years, we've sold more than a million of them. Because it's a little "catchy" and a little big, we started doing our Gen 3 Ambidextrous Charging Handle. That handle is another thing that Hodge looked at and selected for his Mod 2s.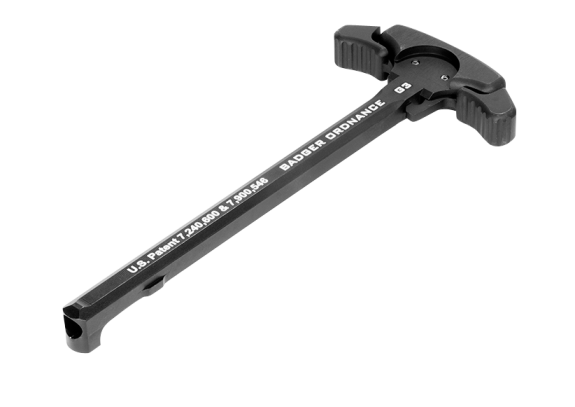 Like everything else we do, it has the same principles of being strong and well built. We make them all out of 7075 forgings, which I believe all good charging handles should probably be made from. They're much stronger than using billet or something like that. We machine them all in-house and finish them off with some rounded corners on them, so they are not quite as catchy as our previous Tac Latches.
###
We are sorry that this post was not useful for you!
Let us improve this post!
Tell us how we can improve this post?