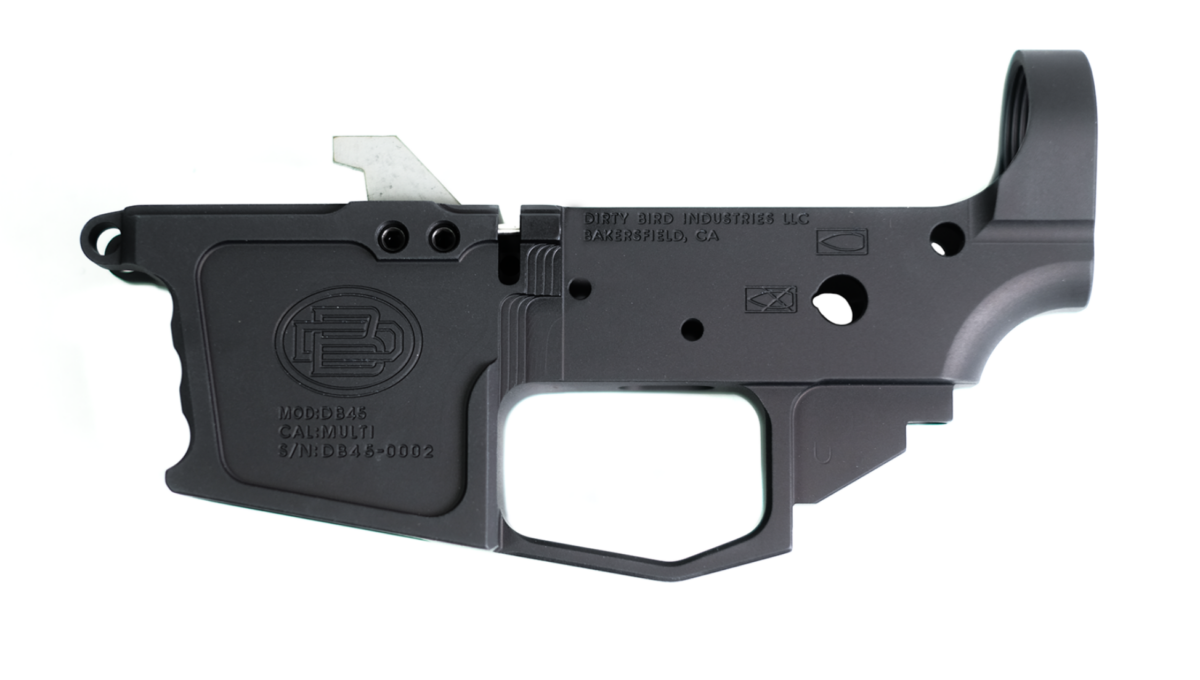 A few years back, we built and ran a 9mm PCC using the Dirty Bird DB9 billet lower receiver as its foundation. The build quality, features, and performance of that build were fantastic, and the gun ran flawlessly. Fast-forward to the recent announcement that Dirty Bird Industries has launched the Dirty Bird DB45 lower receiver, which can accommodate .45 ACP and 10mm.
Via Dirty Bird:
The DB45 Billet Lower Receiver is an ideal choice for starting your pistol caliber (.45 ACP/10mm) AR build. Precision machined from a solid block of 7075-T6 billet aluminum and finished with hard-coat black anodizing per Mil 8625 Type 3 Class 2 specifications, you can be sure that this unit is as tough as they come.
This lower receiver accepts any Glock style small frame pistol caliber magazines in .45 ACP or 10mm and the mag well features a beveled feed lip for quick and easy mag swaps. Extensive testing and attention to detail also ensure that your Glock-style magazines will drop free when released. The proprietary magazine catch and ejector is included and pre-installed from the factory.
Other features include:
Threaded takedown pin spring and detent hole for easy installation. Set screw is included. Note: To prevent excess pressure on the rear takedown pin and detent, you can shorten the detent spring by the same length of the set screw using some wire cutters prior to installation.
M16/Auto Pocket
Threaded upper tension screw to adjust any "slop" out of vertical fit between the upper and lower.
Ambidextrous finger rests above and below the mag release.
Threaded bolt catch pin included for easy bolt catch installation.
Manufactured by New Frontier Armory right here in the USA.
Lifetime Limited Warranty
Magazine Compatibility
This lower will drop-free factory Glock small frame pistol magazines. I
Last Round Bolt Hold-Open
After evaluating many different design concepts from other manufacturers and finding fault in nearly all of them, we've designed this lower to use any standard mil-spec or similar bolt catch. Our last round bolt hold open technology instead resides in our matching pistol caliber upper receivers. These billet upper receivers use a PATENT PENDING design which has been proven in numerous field tests to provide the most reliable last round bolt hold open of any that we've tested.
Bolt Carrier Group (BCG) Requirements
You'll need a BCG which is compatible with Glock style magazines. Some BCGs in the market are compatible with both Colt and Glock style magazines but some others are specific. The difference is Glock magazine compatible BCGs have the relief cuts necessary to clear the magazines.
Lower Parts Kit Compatibility
Any mil-spec or better LPK will work but you won't need the mag catch assembly, bolt catch roll pin or the trigger guard as those are all included with this lower.
Dirty Bird DB45 AR-45 Stripped Billet Lower Receiver
Buffer Recommendations
It is advised that you use an 8 oz or heavier buffer. Lighter buffers aren't safe to use in a blowback system with larger calibers such as the .45ACP and 10mm, and they may not feed some types of ammunition reliably without the added weight.
Before firing your new build we suggest you adjust the ejector. You can do this quickly and easily by following these steps:
Back-off the two hex-head screws holding the ejector just enough so the ejector has a semi-tight "friction fit".
Ensure the ejector is seated all the way to the rear and all the way down in it's pocket.
Close the upper onto the lower with the bolt all the way forward.
SLOWLY cycle the bolt in and out about 1/4 of the way back a few times.
Allow the bolt to close all the way and tighten up the ejector screws. No need to over-torque as this could cause the ejector to shift position, we'll be adding blue (non-permanent) locktite in the next step.
OPTIONAL: At this point you can use some dummy rounds to check for proper ejection.
Remove one ejector screw at a time (ensuring the ejector does not move) and add a dab of blue locktite to the threads and tighten them back down.
Dirty Bird Industries is a family owned and operated company in Bakersfield, CA, specializing in custom cerakote and AR15 hardware. These self-proclaimed "AR15 Build Junkies" value integrity, hard work and quality craftsmanship. They stock everything you need to build an AR15 from scratch, and take pride in delivering high-quality AR15 parts and accessories to their satisfied customers.
We are sorry that this post was not useful for you!
Let us improve this post!
Tell us how we can improve this post?