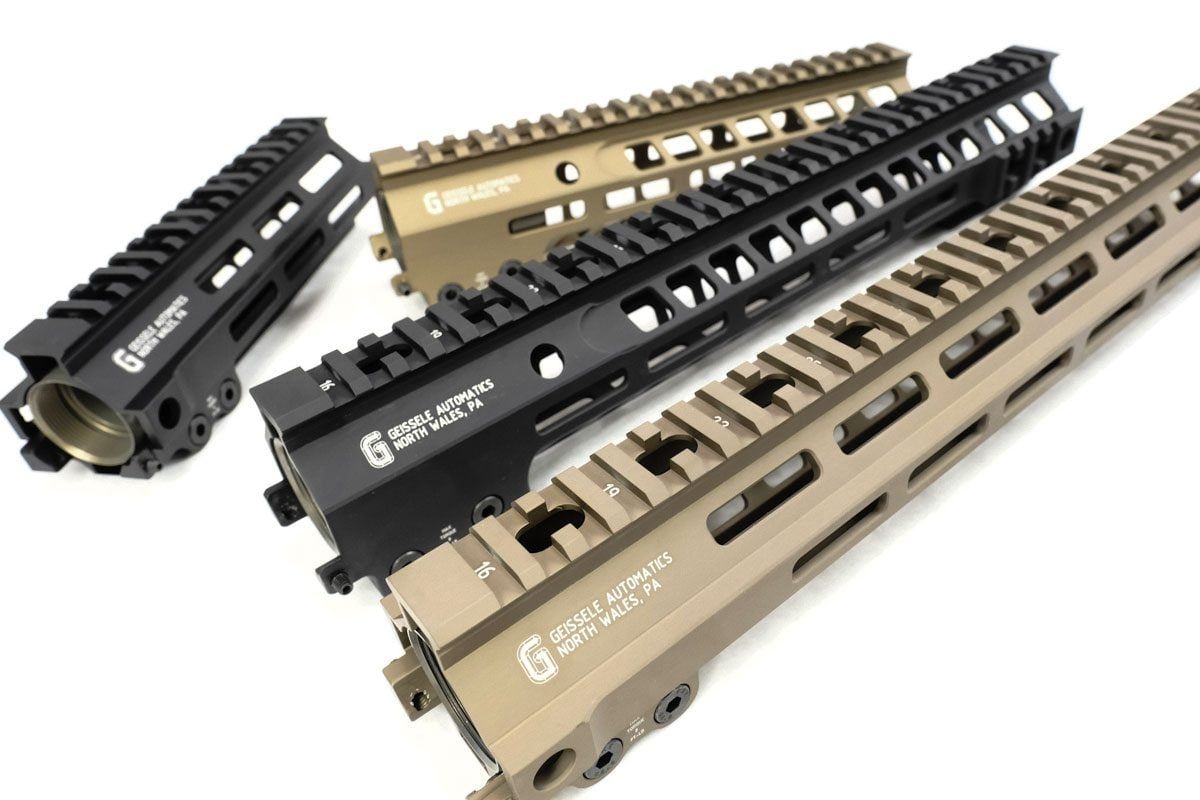 When exploring options for a high-quality handguard for the AR-15, Geissele Super Modular Rails are often a part of the discussion. For more than a few professionals we know, it's their long-standing rail of choice.

We recently spoke with Geissele about their highly-respected triggers…
However, we did not get a chance to have them go over the basics of the Geissele Super Modular Rails. To rectify that, we recently sat down with Diego Muya, Marketing Manager and Nick Serena, Customer Service Manager at Geissele.
Q: For starters, can you talk briefly about the history of Geissele Super Modular rails?
Nick Serena: For the AR-15 rails that Geissele offers, as I understand it, it all started with the HK rail. That then lead to the creation of the Super Modular MK1 rail.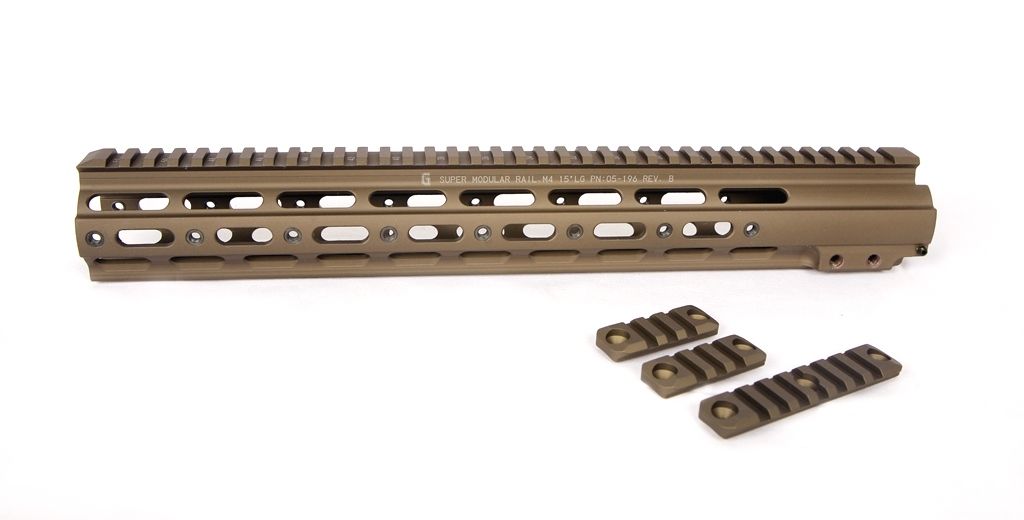 That Super Modular MK1 is still a favorite of many builders, due in part, to its rarity and the fact it kind of has that HK 416 vibe to it…and that's certainly fun.
That then lead into the MK4 and the MK8. And those rails have been Geissele's workhorses for a quite a while now. They've undergone just a few changes over time. There was a Keymod variant that lasted for a while. Then we got into M-LOK, and the MK4 and MK8 became M-LOK compatible, and have been for the past several years.
Q: From an admittedly superficial point of view, the Geissele Super Modular rail is one of my favorite looking rails…but they are also very robust and have a great feel.
Nick Serena: It's a really strong rail system when it comes to taking abuse. It's something that Geissele is really known for. These rails are really ruggedized, and used by lot of folks in military and law enforcement, on state and federal tactical teams.
Q: You have two different variants of the Geissele Super Modular Rails. The MK4 & MK8…and then the MK13 & MK14. Can you walk newer builders through the basics
The MK4 and MK8 are great if you have a thumb-forward shooting position. With wedges that go along the side, I find that no matter where I put my hand on the rail, my thumb rides nicely where I place it…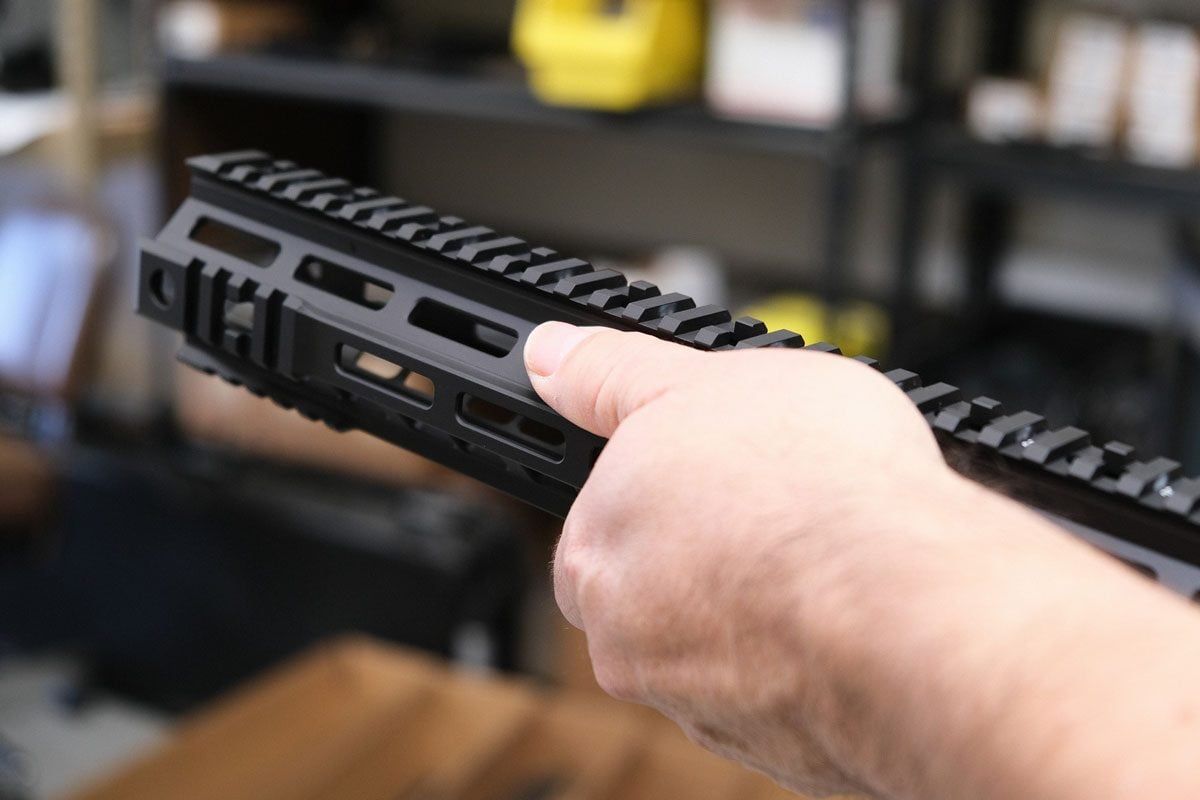 Q: Can you explain the idea behind the Geissele MK13 and MK14 rails?
Nick Serena: If you're a builder who prefer a slimmer profile, which is the way a lot of folks are going now, we offer the more narrow MK13 and MK14 options. For those guys who use a c-clamp, that really aggressive thumb-over-bore grip that came out of 3-gun and are looking for a tighter grip…the MK13 and MK14 are a great option. It's also ideal for those with smaller hands that want a little less rail surface so they can get a good purchase around the rail.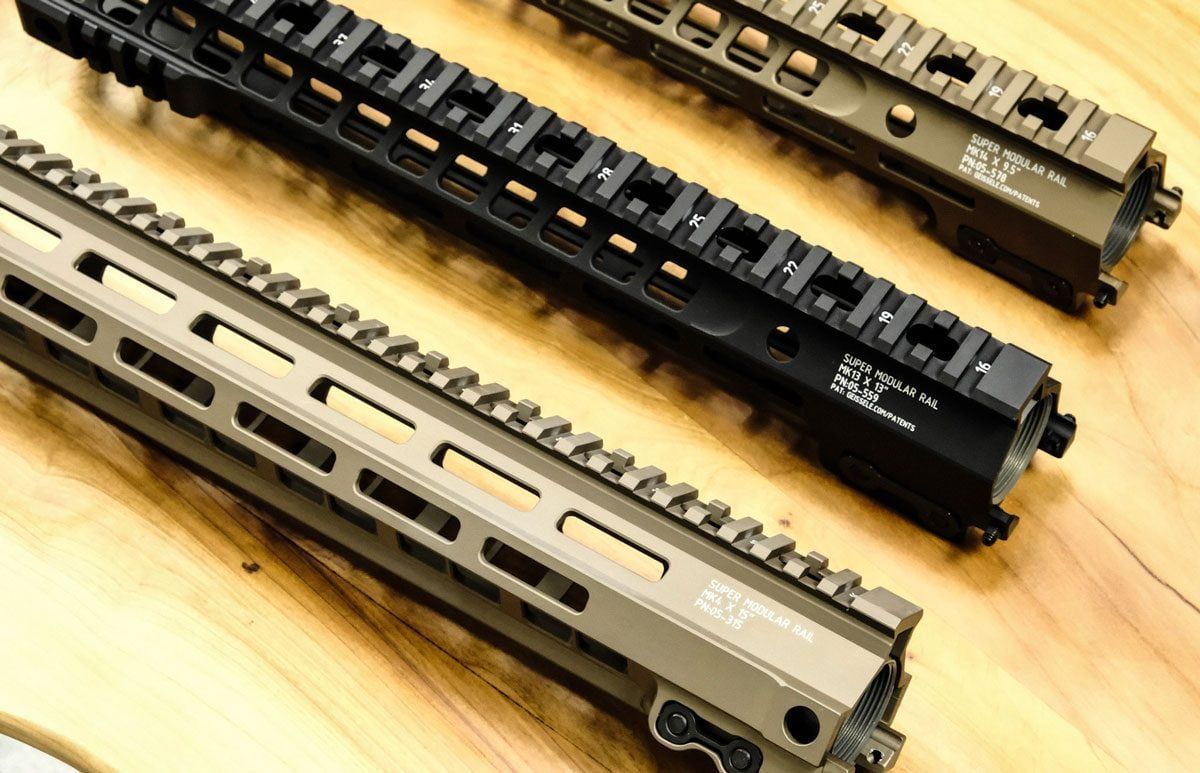 We do have a slightly different barrel nut for those, just to make sure that everything is rigid, because we most certainly look at these as workhorse rails as well. So, it's a little bit different so that even though it is a little bit of a lower profile, we still have that same strength that you want from the rail.
Diego Muya: Certainly, one of the very important things that gives the Geissele Super Modular Rails their rigidity is that big barrel nut that we use.
It's a 2.25″ long barrel nut. With all of that surface area interfacing between the upper and the rail, it really ensures the rail maintains its rigidity and stays straight and true.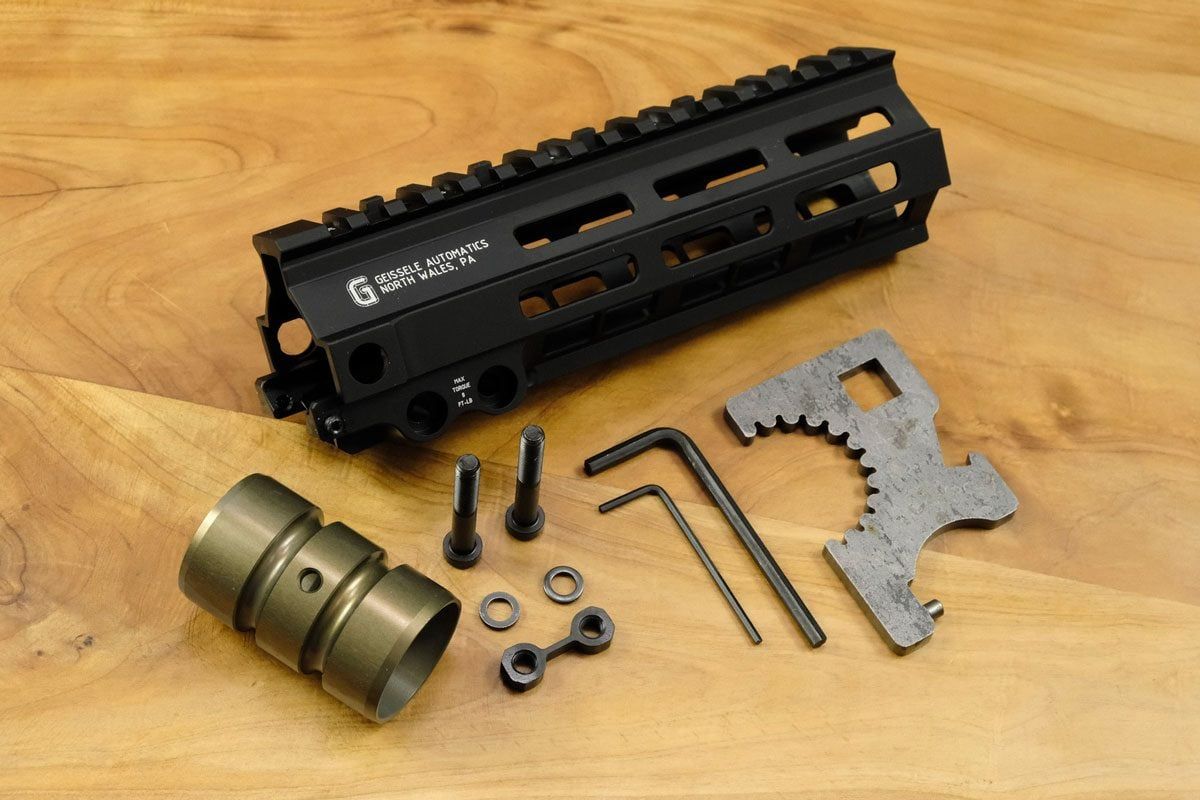 Nick Serena: The nice thing about it too is it's very, very strong. It's on par with many steel barrel nuts, but you actually drop weight…and in an age of weight-savings, every ounce helps.
Q: Can you talk about the installation process for these? If I were a builder just starting out, I think there's something to be said about the relative ease of installing the Geissele Super Modular Rail.
Nick Serena: For someone who is new and cutting their teeth on building an AR, the Geissele Super Modular Rails are ideal. The home build market right now is insane. I've built a lot myself and I know a lot of guys out there right now really want to build their own stuff.
Or perhaps you buy that M&P, and the next thing you know, you're stripping the whole upper because you want to put a new rail on there and all of that other fun stuff. Well, our rails install crazy fast.
Q: Can you explain to a new builder why it's faster, exactly?
As a builder, it's going to be faster for you because you are not timing the barrel nut to anything.  As you put the barrel nut on there, because of the way it is shaped, you just torque that sucker down to 40 pounds, and that's it.  Your barrel nut is on…no timing. 
So, then you're ready to put your gas block on there. Which reminds me, all of our AR-15 rails come with gas blocks, so you're pretty much set. So again, it's just crazy fast.
The same goes for removing that rail. If you want to take off your rail for whatever reason, let's say you have a phosphate barrel and you're in a wet and salty environment, you might want to that barrel to drink up some oil every now and again. It's pretty easy to take off the rail, do what you need to do maintenance wise and then re-install the rail.
Q: I've got a few friends that run Geissele rails and they really put them through the ringer regularly at classes they attend…can you speak briefly on the build quality of these rails?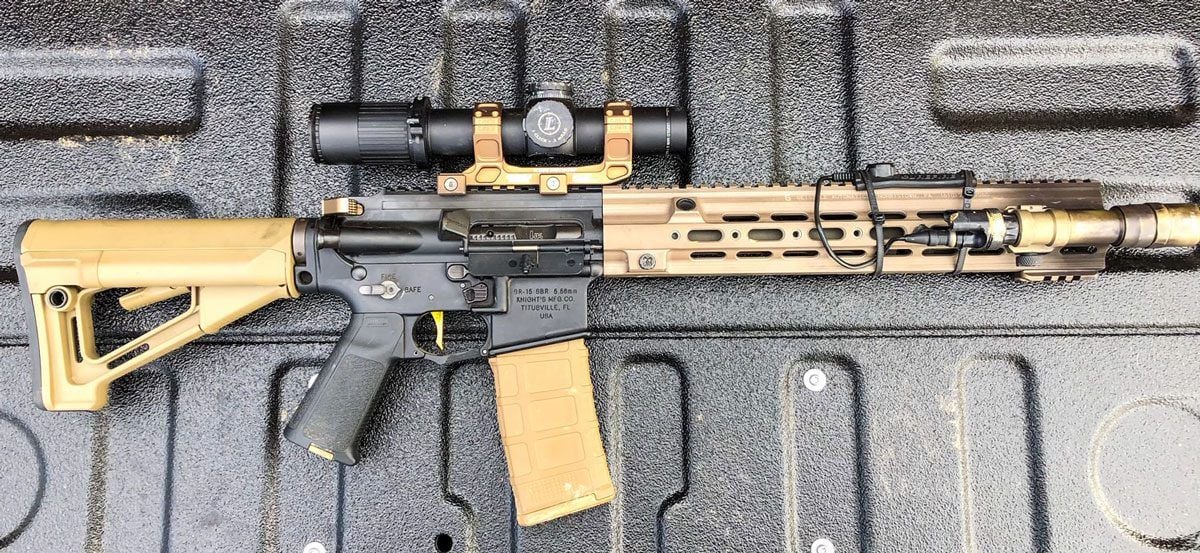 Diego Muya: This is not just for our rails…it goes for our triggers, our charging handles and everything else that we make. We're known for our stuff being used in the field and on-duty. That said, I want to stress that we're never making a batch extra special because we know it's going to end up overseas with soldiers or because it's going into the hands of law enforcement.
No Playing Favorites
Every time we get an order, what everyone receives is simply coming off of the shelf. So, every part that leaves here, whether it is going to end up being put on a rifle that's a "safe queen" or whether it's going to be out there in the field doing rough work, the buyer, no matter who it is, can take comfort knowing it's the exact same part. It all comes off the same shelf. We're very proud of that, and we take a lot of pride in what we're making here…and that goes for every single product.
Nick Serena: To piggyback off of what Diego just said…In our customer service department, we have a rule that's written up there…and it says "treat everyone like they're a 4-star general." We try to our best because we're all 2nd Amendment-loving folks. We respect the heck out of our service members and our law enforcement guys and all those armed professionals out there…but we live in a country that affords us the right to defend ourselves as well.
So, we're going to make sure we're not giving "regular guys" anything less than our absolute best…That's really important to us, especially since most of us here are "regular guys" too.
Q: Can you talk a bit about the importance of a quality rail to a build? For me, the rail is the very first thing that pops into my head as I start thinking about a new build. It's not an area where I tend to cut corners to save money.
Diego Muya: Well, just in terms of fit and finish…Have you ever had a cheap rail and slid your hand over it and almost cut yourself? The comfort of a rail, and the durability matters to me. I'm thinking, is it going to scratch me? Is it going to start rusting? Am I going to have issues here and there? To me, that's a big part of why going with a quality rail matters. With Geissele, none of our products are going to have sharp edges…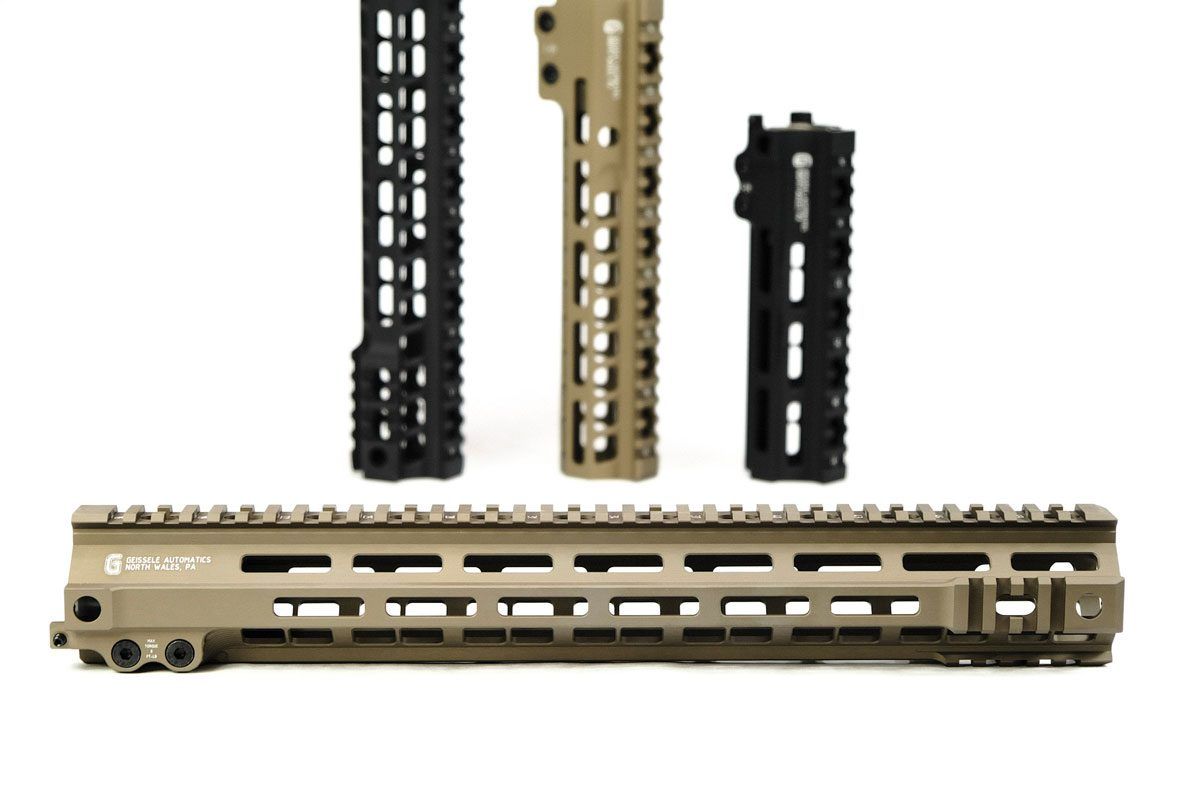 Nick Serena: That's definitely huge. I mean, you can absolutely tell when something is just garbage. Touching on that further, everything is type-3 Hard coat anodized for us. Now, can you jack up that coating? Absolutely. It's not magical…But it is very, very durable and very resilient. It takes some effort to scratch it up.
Whereas, a cheaper and less effective coating on a lesser rail is going to come off and effectively be worthless relatively quickly, so you're going to have that corrosion resistance be removed lot faster. Of course, that will affect some users more than others, depending on their environment, but it's something that is worthy of note, in my opinion.
Can a Rail Make You a Better Shooter?
There's other things to consider as well. Aside from your trigger…a trigger is probably the only thing that you can add to the gun that is going to make you a better shooter. Glass is wonderful because it will make you see better, but it won't make you shoot better. A trigger will literally make you shoot better.
But a good free-float rail like the Geissele Super Modular Rails is going to improve that even further. This is because you have nothing impacting the direction on the front end of the gun. So, when someone has a sturdy, reliable rail that that is locked in there nice and tight, and it's keeping that barrel free to do what it is supposed to do…that is definitely going to have a positive impact on your shooting.
Buy Once, Cry Once
Diego Muya: There's also the whole idea of "buying once and crying once." And, also keep in mind that the secondary market for Geissele products is very strong. Say for example a Geissele trigger is $240 on any given day…You'll find them online, used for $160, $180…so, if for whatever reason, you make the mistake of selling your Geissele product, at least you'll get a lot of your money back, versus if you have some second-tier garbage, you might as well just put it in the trash can.
Q: Anything else you'd like to add that people may not know about Geissele Super Modular Rails?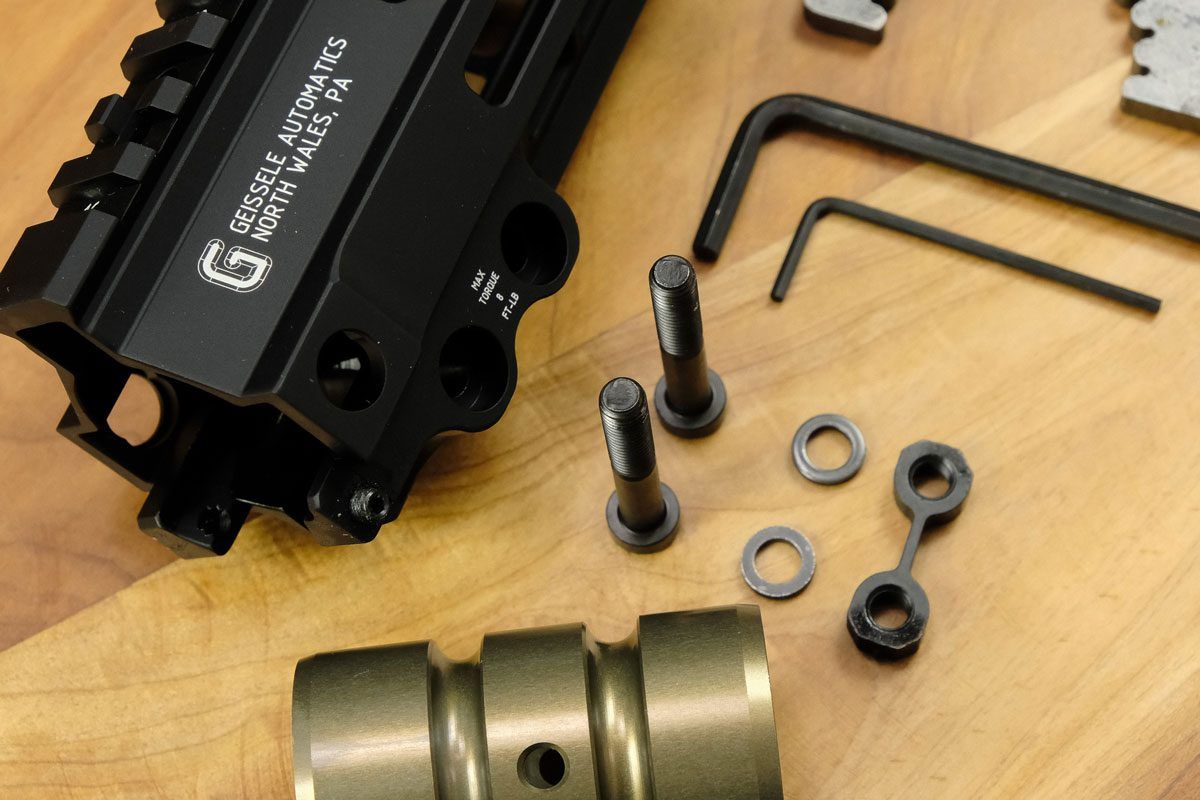 Diego Muya: Everything is not only made in the U.S., but everything is made here in our factory. Even the little screws…every little part. It's all made with pride right here in North Wales, Pennsylvania.
###
Thanks to Diego Muya and Nick Serena for taking time out of their day to give us an overview of Geissele Super Modular Rails. For more information, visit them on their website.
We are sorry that this post was not useful for you!
Let us improve this post!
Tell us how we can improve this post?