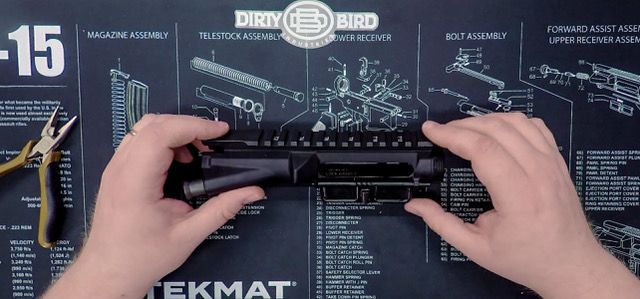 When it comes to commonly asked questions… "how do I to build an AR-15 upper receiver?" is near the top of the list. So, to give you a step-by-step visual overview, we've put together this series of brief, easy-to-follow videos.
Why Build an Upper Receiver?
Simply put, there are few things more satisfying than ordering parts, getting them delivered to your doorstep, confidently piecing them together and ending up with a functioning, modern firearm.
If you've not built your own AR-15 yet, it should certainly be something on your list of to-do's in the months ahead. This is because you'll save money, gain you a sense of self-satisfaction, learn more about your firearm…and come away with a something that could potentially last you a lifetime.
It's also a great and relaxing way to "get away from it all" in the solitude of your own workspace…provided you have all the right tools and don't drop or misplace a small, but critical part.
Disclaimer
Before we get started, we must mention that the videos below act as a visual guide for educational purposes and you should NOT attempt to assemble an AR-15 upper receiver without having the proper tools.
We talk to a lot of experts about building ARs, and over and over again, having the right tools is mentioned as a priority…so, be sure to take an inventory of what you have and what you need. The right tool might save you a lot of frustration and potentially, money.
Parts Used on this Upper Receiver Build
A big thank you to Dirty Bird Industries for kindly sending us the parts used during this demonstration.
Tools Used
Standard Punch Set
Wheeler Torque Wrench
Wheeler Fat Wrench
How to Build an AR-15 Upper Receiver – Part 1 – Installing the Forward Assist
How to Build an AR-15 Upper Receiver – Part 2 – Installing the Dust Cover
How to Build an AR-15 Upper Receiver – Part 3 – Barrel and Gas System Installation

How to Build an AR-15 Upper Receiver – Part 4 – Handguard, Muzzle Device & Bolt Carrier Group (BCG)
How to Build an AR-15 Lower Receiver
Thanks for taking the time to watch this 4-part video series on how to build an AR-15 upper receiver. Now, in case you would like to have the entire series above as a single video file, you can get that below. Also, we also invite you to view our overview of how to build an AR-15 lower receiver if you have not already done so.
###
Jeremy Bedsaul is an avid writer, video editor, & shooter. His oldest shooting memories go back to shooting 22s with his father and grandfather out in rural central Missouri. Jeremy is a husband and father of two girls who can't wait until they are old enough for him to share his passion for firearms with. Outside of firearms, Jeremy's interests include RPG gaming, philosophy, arguing about politics, and keeping up with the latest tech and gadgets. Jeremy runs the blog over at TacFix.com where he posts reviews, build videos, tips & tricks related to many pistol and rifle platforms.
We are sorry that this post was not useful for you!
Let us improve this post!
Tell us how we can improve this post?