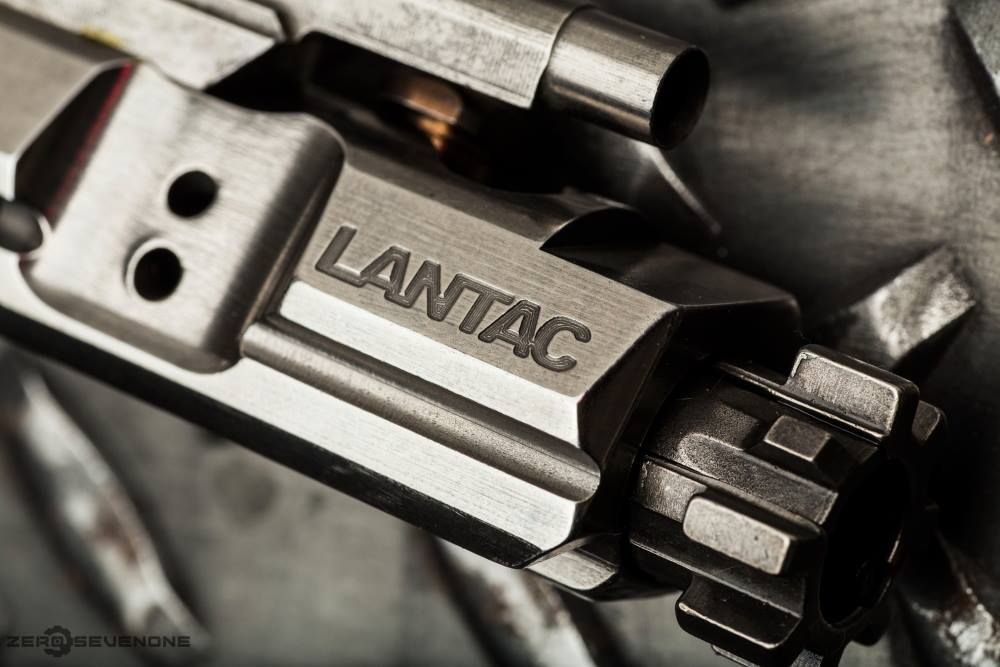 We recently sat down with Aaron, co-owner of Lantac USA. to discuss the company, products they offer, including their Enhanced Bolt Carrier Group, Dragon muzzle device, Glock parts, and more.
Q: Aaron, thanks for sitting down with us…can you give us a bit of background into the start of Lantac USA?
Aaron, Lantac USA – Paul is Lantac's chief owner, and he started the company in the UK as Lantac UK, building guns from other people's parts. The first product that he developed was the Dragon Muzzle Brake, which we are now well-known for. He began developing it over there, but then he brought it to the U.S. market around mid-2015.
Lantac USA started in California, and then moved to Texas. That was when I came on board…so I was not around for the inception of the company, but I've been involved since year two. By then, the Dragon, our Enhanced E-BCG bolt carrier, and our UAR upper were already out. Since then, we've released a good variety of other products that we are very proud of, including handguards, full guns, billet receiver set, and things like that.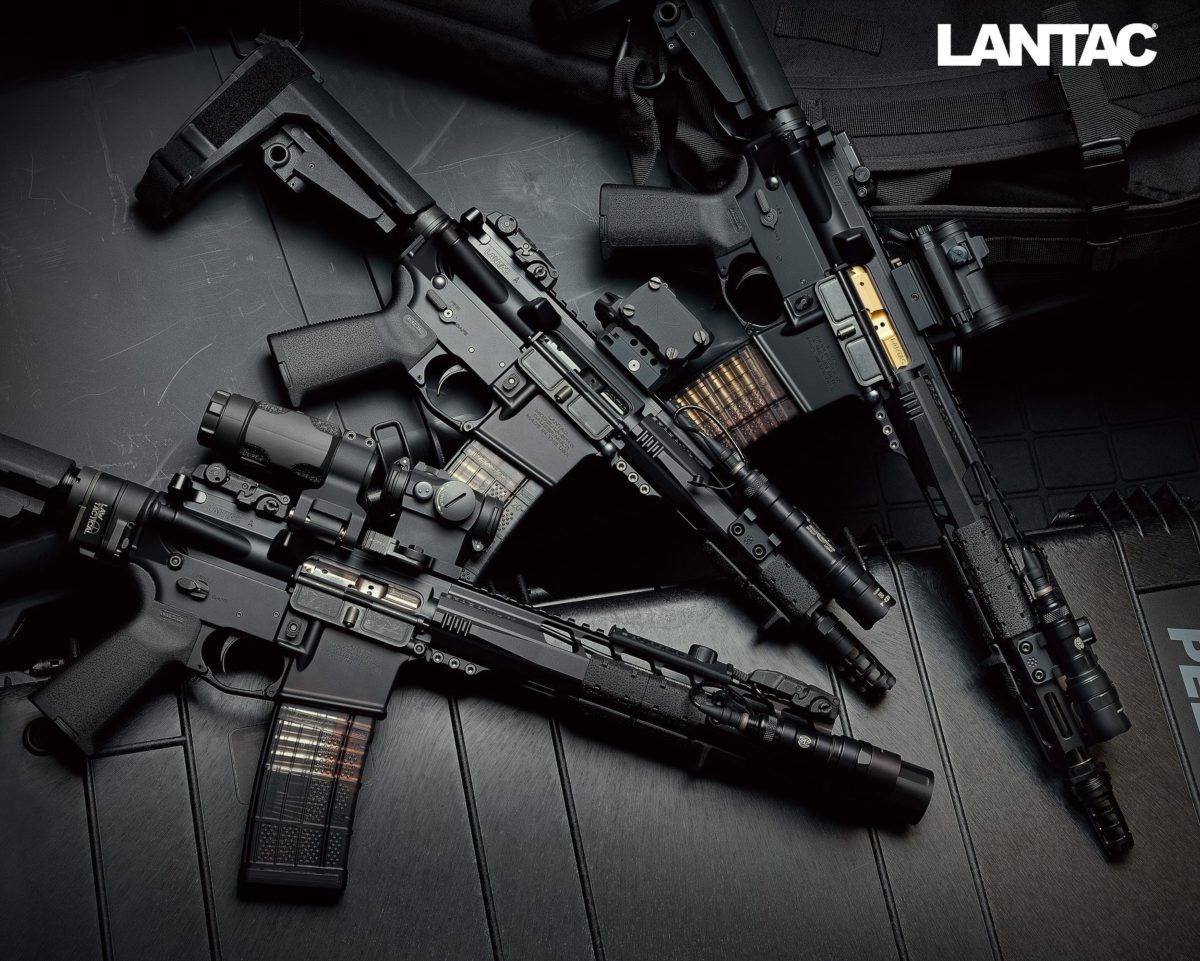 So you could say that Lantac USA started very small. We began as a small accessories company with the Dragon, but then the Enhanced E-BCG launched, and that has been a wildly popular bolt carrier and a huge product for us. Then came a billet upper, and we've just continued to grow naturally from there as we saw ways we could get creative and improve.
Q: You've had some success…can you talk about your approach or company philosophy today?
Aaron, Lantac USA – We're happy with what we've accomplished, but obviously, we're not a household name. We're not Daniel Defense, BCM…companies that are just kind of everywhere. Those are massive companies that make fantastic products, but they are volume companies. They push out a lot of guns. They have big military contracts. They have thousands and thousands of great firearms that they push out every year.
Obviously, everyone would like to have that kind of recognition and success. However, one of the benefits of having a smaller company like ours is we can focus on things that could potentially get pushed to the wayside if we were larger.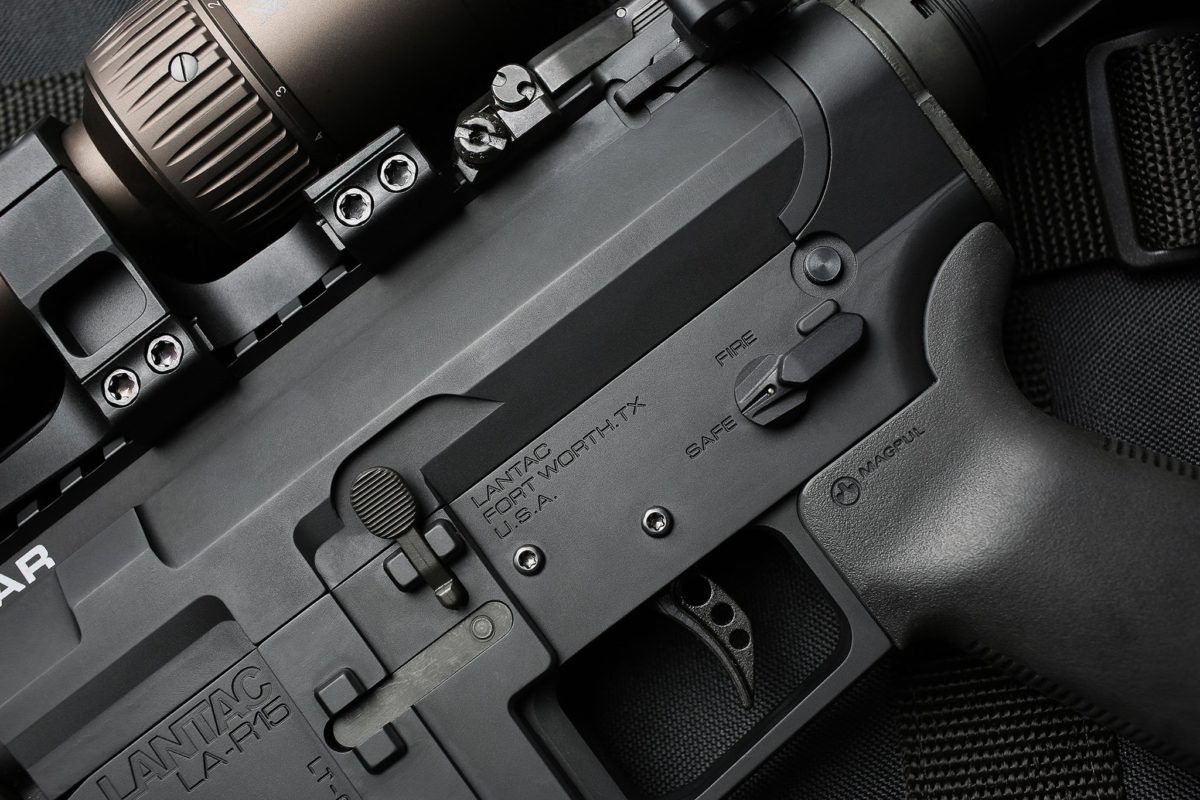 Today I'd say that our focus on small things is extra intense. If you look at the Dragon Muzzle Brake as an example, Paul spent an incredible amount of time focusing on that single product, using high-speed cameras, load testing and shooter testing.
His total focus was on making sure that one single product was as good as it could be. The result of this is that when you use a product from Lantac USA, or use one of our rifles, they are not things you will have to mess with. They work, and they can be relied on, right out of the box.
This same intense, singular focus happened when he developed the Enhanced E-BCG. That kind of scrutiny and focused attention can lead to improvements. For instance, that bolt carrier today has two utility patents. A utility patent means you've come up with something that makes a fundamental change. Both our muzzle break and our bolt carrier group have this type of patent.
Q: Innovation is a word that sometimes gets over-used…can you address that?
Aaron, Lantac USA – There's been chatter that we're just creative marketers and don't offer improvements, but I'd disagree. Look at our bolt carrier groups as an example. We all know of the M855A1 round…well, there are groups within the military that exist only to test items. We sent some of our bolt carrier groups to the Army to test with that round.
A normal Mil-spec BCG will get around 10,000 to 12,000 rounds through the bolt carrier before it fails. They tested our carrier with this same M855A1 ammo, and while we didn't quite double the lifespan of the carrier, there was a significant improvement over standard Mil-spec.
This is because we handle the gas when it interacts with the bolt and reduces the pressure within the carrier. We're not just putting out stuff just to put it out. Instead, we are making actual, fundamental improvements to products. If you ask people what they know of Lantac USA, they are going to know about our brake and our bolt carrier, and I think there's a reason for that.
That said, we're not standing still either.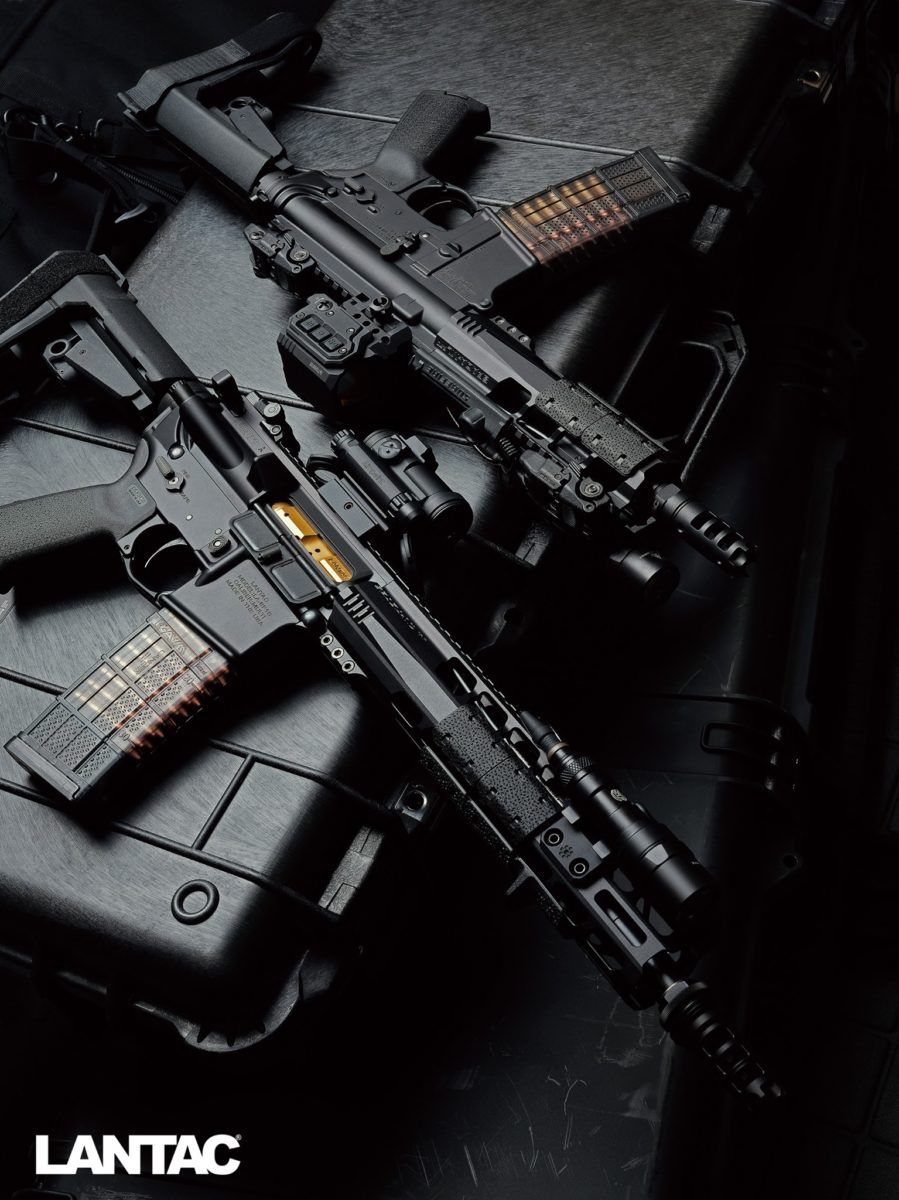 Like a lot of companies are doing, we are now doing a full rifle. Granted, like everyone else right now, we are buried, but it is something that we're very excited about. They're guns that are excellent right out of the box. You do not need to mess with them or worry about needing to improve them in any way.
Because we're a smaller company, we are not turning out thousands of these a month. Instead, the number we produce is in the hundreds. Because of this, we can be nit-picky about what we put out to the consumer. I know our stuff is not cheap, and guys wait a long time for it, so we try to make sure we are putting out very high quality, above the par of what you see these days. Our goal is to blow expectations out of the water when someone opens the box and shoots it for the first time.
Q: Can you talk a bit more in depth about your Enhanced E-BGC?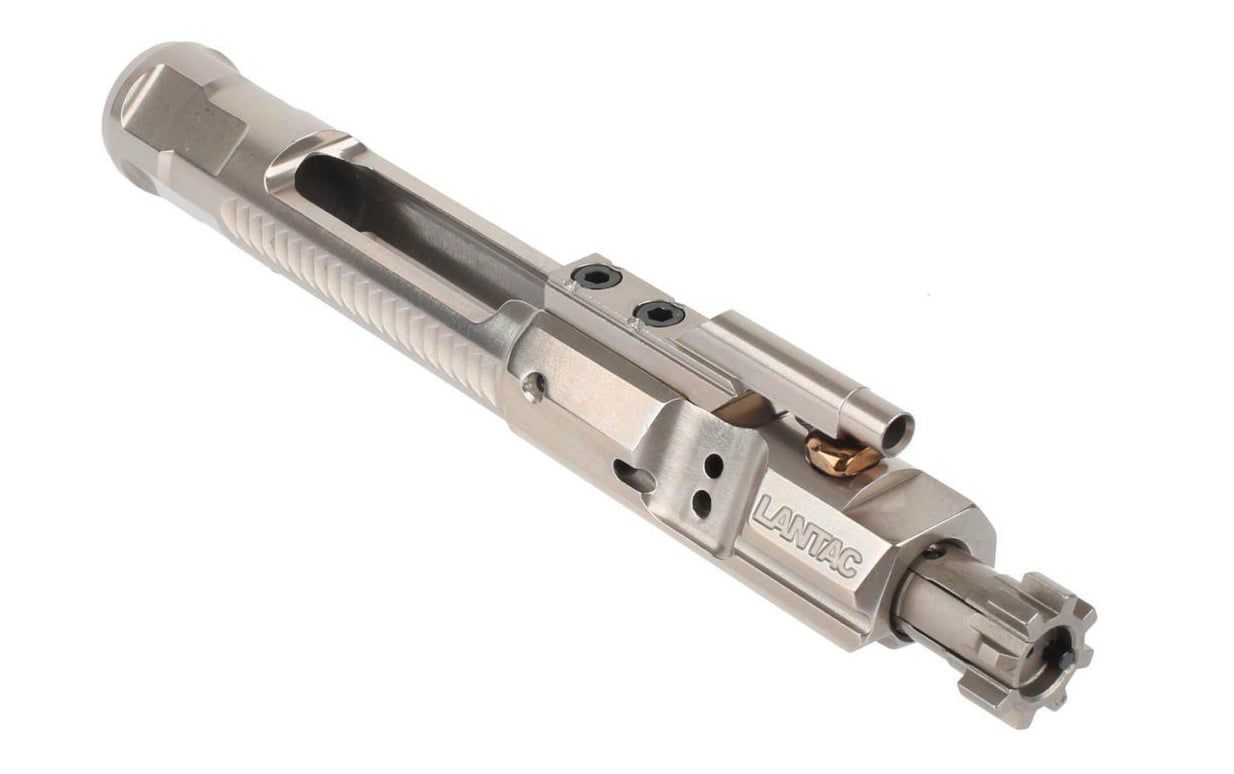 Lantac Enhanced AR-15/M16 Bolt Carrier Group
Aaron, Lantac USA – There are a few things that make the Lantac E-BCG special. If you look at a photo of it, right below the Lantac logo, you'll notice there is a groove cut into the carrier's body, running along the axis of the carrier…It gives gasses a way to go, which is to the front and out of the ejection port.
Alternatively, on a traditional, round profile Mil-spec carrier, these gasses don't have anywhere to go. This is why you get gasses bleeding everywhere, coming out of the charging handle, ultimately coming back into your face.
Also, our ports on the E-BCG are forward-facing, and we've also enlarged them. When the bolt unlocks, that initial burst of gas is angled away from the shooter's face, and the larger ports get more of the gas out of the system as the carrier is starting to come back. Any of the residual gas that is still bleeding out of the carrier is carried out.
We then used a dome head cam pin, a one-piece 174 solid stainless steel that we've domed, radiused, and polished. The natural gold color is a by-product of the heat treating we do on it. We did this to smooth out the transition from the raceway into the cam pin track into the upper, to reduce friction and wear, and give the cam pin a larger contact patch in the upper.
Q: So, can you talk about who could potentially benefit from your E-BCG?
Aaron, Lantac USA – It certainly lends itself well to short-barreled rifles and suppressed guns. The carrier does amazingly well in those situations. I know many guys who have looked for ways to mitigate gas to the face, and when they throw our bolt carrier into their gun, they find the gas is massively reduced. Plus, with the enlarged ports, it's almost like a "soft start" to the carrier moving back, and this lessens abuse on the lugs.
We've got a Lantac USA E-BGG here that lived in a range rental gun. That bolt carrier lived its entire life full auto and suppressed. It has 87,000 rounds on it. The only thing we've ever done is to replace the gas rings throughout the life of it. After 87,000 rounds, we pulled it out of the gun and had it magnetic particle inspected for cracks. We had it ultrasonic tested, and that bolt is still perfectly serviceable. We could put it in a gun right now and keep it running.
That said, the bolt carrier is not just for suppressed guns. The E-BCG lends itself well to anyone who wants an overall good quality bolt carrier. You can put it in your gun and forget it. I don't recommend it, but we have guys abusing these bolt carrier groups. Even in some extreme cases, they just are not failing, period. I cannot get anyone to break this carrier.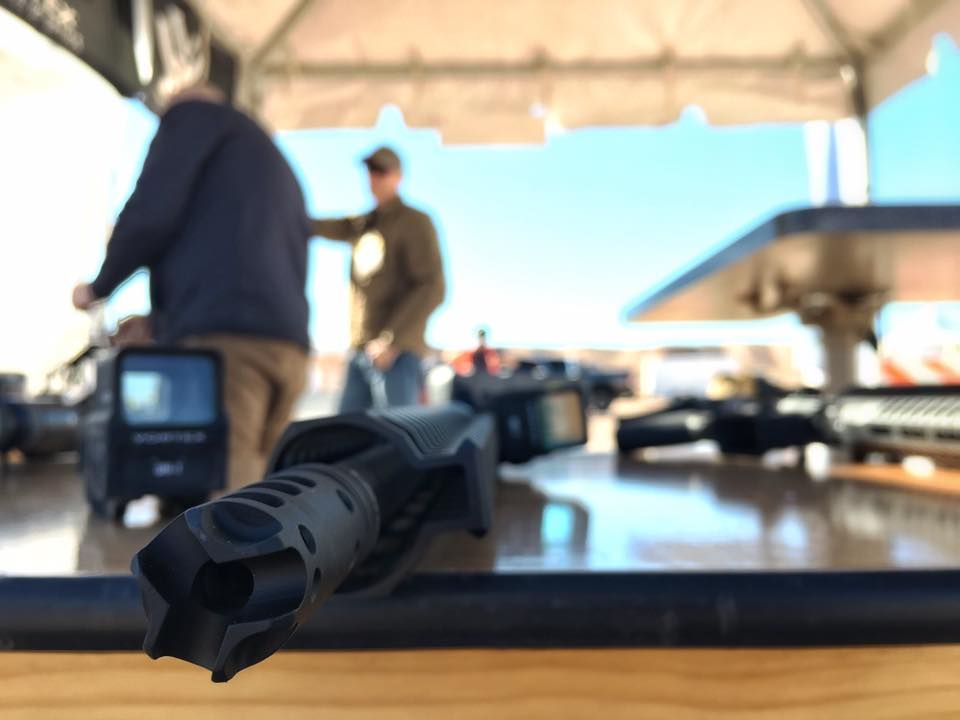 Q: Moving on, can you talk a bit more about the Dragon Brake?
The Dragon is a very effective brake, but it's not very large. One of the reasons it is so effective is that it has a pre-chamber between the end of your muzzle and the start of the first baffle on the inside of the Dragon. This is where the two primary ports for muzzle control are located. We then have three additional ports after that.
It's a very effective brake and muzzle rise mitigation device simply because of its design. It is a product that evolved due to a lot of high-speed video testing, watching what the gasses were doing, how it was imposing on the gun and making the gun move, and what the shooter was feeling.
I think we ended up finding a perfect recipe. It's not overly clever, and it does not feature crazy angles or anything like that. It's just the result of a lot of careful observation of what the gas was doing.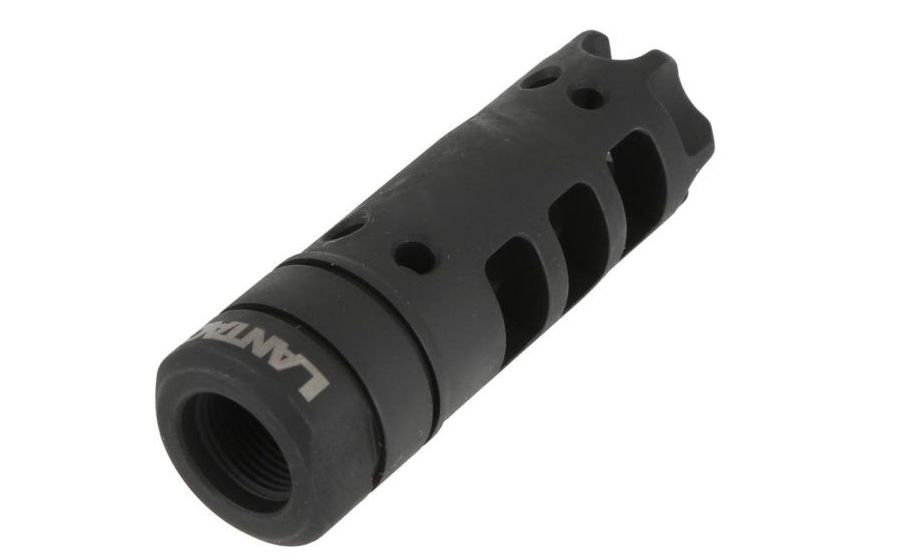 Lantac 5.56/.223 Dragon Muzzle Brake – 1/2-28
The meticulous and accurate machining process these brakes go through is also an advantage for us. The result is a very effective brake at a reasonable size. It's less than an inch in diameter, and it's still one of the best brakes on the market.
Q: Final thing, can you talk about your entry into the Glock market?
The Glock market is very interesting. We initially had the idea of coming out with a slide. We saw shortcomings in the market regarding quality and issues with some of the internal features…for example, how the slide interacts with the disconnector, etc.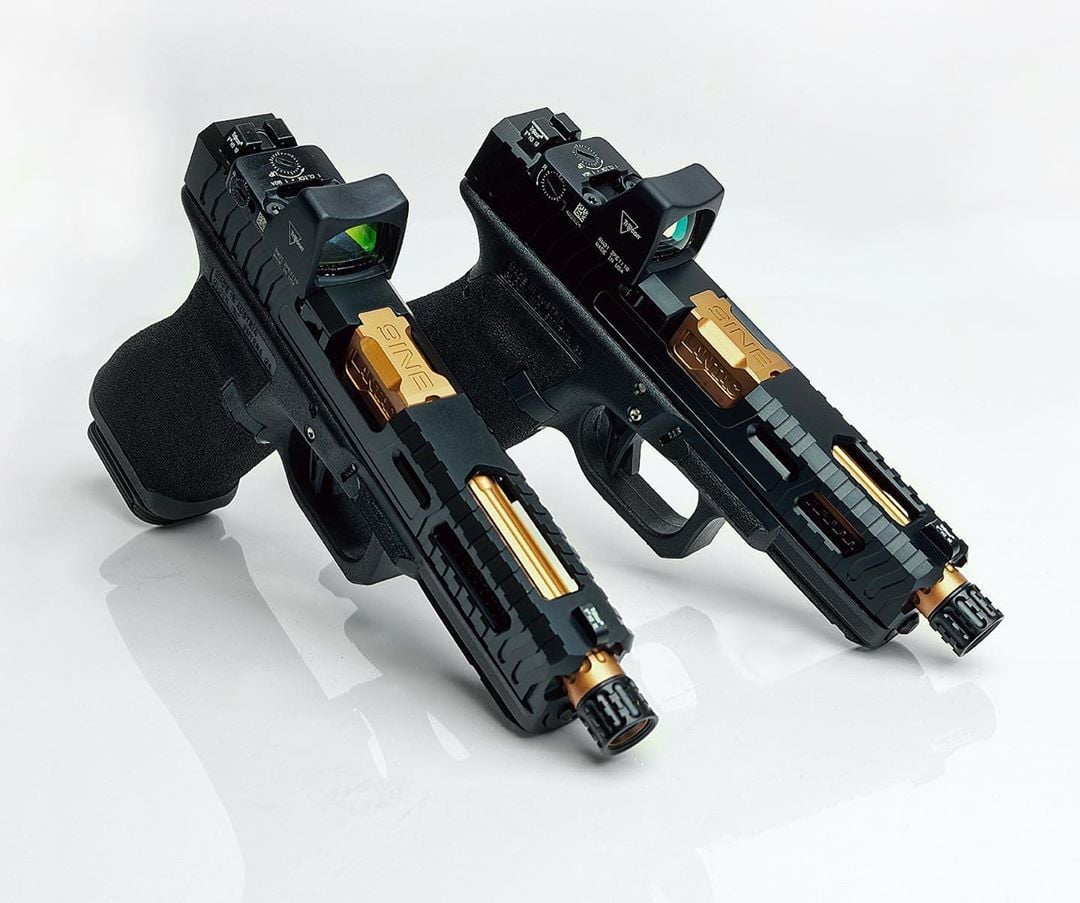 We saw a few small areas where we could improve things and offer them to our customers. We wanted to also come to the market with our same attention to detail and quality that we bring to our AR parts. I am a stickler for quality, and I want everything that leaves our door to be as perfect as it can be. So, as we look at slides, guide rods, and things like that, we pay as much attention to detail as possible and make sure we're manufacturing items the right way.
The Glock is a pretty simple system, if we're honest. If we can do well on the manufacturing side, we know we can make a nice, quality part. The problem comes in with guys who are running a variety of frames. Some might have loose tolerances, or perhaps they have hand-drilled holes, which can be a challenge…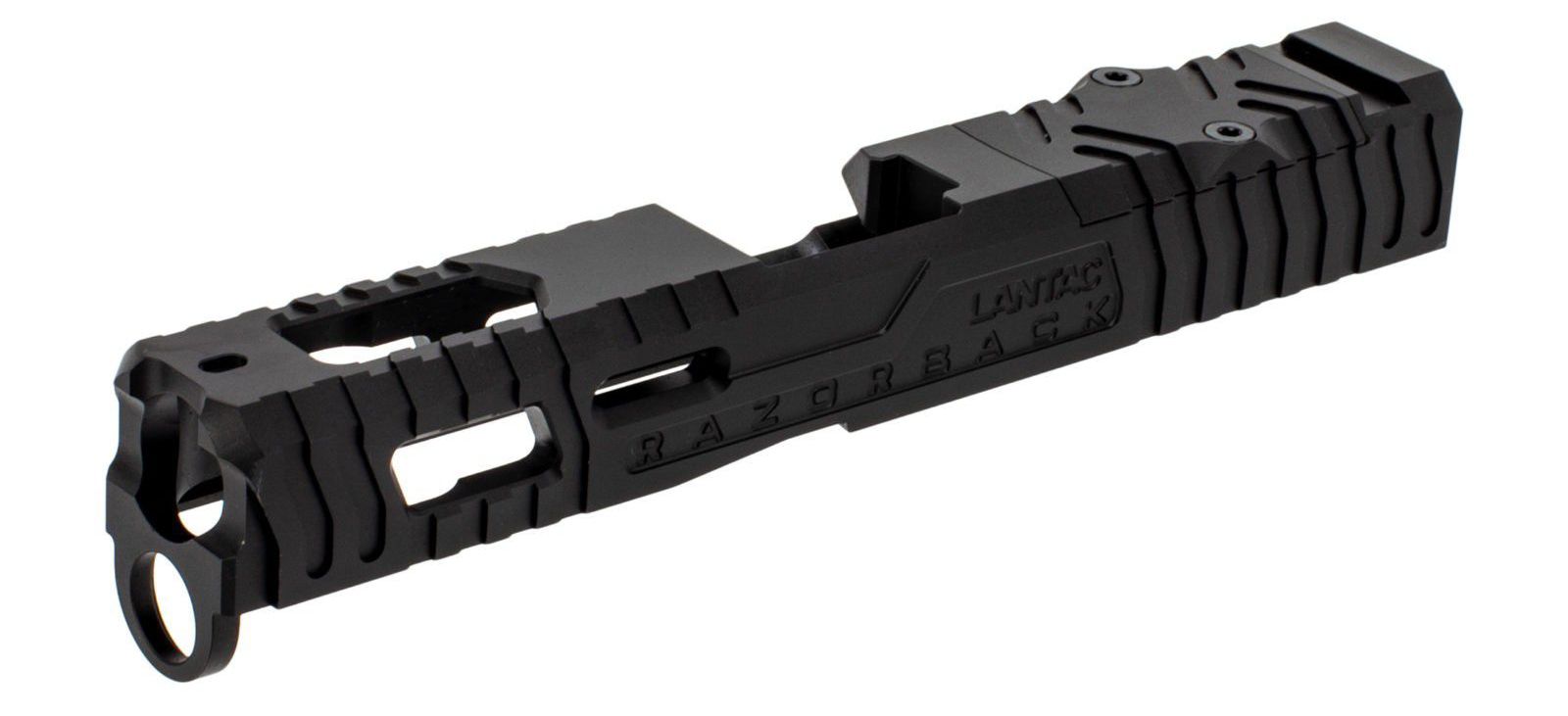 Lantac Razorback Glock 19 Gen4 Compatible Stripped Slide – Black
I will also be honest and say that I think the Glock market has become a race to the bottom in some ways. It seems like everybody is putting out a 200-dollar Glock slide these days, and I just don't see how they are maintaining the quality and making sure they have the right material, heat treating, and that sort of thing.
It's certainly an interesting time, and we're observing carefully. All we can do here is make sure we're never cutting corners and never putting out anything less than the best that we possibly can.
Whether it's for Glocks or the AR, we have one goal in mind: put out the absolute best quality product that we can and never compromise. I see that more and more. Too many people out there are alright with taking people's money and not giving their best in return. I think that's very unfortunate, especially today. We're not about that.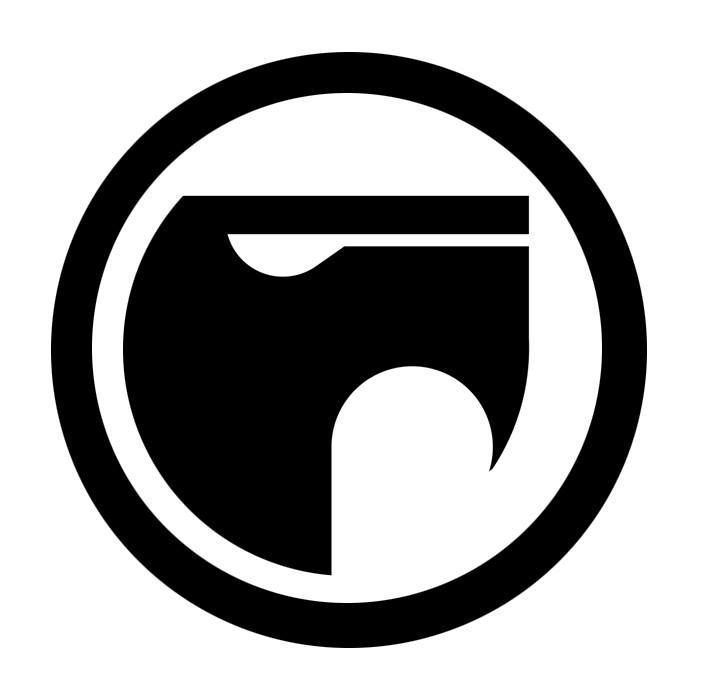 We'd rather take a bit longer and put out the absolute best products we can. Sometimes we take some flack for being slow, but I won't let bad products leave the building. If I have even a single percentage point of doubt about something, it does not go out the door. I think that approach is a part of what makes us unique, it's something we will never slack on, and it's why someone should consider us. We're not the biggest, but we will always strive to be the best for you.
###
We are sorry that this post was not useful for you!
Let us improve this post!
Tell us how we can improve this post?