Bob White of Havoc Shooting Solutions has found a unique niche teaching civilians and law enforcement the finer points of fighting around motorcycles. With the advent of the LAW Tactical Folding Stock Adapter and AR pistols and SBRs, motorcycles and the AR-15 is becoming an increasingly popular combination. To learn more about Havoc Shooting Solutions and the relationship between motorcycles and the AR-15, we recently sat down with founder, Bob Smith.
Q. Bob, can we discuss motorcycles and the AR-15, can we start with a bit of background on yourself and HAVOC Shooting Solutions?
Bob White – HAVOC Shooting Solutions: My name is Bob White, and I have been a police officer for 20 years now. I started shooting as a kid, got to the Marine Corps, and got to the Security Force Guard, where I really learned how to shoot the handgun and the shotgun…I ended up becoming a coach in the Marine Corps for my unit. When I got out, I went to the police department and found I really had an aptitude for shooting handguns. I went to the FBI Firearms Instructor School in 2004, and I've been a certified firearms instructor for my department since then.
I teach at the academy, and I teach my own classes…I've been to several schools, as I think it's essential to try to stay current. During that time, I've met many great people in the industry… like Scott Jedlinksi, Chris Costa, William Petty, Chris Woomer, Jake Sabens from Ares Gear, the guys from LAW Tactical…all of who have helped me out and influenced me and what I do.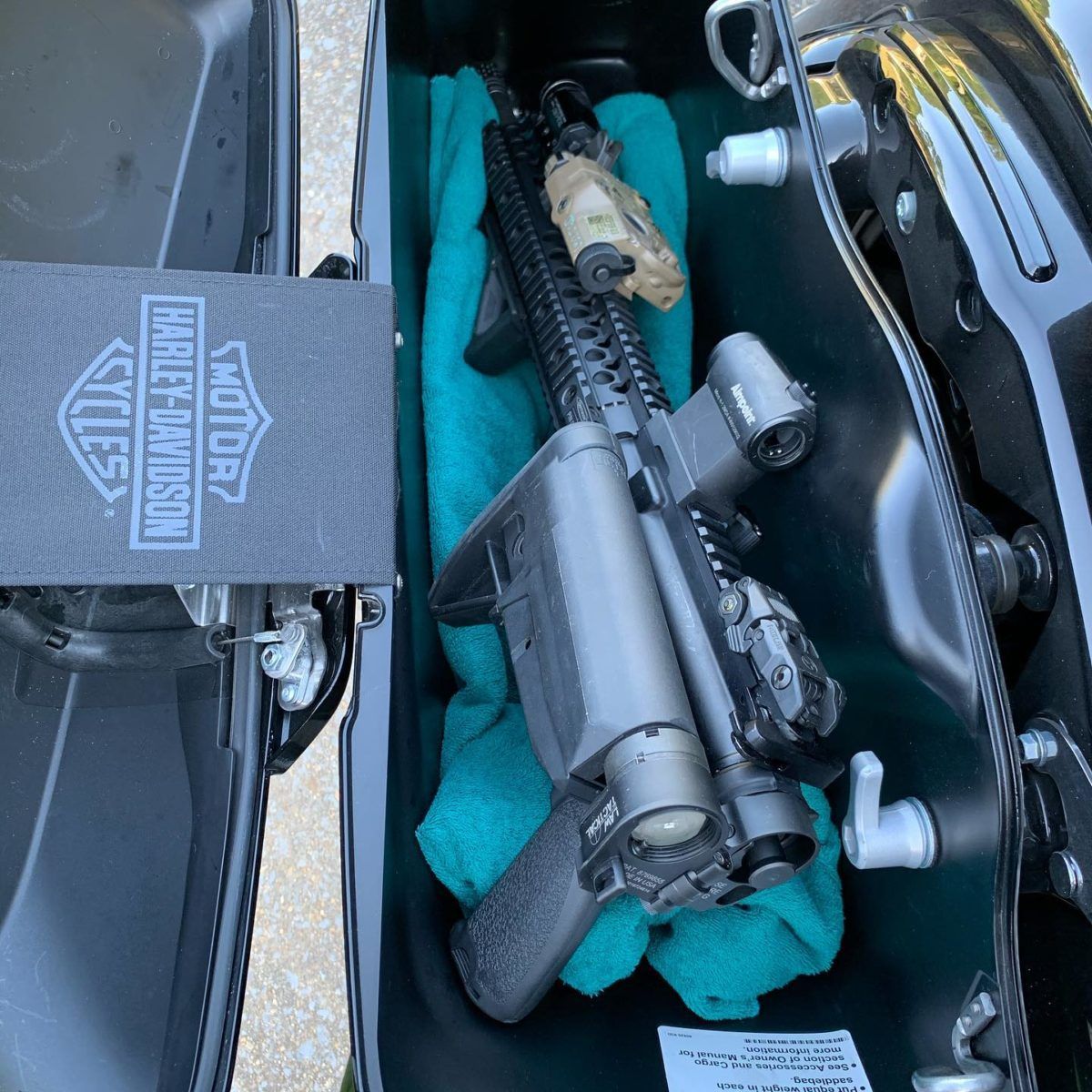 HAVOC Shooting Solutions started about six years ago as a firearms training company. I wanted to teach. As I got closer to retirement, I wanted to have a business built up that I could focus on. That said, there are so many big-name guys already out there …amazing guys like Jared Reston, Aaron Cowen, Chris Costa, Chuck Pressburg…They've earned their experience and reputation, so it can be difficult to get your foot in the door and be relevant.
I was at William Petty CQB class (Centrifuge Training, LLC), which I highly recommend, and he gave me some really good advice. He told me: "Find something to do and make it your own." I was a motorman at the time, and I knew that I liked to ride motorcycles, and I enjoyed shooting guns. I then realized that there were no classes that were out there like that. I ended up taking some of the things that I learned from Petty and a few of the other guys I had trained with and applied it to what I know works on the bike.
For several months, I worked on this program that I called MotorTac, which involved shooting on and around the bike, using the bike for forced cover, dismounting and moving to cover…there's a lot of things that go into riding and shooting. Of course, we don't teach riding and shooting, which is what many people think when they first hear about the class. That's not the case…instead, it is working on the clutch, throttle, friction zone while you are trying to deploy a weapon and come to a stop.
There's many things that go into it that someone who does not ride a motorcycle daily would not know. So, while focusing on this small area is not something for everybody, it is certainly something that I enjoy doing. My primary mission is to teach motorcycle tactics, which is where my mantra of "Ride, fight, win" came from.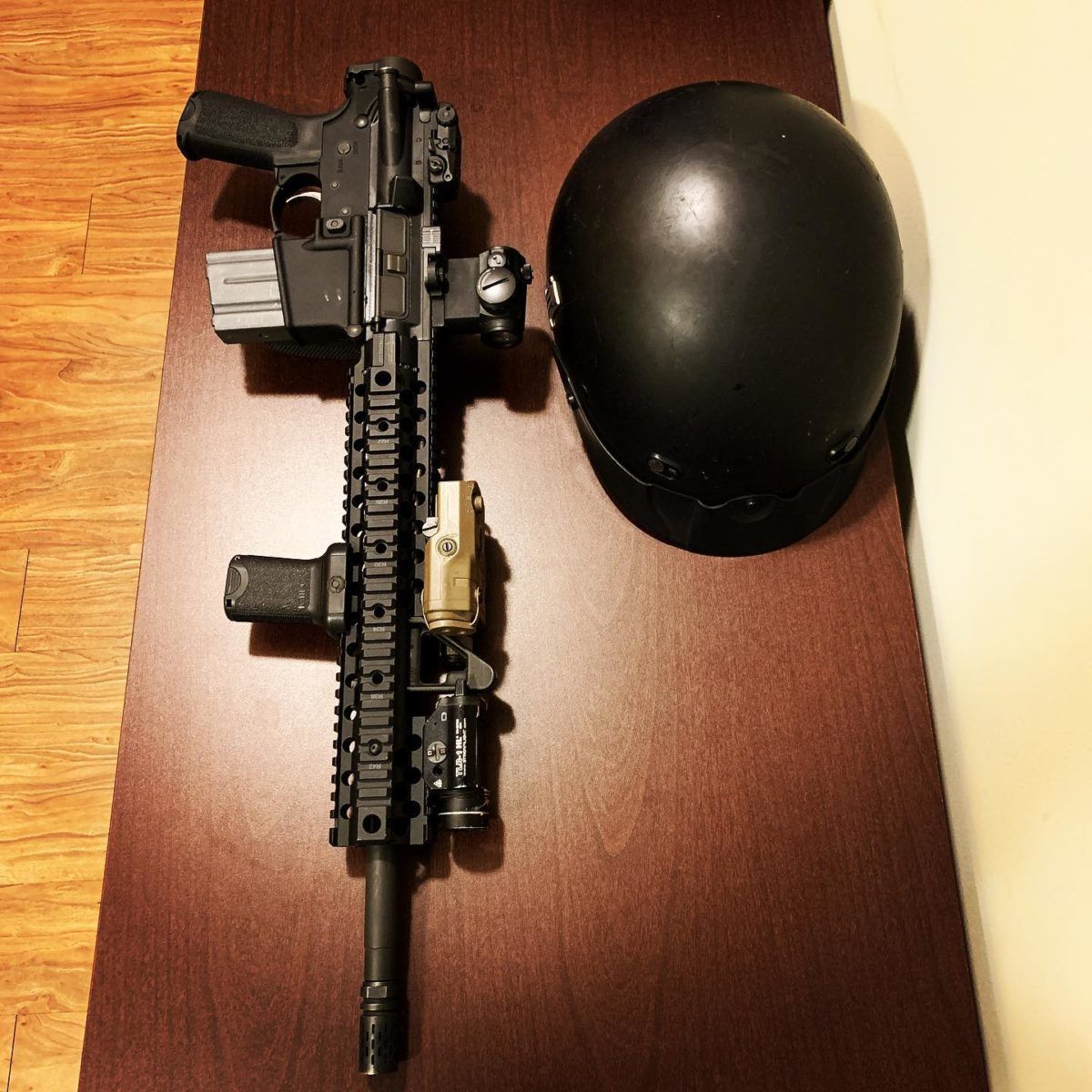 Q: Can you give us some idea of what your world is like regarding fighting around motorcycles?
Bob White – HAVOC Shooting Solutions: Many people are recreational riders, and it can be a seasonal thing, whereas for us as professionals, unless the roads are frozen over, or there is a flood, we are riding rain or shine. For us, one of our big considerations is how to carry. Most folks can just toss on an appendix rig and be good, but for us, that is not going to be very comfortable for very long.
Just like the tactical world, the motorcycle world is heavy on accessories. There's many different ways to carry….soft bags, hard bags, rifles mounted with Pro-gard locks.
Another part of being on a motorcycle is that cyclists can be somewhat of a magnet for road rage. Unfortunately, I think many riders live in this false world where they are going to be pinned in with their bikes, and they are going to able to defend themselves. The reality is that the bike is the worst place to be. A motorcycle is forced cover. You might be able to take a few rounds, but in my experience, I don't want to be near that bike. I want to be as far away as possible. I want to dump the bike and get to more substantial cover. That said, sometimes you get forced to fight around the bike, and if that's all you've got, you're going to need to use it.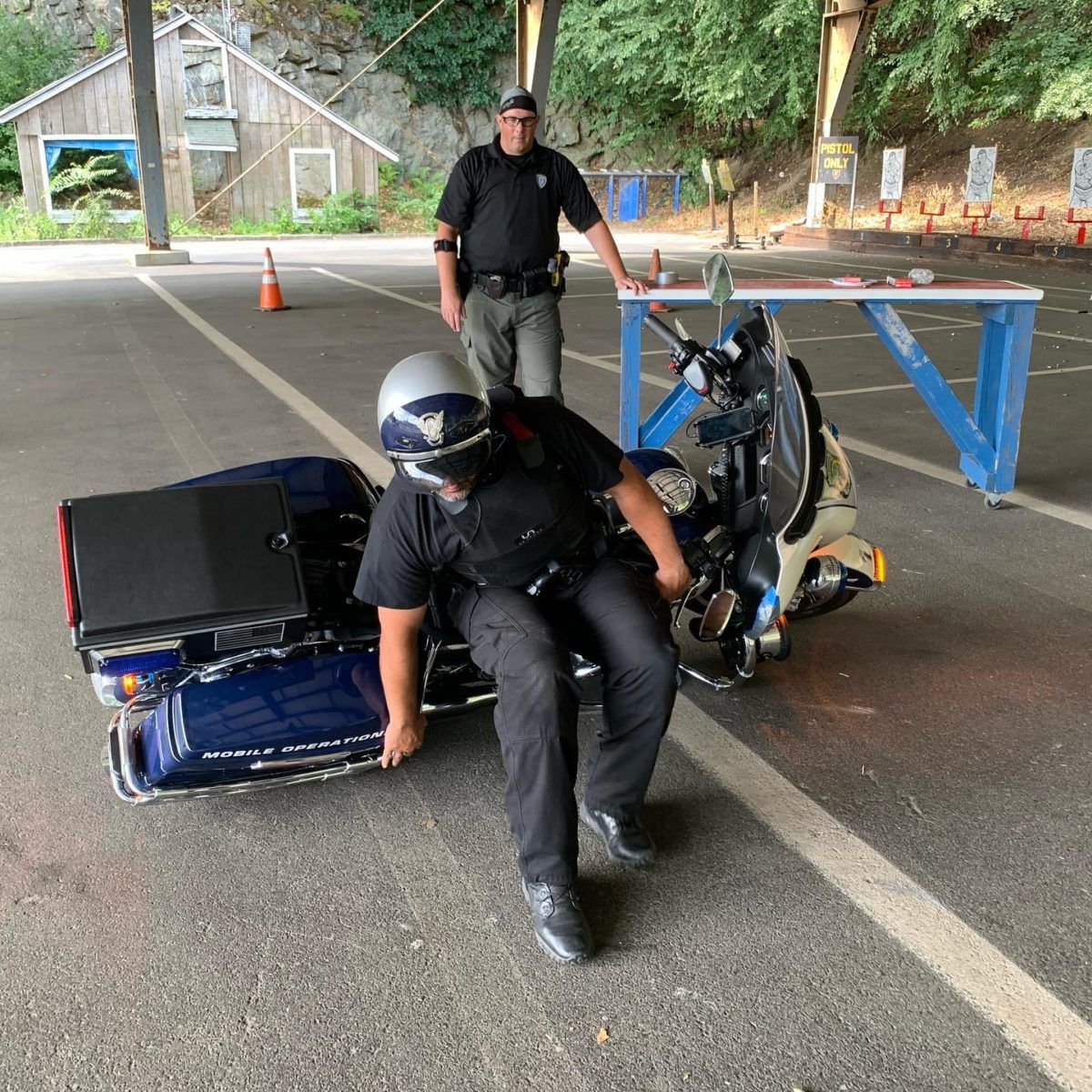 Another part of my world is injuries. It's very easy to get hurt on the bike. Common injuries I see are shoulder injuries. These are common when an officer dumps the bike, and you get popped over, and you injure or dislocate your shoulder.
One other thing that we work on is doing manipulations on and around the bike…actually using the bike as a prop. In one of my last classes, we used the wheel of the bike to clear double feeds off of and get back into the fight. I want to give people different tools for their toolbox, and I want them to be able to work with what they have in whatever situation they find themselves in. To me, I want my classes to be heavy on weapons manipulation. My class is not a riding class. We do minimal riding…what I want to do is help people who are out there in the street. Motorcycle officers are the most exposed, least protected officers that there are.
HAVOC Shooting Solutions on Motorcycles and the AR-15
Q: You mentioned LAW Tactical earlier. Can you talk about your experiences with their products?
Bob White – HAVOC Shooting Solutions: I owe them a lot. I am very loyal to LAW Tactical. I love the product because it allows you to fold up the firearm and cut down the length. The folder also allows you to have more room in your bag. A motorman is a lot like a nomad. You have to be able to pack everything you need, no matter the weather. It's even worse now that most agencies have started using trunk-mounted computers.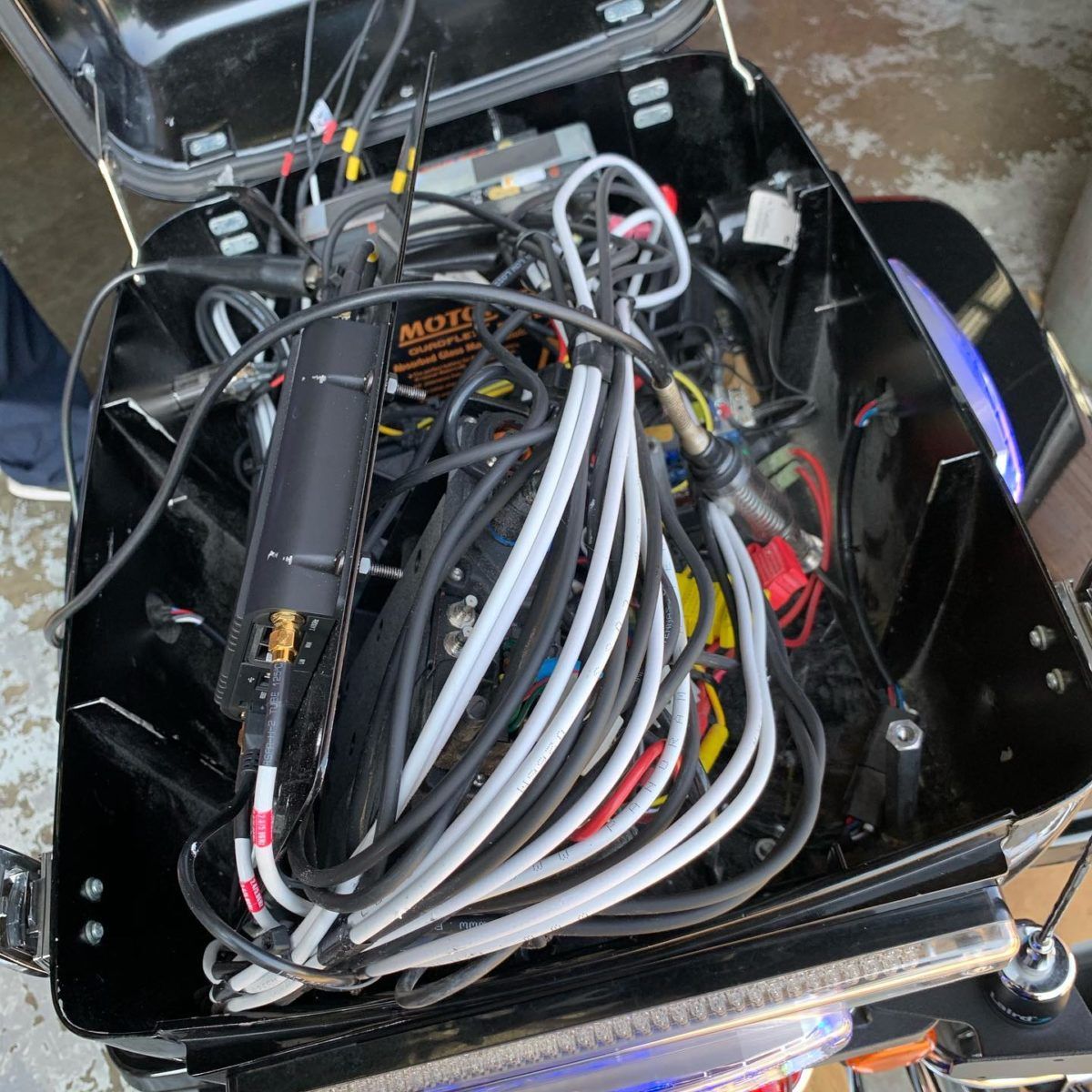 My trunk has had its space eaten up with a computer and a printer. Sizewise, you can imagine that it's a space where you could place two full-sized helmets; however, space we once had is no longer there, making something like the LAW Tactical Folder for the AR even more important.
Motor officers can sometimes be seen as showpieces. We work wrecks and write tickets..we also work special events. But what people may not consider is that a motor officer is a force multiplier that is overlooked by agencies because they have fallen into that traditional 'dog and pony' thing…write tickets, be seen. But if you can imagine an active shooter situation, or perhaps a school shooting, I can almost guarantee a motor officer is going to be close by, and if you know how to ride, you can beat nearly every patrol car there.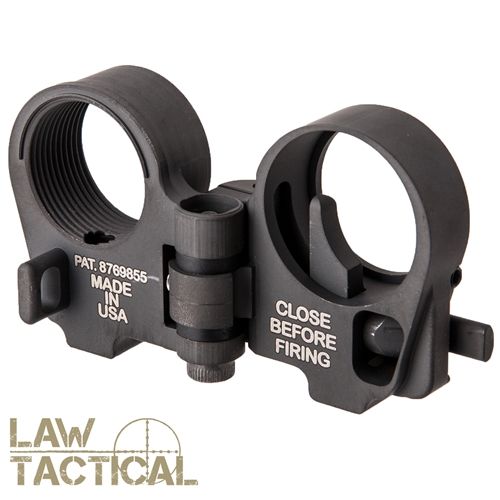 LAW Tactical Folding Stock Adapter
Now if you are first on the scene, you don't have to be smart to know that you would rather have an AR-15 than a pistol in that situation. Looking down a school hallway at a school shooter, what would you rather have, a rifle with a zeroed red dot or a handgun?
By adding an AR to the equation, you have really upped your game….and what allows me this is merely adding that LAW folder on the firearm. It gives me a compact package, and it will enable me to be much more effective if I am required to use my weapon.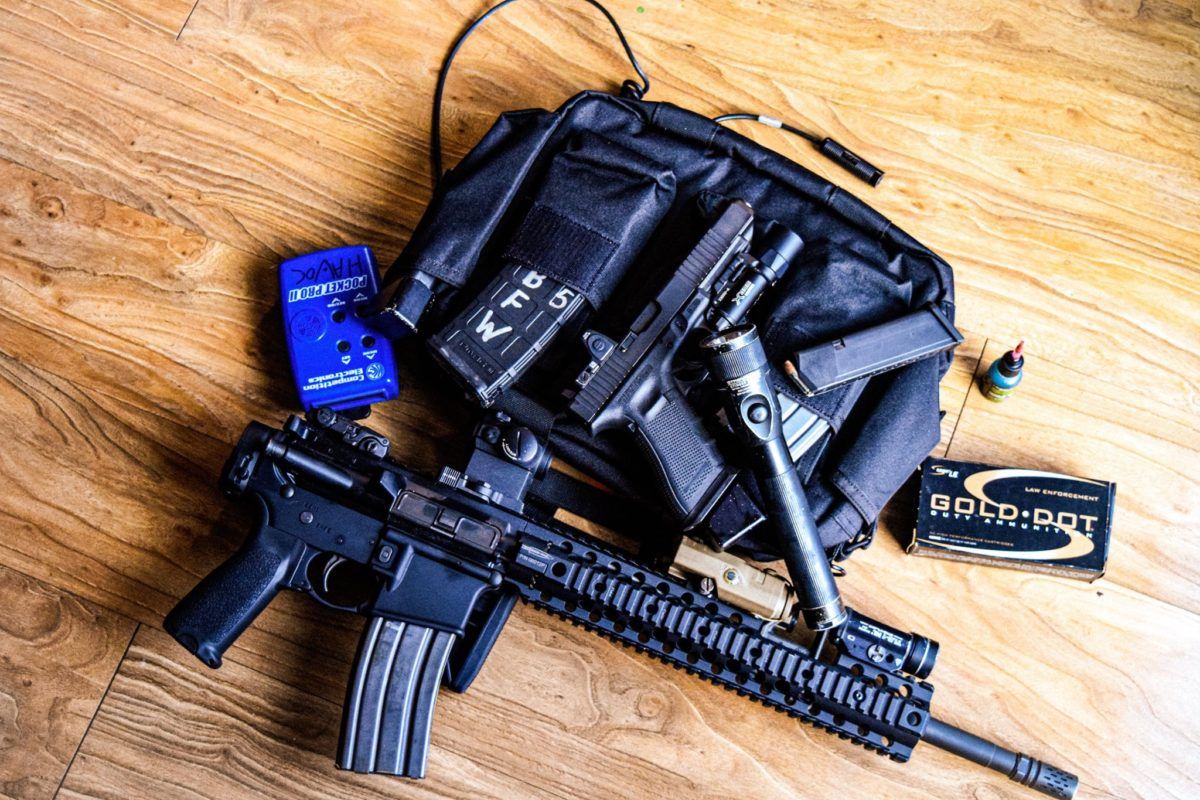 Then for the civilian world, when you want to take your bike out and cruise, you can take your LAW Tactical Folding Stock Adapter, put it on a pistol, and toss it in something like a Vertx bag, and boom, you're set. You don't have to run a 30-round mag, either. Toss a few 20's in the bag, and that's all you need. With this sort of setup, you're not looking for long-term engagement…It's not Mogadishu. You're not going to be on the ground fighting for 18 hours.
Some guys enjoy the enduro bikes…they go camping/offroading. Well, what would you rather have, a rifle or a pistol vs. a wild animal you might have to protect yourself or your riding partner from? So, regardless if you are a civilian or an officer, by adding that rifle to their bike, you really enhance your capabilities.
Q: Are there special considerations one should consider as you research pairing motorcycles and the AR-15?
Bob White – HAVOC Shooting Solutions: One of the biggest things that people neglect to consider when carrying an AR-15 on a motorcycle is maintenance. The insides of the bags we use on our motorcycles get very dirty, so it needs to be paid attention to more than once every six months or so. Still, that increased maintenance is a minimal price to pay for having something that is such a game-changer to a motorcycle officer. I cannot recommend it enough. In my opinion, every motorcycle officer should have an AR-15.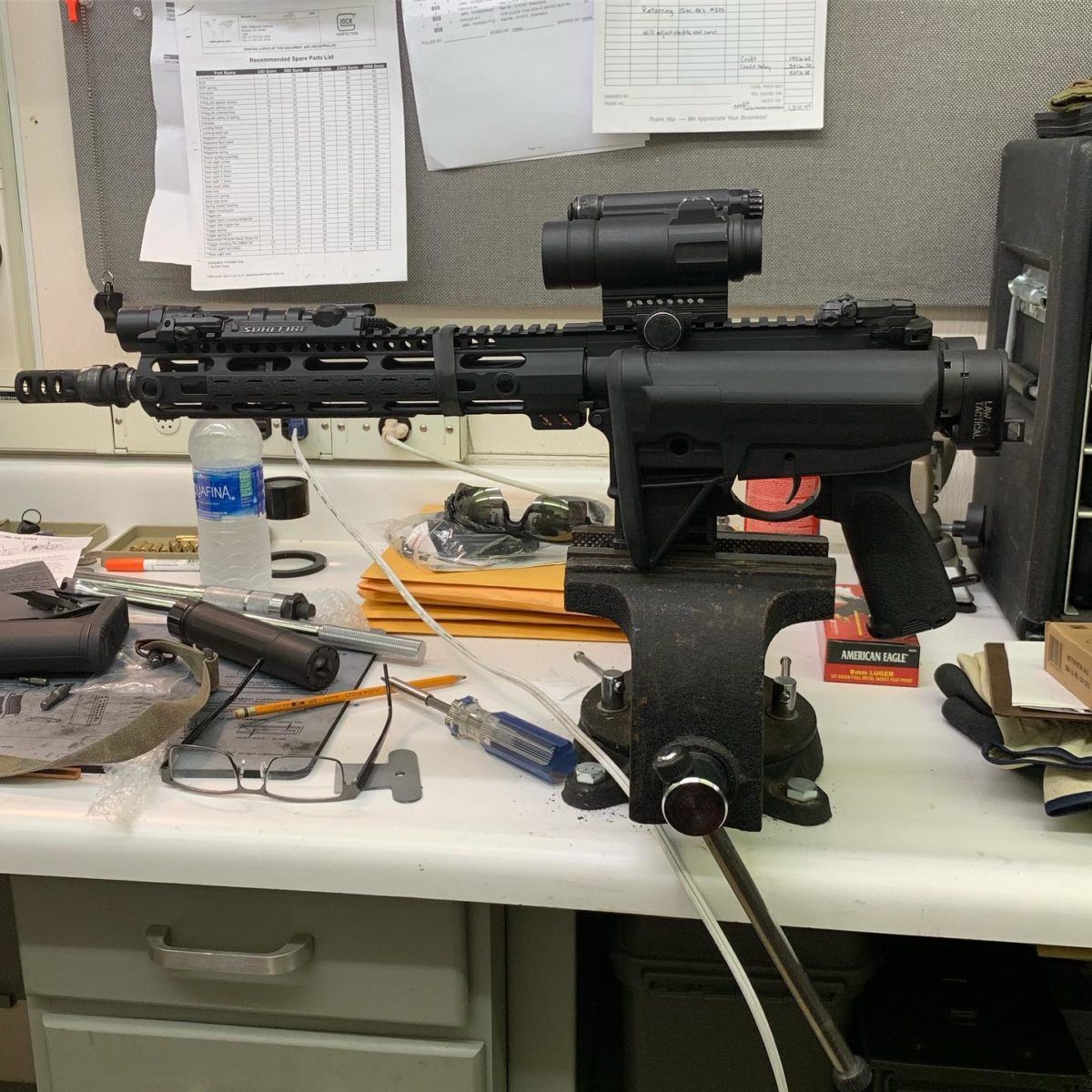 Q: Besides having a LAW Tactical Folding Stock Adapter, what is the ideal AR-15 setup for someone looking to stow one on their motorcycle?
Bob White – HAVOC Shooting Solutions: Everyone is different, and it depends on the application. If I were on a sportbike or if I was just a weekend motorcycle rider, I would run an AR-15 pistol of your choice paired with 20-round magazines. I also like to use 30-round mags with Velcro run around the bottom of them. I then run a Velcro strip along the inside of my saddlebag. This allows me to reach in and grab the rifle, and then just peel off a spare mag, and then I'm ready to go.
As far as details, I like either a 10.5" or 11.5" barrel, and I lean toward the idea of a thin, light rail, and on that rail, I make sure that I have a light on it. As far as optic, I go for a simple, small red dot. That's what has worked well for me. In this particular role, I don't always use a sling, as this is a situation where I let the vehicle do all the work of carrying the firearm around.
To me, regardless of setup, is the the bottom line of what an AR offers. By having a Law folder and a shorter barrel, motorcycles and the AR-15 are a combination that I think we will see more of. There's likely a way you can make it work, and by doing so, you are enhancing your capabilities massively, and are better prepared for whatever the world may throw at you.
###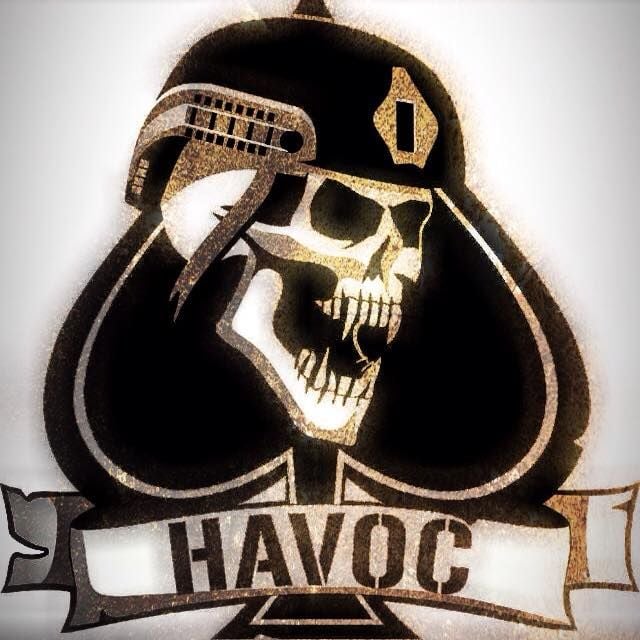 We are sorry that this post was not useful for you!
Let us improve this post!
Tell us how we can improve this post?