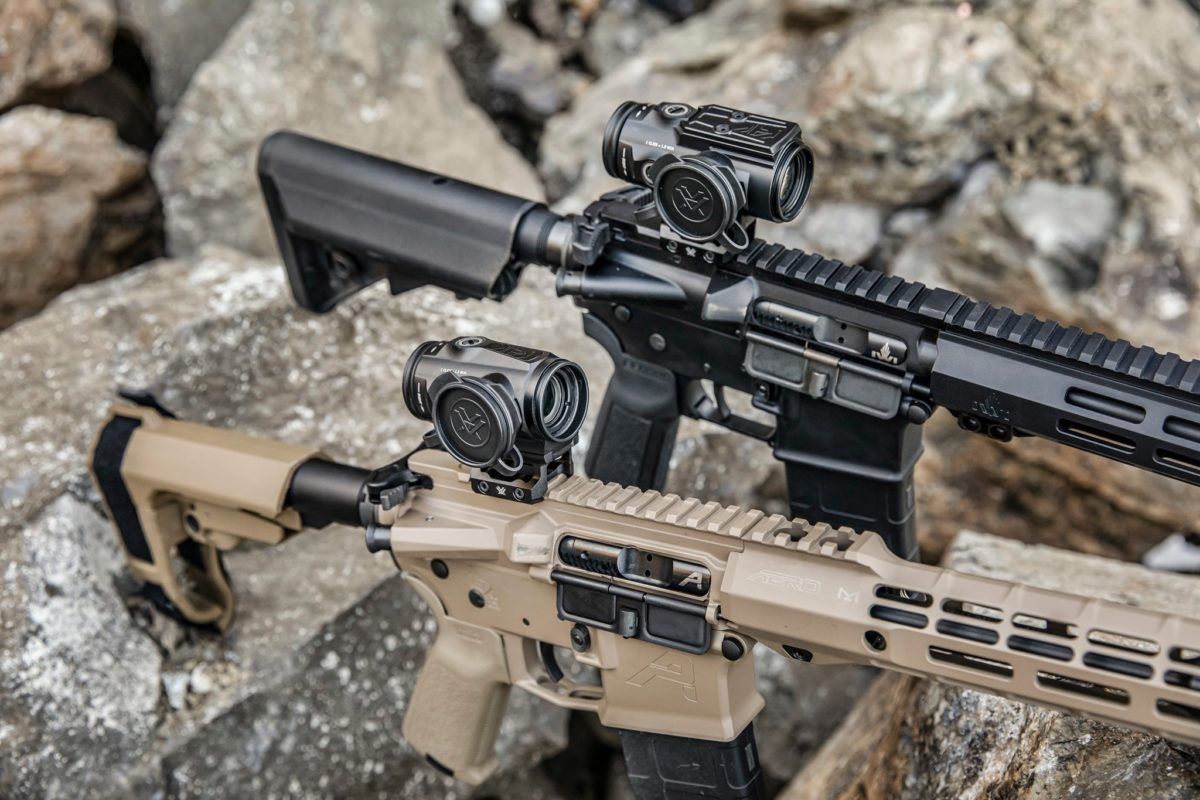 Vortex has announced the launch of new, updated AR-specific optics for 2021, including their SPARC red-dot and their prism-based Spitfire. To learn more about these optics and why they are worth considering, we recently chatted with Vortex's Reuben Aleckson.
Q: What has changed with the SPARC lineup in 2021?
Reuben Aleckson, Vortex – Starting over a decade ago, we started the SPARC lineup. It's always been a very popular optic that fits that T1/T2 footprint. The original SPARC was a 2 MOA dot, and the battery life was fairly low. That said, this was over ten years ago. The Vortex SPARC II was the next release in the SPARC lineup, and it integrated a CR2032 battery into the optic, became more battery efficient, and we changed the button layout so users did not have an inadvertent power off when they did not want it.
The Vortex SPARC AR was another version that integrated a AAA-battery, which is very common. When you compare the SPARC AR to the SPARC and the SPARC II, the SPARC AR integrated a mount specific to AR height into the optic at just over an inch and a half. It took a failure point and built it into the optic, and it became an optic that was tailor-made for the AR platform.
The AAA battery in the SPARC AR increased battery life, and over the last few years, we've heard loud and clear from our customers that battery life is critical. It is not something that people want to worry about.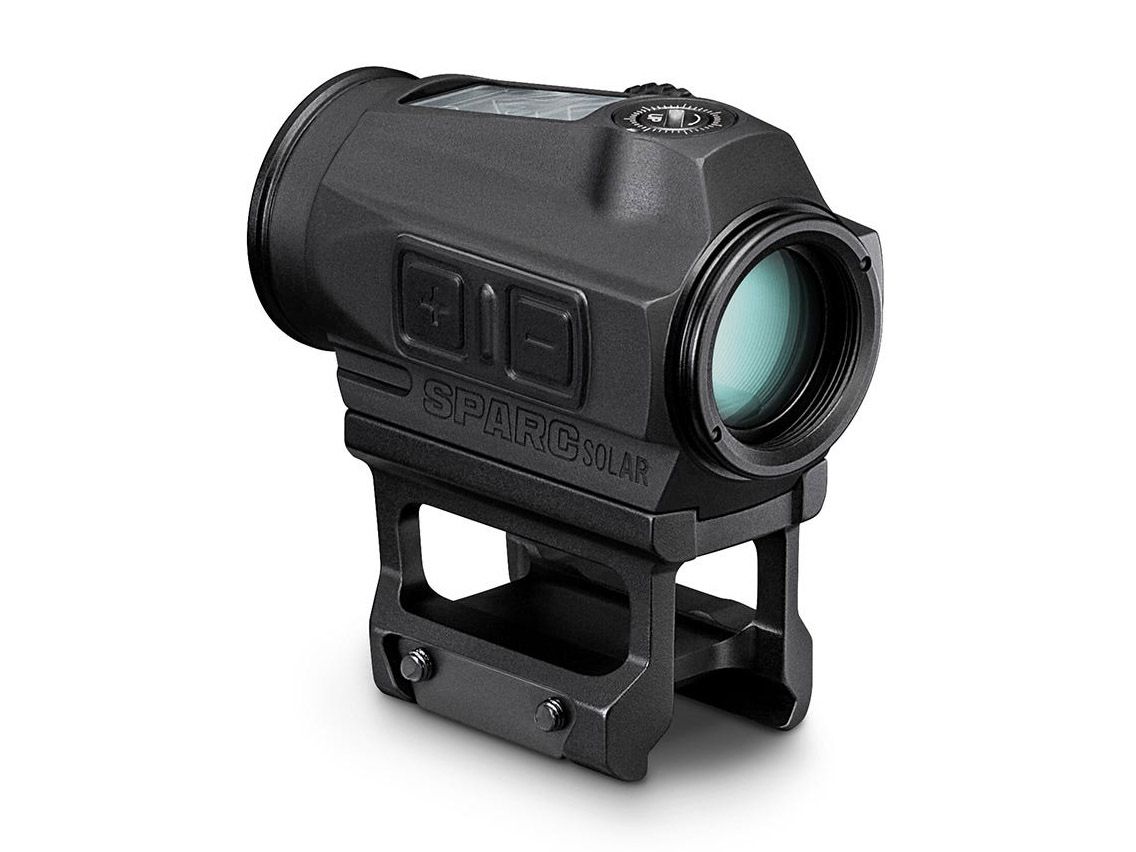 Vortex SPARC AR Solar Red Dot – 2 MOA

One way we saw to further add to the battery life of a system like this was to go to an integrated solar panel. One cool thing about the new SPARC Solar is it is solar-assisted power. There is no onboard charger to charge the battery. There's no need to worry about rechargeable batteries, which can get very expensive. The Vortex SPARC Solar will run on solar power whenever it can. As long as it has light that it can use to power the device, it will assist the battery in powering the dot. This is how we can get a crazy 150,000 hours of run time.
150,000 hours is a large number, and it can be hard to figure out what that means in actual usage. I would say that typically a battery is going to degrade before the optic will use all of it. So, if you develop a reliable pattern of changing the battery out based on your usage, you don't need to worry about leaving the battery on and draining the optic. It does have an auto-shutoff mode, and it has a motion-activated feature that then powers the optic back on. It's an optic that you can leave on, it will auto power off, and then when you grab it, it will auto-power back up, so it is there when you need it.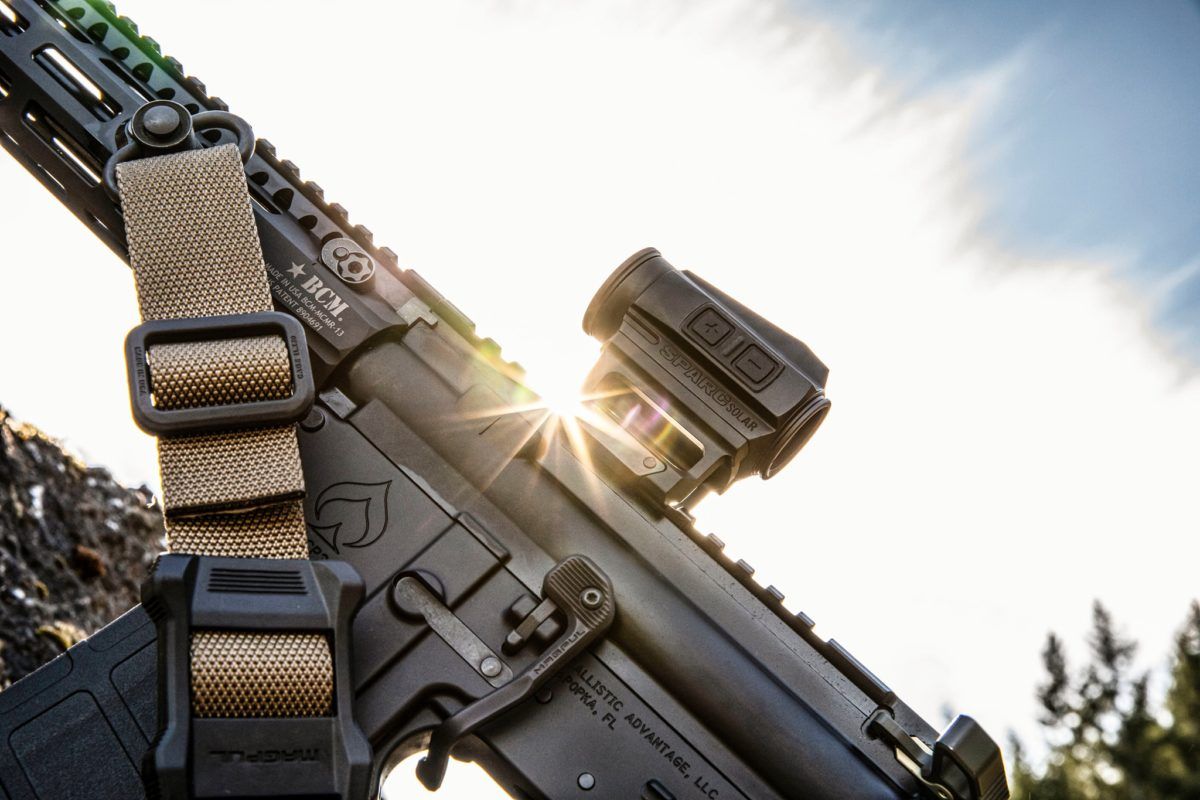 It also has a wider apparent field-of-view as we have reduced the emitter's size inside the optic. It also is going to be a very, very robust, snag-free design. The turrets are flush with the body, it has side push-button controls, and it comes with our newest type of cover that is integrated into the optic, but it also removable. It also comes with two different heights of mounts. Those mounts are a lower 1/3 mount, as well as a low mount for if you were mounting it on something like a shotgun, a rimfire or the AK platform, where you want that lower mounting height.
Overall, I think this takes the SPARC lineup into the future and it puts our best foot forward in the red-dot game. It's a wonderful product that, out of the box, comes with a very robust mount that you really don't need to worry about replacing. It has a steel recoil lug that clamps onto the gun, with very high-quality Torx screws.
Q: Can you talk about the Spitfire? What is it exactly, and why might someone prefer it over something like the Vortex SPARC?
Reuben Aleckson, Vortex – The Spitfire line for us has always denoted what is called a prism sight. There's lots of options on the market for prism sights, and with them, you are typically looking at a fixed amount of magnification because you are using a prism inside the optic instead of zoom lenses. They are fixed power sights that are designed with the AR platform in mind. They do have the same multi-height mounting system that we offer with the SPARC Solar.
The Spitfires are unique in that they provide magnification in both 3x and 5x, while also being a very simple, utilitarian optic. Once you've got one mounted and zeroed on your gun, there's not a lot that you need to do to make adjustments. They come with our AR BDC reticle, which is very similar to something you might see in our Razor 1-10 or a Strike Eagle 1-6 or 1-8. The reticle is based around 5.56 cartridges in a carbine application, where you are looking at shots anywhere from point-blank out to around 600 yards. Within the reticle there are built-in hold points every 100 yards out to 600 yards, with hash marks at 50-yard increments.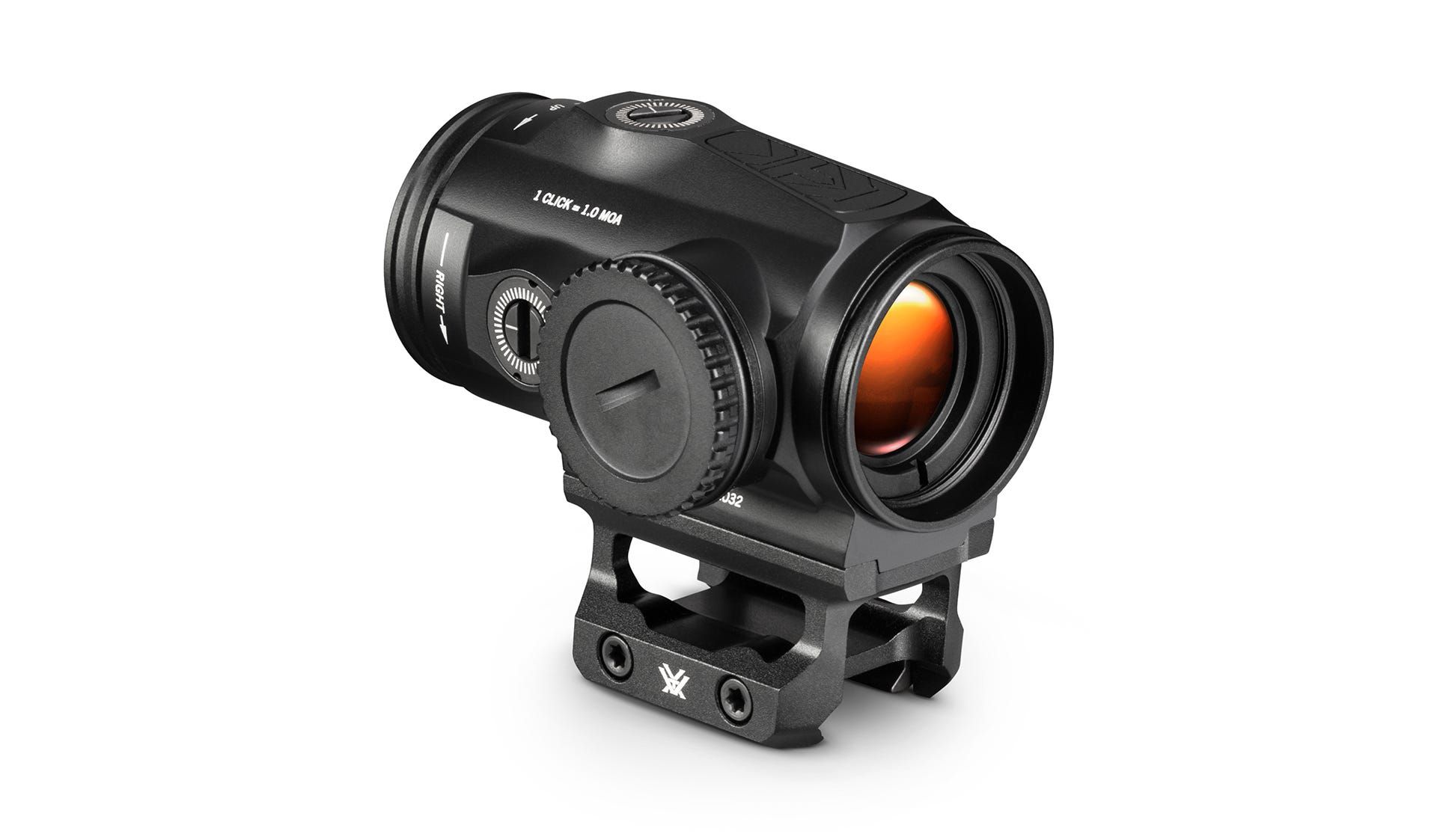 Vortex SPITFIRE 3X MAG Prism Scope
The Spitfires are very, very durable. With the Gen 2 series, you're now getting an optic that is almost half the size of other traditional prism sights that you see on the market. Size and weight are things that often turned people away from choosing prism sights. And we've addressed that, along with improving eye relief, which is another common complaint. Our new Spitfires have great eye relief in a very small, compact, lightweight package.
Our 5x also has some new features to address the concern of being "stuck" at that level of magnification. We've integrated MRDS mount on top of the 5x, so that if you wanted to mount a micro red dot on top of the optic, you can do so. That way, you have the option for a fast heads-up ability to shoot with no magnification, and when you need the magnification to reach out, you simply adjust your cheek weld, and move your eye down to the main optic.
Q: Before we close, can you explain why a Prism sight is different from your other offerings and why you might want one vs. something like your red dot Vortex SPARC or your holographic UH-1?
Reuben Aleckson, Vortex – One of the main differences between a prism and holographic sight like our UH-1 Gen II or our Vortex SPARC Solar is that a prism has an etched reticle like a rifle scope. It does not require battery power for you to have a reticle. If your battery dies, you still have your full reticle. There's nothing outside of a catastrophic failure that can ever take that reticle from you. The Spitfires do have an illuminated reticle where you can have faster acquisition and perhaps see the reticle better in low-light. The only downside is they lack the 1x that a red dot has.
If that's something that your readers deem more important, then the Vortex SPARC AR is perfect for them. As with any optic, shooters should determine the 'why' behind what they are looking at, determine their needs, and make sure they are purchasing a product that can last for years and years without fail. That's what Vortex is known for, and we're very excited to bring these new products to market in 2021.
###
We are sorry that this post was not useful for you!
Let us improve this post!
Tell us how we can improve this post?