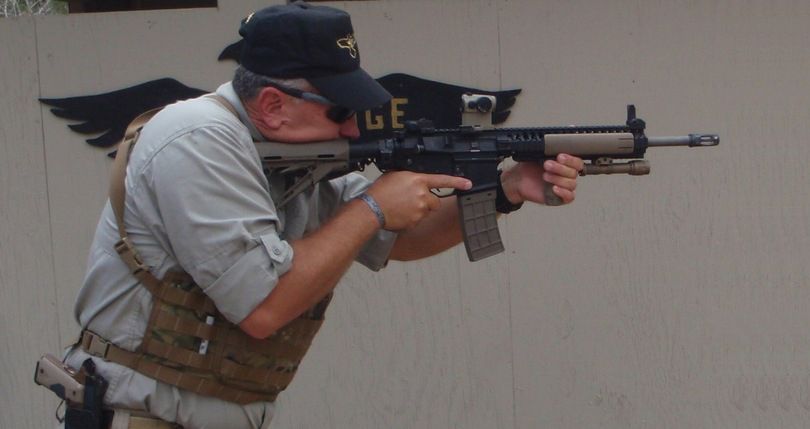 Installing red dot sights on your AR-15 is one of the first upgrades you might be considering for your new rifle. To discuss what you should be looking for, and to answer other common questions, we reached out to an expert on the topic, Freddie Blish.
Blish's has a long and varied career working with red dot sights, and we were eager to hear his take on the optics and their place on the modern AR-15. In case you're unfamiliar with Blish, via his bio:
Freddie Blish is a retired Lieutenant Colonel from the United States Marine Corps, where he served 24 years. He has served multiple combat tours and deployed globally in operational, instructional and advisory capacities. After he retired from the Marine Corps, he served as the Director of Military Business Development for Aimpoint, Inc, where he developed an intensive training program on their use by the US Army Regional Training Center firearms instructors, US Army Mountain Warfare School, USAF Para-Rescue, and I Marine Expeditionary Force Advisory Training Teams. He has also worked for LaRue Tactical as a private contractor handling high-risk clients domestically and overseas.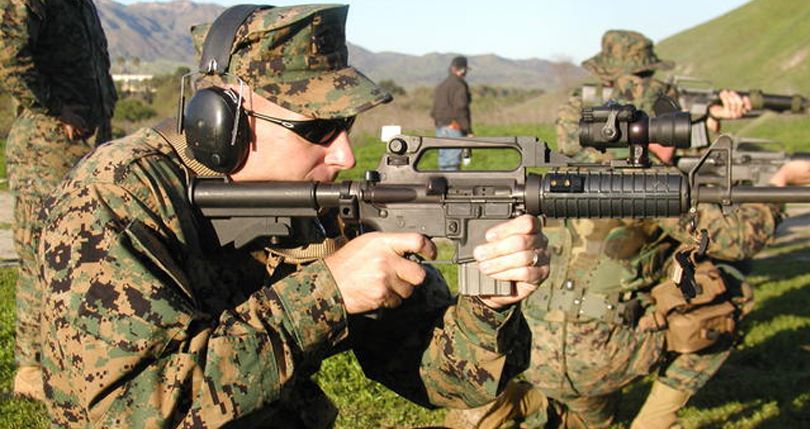 Freddie is an Adjunct Range Master at Gunsite Academy, Inc. He has been providing high-quality instruction to Military, Law Enforcement and the Private sector for over twenty years. He is also the owner and CEO of Patriot Products AZ, LLC, the manufacturer of the Combat Sight Tool and the Combat Optic Tool.
Q: Freddie, thank you for your time. Can we start with a bit on your background?
I grew up in Vermont and went to Norwich University, our nation's oldest private military college. I got commissioned as a 2nd Lieutenant in the Marine Corps from Norwich University.  I then did 21 years of active duty in the Marine Corps. 
I then retired from the Marine Corps and went to work for Aimpoint as their Director of Military Business Development.  I then worked for LaRue Tactical for a year and a half as their Director of Government Business Sales.  I did State Department contracts and then worked for Robar Companies for six years.
Q: I recently saw a video of you discussing a tool you can created for red dot sightss. Can you talk about that briefly What is it and where did the idea for this tool come from?
Certainly. Its a Combat Sight Tool. Like many things, the tool's genesis resulted from two different ideas I had seen.  One was that at LaRue Tactical (I had been a user of their mounts long before I worked for them), they had a tool to adjust the tension on their mounts. 
John Green, our International Sales Representative at Aimpoint, had a tool that worked for the Aimpoint Micro and the Comp M2/M3/M4 series of sights.  I liked that tool and then conceived of a device that could be used on all kinds of combat optics…optics primarily used by the military and law enforcement.  
After leaving Aimpoint and LaRue, I told myself there was a need and decided to finally create that universal tool that would work on all combat sights. My first step was meeting a friend of mine who is a brilliant mechanical engineer. I gave him my idea of what the design should look like, but he quickly corrected me. He said, 'no, you tell me what you want the tool to do, and then I will design it."   
That ended up working out perfectly.  Initially, it was just a 'combat optic' tool designed to work with Aimpoints, EOTech, ACOGs, and Elcans, and then we added features as we went.  There are now three different iterations.  The Combat Optic Tool was the initial one, then the Combat Sight Tool, and finally, the Hunting Optic Tool. 
The Combat Sight Tool is the one that, for most, does everything and is the most universal.  It has a National Stock number.  All three have patent numbers.  The Combat Sight Tool will make windage and elevation adjustments for all Aimpoints, EOTechs, Elcans, older ACOGs, RMRs, and MROs. 
You can also use it for tightening the mounts on the Trijicon twist knob mounts, as well as EOtechs. You can also use it for tightening Aimpoint lever-release Picatinny mounts, their 3x magnifier twist mounts, LaRue mounts, and GDI mounts.  It also has a 1/2" open-face wrench for use with Badger Ordnance, Leupold, or any mount with a half-inch bolt. 
It also has a feature that allows for front sight adjustment on traditional A2, A4, and M4 sights and flip-up sights from companies like Magpul or Troy Industries, etc.  It has excellent flexibility and works with many other optics like the Sig Romeo and Holosuns, most lasers, night vision, and thermal optics.
Q: With your long and varied career, you have an amazing perspective on red dot sights. Can you talk about why someone should consider one for their rifle?
If someone is using iron sights and is on the fence, I believe they should transition to red dot sights; however, they need to make sure it is a quality red dot optic. The 50-dollar, 100-dollar, and even 200 or 300-dollar red dot sights you pick up at a gun show are typically made offshore in China. These budget sights are great if you are just a hobbyist or if you're putting them on a .22.
However, if you are putting them on something that you are going to trust your life to, then you need to get one that has durability, reliability and battery life, and has been thoroughly tested.  This is why something like an Aimpoint shines.  Over a million of them are used by the U.S. Military and have won three separate, hard-fought contracts. 
The other red dot sights that competed against them failed during the durability testing. During the 6,000-round durability test, they would either fall off the gun, have windage drift, or other issues, whereas the Aimpoint was rock solid.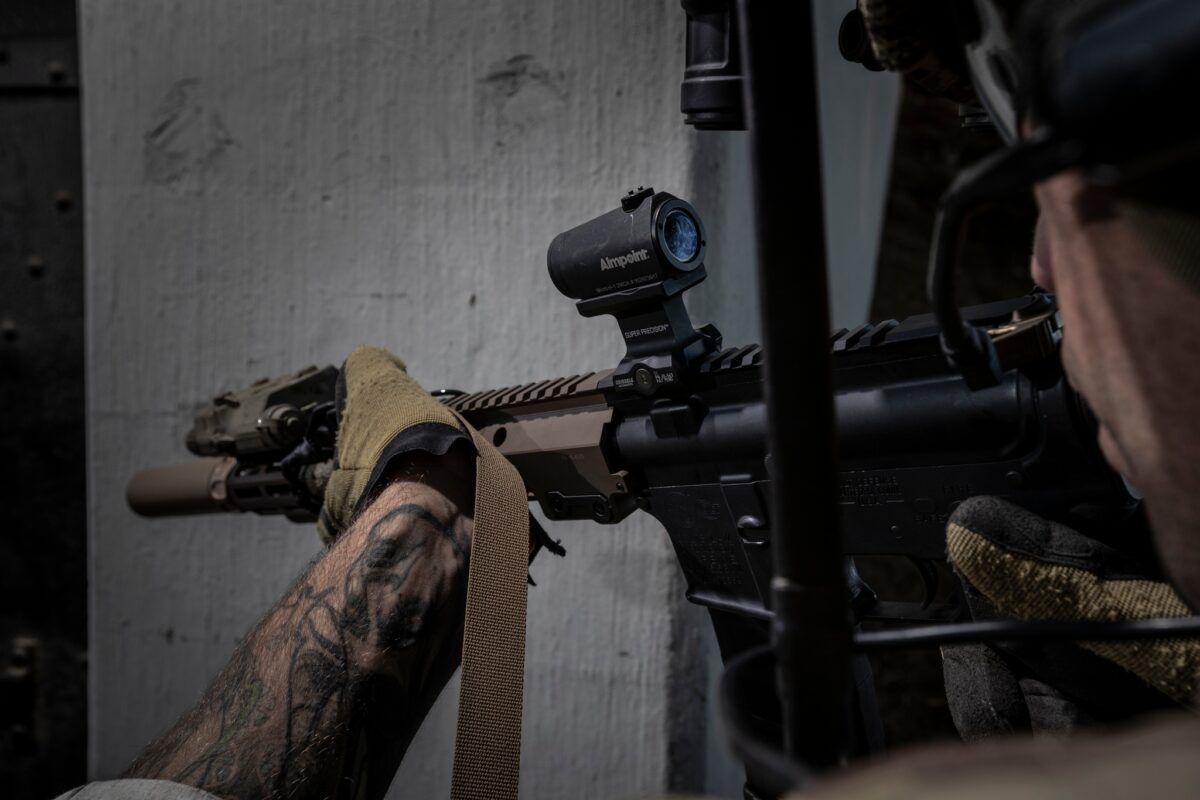 With the battery life they have now, with the advanced circuitry technology that Aimpoint uses, you can leave them on. The light-emitting diode uses less energy than the battery expels if it was just sitting unused on the shelf. The excellent quality of the glass, made by Zeiss, is also excellent.
Regardless if you choose an Aimpoint, a Trijicon MRO, or any other red dot, the benefit is the quick acquisition you get in all lighting conditions and the ability to focus on the threat, superimposing the dot on whatever the threat may be. You no longer worry about sight alignment but just concentrate on sight pictures and trigger control. You're able to focus on the threat.
Red dot sights aid tremendously with fast target acquisition and the ability to make good, accurate hits, even out at a distance. While they were designed with 200, and 300 distances in mind, I have shot targets out to 800 yards with a red dot. You need to know your holdovers, but it is doable. The real envelope for it with a good carbine with good ammo is from bad breath distance out to 300 yards.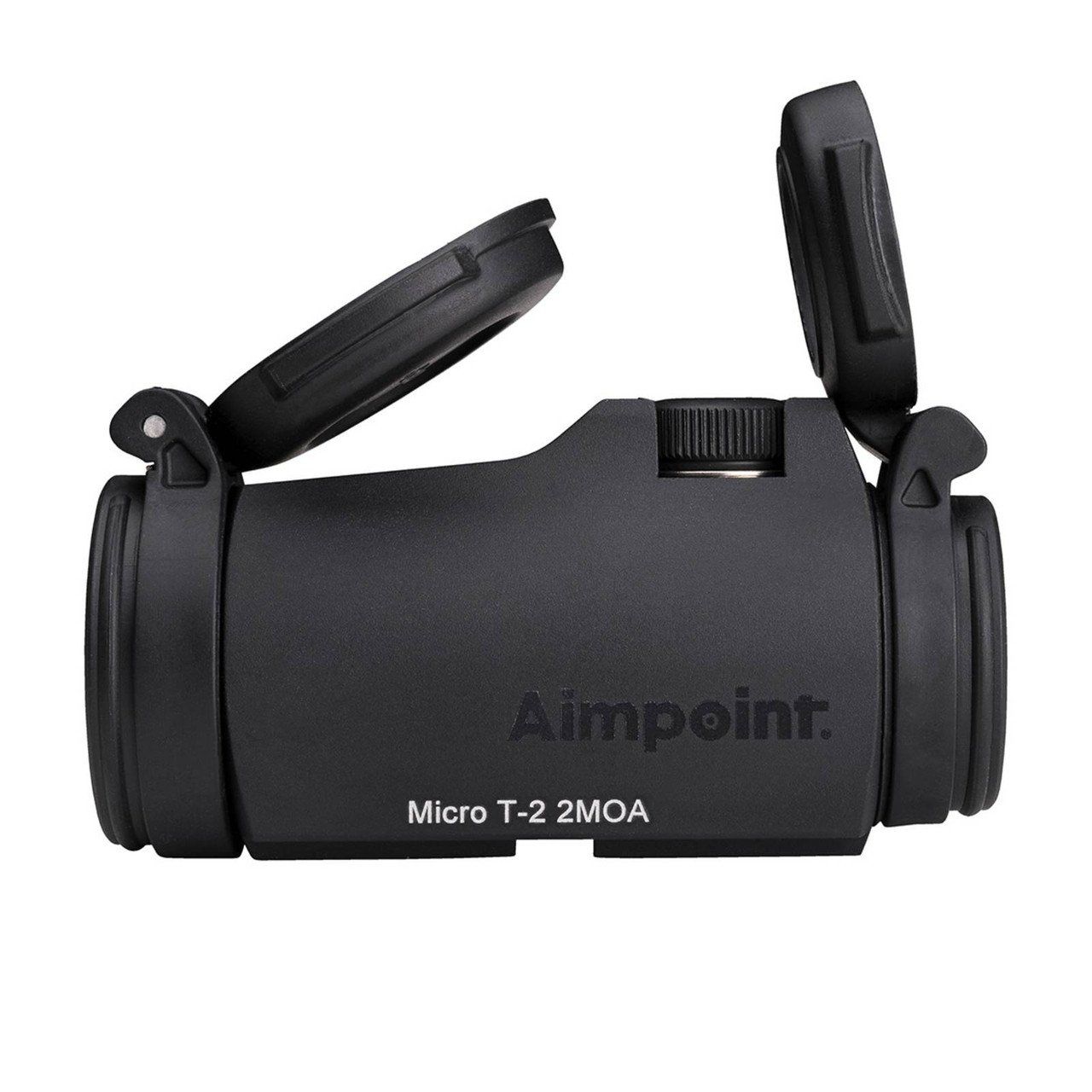 Your affiliate-cta title…
The downside with a red dot is that you need to know what you are shooting at to ascertain that it is actually a threat. Positive identification can become a problem with a red dot when compared with a magnified optic like an ACOG or a low-powered variable optic.
Honestly, though, for most people that are going to be in a lethal encounter, they will most likely be with a 50 to 100-yard envelope because articulating to the prosecuting attorney why you are taking shots past 100 yards as "Joe Civilian" could potentially be a challenge.
Q: Can you describe what a "combat optic" is and what features it has?
I define a combat optic as one currently used by the U.S. military or its allies.  This includes Aimpoints, EOtechs, Trijicon, and Elcans. Some older EOTechs had problems with windage drift with temperature variations and had issues with their mounts not remaining secure to the rifles.  I can say the same thing about some previous Aimpoint mounts that Picatinny designed…With the advent of both LaRue mounts and newer Aimpoint mounts like the QRP2 lever release mounts, that problem has gone away.  The Trijicon ACOGs were great, durable, rugged optics, but the downside was their mounts. Unless you installed a LaRue or GDI mount on it, it wouldn't hold zero.  While they may have had some issues with their mounts, I would consider all of them to be rugged and durable.
Now, lesser optics are starting to make a name for themselves, like Holosun or the Sig Romeo line.  They've proven to be rugged and reliable. 
I think that while they've worked hard to improve themselves, they are made in a factory owned by the communist Chinese party. I have a hard time with profits going to fund them, but each individual has to decide where their money goes for themselves.  That said, I cannot knock them for their durability. They've come a long way and done a great job improving them.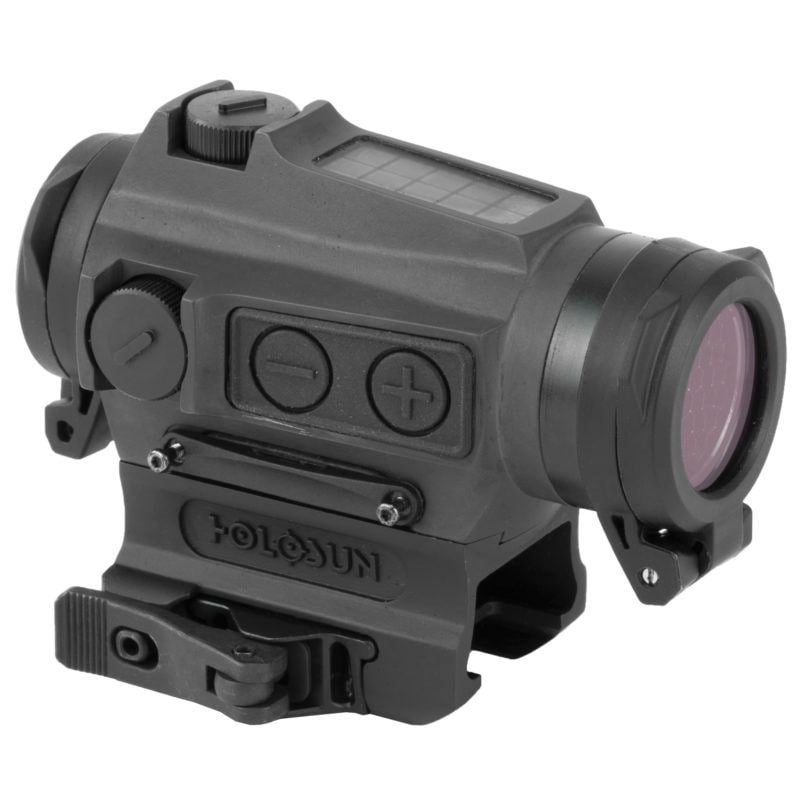 Holosun Elite Red Circle Dot
Q: What's your take on different colored recticles on red dot sights?
You will see some that will advertise green LED instead of red. The problem with green is that it is on a lower spectrum which means that any kind of no light/low light transference through your optic is diminished. Red allows a lot more transference during these situations. While green is easier on the eye, it hinders the usability of the optic in no-light/low-light cases. Red is easier for your eye to find and capture in all lighting conditions.
Q: What's your take on prism optics versus red dot sights?
My issue is that with some prism optics, you've got a non-magnified optic with an etched reticle, so you have introduced parallax. That becomes a problem even if it's 1x, 2x, or 3x power. You're going to have parallax issues. When you decide to make a non-magnified optic and give it parallax issues, I don't understand the reasoning why. There's no value in that.
How rugged and reliable they are is also something that is not beyond question. I've yet to see any of them prove to be durable enough or equivalent to an Aimpoint in terms of reliability and durability.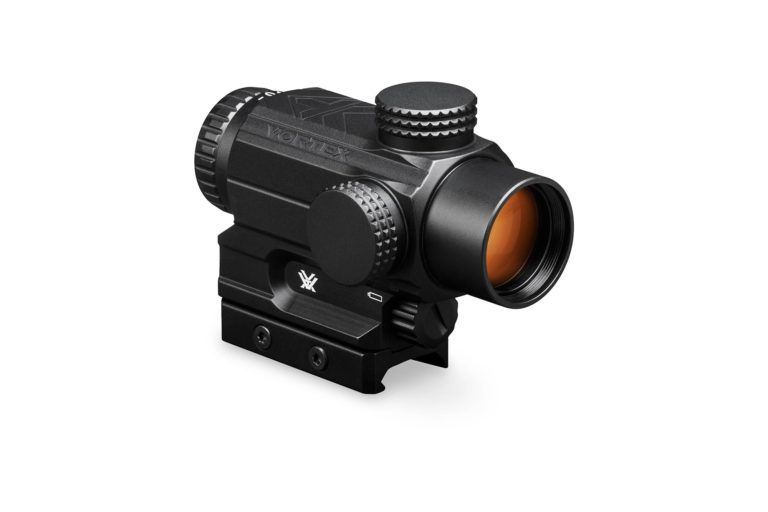 Vortex SPITFIRE 1X Prism Scope DT – SPR-200
Q: What's your take on tossing magnifiers behind red dot sights? What's been your experience with those?
My experience with the Aimpoint 3x magnifier, which Meopta made for Aimpoint, was that it was very rugged and durable.  The new EOTech magnifiers are solid.  The housings and turrets are made in the U.S. I think they are getting the glass from Japan. As much as I like them for 5.56, I would caution against their use on anything larger than that. 
My experience has been that the mounts will vibrate on a .308 and cause the magnifier to move within the mount, and I found that problematic when shooting 3-gun patches. Using an Aimpoint Micro with a magnifier on a LaRue 7.62, there was just too much recoil, causing the dot to no longer to be centered in the magnifier. It was not ideal for making rapid-fire shots. I don't think you will experience anything like that on a lighter recoiling weapon system; it's just something to keep in mind. For heavier recoiling rifles, I'd recommend looking instead at an LPVO.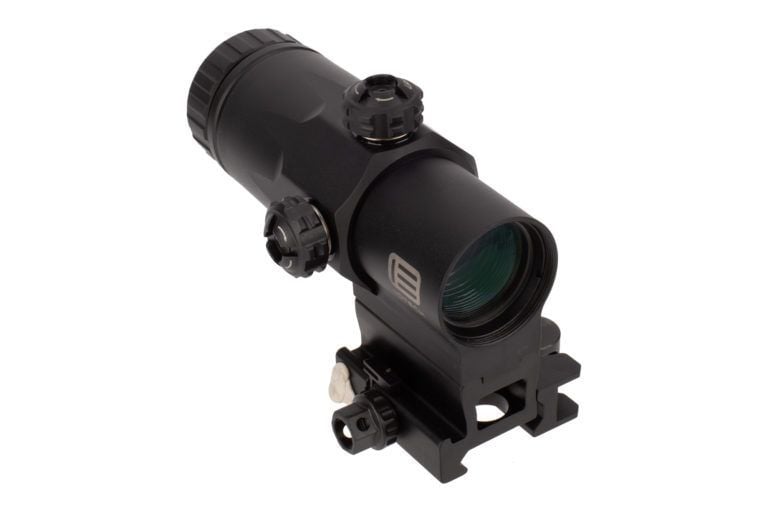 EOTech G30 Magnifier
Q: When do you choose a holographic sight over red dot sights?
I want to support EOTech and see them succeed, but the problem with holographic sight is that they use a laser to project the image. Lasers are always going to be battery pigs. One of the reasons they cannot get batteries to go past 1,000 hours is that once the battery reaches about 20 percent of its capacity, it can no longer run the laser and shut itself off. They will use features like auto-wake, which shuts itself off after so many hours.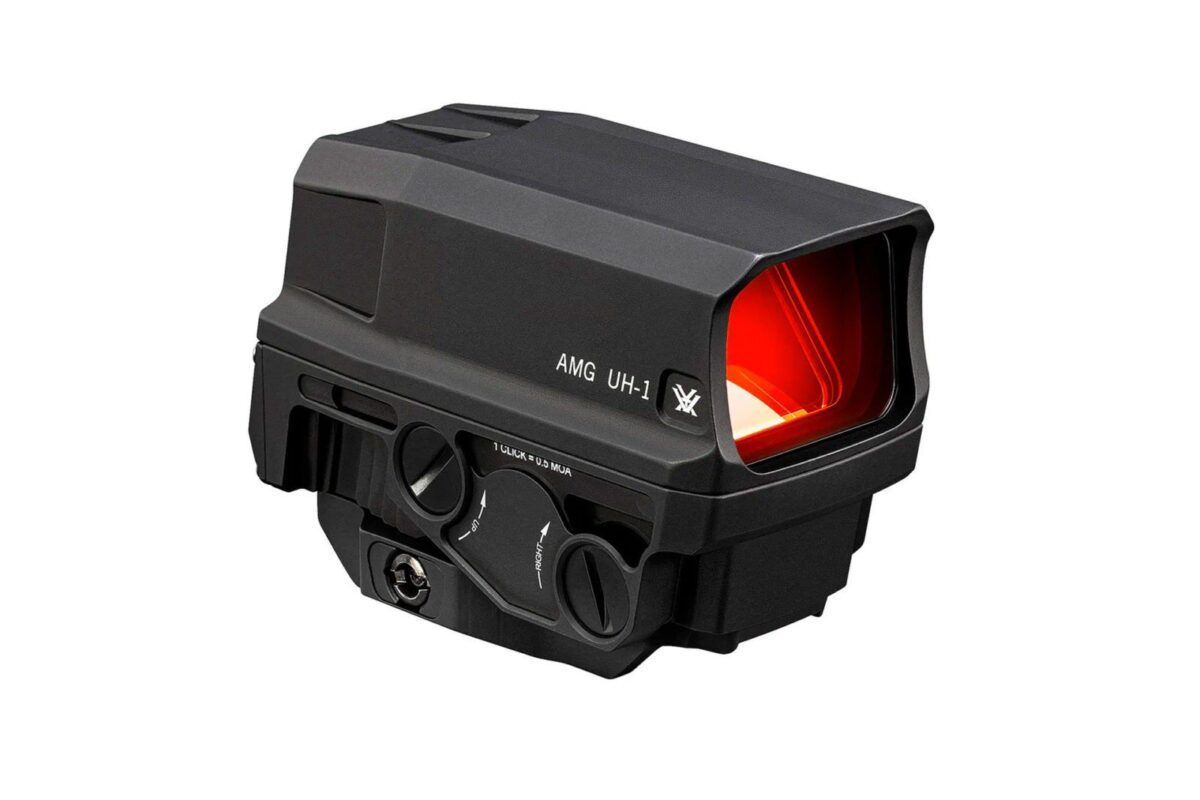 The problem is that if you grab it when you need it and it has shut itself off, you have to turn it back on while chaos is going on. Speaking for myself, my life is exciting as it is. I don't need to make it more exciting. Using lasers, I don't see how they are ever going to get past 1,000 hours of battery life. For readers who don't know what 1,000 hours are, there are 8,760 hours in a year.
Q: You sometimes hear that red dot sights are obsolete and that an LPVO is the way to go. What's your take?
The downside of the LPVO is the parallax. I'd also say that in my experience, for 90 percent of the LPVOs out there, the red dot capability that they advertise is actually useless during the day. I really like the Swarovski LPVOs. They are phenomenal and as bright as an Aimpoint…The Vortex Razor HD is a good optic line.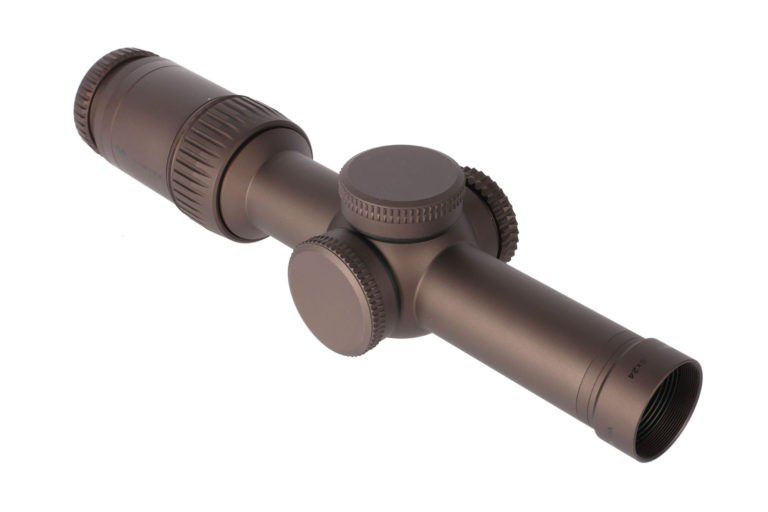 Vortex Razor Gen II HD-E 1-6×24
That said, I've seen their budget Strike Eagle in our Gunsite classes, and while they are holding up and seem durable, their red dot capability is useless. In these classes, which can go out as far as 500 yards, most of what we do is out to 50 meters. We see students bring LPVOs to these classes, and I have to say that they are behind the power curve compared to red dots.
A red dot dominates if your primary use is inside 100 yards. If you will primarily use from 100-300, then an LPVO is ideal. So, if you own some property or have a rural ranch, an LPVO makes a lot of sense. If you're in a suburban or urban neighborhood, then a red dot is all you need. This is especially true if shooting from asymmetric positions or shooting support side. The parallax is going to slow you down.
Q: Before we wrap, is there anything else you'd like to mention? Perhaps things you feel are not discussed enough in these types of articles?
The big thing that I want to stress with red dots and the AR-15 is understanding the advantages of a higher-quality optic. My question is, "how much is your life worth to you?" This also applies to the carbines themselves. You're perhaps buying something to defend your life and your family's.
If it's just going to be a hobby gun, then OK, go for it; put on that 100-dollar optic. However, if you are serious about an optic for home defense, you need to spend the money and do it right. Buy once, cry once.
Many folks buy that inexpensive optic because they think it is the same, but I can assure you it is not. They then have to spend more money later to get the better quality one. Trying to save a dime, they'll spend a dollar.
###
We are sorry that this post was not useful for you!
Let us improve this post!
Tell us how we can improve this post?