With the recent launch of the SAI Optics SAI 6 low powered variable optic (LPVO) from Armament Technology, we decided to reach out to Trevor Publicover, VP of Sales for Armament Technology, to learn more about the new company and its new flagship 1-6x 30mm optic.
Q: Trevor, we've had a few readers ask about SAI, and it was not a company we were familiar with. That said, we're undoubtedly familiar with other offerings under the Armament Technology umbrella. Can you share the company background briefly?
Trevor Publicover, Armament Technology – Armament Technology started as a sniper rifle manufacturing company, and we quickly got involved in optics. Our primary goal is making accessories for small arms. We've been supporting the Canadian military for the last 15 years with their optics. Every single C79 optical sight that goes on every single rifle has probably gone through us. We've supported it throughout its lifecycle and continue to do so. We are a master distributor for ELCAN. (Raytheon ELCAN Optical Technologies).
We also acquired Tenebraex in 2013, a manufacturer of accessories for scopes, including scope covers and anti-reflection devices.
Roughly around the same time, we started Tangent Theta, a manufacturer of high-quality long-range rifle telescopes and are the only Canadian manufacturer. It has gone very well for us for the past seven years now…the brand is still moving, and the response we've had within the industry about Tangent Theta has been great. It's a company that we're proud of, and I expect that you're going to hear excellent things in the years ahead.
In summary, we're an optics-focused company with many brands that we consider the "best in their category." It wouldn't never be good business for us to release anything of a lesser standard, and this is how the SAI Optics SAI 6 came about. We wanted to start a different brand that had a bit more production capability. To do this, we paired up with a partner in Japan. We wanted to spin something up a bit differently and have another line of scopes that we could offer. SAI is new, but it is a member of the Armament Technology of brands, and I think that says a lot about the quality of what someone can expect to see.

Q: There's a lot of competition out there at the moment when it comes to LPVOs. Can you talk a bit more about that expectation of quality and how it relates to the SAI Optics SAI 6?
Trevor Publicover, Armament Technology – We have a lot of brands that we consider the "best in their category." We intend to continue that. It wouldn't be good business to release anything that is of a lesser standard or something that we wouldn't feel comfortable supporting. We've spent several years preparing for the SAI Optics SAI 6 release. We take a lot of pride in what we supply to our industry, and I'd assure you that we take our business seriously.
We are in the front lines of getting feedback from many, many sectors. We tried to design something that would have the essential features crucial in today's shooting sports environments and provide what people are generally looking for. You're right, though – there's a lot of competition, and it's a challenging field. There are many good manufacturers, but I'd like to think we are in the mix with the SAI 6.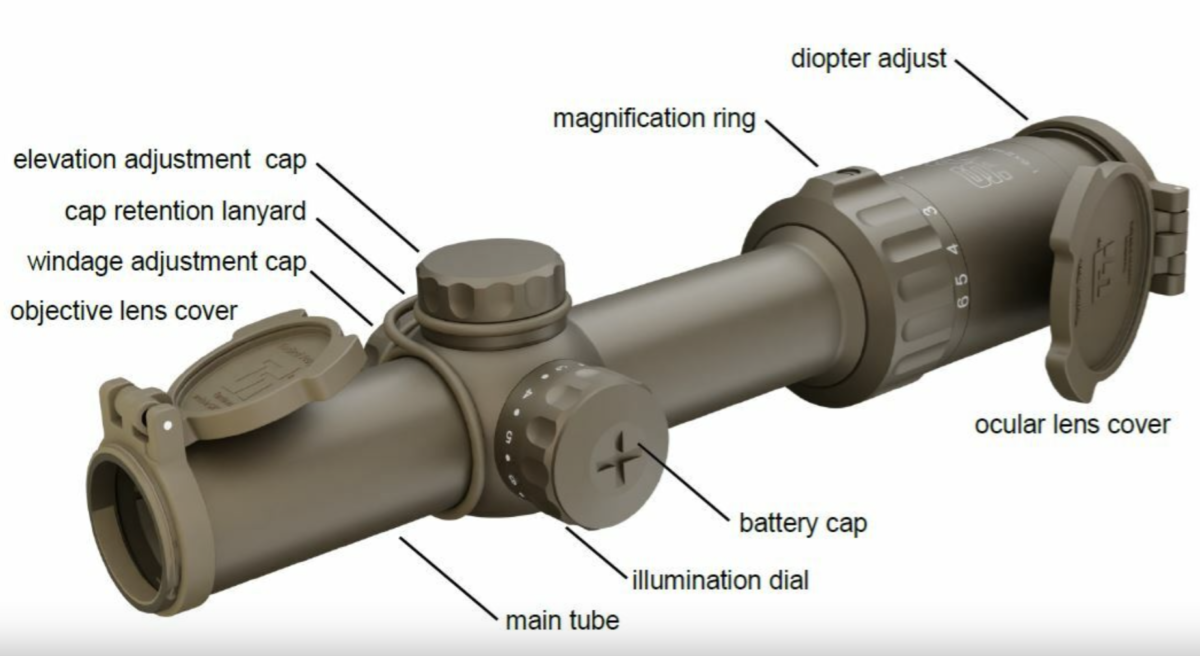 The SAI 6 glass's clarity, quality, and image it produces are all things that we're thrilled with. It's a thing that you need to see for yourself or take someone's word you trust. It's got fantastic clarity. We're pleased with the image quality, as well as the eye box. It's got good eye relief and a reticle that I think many shooters are going to be very happy with. It's a little bit different, but it's a fast, daylight-bright reticle that will be good for shooting sports competitions.
The reticle has been around for a while, and it's something that we used in some previous fixed-focus models. At that time, it went very well. Its design is to help draw your eye into the center of the target. The original design was meant to bracket shoulder-to-waist at 100 meters.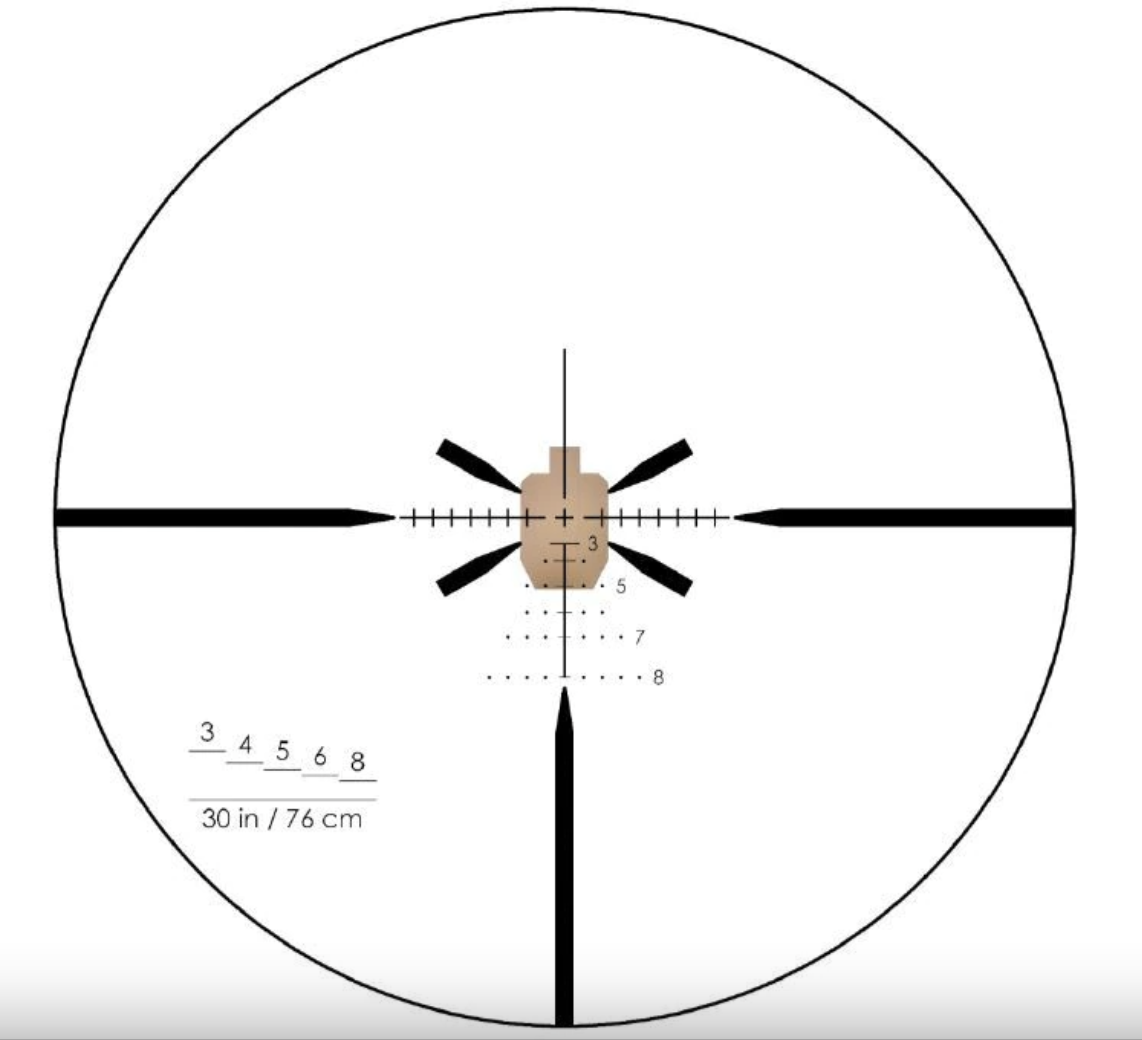 As far as durability, we do have a five-year warranty on it, and if you have any issues, we will always do our best to help our customers. I know it is a bit of a leap for your readers to purchase a scope that may be new to the market; I would hope that one could look at our track record both in manufacturing and providing good customer service in the optics market. I hope people will rely on that and see the value we offer with the SAI Optics SAI 6.
Q: Can you talk about the choice of a first focal plane on the SAI Optics SAI 6?
Trevor Publicover, Armament Technology – Everything we've done in the past has been first focal plane. We discussed doing second focal plane, but we also have the range finder feature in the corner, and having the first focal plane reticle allows you to use that at any magnification and have it stay constant. Obviously, there are sometimes advantages to second focal plane optics, but we generally prefer first focal plane.
Q: Can you talk about the weight of the SAI 6, and why weight matters?
Trevor Publicover, Armament Technology – The SAI Optics SAI 6 weighs in at 18 ounces, as we're aware that everyone's focus is on size, weight, and power these days. It was essential for us to keep this optic as small and light as possible while still allowing it to do everything it needs to. I understand that sometimes "big and heavy" can be beneficial, as that means it's built like a brick, but for the SAI, we wanted it to be a balance. We've got a very rugged design and made good trade-offs as far as weight. I think we're comparable, if not slightly lighter, than some of the other options out here in our price range.
Q: Turrets and magnification ring….what sort of attention have you paid to those areas?
Trevor Publicover, Armament Technology – The only bad feedback we've had so far with our magnification ring is that it does not have a throw lever. However, I'd say that what we offer is as good or better than anything else that's on the market right now. There are no issues, and it is not stiff at all. Even without a throw lever, you can turn the magnification ring very smoothly.
The turrets have a retaining lanyard. Inside, when you take the caps off, it's what you'd expect for a thumb-adjustable turret. It's a "set and forget" turret. Once you get your zero at 100 meters, you're setting that, screwing the caps back on, and forgetting about it.The reticle is what you use for your aiming point, as it's a ballistically calibrated reticle. The turret design gets you zeroed, and then everything else is done inside the reticle.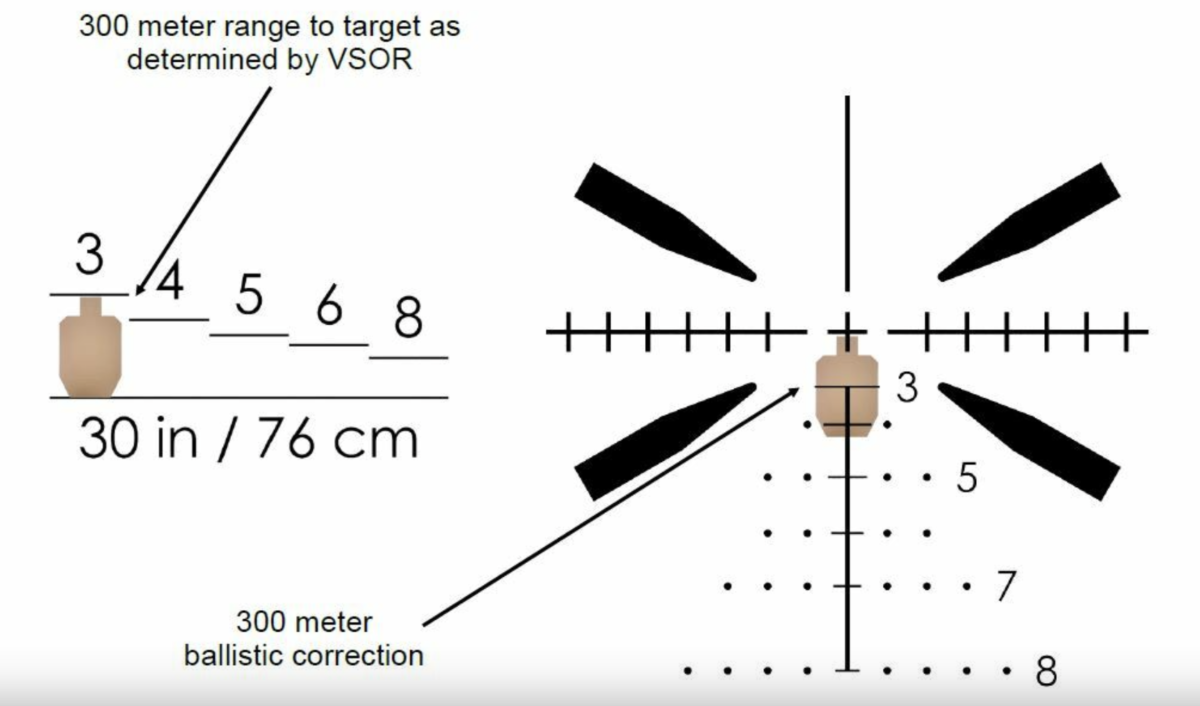 Q: Anything else you'd like to mention about the SAI Optics SAI 6?
Trevor Publicover, Armament Technology – I'd ask that your readers take a look at our history and understand that while, yes, this is a new brand, it's something that we are very excited about. You can buy with confidence. We have a fairly extensive distribution network, so I hope that the SAI Optics SAI 6 should be a reasonably easy optic to purchase. I'd also stress that as a company, we always will support our customers. We're always here to listen, take feedback, and do whatever we can to make our customers happy. The SAI 6 speaks for itself once you get your hands on it and get to shoot with it. I know it's a leap of faith for some people at the beginning. However, as time passes and people get to experience this optic, I expect a lot of good things.
Technical specs via SAI:
Magnification – 1x-6x
Length – 256mm (10.07in)
Width – 67mm (2.64in)
Height – 53mm (2.09in)
Weight – 510g (18.0oz)
Tube Diameter – 30mm
Objective lens diameter – 24mm
Eyepiece diameter – 46mm (1.81in)
Field of View @ 1x – 22 degrees (38.8m @ 100m)
Field of View @ 6x – 3.7 degrees (6.5m @ 100m)
Diopter range – -3 to +3
Eye relief – 90mm (3.54in) nominal
Exit pupil – @ 1x 9.5mm
Exit pupil – @ 6x 4.0mm
Re-zero mechanism – Finger adjustable
Internal Adjustment Range: Elevation – 35mrad (120 MoA)
Internal Adjustment Range: Windage – 35mrad (120 MoA)
Adjustment Resolution – 0.1mrad
Crosshair illumination – LED, red, 10 settings
Battery type – CR2032 3v lithium
Exterior finish Type II Anodized, matte flat dark earth
Storage Temperature – -51C – +85C
Operating temperature – -40C – +65C
Waterproof – 2 hour @ 3 meters
Shockproof – 1000g's @ 10,000 cycles
We are sorry that this post was not useful for you!
Let us improve this post!
Tell us how we can improve this post?