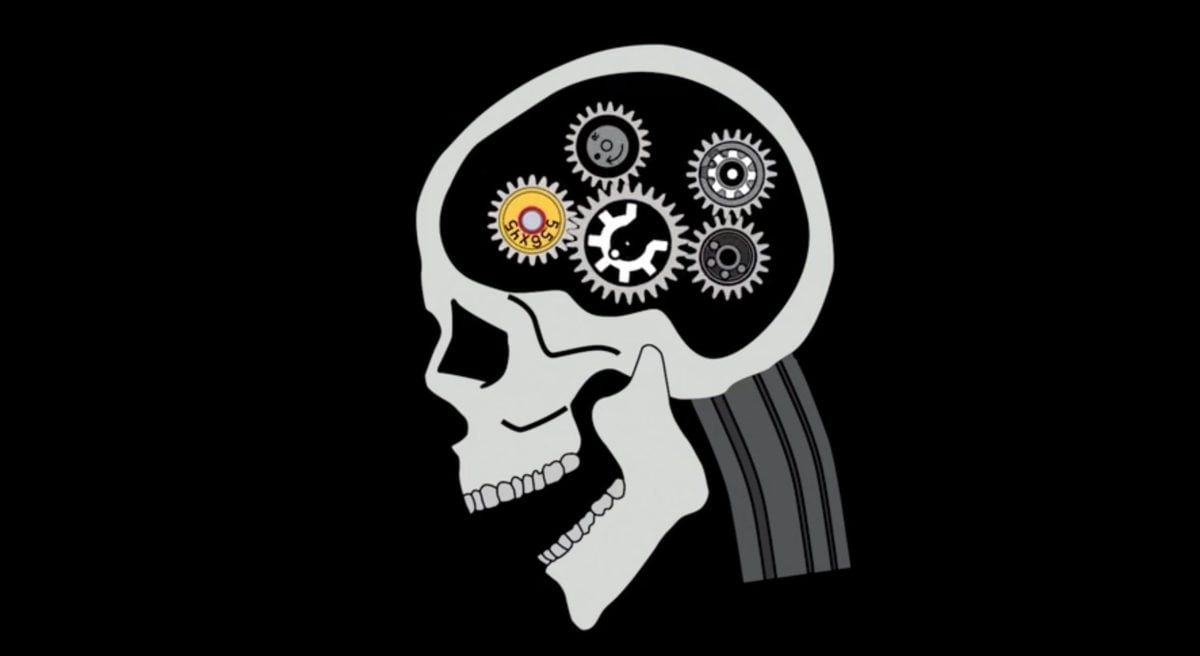 With 2019 coming to a close, we wanted to check in one last time this year with Chad Albrecht from School of the American Rifle, aka SOTAR. We've been blessed to be able to chat about ARs with Chad on a several occasions this year, and it's wonderful to see School of the American Rifle getting the attention it deserves.
We can't help but notice it's been an especially eventful and productive month or so for School of the American Rifle (SOTAR). To get a full update, we recently spoke with Chad about everything he's been up to, including collaborations with Primary & Secondary and Forward Controls Design.
As always, to learn more about Chad and his School of the American rifle, please be sure to check out our first feature interview with him…or other, more recent articles which you can find below:
Q: You've had a seemingly very productive past month or so. Can you fill our readers in on what you've been up to?
Chad Albrecht – School of the American Rifle – Well, we had some issues with my business Facebook page…there were some people who, I guess, were not politically aligned with what we do. Because of that, they were trying to get the page shut down. I ended up creating a private group and told people it was a haven that may be more protected than my Facebook page.
I've also started backing up a lot of my content. A lot of my content had solely existed on Instagram due to data issues where I live. I had just been uploading short videos there on Instagram that would then automatically forward to Facebook.
It was easy to get content online that way, but I was never backing anything up, so I guess it was a blessing in disguise, because now I'm archiving my work. I'm updating my website and putting a small blog on there, so that every time I post something new online that is technical, I can put it on my blog, as well as Instagram and Facebook. I want to be sure that I'm covering all my bases, plus not everybody has an Instagram or Facebook account.
Q: Can you give our readers a bit more detail about the group and what they can expect as far as content?
So, on the SOTAR Facebook group I have some people who have been following my work who are helping out being moderators and handling administrative duties, trying to keep the mindset that I try to keep intact.
Some online groups tend to get to a place where its members take sides. Some align with "budget" people, and others align more towards the "high end." What we want to try to do with this group is bridge the gap. We're all in the learning process together and there does not have to be a barrier or classes of people when it comes to building.
Just because someone has a more budget-grade gun does not mean that they cannot improve it, or learn how to improve it. That's what I'm trying to do with the SOTAR group. There's always something new to learn, even if you know a lot and you've been doing it a long time. If someone is new to building, I want them to feel welcome to learn and not feel like they are being looked down on or talked down to. As long as they have an open mind and are willing to listen, I am willing to help them.

Q: Is there a level of behavior someone should aspire to so they don't find themselves booted from the SOTAR group?
Chad Albrecht – School of the American Rifle – I would expect people to behave like we were all sitting at a pub sharing a drink together. You might not like the person sitting across the table from you, but you need to show a certain level of decorum and respect. You don't have to agree, but disagree politely.
Q: Can you talk about what you're up to with Primary & Secondary?
Chad Albrecht – School of the American Rifle – I've been following the work going on at Primary & Secondary for a long time, but I was never directly involved with their work. A few months ago, Matt Landfair who runs Primary & Secondary, reached out to me and said he had been following my work and wanted to do a ModCast with me. I jumped at the opportunity, as I really respect what they do.
They are geared towards the more serious side of things, and some people get turned off by the level of scrutiny that they put towards the content that they post, but I figured I could cover both ends. I tend to cover the more inclusive stuff on my side, but if I can reach some of the more serious people in the industry who tend to gravitate towards places like Primary & Secondary, I want to be a part of that.
Matt ended up having me on the ModCast and I thought it went very well…sort of like the first time we had our first ARBuildJunkie conversation. I was not nervous to speak, as that's what I do as a teacher, although I wanted to be careful to not have anything I was saying be misconstrued.
After the ModCast was complete, Matt reached out and again reiterated that he liked what I was doing with SOTAR and he asked if I would be one of the mods for Primary & Secondary. He created a technical section of their forum that I am helping out with now. It's been a fantastic opportunity working with Primary & Secondary…
They even have a training event next year that they have invited me to be a part of. So, it's very exciting to be able to help people not only online, but to also share what I know to people who are hungry for knowledge in person.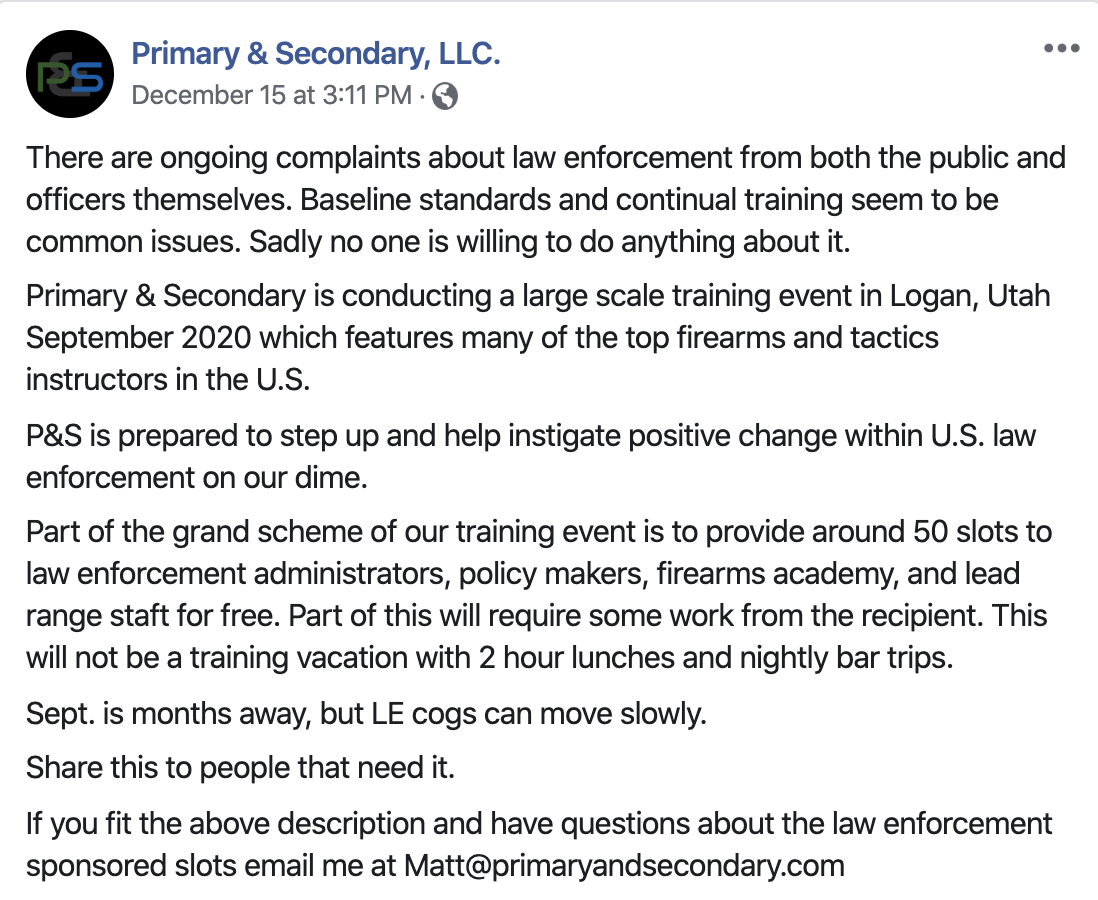 Q: Can you describe some of the issues that are unique to that more serious, law enforcement audience?
Chad Albrecht – School of the American Rifle – What I've run into when teaching law enforcement, they're restricted based on what they're certified at. If a department adopts Brand A and they get certified through that company to have lets say six armorers, they are only allowed to do to those weapons that they have been certified by that company to do.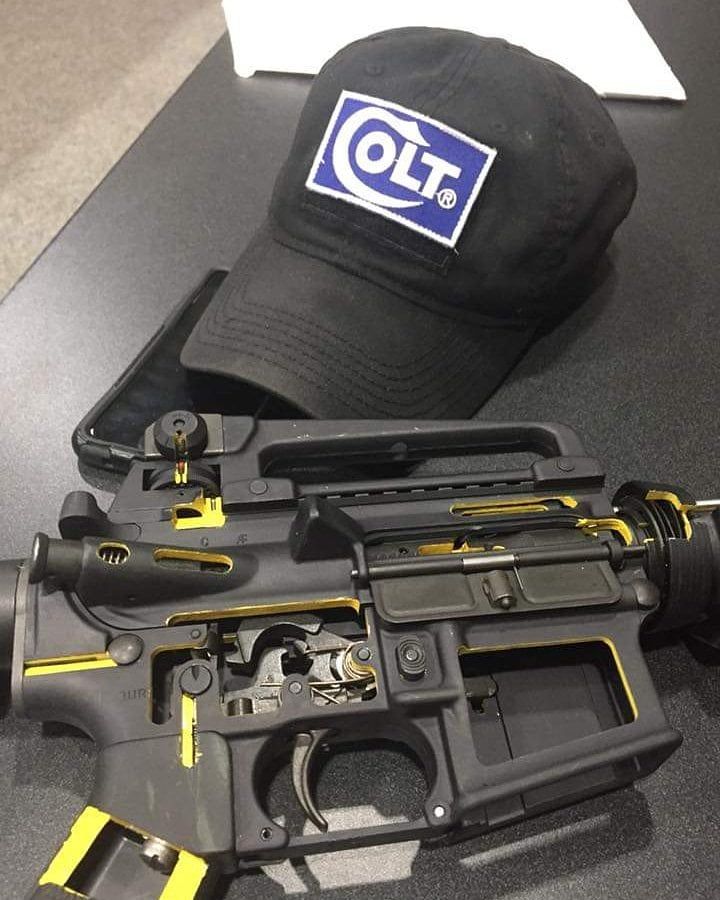 If they are carrying a Colt and they are Colt Certified, they are only supposed to put Colt parts in those guns, for the most part. They're not supposed to be taking Dremels and modifying or machining things. They're restricted on what kind of triggers they can put in. Sometimes they're even restricted on what kind of rail systems and optics…it all depends on department policy, but they have their hands tied a lot of times when it comes to what the armorers are allowed to do, based on the training that they have had.
"Those guns sit on the rack, and they do not get worked on…"
That makes sense from a liability standpoint, but I've heard time and time again from people who work for departments that the armorers cycle out, and then a department is maybe stuck with one or two guys that have the certifications to continue working on stuff that they purchased in the past. So, let's say they purchase rifles from Company A, and all the people who were trained have cycled out, and the department has not sent anyone to be re-certified to work on those guns, then those guns sit on the rack, and they do not get worked on, because there is nobody capable of working on these guns from a legal standpoint.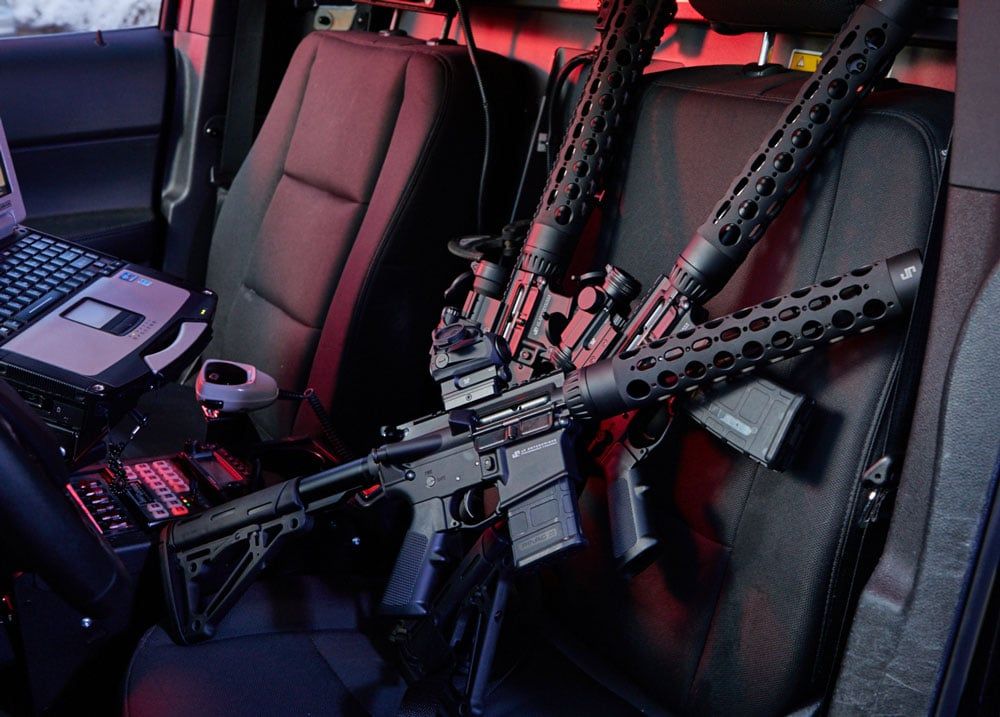 If there is something wrong with their rifles, and I, or someone like me, gives them advice on how to properly fix it, they are still not allowed to take steps needed to correct the issue. They are not always allowed to correct the issue because it falls outside of the parameters of what the factory will allow to be done with the weapon. Basically, a lot of officers have their hands tied.
Q: So, what would your hope be, moving forward? Is there a solution to this issue?
Chad Albrecht – School of the American Rifle – So, what I am hoping happens is maybe we can get the ball rolling to where departments could get together and create a blended course. People like Will Larson would do stuff that was blended.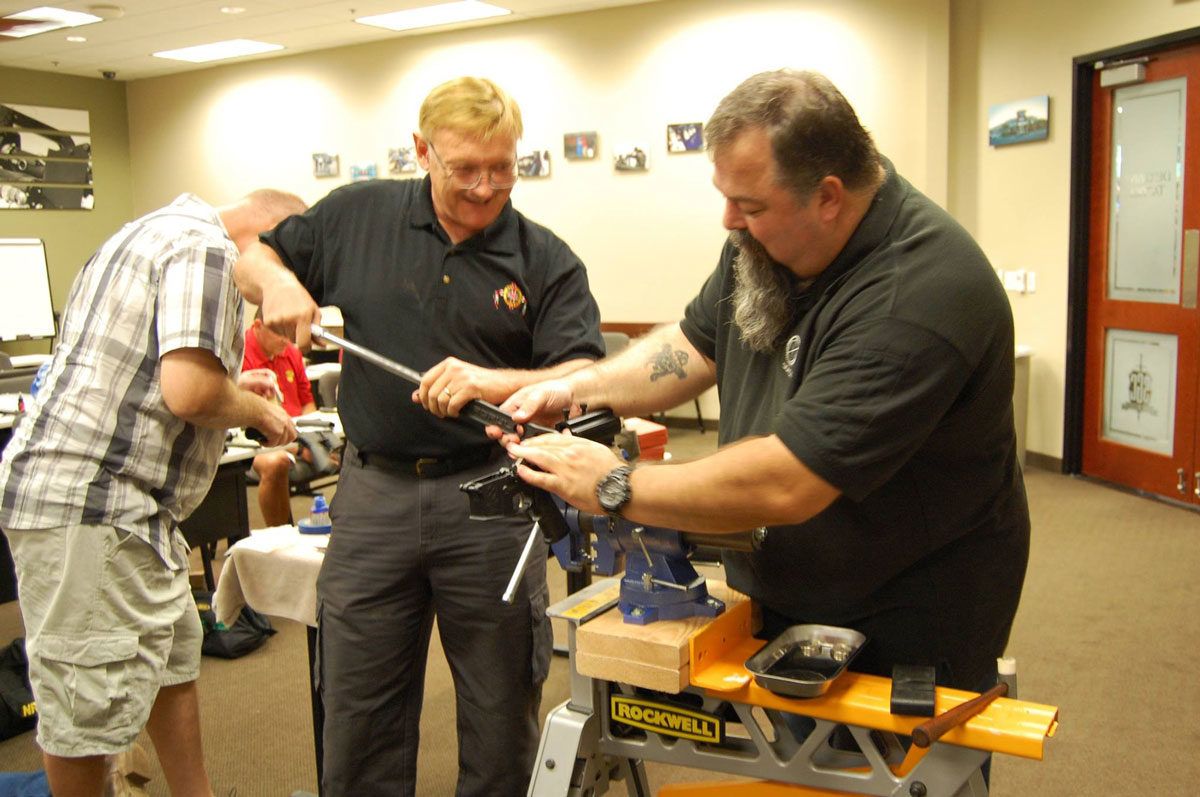 A blended course would give them better information so they are more equipped to troubleshoot problems that they may run into that the factory certifications will not offer them.
It would also open up the idea of utilizing some of the modifications and enhancements that are available on the civilian market. They could perhaps use these enhancements on their guns and still maintain safety and reliability, and not give them any kind of legal issues or issues with their department policy.
I'd like SOTAR to try to bridge that gap if the opportunity presents itself. It may not, but being able to speak to officers and others who are in that line of work might open some doors that were previously unavailable.
Q: SOTAR is also collaborating with Forward Controls Design, which is exciting. Can you talk a little bit about that, and what it is you look for in a company that makes you decide to work with them on a project?
The one part that Roger Wang of Forward Controls Design and I have collaborated on, and hopefully there is more to come is called the SOTAR Cam Pin, or SCP, which is our cam pin. Essentially, it's not a new concept. People that work on ARs understand that the cam pin can go in one of two ways and if you alternate it when you install it, when you do service on a weapon, you're basically doubling the wear on the cam pin.
You're doubling the wear because it wears differently. If you flip it back and forth, the hole in the bolt that the cam pin rides in now has more slop in it as that cam pin wears. So, you're more likely to accelerate wear on the cam pin by not putting it in consistently, and it's also possible to induce more stress on the bolt because that cam pin isn't riding in the bore as tight as it was…now its sort of banging around instead of having a close tolerance.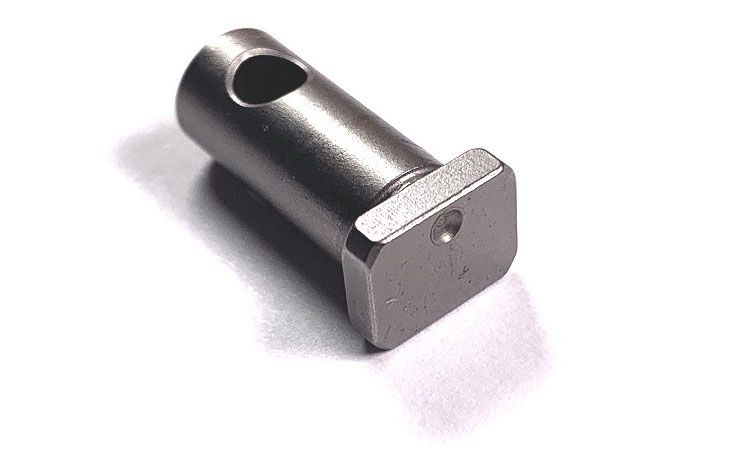 Essentially, it just puts a mark on the cam pin so you make sure you put it in the same way every time. For years, I've been scribing an arrow on mine, but Roger had the idea to stay with his theme of putting dimples on things, and we just put a dimple on one side of the SOTAR Cam Pin and the dimple always faces forward, and that's how the concept was born.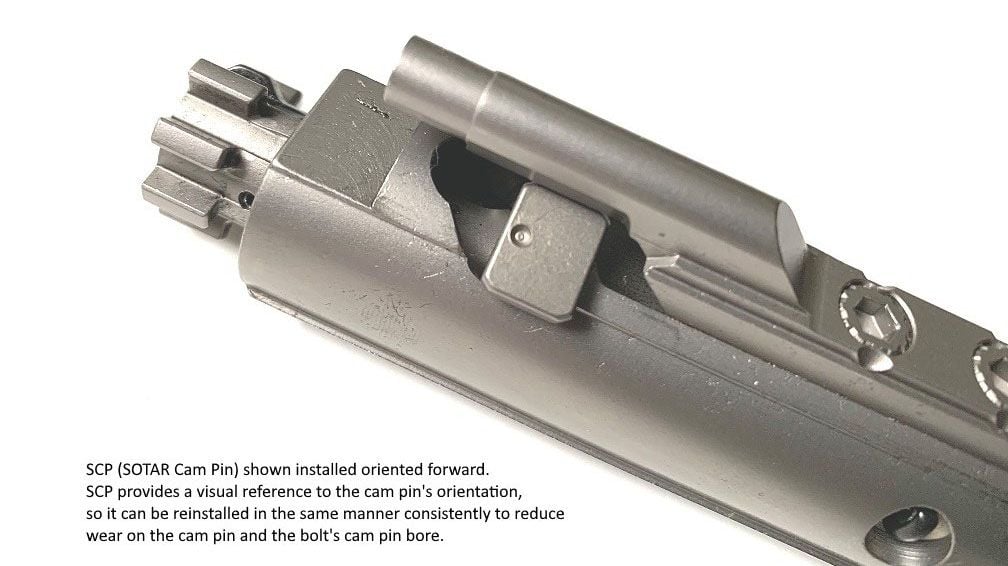 Q: Any other ideas in the works?
I have some other weapons enhancements strictly related to the AR-15…but I also have some tools and fixtures and things that an armorer would use. I'd like to be able to at least give builders more options. What I've learned in collecting jigs and tools for the AR is that it is always good to have selection and variety.
There are several things on the market that would probably do the things that I am working on, but it just gives the armorer another choice. There's nothing universal when it comes to jigs, so having other options is always a good thing, plus people like to have a large toolbox.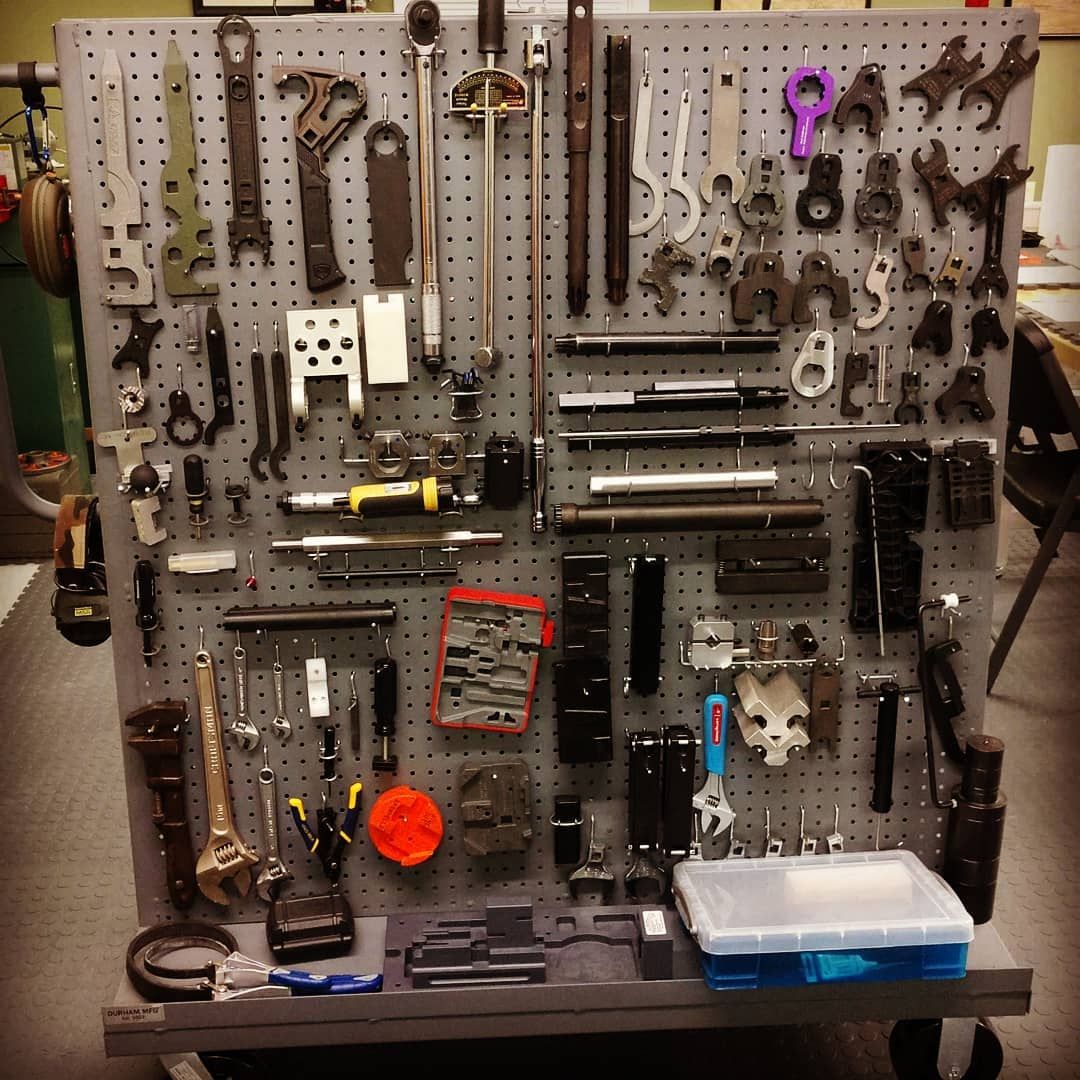 All that said, I just really like working with Roger and I really like how he does things. He's very meticulous on how he thinks about things. He doesn't do things just because it looks fancy. He is thinking about form and function, and instead of me trying to go out on my own and find a machine shop to try to machine or modify things, I figured I might as well align with someone I already know and respect…somebody who has experience developing this kind of stuff. It was an easy pick and I trust him.
###
We are sorry that this post was not useful for you!
Let us improve this post!
Tell us how we can improve this post?