Aero Precision handguards are a solid choice for AR-15 builds, but there can be a slight bit of confusion surrounding their different upper and handguard choices. We touched base with Eli Koransky from Aero Precision to get the basics about their ATLAS (Aero Taper Lock Attachment System) line of handguards, and how it differs from their Enhanced handguard syste.
Q: Eli, first off, can you talk about why there was a need to develop the Aero Precision Atlas Handguard?
A: Our initial AR-15 handguard was our Aero Precision Enhanced Handguard. These worked in conjunction with our Aero Precision Enhanced uppers. The internal dimensions of our Enhanced handguard allowed the majority of suppressors to be recessed underneath.
However, there has been demand from our customers for something smaller that makes for a lighter package…an Aero Precision handguard that is more comfortable and easy to hold onto while you're shooting. The result of this demand is the Aero Precision ATLAS.
Q: In past Aero Precision based builds, I've used the Aero Precision Enhanced upper and the Enhanced handguard. To accommodate the ATLAS series of handguards, it looks like I'd need to pick up a different Aero Precision upper. It looks to be threaded vs. having the handguard mount built into the upper like the Enhanced upper does.
A: Yes, for the ATLAS, we have gone back to a standard threaded upper because of the fact that the inside diameter of the handguard is too small to work with our Enhanced upper. So we have an M4E1 Threaded Upper that allows not just attachment with the Atlas handguard but other manufacturer's mil-spec barrel nuts.
Q: So, as it stands today, you have an ATLAS S-ONE and an ATLAS R-ONE. Can you talk a bit about each?
A: We started off with the ATLAS S-ONE. It has Picatinny rails just after the upper and the handguard meet. It then goes down into a lower profile that we refer to as "indexing notches" for your purchase, and then back up to Picatinny rails where the front sight would go.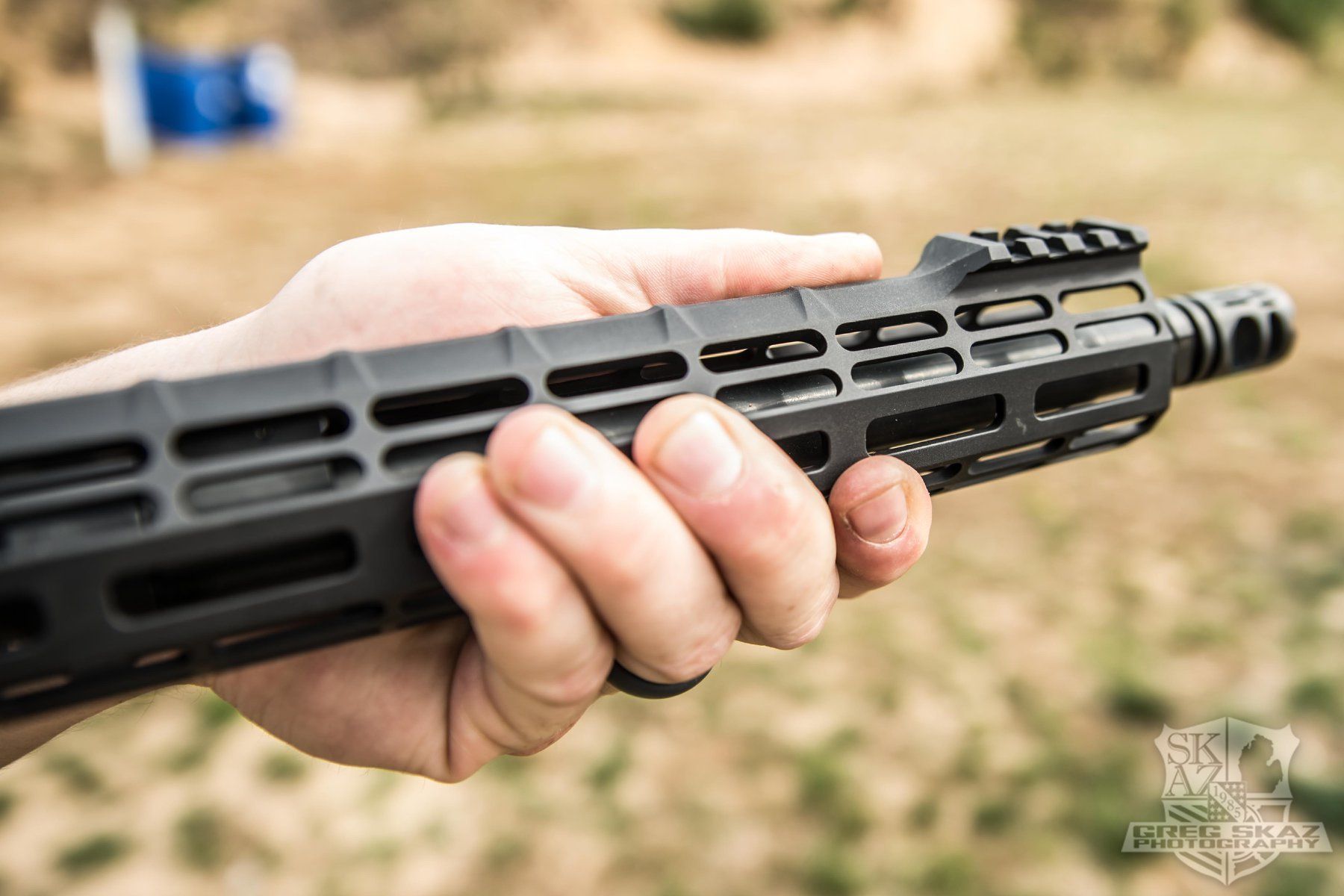 This is a really good option for competition shooters. It's just not very common for a shooter to utilize that rail space just after the upper and between where the front site goes.
Q: Light weight is certainly something that many people are trying to achieve with their builds. How has the reception been to the Aero Precision Atlas handguard?
A: The Atlas has been a success. We feel it has all of the features of competitors, is a fraction of the price, and the installation process is much easier. There is no timing required when you install Atlas handguards, and it's a very solid mounting system that includes anti-rotation tabs that some of the other manufacturers don't have. Its just going to keep the installation that much more rigid over hard use.
Q: Can you explain the ATLAS R-ONE? How does it differ from the S-ONE?
The ATLAS S-ONE sold really well. We did 7, 9, 12 and 15-inch versions. That said, there was demand from some customers to add a full-length top rail. That's what the ATLAS R-ONE was made for. It has the same inside diameter (1.3″) but it does have a full-length top rail, giving people a bit more real estate to mount offset flashlights, lasers, pressure pads…whatever they are wanting to mount in that area that they couldn't do with the ATLAS S-ONE.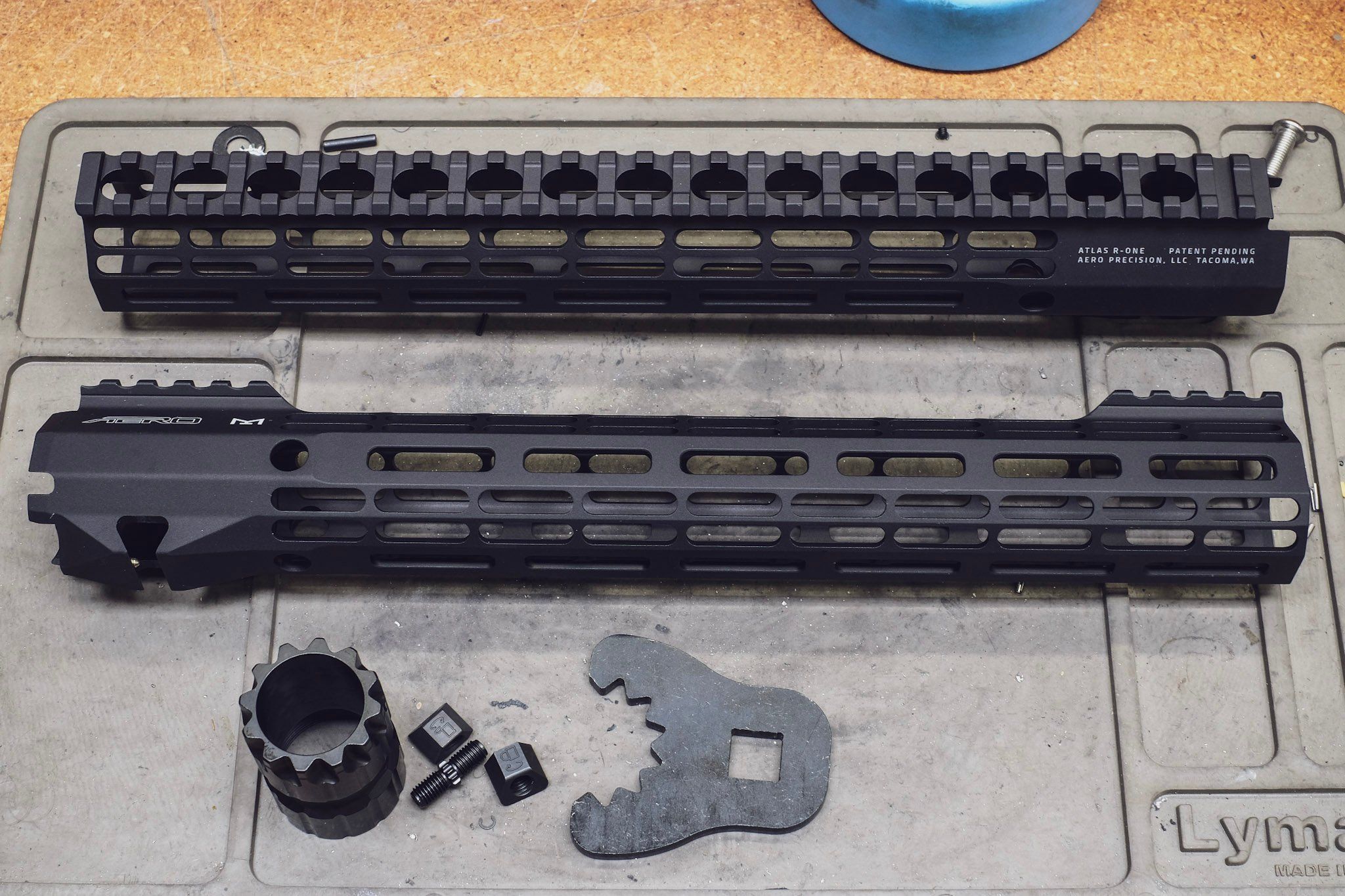 Q: So, is there one Aero Precision Atlas Handguard that's more popular than the other?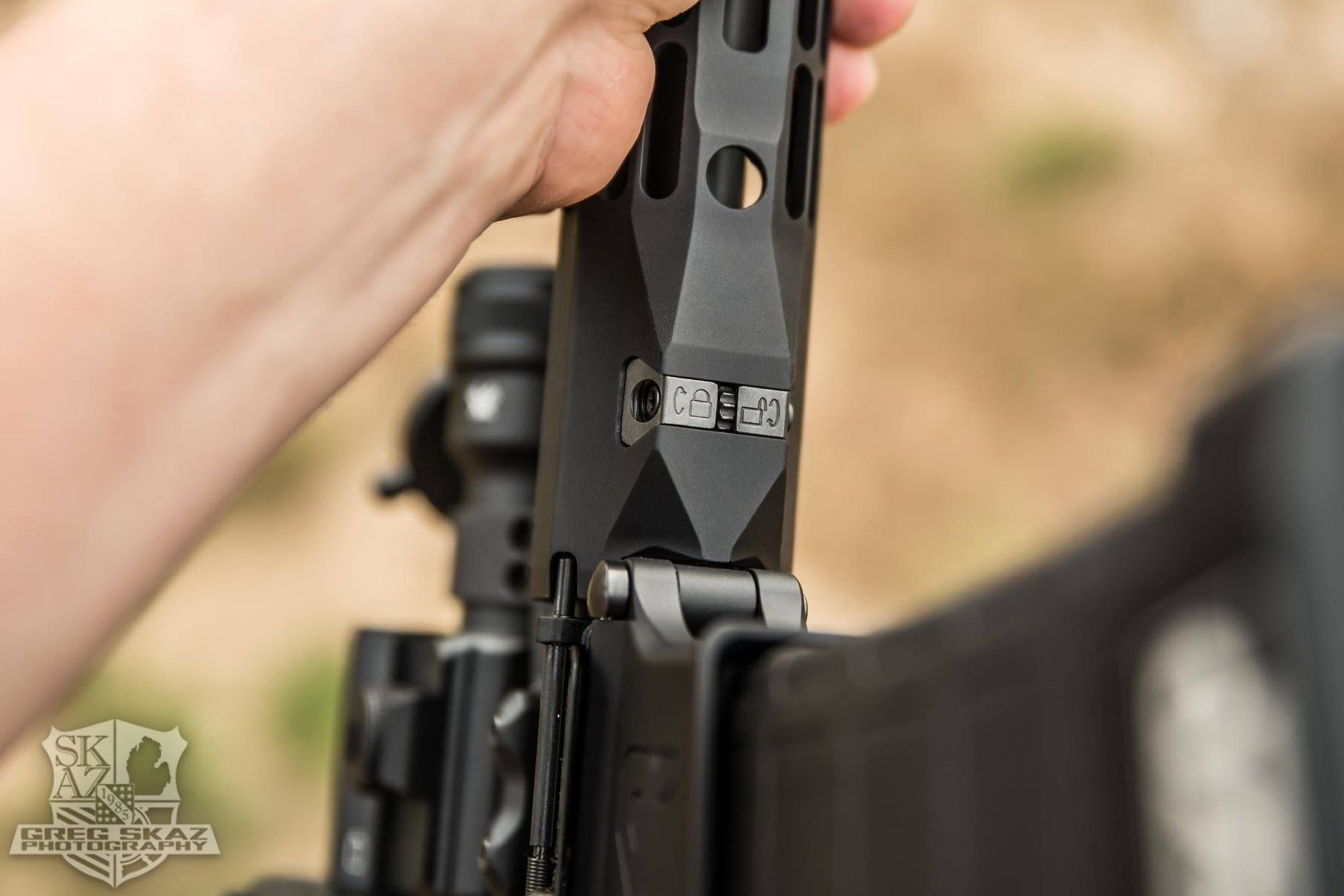 Customers are still buying the two Aero Precision ATLAS handguards almost 1 for 1. They are both equally popular and one design has not taken over as far as what people are purchasing. You have one group with the S-ONE, who are competition shooters who want lighter and more comfortable. Then you have your guys who perhaps have shorter rifles and don't have a lot of real estate to mount accessories. They still want that slimline handguard, but need the extra rail space to attach their accessories. They seem to gravitate towards the ATLAS R-ONE.
Thanks to Eli Koransky from Aero Precision for walking us through the ATLAS Handguards. For more information on Aero Precision, be sure to visit their website.
We are sorry that this post was not useful for you!
Let us improve this post!
Tell us how we can improve this post?