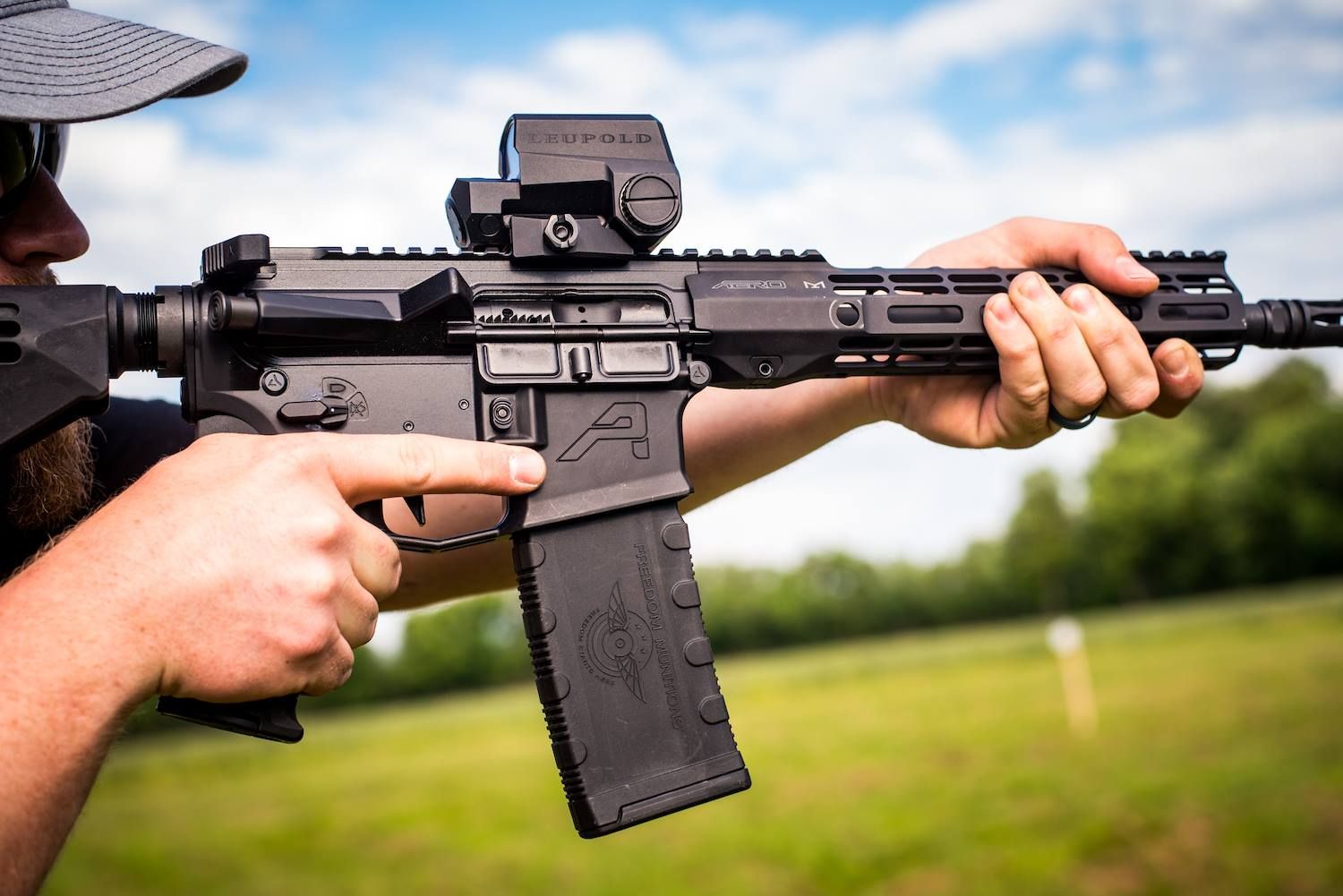 Go online and you'll hear many good things about Aero Precision parts. I know this because I'm online often, researching and making mental notes on what parts I want for my builds. I know I'm not alone in wanting to work with the "best AR lowers" and the "best AR uppers".
Candidly, getting it right can be an obsession…hence the name of this website. At the same time, most of us are not looking to spend needlessly for labels that may or may not indicate quality. What's "best" can be subjective, but what is not debatable is the need for confirmed good-to-go, no-slop, parts that don't break our banks unnecessarily.
With this in mind, lately, when I start a new AR15 build, my first stop lately is often for Aero Precision parts.
Why? The company name tells an accurate story of why they need to be on your short list for your next AR build…regardless if you want a robust and affordable firearm in 5.56, .308, 300 Blackout, 6.5 Grendel, 6.5 Creedmoor or .224 Valkyrie.
ARBuildJunkie recently spoke with Aero Precision's Eli Koransky to ask him more about the company, and why he thinks Aero Precision parts should be on your radar.
Q: Eli, my perception is builders are learning Aero Precision parts are good to go for their project. The consensus is that the fit and finish is there. The pricing also hits the sweet spot. Can you talk about how this came to be? Your name seems to hold some clues.
A: Aero Precision started in Aerospace technology. We started making parts for manufacturers like Boeing. With that comes a lot of demand for precision and consistency. Initially, we were also manufacturing upper and lower receivers for some very big names, and we still do. As we developed our brand, we began to manufacture Aero Precision parts with our own logos on them, branding them as Aero Precision parts.
Q: I can recall those first receivers, but when you look at all of the Aero Precision parts you now offer the AR build community…how did that growth happen?
A: We continued to evolve as the business had some success. That has allowed our business to expand exponentially. We bought new state of the art machines, and it gave us an opportunity to ramp up our production and evolve the Aero Precision parts that we have.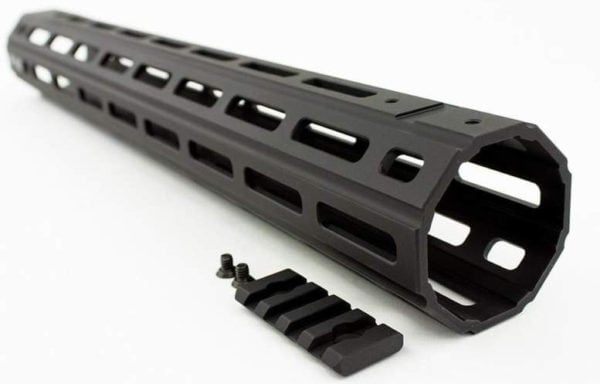 It went from Aero Precision parts like receivers to hand guards, then to us buying a barrel manufacturer. So, we were doing barrels in house, and then we procured companies like VG6 and then started doing muzzle breaks in house. Now we machine the lion's share of what we use for our complete assemblies in house.
Q: Why does having production of Aero Precision parts in-house matter?
A: Having that kind of control over Aero Precision parts allows us to maintain very, very high standards of quality control. From the time we get into raw materials, to the time those items are put in retail packages, we are spot checking and ensuring what goes out the door is perfect. For that reason, people that buy our stuff have come to know that what they get is going to be to spec.
That means Aero Precision parts are high quality with regards to fit and finish, and at the same time, it is on the affordable side of the spectrum, just due to the fact that we don't have to incorporate third parties to ultimately get our finished product. There are no middlemen in the equation when it comes to Aero Precision parts.
Q: So, Where does Aero Precision go for the raw materials it uses…your aluminum, for instance?
A: All of our raw materials are 100% US sourced. We do not import a single piece of aluminum for Aero Precision parts. We're pretty proud of that fact So, we are using the absolute best materials on the absolute most state of the art machines that yield the best in terms of consistency. And we've been doing that for over ten years now and our reputation has grown throughout that time and people commonly refer to Aero Precision parts as the best value on the market.
Q: There's a lot of manufacturers out there. Can you tell AR15buildjunkies out there why they should give Aero Precision parts a try?
A: One of the most common questions that we get is 'what makes Aero Precision parts different than other mil-spec products?' Mil-spec is referring to measurements and consistency with regards to the design. Some companies have a broader range of tolerance that is ultimately still considered mil-spec, whereas with Aero Precision parts, the machines we use allow us to make our tolerance spectrum much tighter than most. So although, two parts that claim to be mil-spec are probably mil-spec in nature, the way that Aero Precision parts fit together and work with other products is noticeable.
For someone who has not put their hands on different parts to see what is a sloppy threshold, and compare that to what Aero Precision parts provide in the way of fit, it's going to be hard for them.
It does take some time of going through the process and doing builds, seeing just how well our stuff goes together and ultimately functions when the product is finished.
There's definitely a lot of good manufacturers out there, but in that same breath it also reverts back to the value. We deliver the best product at the best price point in the industry.
Q: So, how is Aero Precision working to stay ahead of the curve with product offerings?
A: The industry is very progressive. We have some of the best engineers in the industry now coming up with really smart and simple designs, whether it be a barrel nut to the strength and weight of hand guards.
The design of the receiver is evolving. Our new M4E1 lower is a modern take on what a standard AR15 lower receiver is known to be. We have done some things like increase the size of the mag well, add in some features that make installation and assembly a lot easier, and we have also put it out in a forged product so it is less expensive for us to machine, and at the same time a much stronger base…than that of say a billet lower that may look as modern and have the same features.
Q: I've had a great experience with your M4E1 upper receiver. Can you give us an overview of why a builder should consider one for their next build?
A: The complete uppers are very turn-key. They run and perform really well, going back to the raw materials we use. The barrels we use are match grade barrels that have sub-MOA accuracy guarantees when using match grade ammunition. We are using the best raw materials for Aero Precision parts…our barrels feature 4150 chrome moly vanadium steel with a QPQ nitrate coating outside and out which has tested as good or better than a chrome lined barrel.
The other barrels that we make are 416r stainless steel. Those also feature a nitride coated barrel to improve the barrel life without having to sacrifice the accuracy that goes along with it. So right out of the box, these are as accurate of barrels as there are in the market anywhere near the price point that they are being offered at.
Q: Any other specifics of the M4E1 and M5E1 uppers that make them worth a look?
A: The M4E1 is a design that integrates the upper receiver and the barrel nut. What this does, number one is it makes assembly incredibly easy.
One of the biggest troubles I personally had to experience when I was going through the first few AR builds that I did was timing the barrel nut so that you could install the gas tube properly. It was constantly adding shims, taking shims off, changing the torque settings.
With the M4E1 and the M5E1 enhanced uppers, it eliminates the guesswork. There is no timing. The barrel installs very easily. Put the barrel nut over the barrel; install it to your desired torque settings, install your gas tube, your gas block. The hand guard slides directly on to the upper receiver and attaches to the upper receiver. There are screws that are pre-drilled and pre-aligned. In addition to the easy assembly, what this offers is a true free-float set up.
Q: There's a lot of new calibers out there…some like, the 300 AAC Blackout have really taken off. Pistols and SBRs are also hot right now. What else exciting is out there for you right now?
A: The 300 Blackout is growing in popularity. It is an appealing round that has a lot of stopping power and is also a very good round to use suppressed. Its definitely one of our most popular calibers.
In addition, we have also released the 6.5 Grendel which is definitely a favorite in the precision rifle game and we've also got the 6.5 Creedmoor on the M5 chassis.
We then most recently have released our.224 Valkyrie line, which has been wildly popular since being released just before the end of 2017. More and more manufacturers are jumping on the .224 train and it does yield some pretty impressive ballistics to make it popular for both hunters and precision rifle shooters.
###
A special thank to Aero Precision's Eli Koransky for speaking to us about the company, and why Aero Precision parts should be on your radar.
We are sorry that this post was not useful for you!
Let us improve this post!
Tell us how we can improve this post?