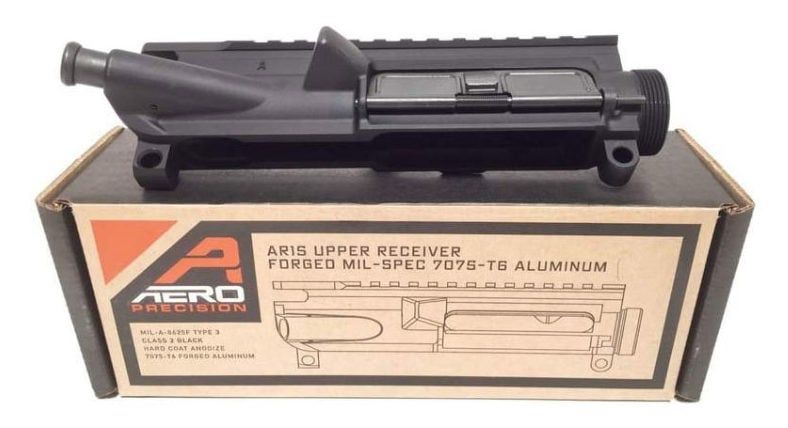 Let us help you choose the perfect Upper Receiver for your AR-15 rifle! Read all about upper receivers below:
What is the difference between an upper receiver and a lower receiver?
The receiver could be considered the "heart" of the firearm. The upper and lower receivers are simply the two halves of a receiver in the AR-15/M-16 family of firearms.
In a two-piece type firearm, the upper carries the barrel and the bolt, while the lower carries the firing mechanism and the magazine.
The AR-15 can go from a long range precision rifle to a close quarters combat (CQB) carbine just by changing the upper receiver.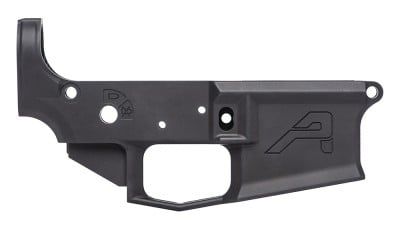 Legally, only the lower is required to be marked with a serial number, and it must be sold by a federally licensed dealer. Basically, this is the portion that is considered a "legal firearm" by the ATF. You can match several upper receivers with one lower receiver without filling out any extra paperwork.
Things to consider when purchasing an upper receiver:
Often referred to as simply the "upper," an AR15 upper receiver contains and protects some of the most important components of your firearm. Consider the factors below when choosing one for your custom build.
Different Types of Upper Receivers
Generally, there are two main types of uppers: flat top and carry handle. Flat top uppers feature a picatinny rail, while carry handle uppers have a fixed rear sight assembly on the top. Upper receivers may also be referred to as A1, A2, A3, or A4 receivers.
The main difference between these terms is that the A1, A2, and A3 have a permanently attached carry handle, while the A4 does not. Since the A4 is the flat top version, it is the only upper that can be equipped with an optic without needing an adapter.
In addition, whether or not the upper has a forward assist button or not is an important factor to consider. This feature may not be essential for civilian use, but it assures that the bolt is fully seated.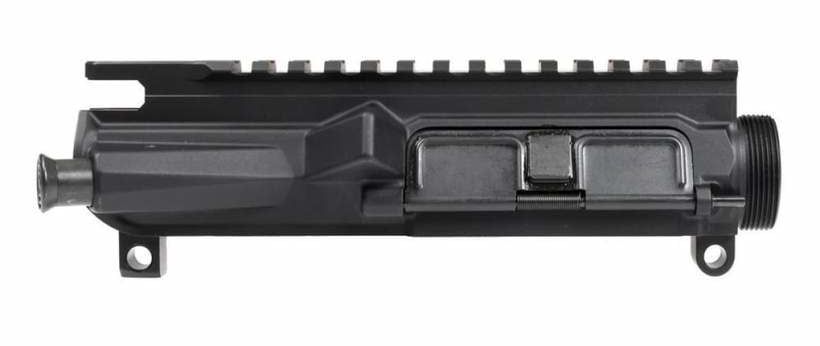 For most consumers, we recommend purchasing a flat top upper because it is the most versatile and widely available. The super popular Aero Precision Assembled Upper Receiver is an excellent choice for those who want a high-quality flat top upper with M4 feed ramps already cut into the upper and the Forward Assist already installed.
Construction of Upper Receivers
While aluminum is the most common material used for upper receivers, they can also be manufactured from several other metals. There are three main manufacturing methods: uppers can be forged, billet, or cast.
Forged uppers are hammered into shape and are usually finished with a CNC lathe. They will typically be denser and heavier, but will also provide excellent strength, hardness, and fatigue limit.
Billet receivers begin as solid pieces of metal, machined with a CNC mill to obtain the correct shape. They are less dense and lighter, but also have less strength than forged uppers.
Cast upper receivers are the lightest of all, but also provide the least amount of strength. They are made by a process known as die casting, in which melted metal is poured into a mold, and later finished with a CNC lathe.
Stripped vs. Complete Upper Receivers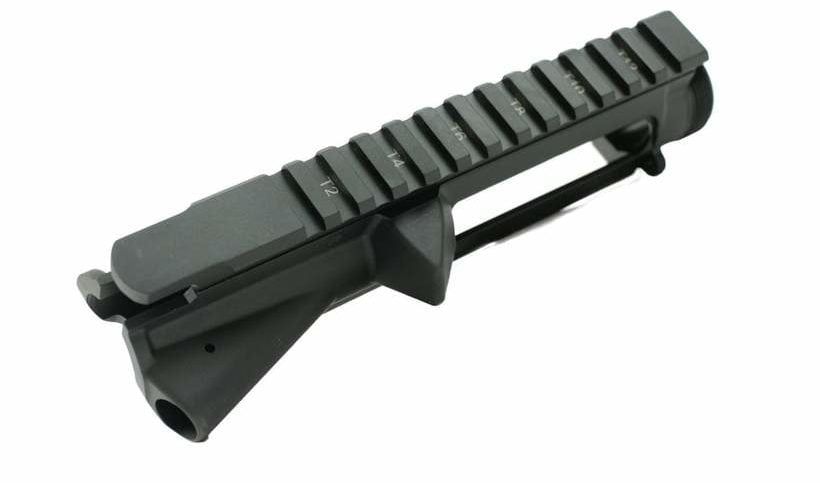 Essentially, a stripped upper receiver is just the upper with no frills— the main solid piece of metal itself. A complete (or assembled) upper adds on the ejection port door and the forward assist button.
A complete upper assembly may include the complete upper plus a charging handle, barrel, handguard, and occasionally the bolt carrier group.  A complete (or assembled) upper also has the ejection port door and the forward assist button factory installed.

In fact, a complete upper assembly is the full upper-half of an AR15 rifle. All you would need to fire it would be to attach it to a lower receiver.
Upper Receivers for Every Budget

Looking for a budget-friendly option? Try the AR15 Stripped Upper Receiver from Dirty Bird Industries.  Made of 7075-T6 Forged Aluminum, it's durable, corrosion resistant, and features M4 Feed Ramps.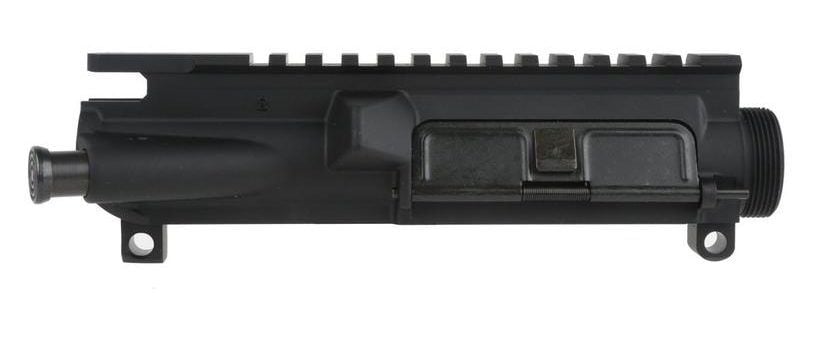 The Anderson AR15 Assembled Upper Receiver is a solid mid-range option, forged from 7075 T6 Aluminum with a Type 3 Hard Anodized finish. It is compatible with most AR15 calibers and comes with a dust cover and forward assist installed.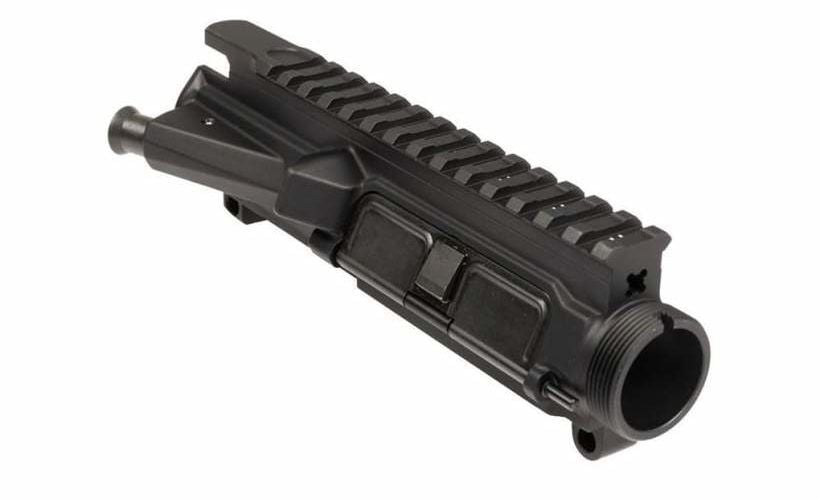 Finally, for a premium option, we recommend Aero Precision's M4E1 Threaded Assembled Upper Receiver, which features an enhanced body profile and includes both the port door and forward assist already installed. It's designed to look like a billet receiver, but sells for a fraction of the billet price!
We are sorry that this post was not useful for you!
Let us improve this post!
Tell us how we can improve this post?