In a very concerning development this afternoon, we've just learned that the ATF has taken the position that the Q Honey Badger Pistol is, in fact, a short-barreled rifle. This means that in ATF's view, Q's "Honey Badger" pistol with stabilizing brace is now subject to the National Firearms Act ("NFA").
The stabilizing brace featured on the Q Honey Badger Pistol is manufactured by SB Tactical.
In response, Q has ceased all production of the Honey Badger Pistol, and submitted a comprehensive letter to ATF and the Department of Justice ("DOJ") stating why they disagree with this classification. Additionally, Q has provided recommendations on how to address the firearms already in circulation.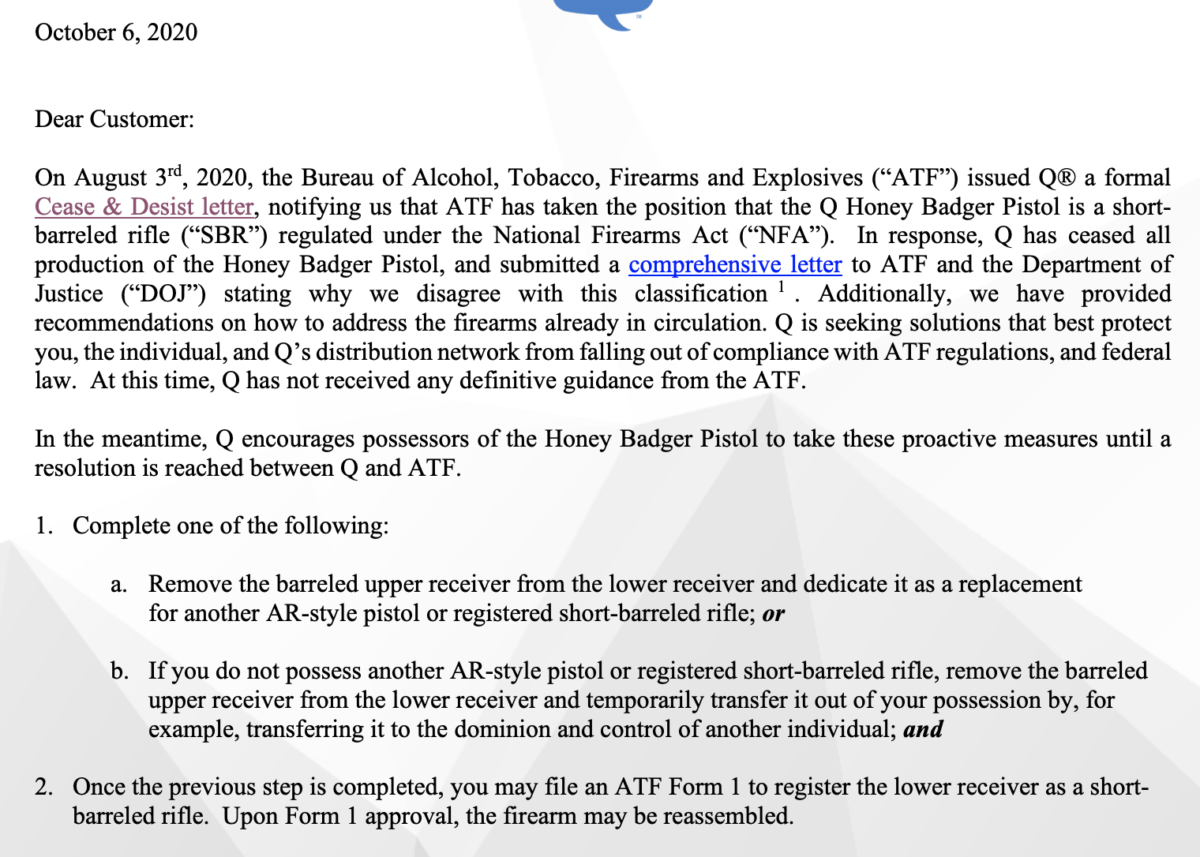 In the letter, Q is states that they are "seeking solutions that best protect you, the individual, and Q's distribution network from falling out of compliance with ATF regulations, and federal law. At this time, Q has not received any definitive guidance from the ATF."
You can read the full letter which is currently hosted on the Q website here. We'll work to bring you more information on this as it becomes available.

Via the NRA-ILA website:
"Since 2012, ATF has repeatedly found that firearms with pistol stabilizing braces, like the one equipped on Q's Honey Badger pistol, are not "designed, made, and intended to be fired from the shoulder," and are therefore not subject to regulation under the NFA. Now, with no notice or opportunity for public input, ATF appears to be reversing course.
Rather than create a clear set of rules that law-abiding gun owners and manufactures can follow, ATF seems to be taking a "I'll know it when I see it" approach to classifying firearms. This arbitrary approach is clearly inconsistent with the right to keep and bear arms and due process of law.
By blurring the lines on legal definitions that carry serious criminal consequences, ATF is putting law-abiding gun owners, the firearm industry, and law enforcement in the impossible position of attempting to read the minds of ATF bureaucrats when complying with or applying federal law."
If you'd like to make your voice heard, be sure to visit this website:
https://act.nraila.org/actions/campaigns/9840?fbclid=IwAR2ANuoXnUJ_dik65scn-q_FYWATRcqJYeb26sA3Rbw9ERcuidCsHdrDdJw
We are sorry that this post was not useful for you!
Let us improve this post!
Tell us how we can improve this post?