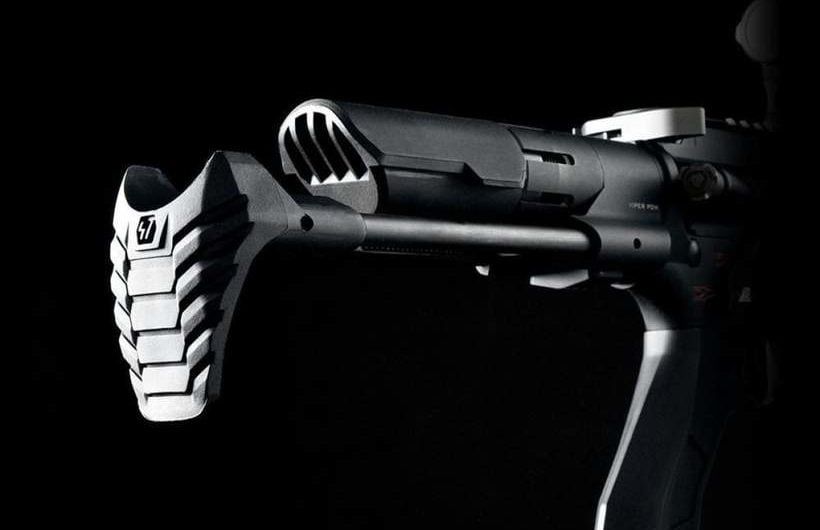 What is the best AR-15 stock? Since there are so many options to choose from when it comes to AR-15 stocks and AR stock kits, it can be difficult to know which one is right for your build. It's also tough to know which stock or stock kit to pick if you are trying to upgrade your existing platform.
Read through this handy guide to get some ideas on what to consider when buying a stock or stock kit.
Commercial or Mil-Spec Configuration?
First, before you choose a stock or stock kit, you need to determine which type of receiver extension (buffer tube) you have or want to get. If you have a commercial buffer tube, you'll need a commercial stock. For a mil-spec buffer tube, choose a mil-spec stock. Of course, a stock kit will come with the correct size buffer tube already included in the kit.
The thread pattern on the front of the buffer tube will be the same size, 1-3/16-16 UN, regardless of whether its a commercial or mil-spec pattern, so don't worry about that. Commercial buffer tubes have a larger diameter and are between 1.173″ inches and 1.163″ inches in diameter, with most of them being right in the middle at 1.168″ inches.
On the other hand, mil-spec buffer tubes have a slightly smaller diameter and are measured between 1.150″ inches and 1.145″ inches in diameter, with most of them being right in the middle at 1.148″ inches.
Stock or Stock kit?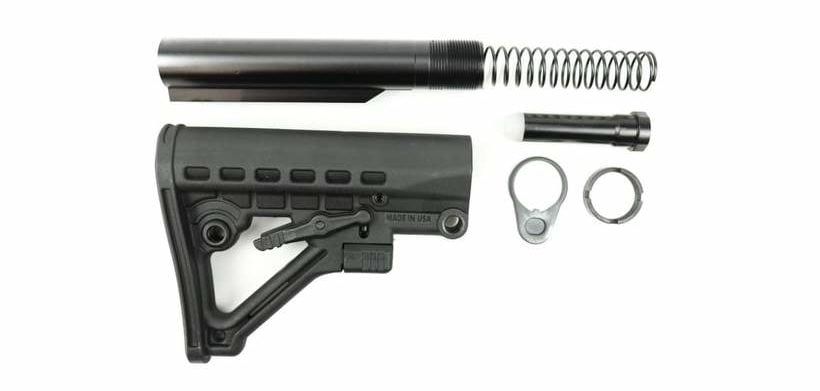 You can buy an AR-15 stock separately, or purchase a kit that comes with all the parts you need for the stock install and allow it to function at optimum levels.
While the kit will include the parts, it will probably not include the tools you need to install the new stock or stock kit. The parts in each kit may vary, but here are some of the parts commonly included:
buffer tube (also referred to as "stock tube" or "receiver extension")
buffer spring
end plate
castle nut/receiver nut
buffer
stock
Different AR-15 stock kits include slightly different variations of these parts. For example, the Trinity Force Omega Mil-Spec Stock Kit comes with a mil-spec carbine buffer tube, carbine buffer spring, mil-spec receiver end plate, carbine recoil buffer, and castle nut.
The AR-15 Shockwave Blade with Tiger Rock Pistol Buffer Tube by KAK Industries includes similar parts, but also offers a Tiger Rock Pistol Receiver Extension with dimples for adjusting and locking down the Shockwave stabilizer, plus a Shockwave Pistol Stabilization Brace. Both AR-15 stock kits are great examples of a stock kit and what comes with it.
What to Look for When Purchasing an the best AR-15 Stock
Of course, the most important component to consider here is the AR-15 stock itself and what that stock will be used for. This consideration is important and can take multiple paths. For example, a CQB carbine will utilize a completely different type of stock from a long-range AR-15 rifle. The stocks, the buffers, buffer tubes, and buffer springs will all be different depending upon intended use and the features you want/need.
Fixed or Adjustable? – What is the best AR-15 stock? 
AR-15 Fixed Stocks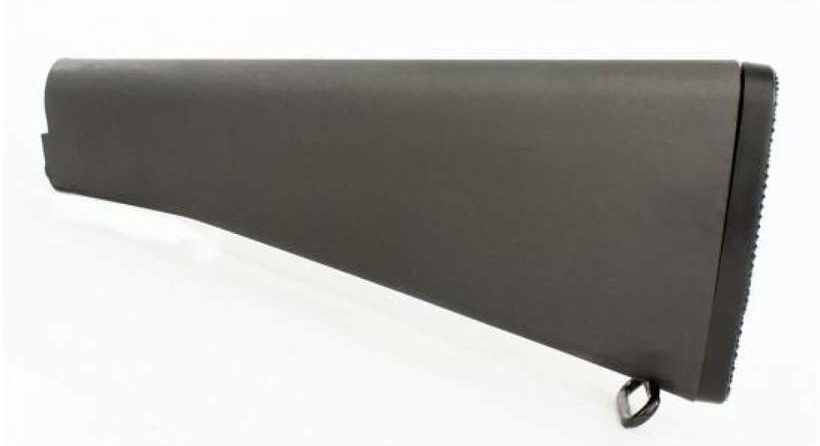 The two basic types of AR-15 stocks available on the market are fixed stocks and adjustable stocks. Fixed stocks are a solid, no-frills option that have the advantage of creating a tight fit with no rattling. They tend to be sturdier than adjustable stocks and are sometimes cheaper.
When you shoulder your rifle with a fixed stock, your cheek will always land in the same place, and never on the buffer tube. Some of the more expensive fixed stocks may offer adjustable length of pull and an adjustable cheek weld for scope or red dot mounts.
AR-15 Adjustable Stocks – What is the best AR-15 stock?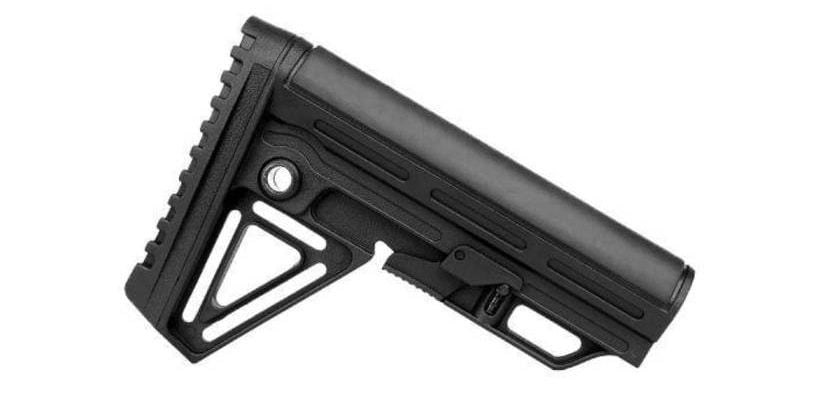 Adjustable stocks for an AR-15 come in an incredible number of variations, including basic adjustable stocks, enhanced A-frame, enhanced L-frame, DMR style, and more. And on two of the general stocks we listed, there are more variants being introduced all the time.
Adjustable stocks are, by far, the most popular type of stock, and are also referred to as "collapsible stocks" since they allow you to adjust the length of the stock according to your shooting preferences. The most basic adjustable stock will have an adjustment lever, a thin/rounded cheek weld and a club-foot shape.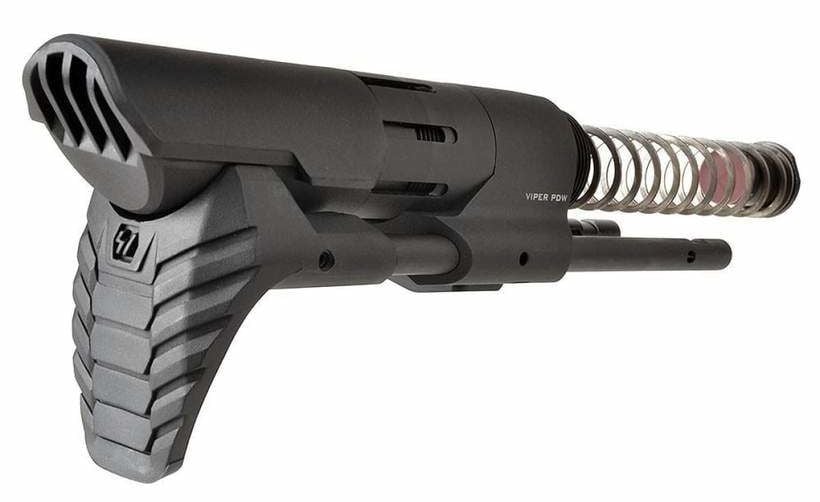 There are plenty of enhanced adjustable stocks available too, although prices can climb higher when more features are added. Take one look at the Strike Industries Viper PDW Stock, and you'll see why it's one of the most popular stocks among shooters. Like many other adjustable stocks, it allows for maneuverability…particularly in close quarters and vehicular operations.
Ergonomics – What is the best AR-15 stock?
The more comfortable fit you achieve when shouldering your AR-15, the easier it will be for you to hit your target. The stock should conform to your cheek and body position. Keep this in mind when choosing from the many styles of stocks available.
Sling Attachments and Other Features – What it the best AR-15 stock?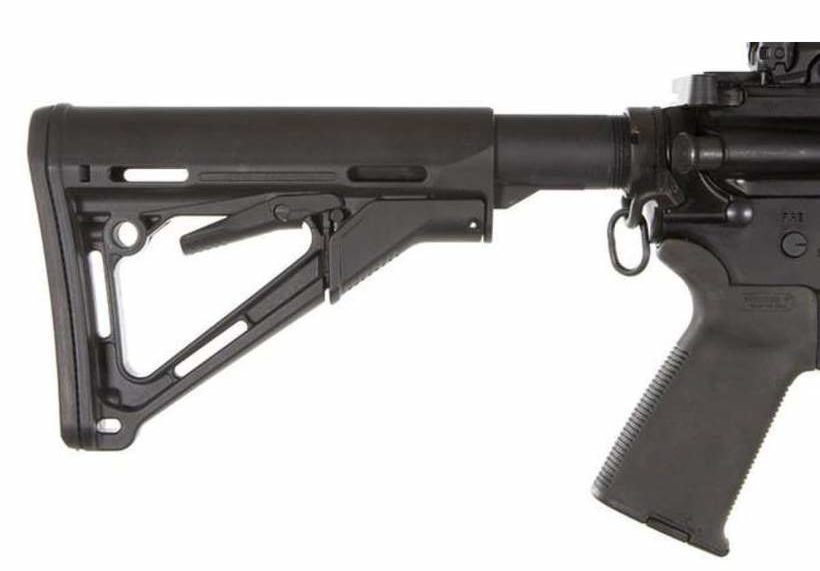 Some of the best AR-15 stocks have built-in attachment points for slings, such as the Magpul CTR® Carbine Stock. In addition, some stock kits come with end plates that allow for slings.
It's also quite common for the best AR-15 stocks to include some storage space for some ammo, small parts for repairs, and even the batteries for your optics, lasers, and lights.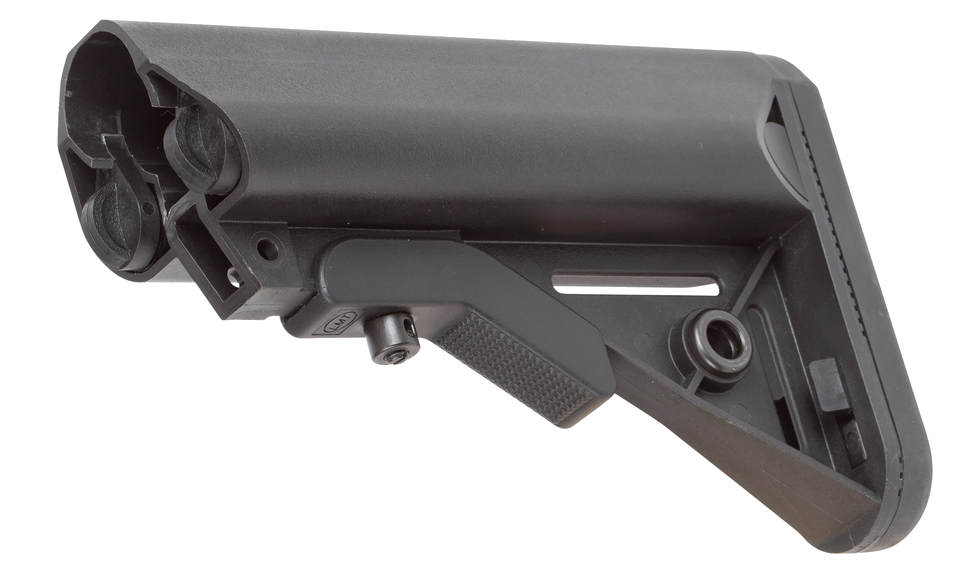 The classic LMT SOPMOD features two internal water-resistant battery storage compartments. We also like the Magpul STR® Mil-Spec Carbine Stock, which has two water resistant battery tubes on a compact, reinforced polymer A-frame design.
AR-15 Stock Weight
The weight of your AR-15 stock depends on the material it's made from and how it's designed. Although you may be looking for a lightweight Ar-15 stock, keep in mind that a heavier stock can actually help you balance your rifle if it has a weighty handguard. Check descriptions carefully, as weight and balance can have a lot to do with your weapon's performance.
AR-15 Stock Length
There are a few basic AR-15 stock lengths: rifle length, carbine length, and PDW/pistol length.
A rifle length AR-15 stock example would be the Magpul PRS Stock.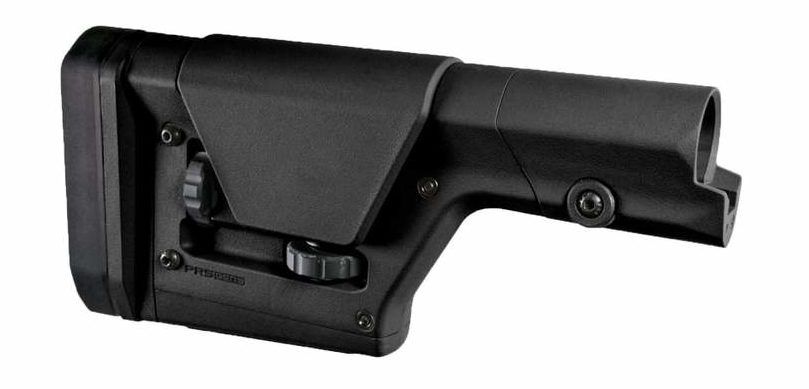 The Trinity Force Mil-Spec Buffer / Receiver Extension Kit is a good example of a Carbine length stock kit.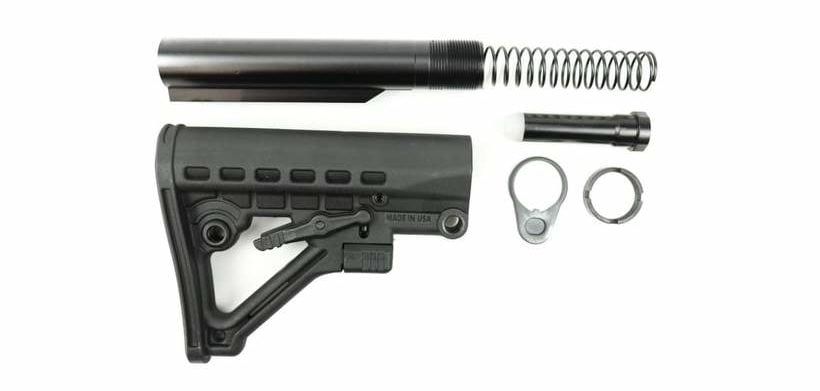 And finally, the Strike Industries Viper PDW stock set shown earlier is a good example of the PDW Stock kit.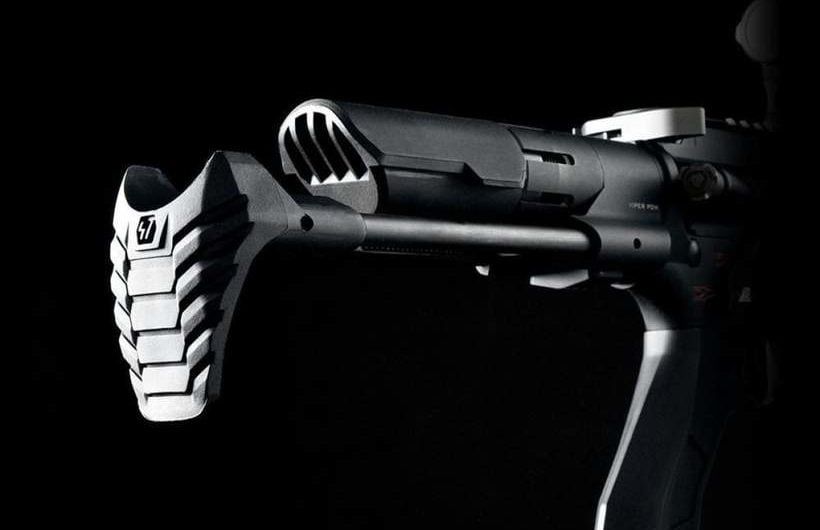 A Legal Note on AR-15 Stocks 
Check the laws of the state you live in to see whether certain stocks are prohibited. Some specific types of collapsible AR-15 stocks are illegal in some places. But don't worry—even if you can't get the exact stock you want, there are still some good options available for you.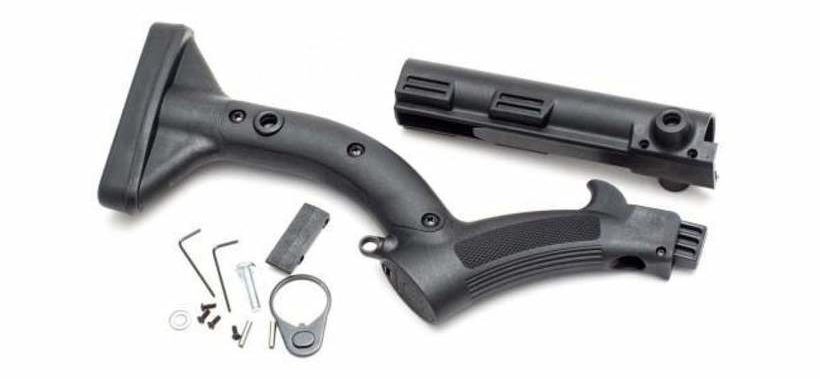 The Thordsen Customs FRS-15 Enhanced Stock Kit was specifically designed to help law abiding citizens keep their firearms in compliance with stock laws. It replaces the pistol grip and adjustable stock with the FRS-15 rifle stock. Or for a more interesting look, depending on where you live, you could check out the HERA Arms USA brand CQR featureless stocks. Either choice is a great one should you be compelled to use one.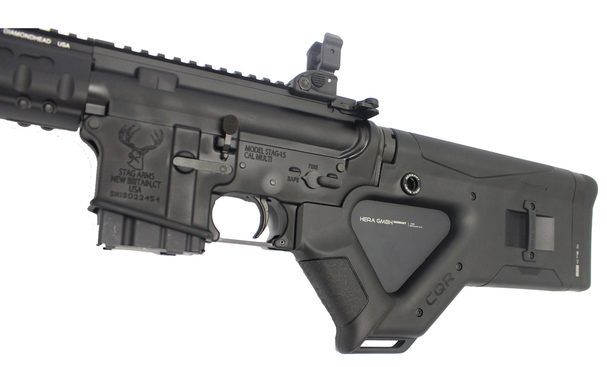 In the end, which stock you decide to run your AR-15 with is going to come down to what you need, what you want, and what you can afford. Just keep in mind the lengths available, styles available, and what is legal to install in your state. If you still can't decide, take a trip to the range, shoot one of your other AR-15s or other rifles, and take note of what features the rifle you were shooting did not have. Make a list, and then use that information in your stock purchase.
We are sorry that this post was not useful for you!
Let us improve this post!
Tell us how we can improve this post?