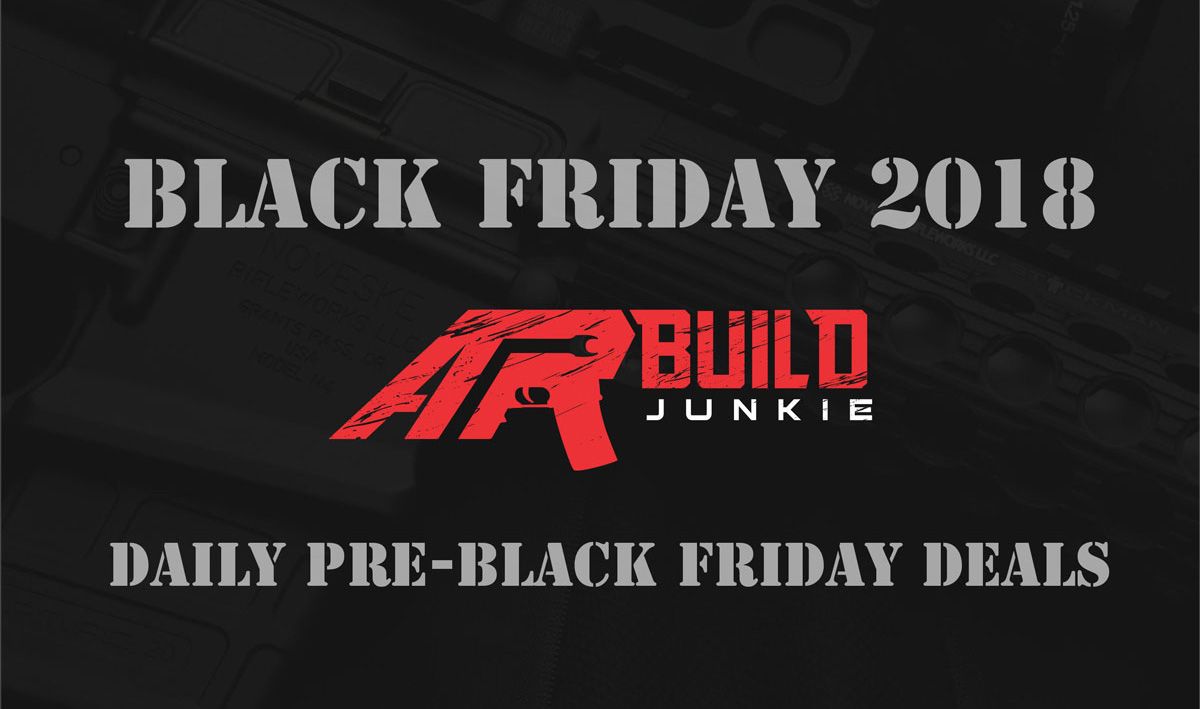 Black Friday AR-15 Deals…Black Friday is almost here, which, in case you didn't know, is one of the best times of the year to pick up a wide variety of items related to the AR-15 platform. Not to mention Cyber Monday. This year, ARBuildJunkie.com will be keeping readers up to date on all varieties of Black Friday AR-15 deals, as they are announced. Frankly, we're lurking so you don't have to.
With so many manufacturers putting out deals on a daily basis in the leadup, we invite you to bookmark this page and keep coming back so you can see the best Black Friday AR-15 deals as they happen.
This page was last updated on Friday, November 23rd at 11:04 AM Central.
Triggers
Rise Armament RA-140 Super Sporting Drop-In Trigger
One of our favorite triggers is going for $87.95 over on AR15Discounts. They just dropped the first of three parts of their Black Friday offerings and I said "wow" quietly out loud more than once…which is what you want when Black Friday shopping for gun parts.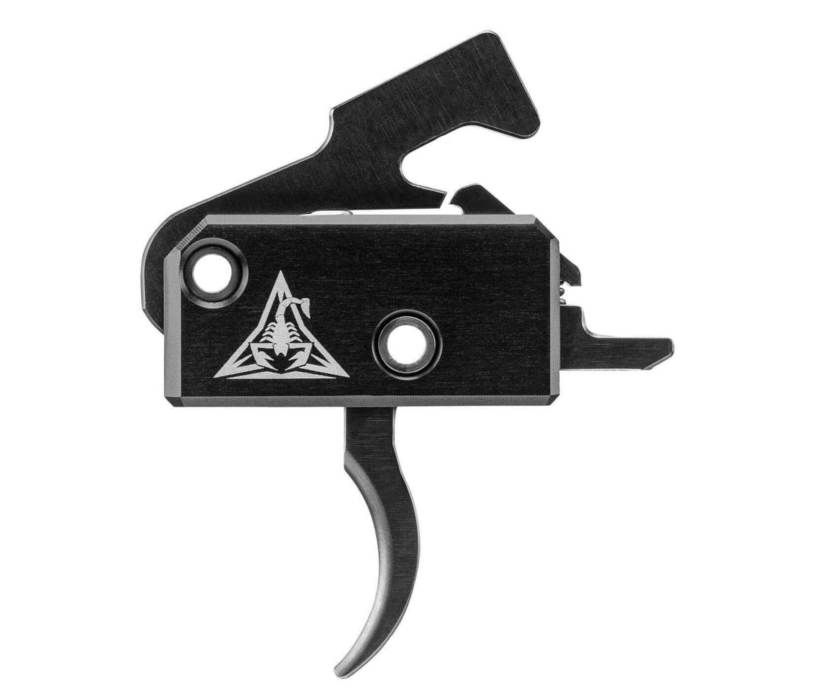 Upper Receivers
Aero Precision Assembled Upper Receiver
Their ad says too low to show…but we'll go ahead and tell you it's $58.99. Yep…an Aero Precision assembled upper receiver going for less than 60 bucks. Sign me up for two…
Aero Precision's M4E1 5.56mm 10.5″ Carbine Upper Receiver

Aero Precision M4E1-E Complete Upper, 18″ 6.5 Grendel SS Barrel, EM-15 HG Gen 2
NBS 16″ Slick Side Billet 5.56 416R Stainless Midlength 1:8 M-LOK Complete Upper

Daniel Defense AR-15 M4A1 SOCOM Block II 5.56 Stripped Upper Receiver
Daniel Defense is a name I have no hesitation in recommending to anyone. This is a fairly decent Pre-Black Friday deal going on over at Brownells at the moment. On sale for $674.99, marked down from $823.99.

Lewis Machine & Tool AR-15 CQB Upper Receiver
Pretty decent pre-Black Friday price cut on this one…699.99…down from $1,258.99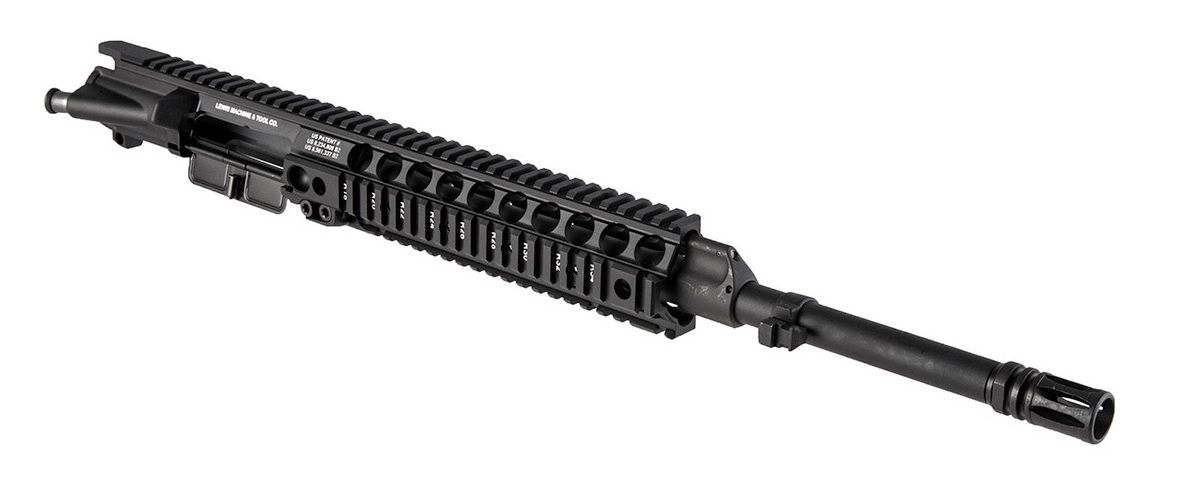 BCA AR-15 Complete Pistol Upper Assembly, 10.5″ 4150 Parkerized Heavy Barrel, .300 Blackout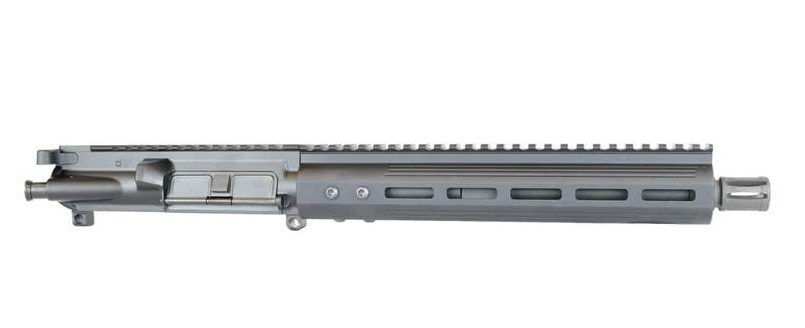 Optics
Photon RT 4.5x42s Digital Night Vision Riflescope
We recently spoke to one of the most experienced and honest nighttime hunters alive about thermal and night vision that doesn't suck. He is not known for pulling punches. He mentioned this device as something to consider should price be the driving factor and you're wanting to just get your feet wet…Give the article a read and give the Photon RT a look if you think Digital Night Vision is for you.

Vortex Razor HD Gen II
Kicking off our deals, we start with a great pre-Black Friday deal on one of the better general purpose optics out there for your AR-15, the Vortex Razor HD, Gen II. Here at ARBuildJunkies we've interviewed several professional shooters who swear by this optic.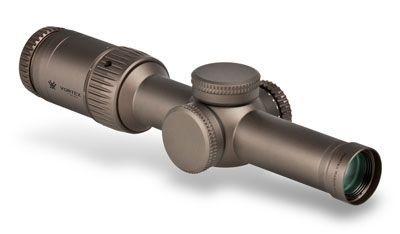 Trijicon Type 1 RMR 3.25 MOA Red Reflex Sight – RM01
Decent red-dot…works well on a pistol or a small carbine. I usually prefer an Aimpoint T1 or T2 for red dots, but for $329 over at Palmetto State, down from the usual $500, this is well worth considering. It's a top-tier, proven design from a very reputable company.
Magpul GEN 2 MBUS Front & Rear BUIS Set

Nightforce NXS 1-4×24 IHR Riflescope C452
One of the better 1-4 scopes out there for an AR…period. I prefer it over the Razor HD Gen II above, but to each their own. Top of the line…this is another one where if you look at who we talk to, it gets mentioned over and over.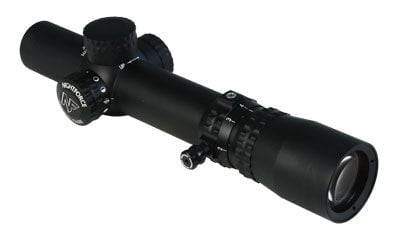 Complete Rifles
Adams Arms Small Frame .308 PATROL BATTLE RIFLE – 16″
This normally retails for over $1,700…Rainier Arms has it on sale today for $1,099.92.

FN 15 5.56 Carbine 16″
Good deal on a complete 16″ carbine from FN.


Barrett REC7 Closeouts
Just in time for Black Friday, EuroOptic is offering closeout pricing on a selection of Barrett REC7 rifles.



Build Kits
Aero Precision M5E1 / 308 Builder Set w/ M-LOK Handguard
We've written at length about how if you're going to build an AR-10, it might be wise to start with a builder's set. When I think of builder's sets…the M5 is the one that first comes to mind. Nice deal here for $399.99. While you're at it…the M5 Lower Parts kit is also going for $59.95 at the moment.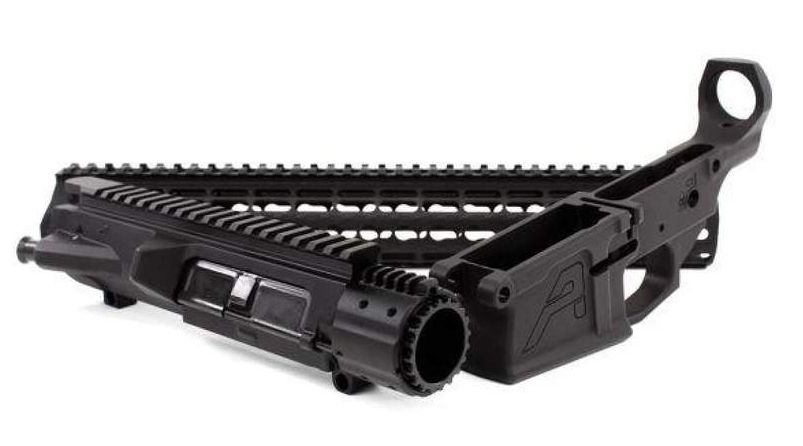 Primary Weapons System PCC Kit
PWS Black Friday Special Bundle Includes:
PWS PCC 9.5″ or 16″ COMPLETE Upper
PWS PCC STRIPPED Lower
PWS Ratchet Lock Castle Nut and Endplate Set
PWS Enhance Steel Body Buffer, PCC Extended Length 6.3 oz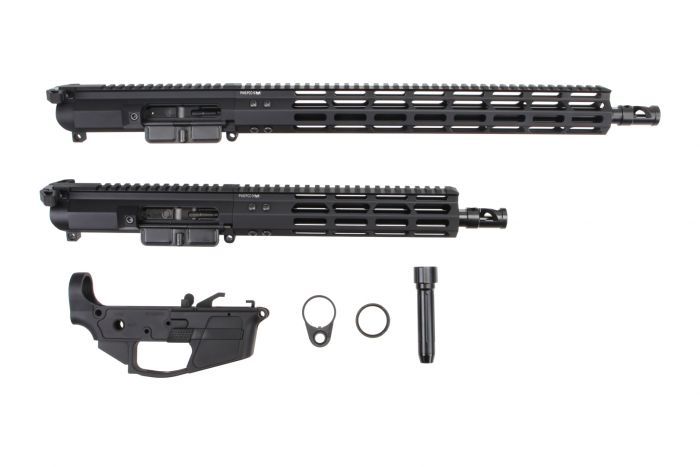 HK416 Build Kit
Looking for Black Friday AR-15 deals for the shooter who has everything? Brownells has a unique opportunity for that hard-to-shop-for someone who is really into Heckler & Koch and/or modern military history. For a limited time, they are selling H&K 416 build kits. Not sure how long these will be around, but for now, this is a unique opportunity to piece together a modern classic.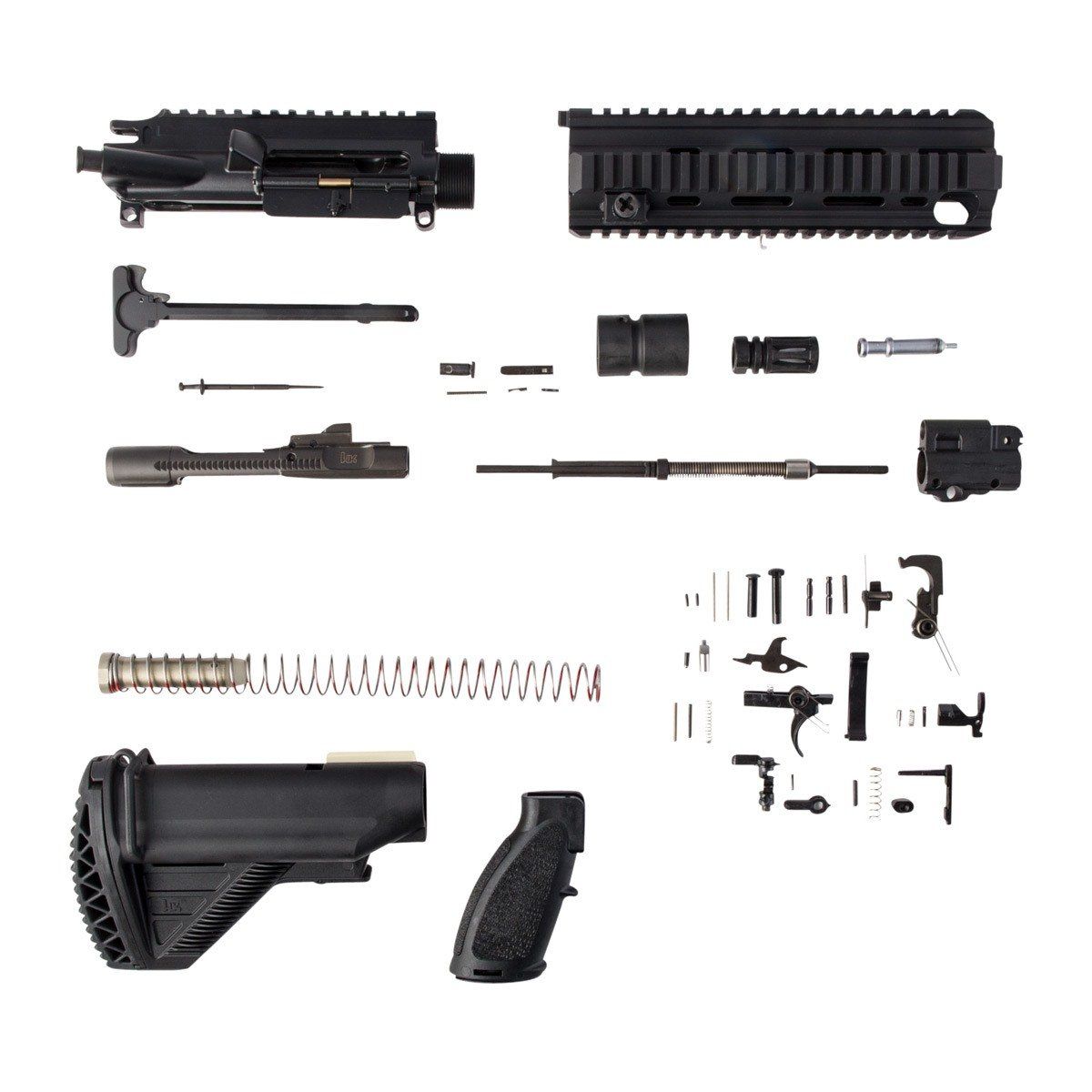 PSA 7.5″ Pistol-Length 5.56 1/7 Nitride 6″ Lightweight M-Lok Classic Pistol Kit
Toss in a stripped lower and you've got yourself a great little range toy. The guys in the bay next to you will love it…At $239.99, my guess is this kit is out of stock before Black Friday…as such, you might want to hop on this one quick.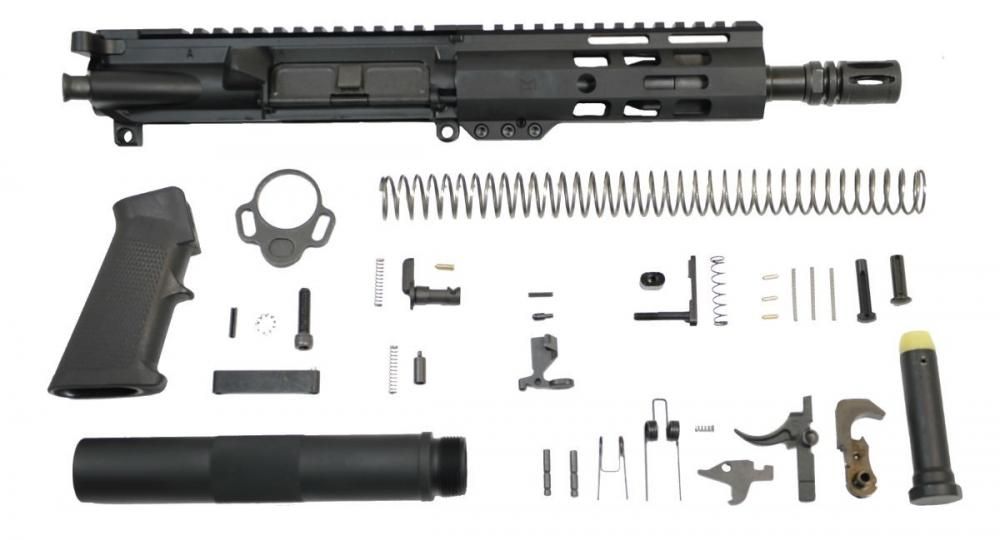 Handguards
Aero Precision AR-15 Quantum M-LOK Handguards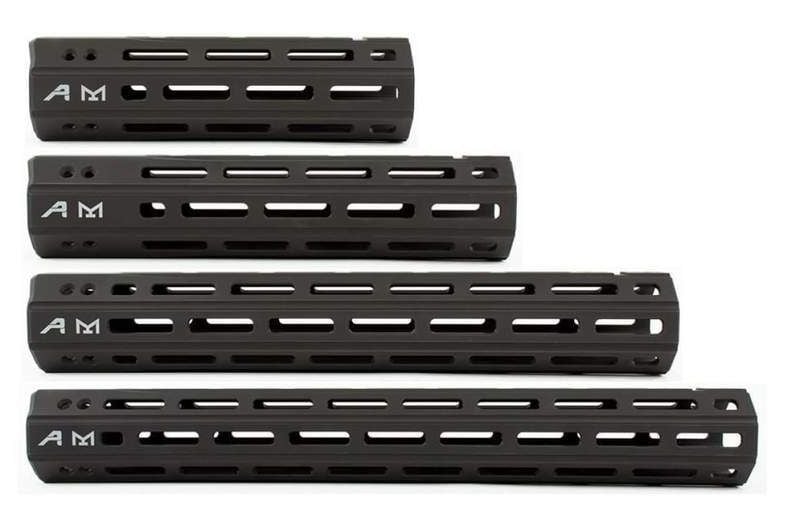 Aero Precision ATLAS R-ONE Free Float M-LOK Handguard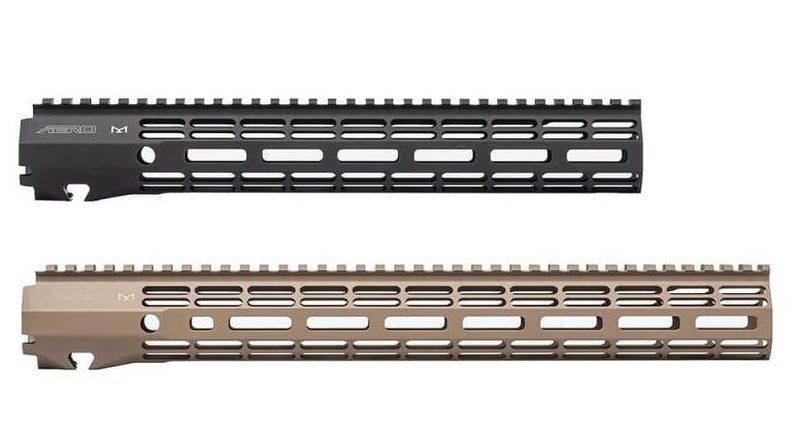 Stocking Stuffers
B5 Systems AR-15 SOPMOD stocks
This is my favorite style of stock…on sale for 59.99, down from the normal $95 over at Brownells.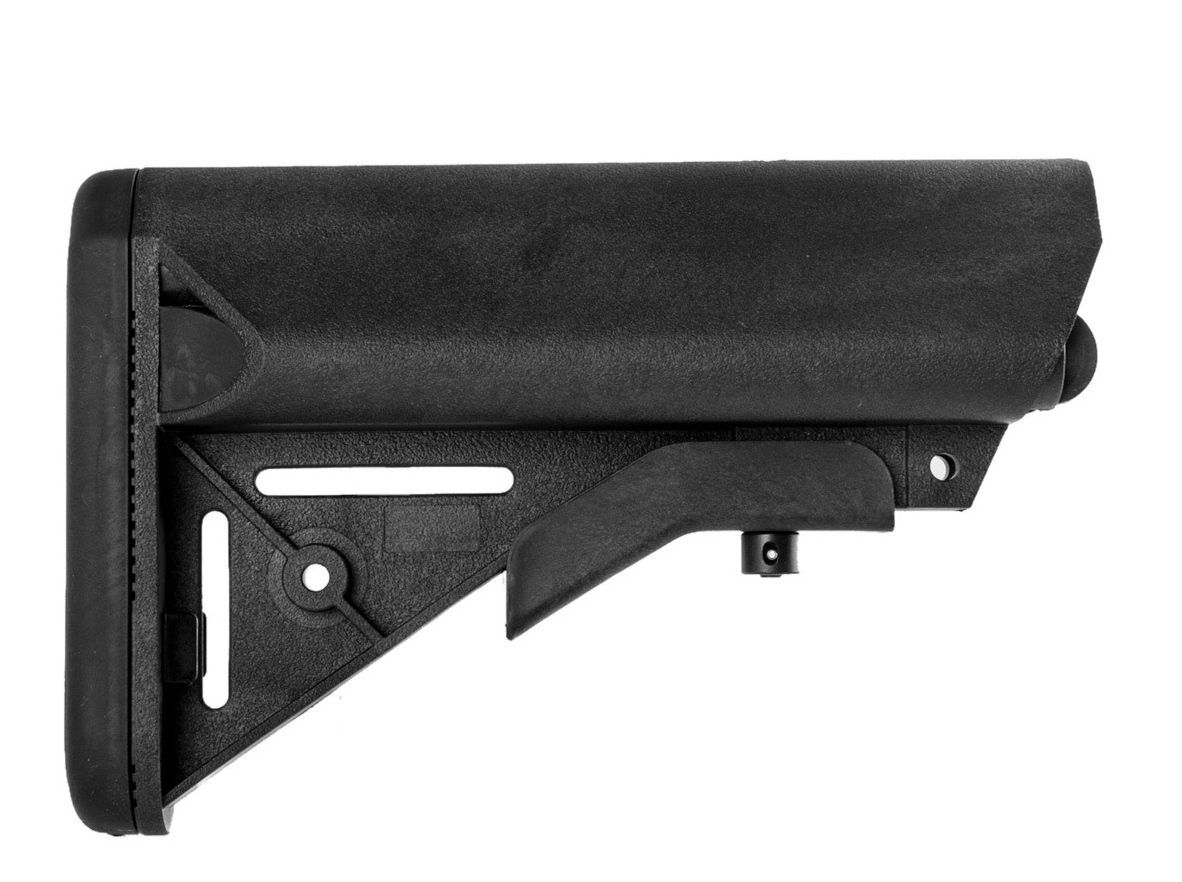 S&W M&P SHIELD EZ .380 ACP PISTOL LOCKDOWN PROMO KIT
I picked this pistol up for my wife…she carries it in a fanny pack. It's an awesome gun and my favorite pistol I've bought in the last 12 months. I paid something close to $400. This is a great price at $319.99 shipped and it comes with a small lockbox, should you have need for such a thing.
Mossberg 590 Shockwave 20GA Shotgun
The holidays are a time of year where I anticipate getting things as gifts I'd not normally buy. Looking at Black Friday AR-15 deals, one non-AR item I thought was interesting was this discounted Shockwave.

Perhaps you can drop a hint or two and wake up with a Shockwave in the stocking? Certainly better than a candy cane or whatever else you'd usually get. Palmetto State Armory is letting them go very cheap. For the price, it's very cool for hanging on your wall as a decoration or in sitting in your lap at a truck stop.


VTAC Ranger Buddy: Dog Leash and Collar Combo
Don't forget your dog this Christmas. "This sling works great when conducting Urban or Rural reconnaissance with your canine." For my dog, this means I have a firm and trustworthy grip when he's doing suburban recon around the neighbor's mailbox post.
AR500 Level III Curved Armor with Trauma Pads Combo
This stuff is heavy, but the chances of me ever putting it on is low…but I do have a plate carrier filled with 2 AR500 plates in my closet, just in case I need it. AR500 Armor has some good deals going on right now, but this seems to be ideal. Half off…$110 dollars…down from $220. Use the extra towards a decent plate carrier.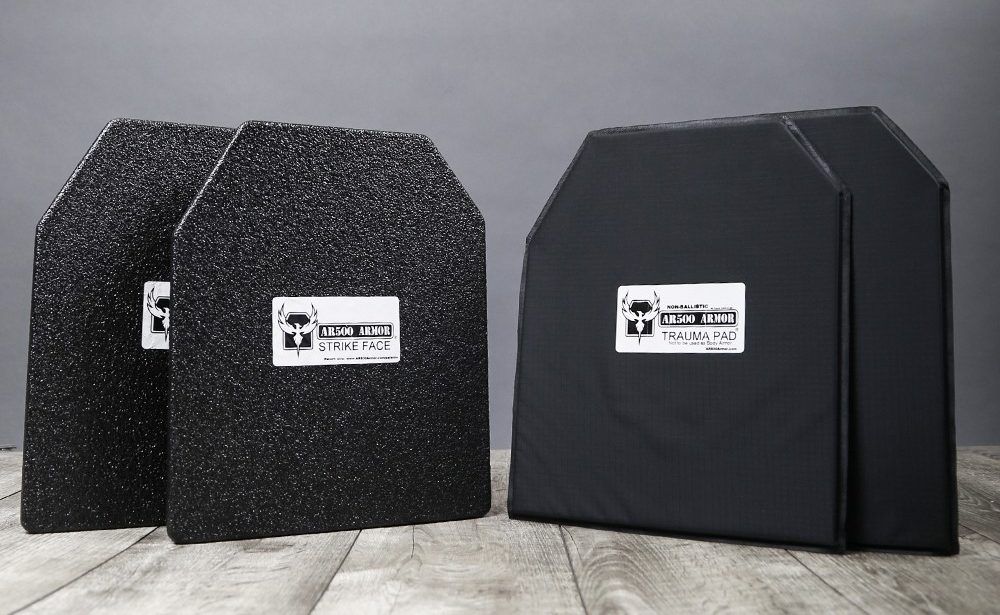 CMMG .22LR AR Conversion Kit
As far as conversions go, this is pretty much plug-and-play. Less than $200 gets you all the .22LR action you can handle. This set comes with three 25-round mags.
Toolcraft .223/5.56/300BLK M16 Profile Bolt Carrier Group – Nickel Boron
A shiny new bolt for Christmas? Toolcraft bolt carriers are known good-to-go…and more than a few companies I've spoken with use them for their complete builds. Good deal here for $98.95.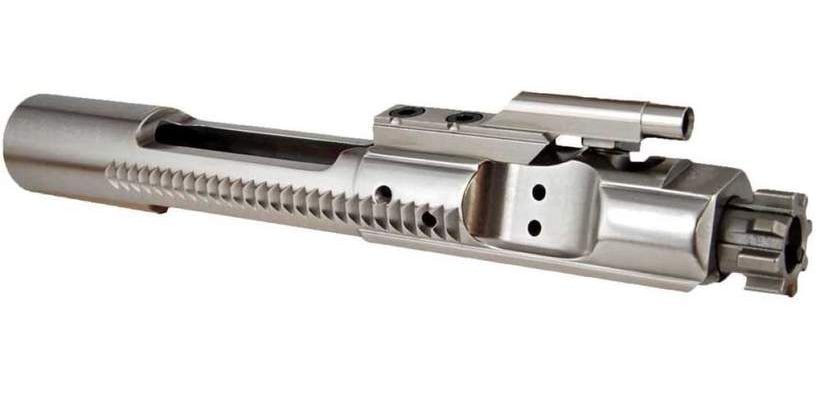 Sharp Bros The Jack Gen II Lower Receiver
Have you ever looked at your lower receiver and thought: "this would be a lot cooler if it had a skull on it…"? If so, you're in luck. The Jack Gen II is on sale for Black Friday over at Rainer Arms for 249.99, down from the usual $312. If you've been looking to start a skeleton-themed AR-15, now's most certainly the time…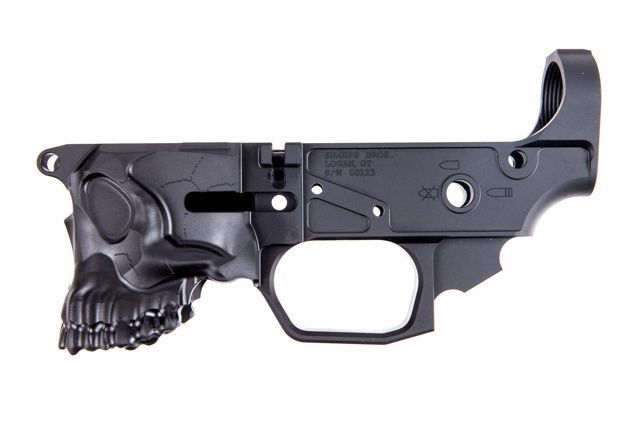 Knights Armament Company Vertical Grip
A useful accessory with Knights Armament written on it for $16.99 that's not an airsoft knockoff on Amazon? Sign me up…
R1 Tactical Modified Lancer L5AWM 30 round 5.56 – Purple Translucent
I've been seeing these a lot on forums I frequent…If you're into purple mags, here you go.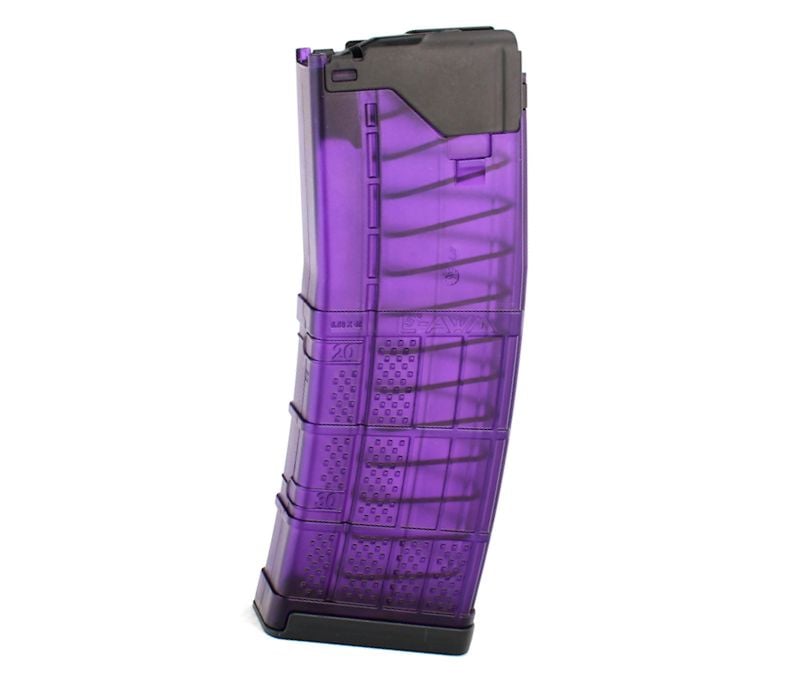 Ad Scans
AR15Discounts.com

Rainier Arms

Palmetto State Armory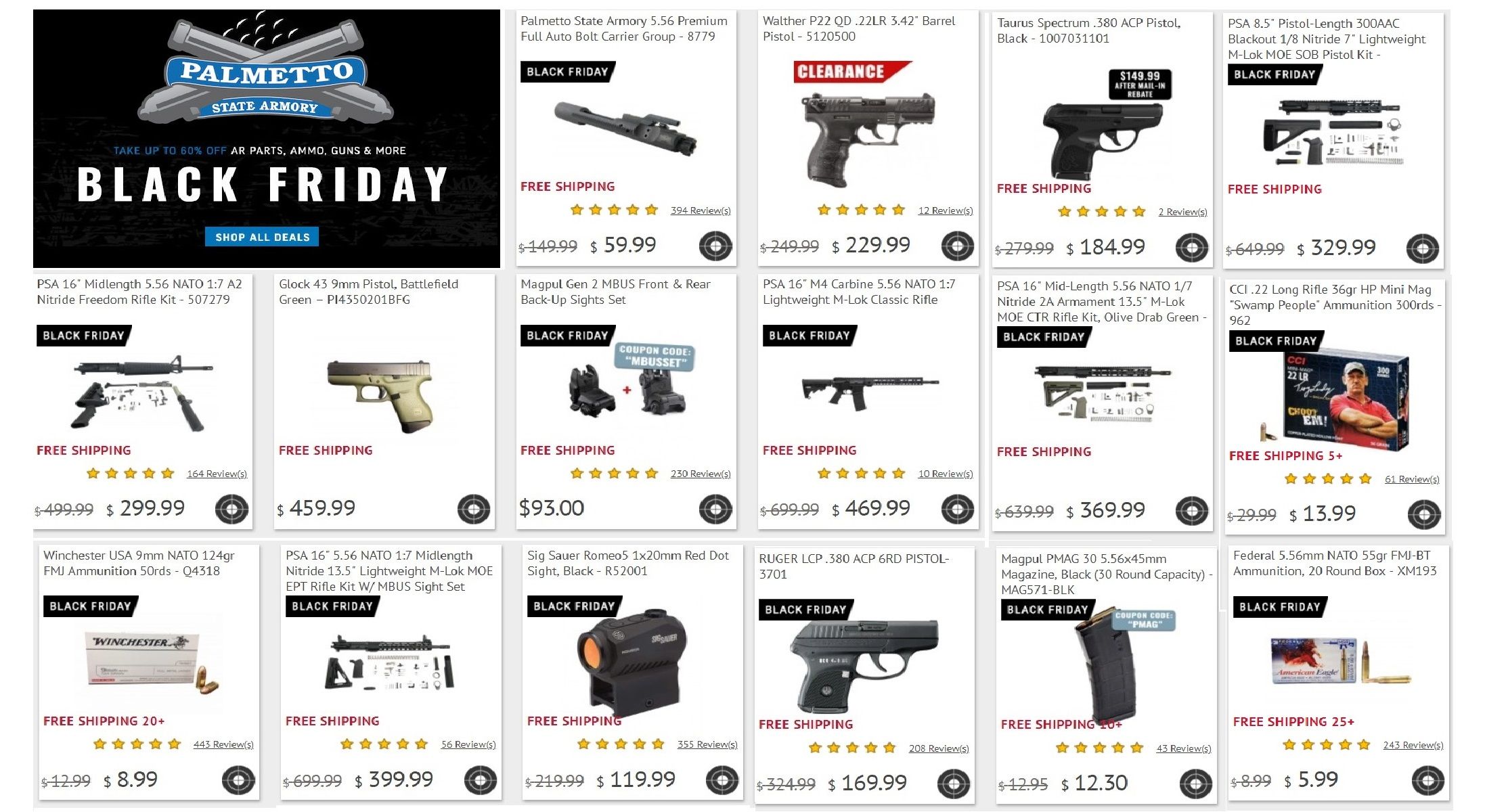 That's all for today, Tuesday, November 20th, but we'll be keeping this space updated daily, so please be sure to check back often between now and Black Friday.
We are sorry that this post was not useful for you!
Let us improve this post!
Tell us how we can improve this post?