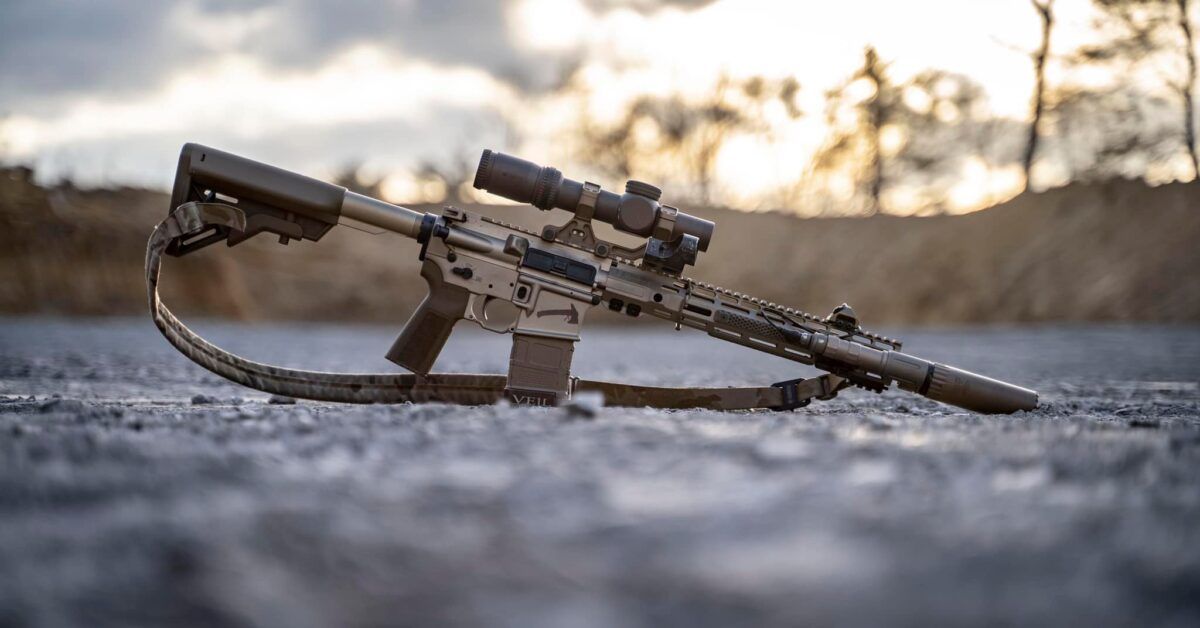 We sat down with Christopher Woomer yesterday to discuss the launch of his new signature VEIL Solutions rifle he did in collaboration with Sons of Liberty Gun Works.
Q: Chris, thanks for taking the time to chat and congratulations on the successful launch of your VEIL Solutions signature rifle. Can you tell us a bit about the history of this project?
Christoper Woomer, VEIL Solutions – We've been working on this project for a bit over a year now. It began during the middle of COVID. We started planning it, but with all of the hang-ups regarding supply chain issues, it got pushed back and set to the side over the last year and a half or so.
We had about 98 rifles built, and my buddy Jeremy at Kit Resource sold 50 of them earlier this week in about 3 minutes. That was really cool to see. So many familiar names and guys that I recognize by name were able to pick some rifles up. I was there when they were being sold, so I was able to see that process, and watch as he got all of the rifles shipped out.
It's been very exciting because for as long as I can remember and as long as I've been shooting, I've thought it would be cool to make an AR. A few years ago, companies started popping up left and right, and I never thought that VEIL Solutions would ever be in a position to make its own AR. While that's not necessarily the case here, I did get to work with the guys at Sons of Liberty, which I am connected to. It's a proven company and has a good reputation behind them. Getting a chance to team up and work on my "signature" rifle has been a very cool experience.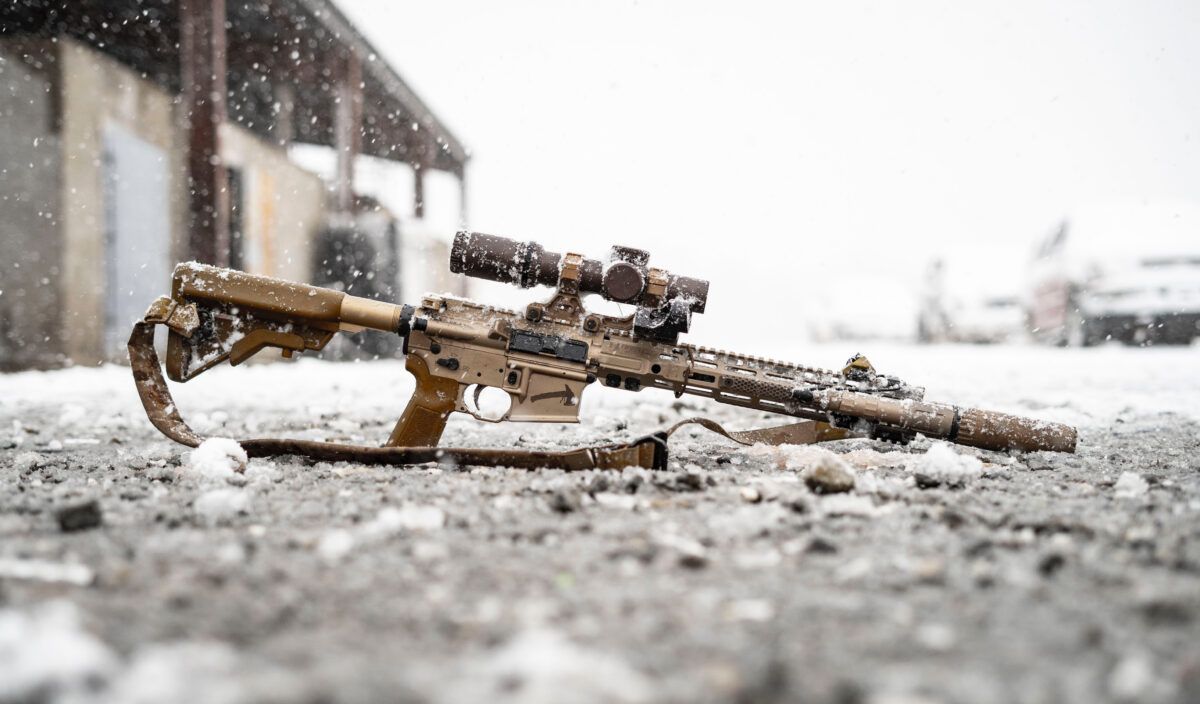 Q: Can you talk a bit about the gun and why you went the direction you did?
Christoper Woomer, VEIL Solutions – A 13.7″ gun is something I've been shooting for a long time in 3-gun competitions. It's a short, maneuverable rifle. It's also a good "do it all" length where you still have some velocity to make shots at 400, 500 yards if need be with the suitable optics, tools, and bullets. In my opinion, I think it is a true do-all rifle. I know that's a cliché thing to say, but it is a capable tool, plus it is the shortest legal length you can go for many civilians, which is what I am.
With my experience over the years, I think this gun is just a lovely setup, and it's something I believe in. We've taken that and paired it with things like the A5 buffer system, which is something Sons of Liberty is known for, as well as some Forward Controls Design part on it to round out the project. I didn't want to go with anything too crazy.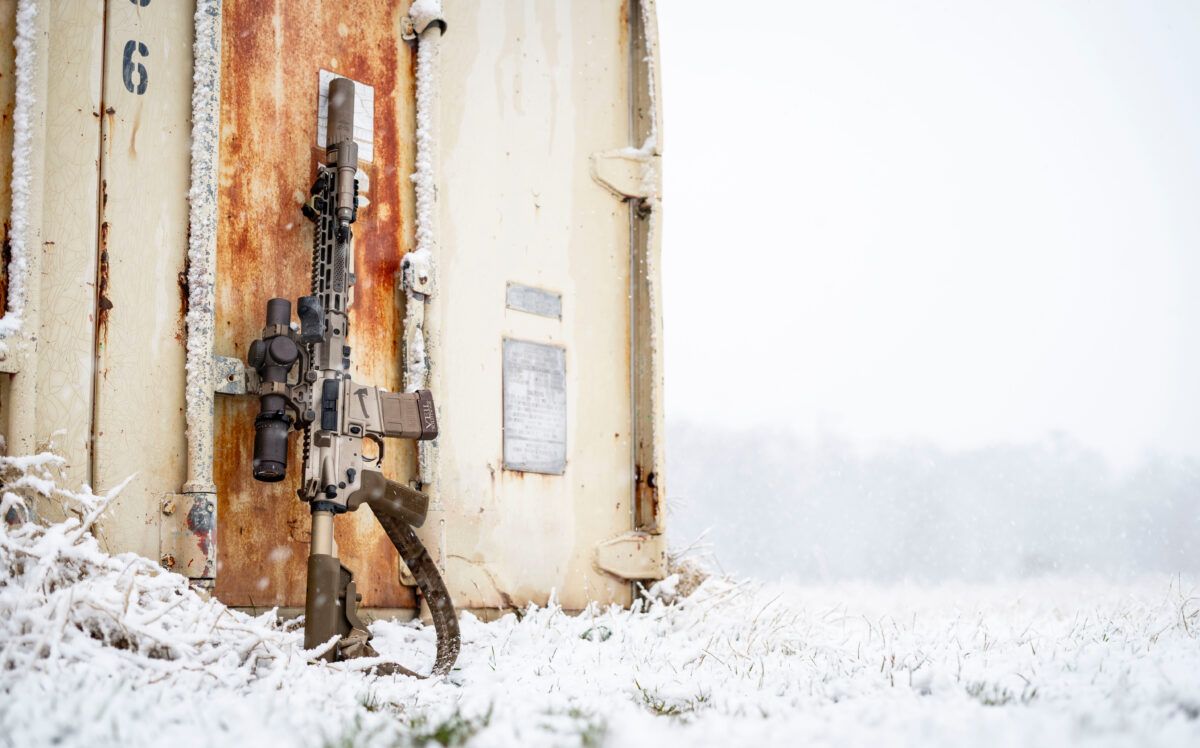 My goal was also to make it semi-affordable. I know it's still $2,100, but I didn't want to up the costs further by putting a Geissele trigger in it, etc. My hope was to keep the price as low as possible while still giving things that I believe in and feel are essential. 
It has Sons of Liberty's new charging handle, which is pretty sweet. We're also running SLR's ION rail. I have more rounds on SLR handguards than any other rail I've shot over the years…while the rails that Sons of Liberty offers like the M89 and M76 are excellent, the weight and shape of the SLR are very friendly for a lot of people to use. We also went with a 9-port NOX instead of the timed 6-port…
As far as the tannodized coating, that's another main feature. I already have a bunch of black rifles, and I wanted to do something just a little bit different. I don't like anything too over-the-top or too Gucci, but having something that stands out just a little bit and doesn't cost anything extra at the end of the day is a gool thing to have. It has my tomahawk logo, which has something that's been associated with VEIL Solutions for the better part of seven years or so. It's something near and dear to me and something that guys who follow me will appreciate and what it stands for.
At the end of the day, it's just an excellent rifle. It's a good rifle like any of the Sons guns that I believe in. It's not anything too crazy, nor is it designed to be something that's limited edition. Hopefully, we'll have another hundred by the end of the year. The gears are already turning on that. It's just a matter of supply chain issues and the other things that Sons of Liberty has to accomplish day in and day out. Hopefully, there will be more.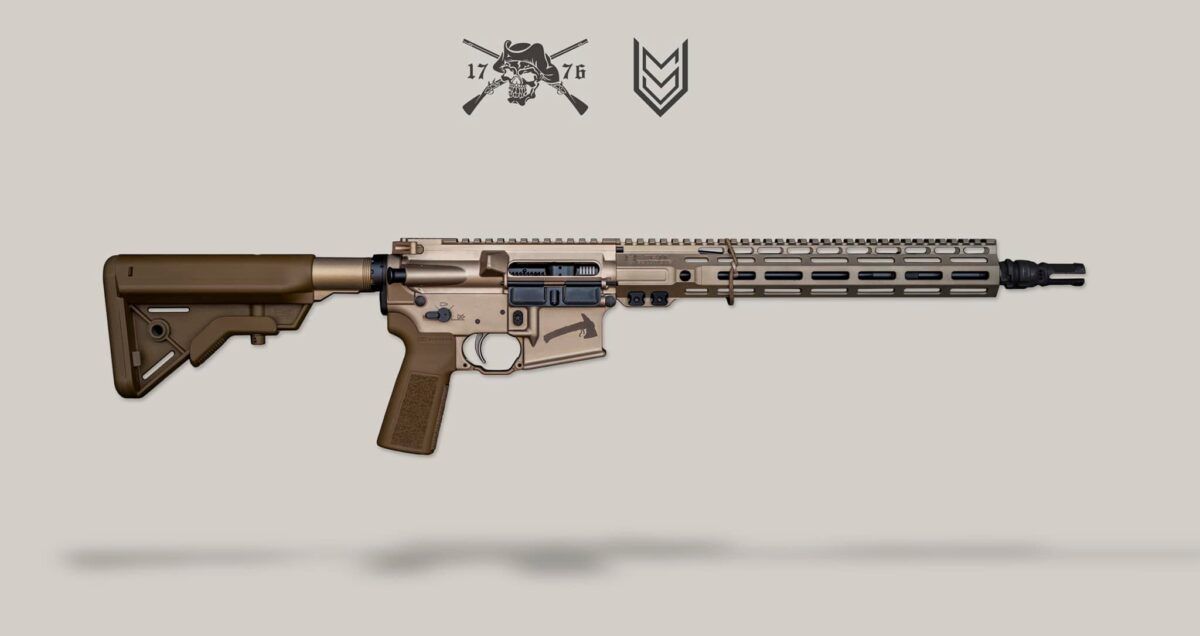 ###
Lower Receiver (Rebellious Stripes Tanodized)
Stripes w/ VEIL Solutions "Tomahawk" Deep Engraved
Liberty Fighting Trigger
Forward Control Design Bolt Release – Dimpled
Forward Control Design Mag Release (Non Ambi) – Dimpled
Forward Control Design Winter Trigger Guard – Clear Anno
SOLGW Quick 50 Degree Safety
SOLGW L9 A5 Length Buffer Tube with Green Spring and VLTOR A5H2
B5 Systems Bravo Stock
B5 System P23 Grip
SOLGW Blaster Guts
Upper Receiver (Rebellious Stripes Tanodized)
SOLGW BCG
SOLGW 13.7 Combat Barrel (Mid-length Gas)
SOLGW V2 Gas Block .750
SOLGW NOX9 Key-Mo Muzzle Device Pin and Welded
SLR VEIL Solutions Edition Tomahawk Rail
Peripherals
Soft Case
3 Stainless Steel SOLGW Magazines
Lifetime Warranty
We are sorry that this post was not useful for you!
Let us improve this post!
Tell us how we can improve this post?