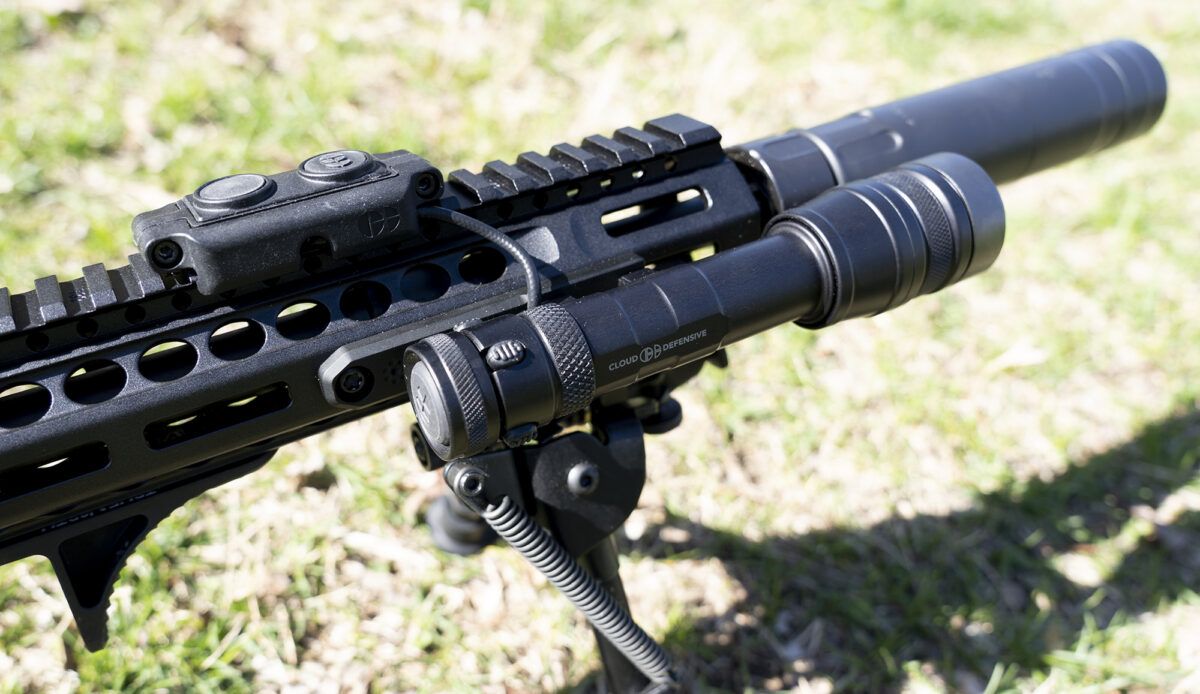 Cloud Defensive had a busy 2020 with the launch of the Cloud Defensive REIN, and with new products on the near horizon, 2021 promises to be just as eventful. To learn more about the state of Cloud Defensive and what might be coming in the year ahead, we reached out to CEO, Sean McCauley.
Q: Sean, congrats on the successful launch of the REIN…Your company went through a lot of changes and challenges in 2020. Can you talk about what happened and how you managed to successfully pull through?
Sean McCauley, Cloud Defensive – 2020 was unprecedented in a lot of ways. For Cloud Defensive, it was a challenge from the growth side of things. We were perpetually backordered and selling everything that we manufactured, even before COVID-19 kicked off. Then, once the world caught on fire, the whole firearms industry seemed to as well. Demand went through the roof. We started scaling up and added five CNC machines to gain capacity and get product out faster.
We also moved our operation in early March 2020 due to growth…by May, we needed to expand again, as we had outgrown the space we had just moved into. In the midst of all of that, we were getting the REIN light ready to go. So, it was "all hands on deck" all year long, and it continues to be that way today.
As a small, young company that is rapidly scaling, we are also hiring people left and right. I can tell you that as I sit here today, I am savoring the challenge and loving every second. It's wonderful to have the challenges of a growing company – not a shrinking one. That makes it fun.
It's also exciting, especially now with the release of the Cloud Defensive REIN. Today, tons and tons of lights are going through our system and are shipping daily. Seeing that happen is exciting to me from a business development perspective. We're also working on new lights, too. We have several new products on the way, and that's something we're incredibly excited about as well. I'd anticipate the world will get to see what we've been working on sometime this year.
Q: Can you talk about anything new that might be coming?
Sean McCauley, Cloud Defensive – I can say that when it comes to lights, I think there are a lot of lights that need to be made. I believe we kind of have the carbine covered for now with the Cloud Defensive OWL and now the REIN. The REIN now fills the other half of the carbine lighting equation. It's something we designed to play with IR systems and was more modular in the sense that the end-user can light and switch positions, use different types of switching if they need to. One thing we are working on now is a dual switch so that you can interface your REIN light with your IR system. It will be our own proprietary Cloud Defensive switch.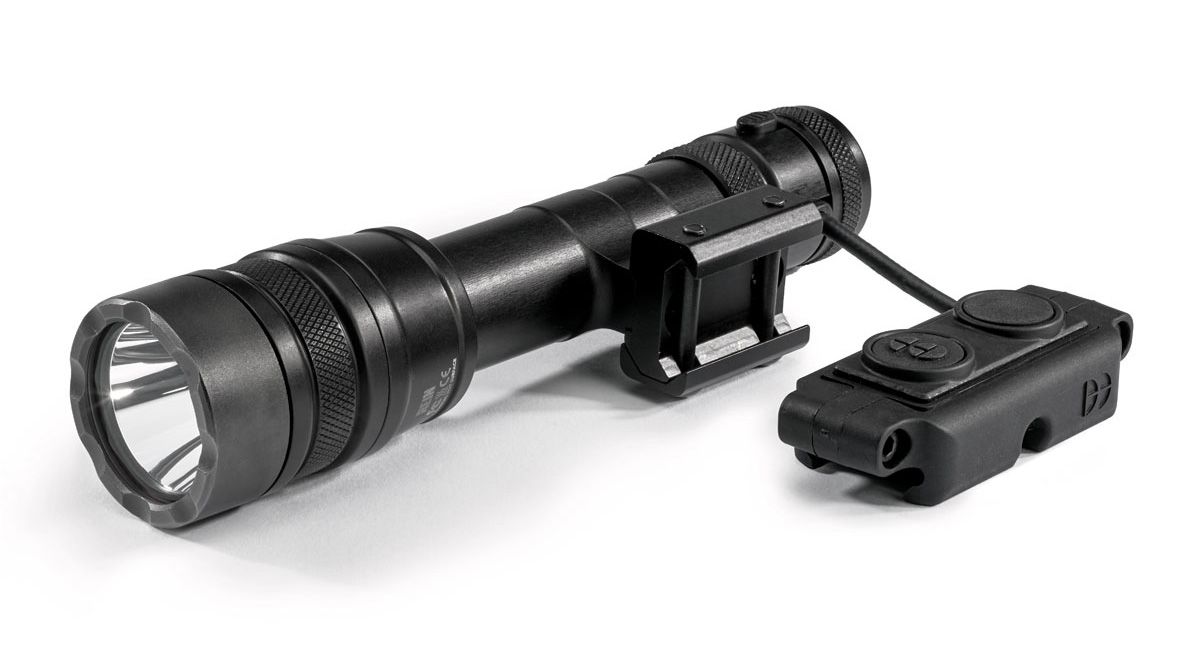 Cloud Defensive Full-Size REIN Complete Modular Weapon Light
Once we step away from long guns, we also know that there is a desire for pistol lights, handhelds, etc. So, we're looking at addressing a lot of different needs in the future. I can say that 2021 will be a hell of a year for us on the development side, and I am very confident the world will like what they see from us.
Q: Is working with LEDs a challenge for a company, with the technology constantly advancing?
Sean McCauley, Cloud Defensive – It is undoubtedly a challenge. We have to work within the constraints of what LEDs exist. We don't manufacture LEDs, and I don't know of any light manufacturer who does. When you rely on an LED as your emitter, you have to play with what is available to you.
To your question, the technology is ever-evolving, and we are always looking at making upgrades. We always want to do better for our customers. We always want to make sure that we are offering the best possible solutions. When you look at the industry, look at how much raw output at the emitter was available ten years ago versus today. We've come a long way as an industry. I think what you will see is that continuing…I will say that you cannot increase Lumen output without consequences. These things produce a lot of heat; they also draw a lot of electricity. It does become a challenge. You sometimes have to ask yourself, "what is our goal here?"
For Cloud Defensive, it's not just about the space race or the Lumen race…it's about getting the best possible performer in the hands of the end-user in a tool that makes sense. It does not do anyone any good to make a light that puts out 4,000 lumens of raw light only because the high number sounds cool if the light is not usable.
At Cloud Defensive, we're also end-users. We don't wear suits to work (laughs). We're all shooters, and we always make sure that what we make is something that we would want. During engineering discussions or talking about new products, our mindset is always to default to "what does the end-user truly need and want?"
What we build has to make sense. For a weapon light, what makes sense is having good, usable light on the target. To perpetually increase lumens by itself is not the goal. Obviously, you need Lumen output, and the world will continue to see more of it. That's a good thing. But, it has to be executed well.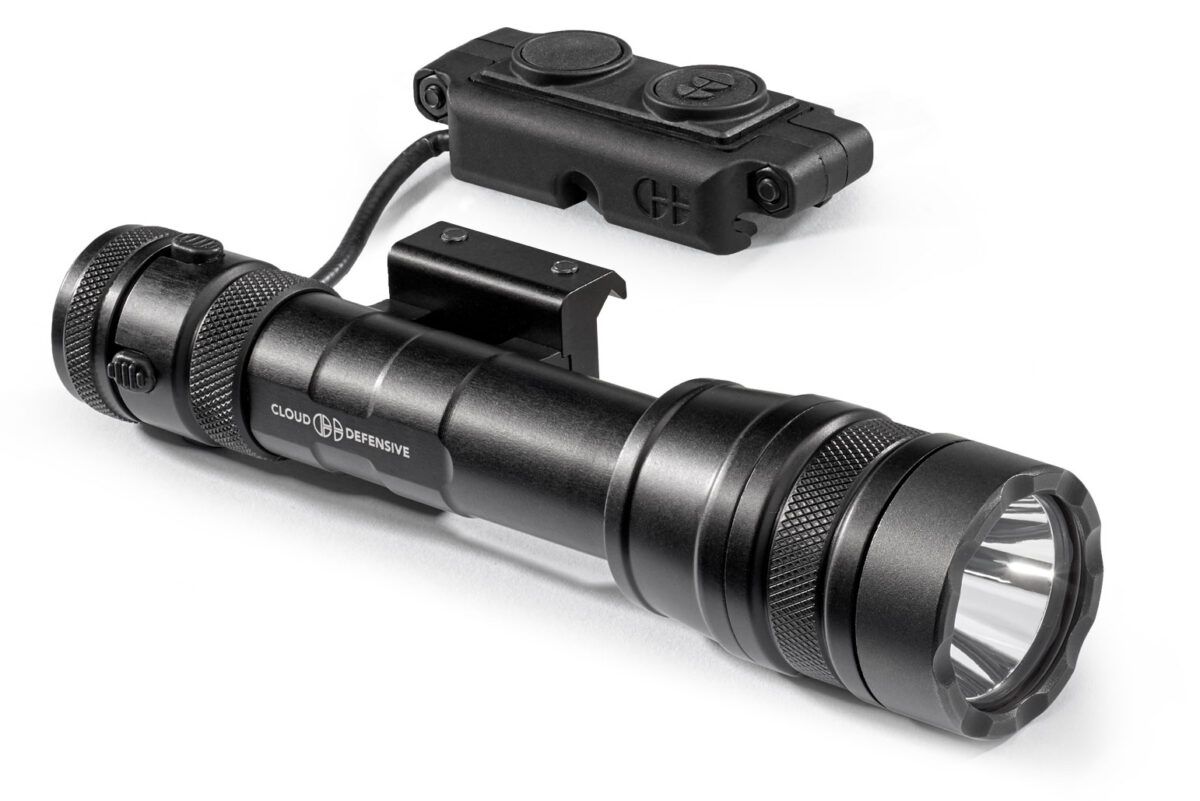 Q: With costs going up, one place builders try to cut corners is by not purchasing a quality light. Can you talk to our readers about what goes into your light to make it worth buying, and why owning a well-built light matters?
Sean McCauley, Cloud Defensive – If you look at statistics out there, somewhere between 60-80 percent of all lethal force encounters are happening in low-light or no-light conditions. That alone justifies having a light on your gun. If you are going to own a firearm for any sort of defensive need, it needs to have a weapon light. From there, you have to stand back and determine if the light you are purchasing will perform. Will it do what you need it to do?
As end-users, we've made sure that we're building lights that will. Lights from Cloud Defensive will perform when you need them. We make sure that our lights won't fail under any conditions.
I think one thing that people notice when they see the OWL, or the REIN to some degree, they say it's a bit bigger, beefier than other options. That's absolutely true. We did that on purpose. We certainly could have made a smaller light. During the design meetings, we determined that if one of our customers had one of our lights on his gun on the worst day of his life, we could not go to sleep at night ever knowing that something we made failed that person. As such, I'd rather my light have a bit extra outer diameter. I'd rather use tool steel on the bezel ring like we do.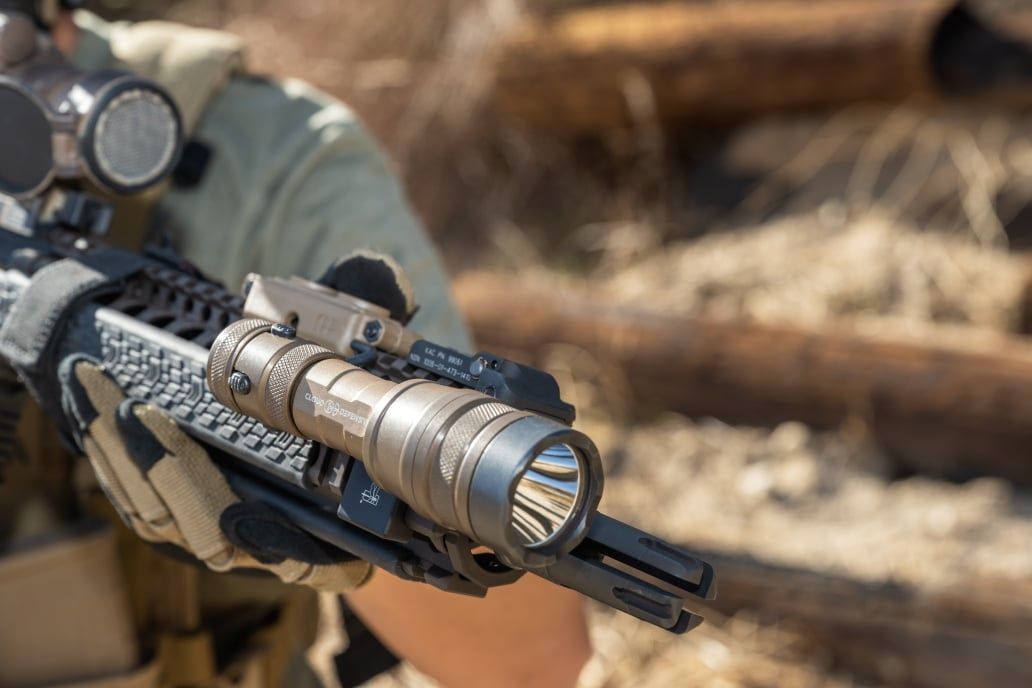 I'd also stress that what we make is a hard-use tool, made in the USA, by us, in-house. Not too many people can say that. For someone on the fence about Cloud Defensive, I would tell them that they are getting a world-class tool they can count on. It will serve them well for a long time, and it's something that we stand behind. If something ever were to go wrong, we'll certainly take care of it.
Q: Can you talk about the internal testing you do?
Sean McCauley, Cloud Defensive – We do prototyping and testing during development, verifying that the design is good and everything is sound. We then go to the next level, which is full-auto live-fire testing. We burn a lot of rounds around here (laughs).
We then do basic drop testing. When it comes to drop testing, I think it is easy to make a light that passes standardized testing. So, for us, if we are going to make a light that someone might depend on for their life, it needs to be able to withstand more than standard drop testing. We take steps to make sure that is the case with our lights.
Q: What do you think of the intensive testing and abuse you see done to lights online? It almost seems like there's a torture test sub-genre when it comes to accessory video reviews…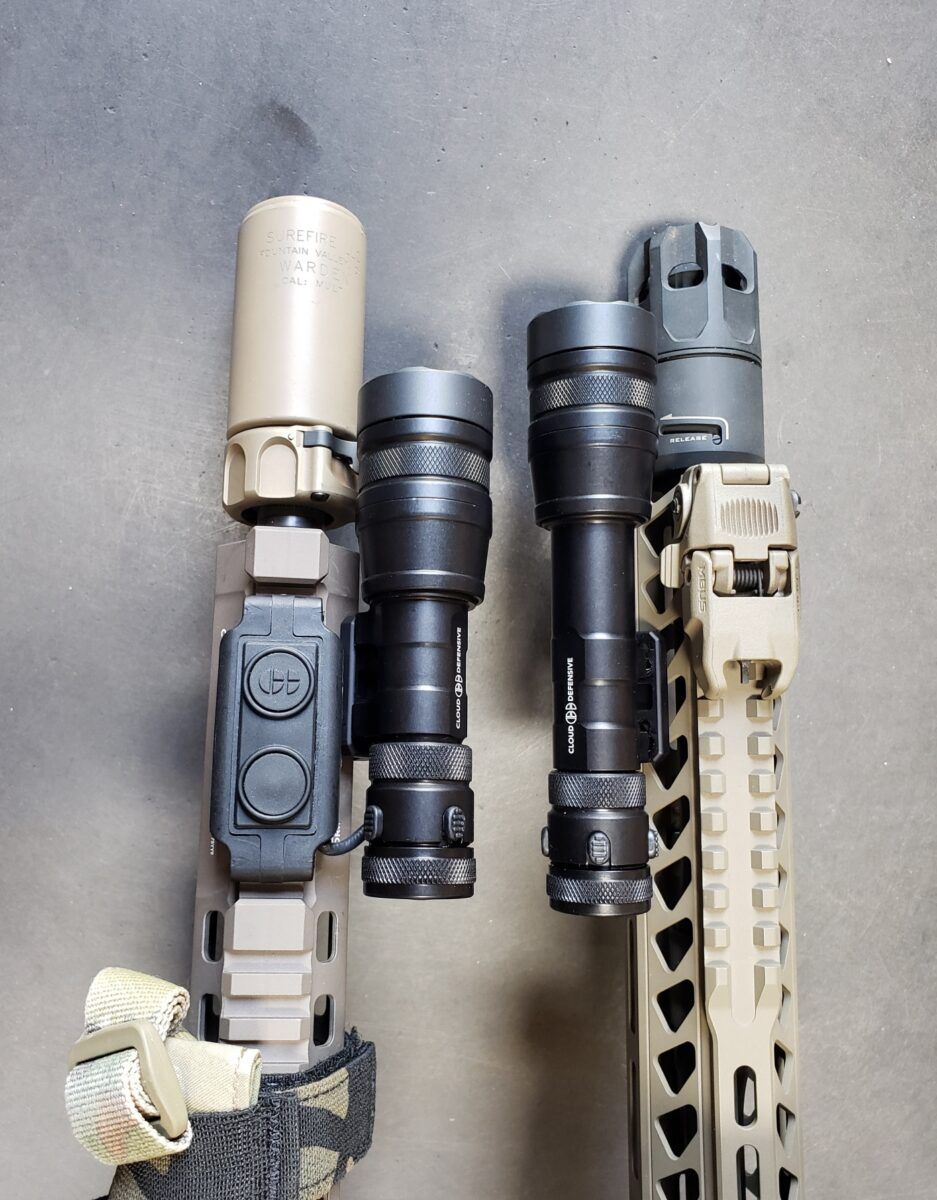 Sean McCauley, Cloud Defensive – There's a validation that goes with that…you see the lights getting smashed with rocks, thrown off buildings, or whatever an online reviewer decides to do. I'd say that these are not necessarily realistic tests. I'm not going to take my rifle and smash it with a cinderblock. I'm not going to drop my light off of a 100-foot parking garage.
However, what is communicated to the person seeing that is that the light is a serious tool. Suppose it can survive that kind of impact. In that case, it can probably survive me dropping my rifle off my trunk by accident, or if I fall and it takes a critical hit, I can trust that the light is going to be OK.
Again, is it always realistic? No. Do sometimes people take it too far? (laughs). Absolutely. We live in the age of Instagram. It is what it is. I think a portion of it is for entertainment value (laughs). We love watching the reviews where our products are tested to extremes. It's fun to watch those sorts of videos unfold. Related to that, I know for us, some of the most amazing days we have are when we take a few of our lights out and try our best to wreck them.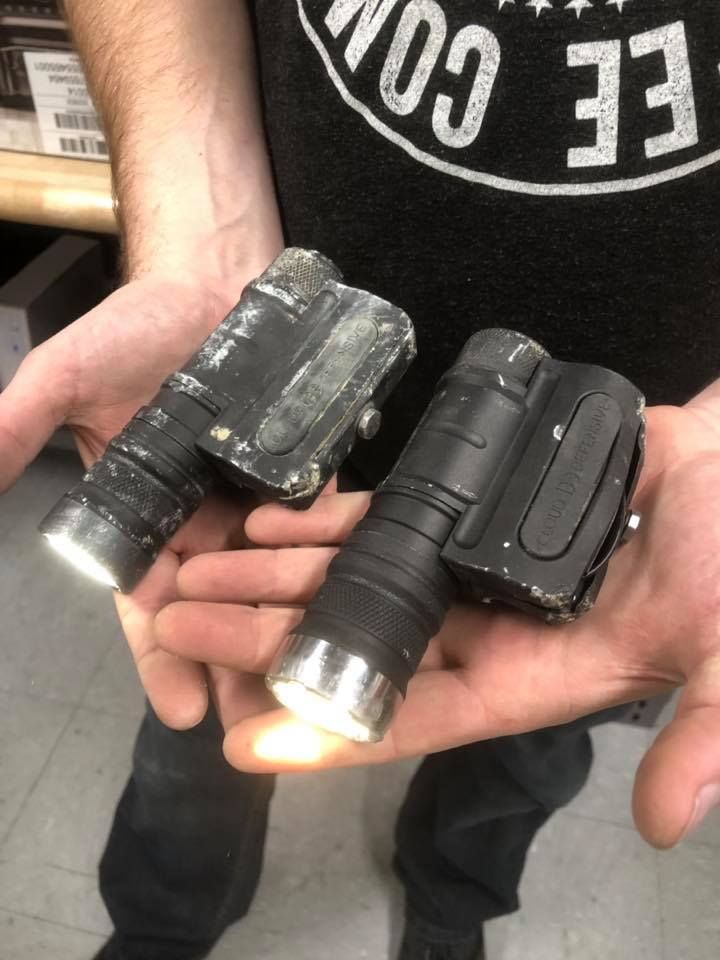 If you're a potential or a current customer, just knowing that the light can take that kind of abuse can put your mind at ease, especially with what these things cost. These lights are not cheap products. I promise you we are not price gouging, but it comes down to the fact that these products are made under this roof by us. They start as solid pieces of billet aluminum. We turn that into a flashlight. I can assure you that it is not a cheap process.
In the end, I think knowing that the process is long and that a light from Cloud Defensive is not going to fail when you need it…I think there's real value in that. This is a serious tool. I hope that's something that your readers can take away from this conversation. The bottom line is that your AR needs a weapon light. It needs to be something you can count on. As such, I hope you'll take a look at what we offer and determine that we've built something that's right for you.
###
We are sorry that this post was not useful for you!
Let us improve this post!
Tell us how we can improve this post?