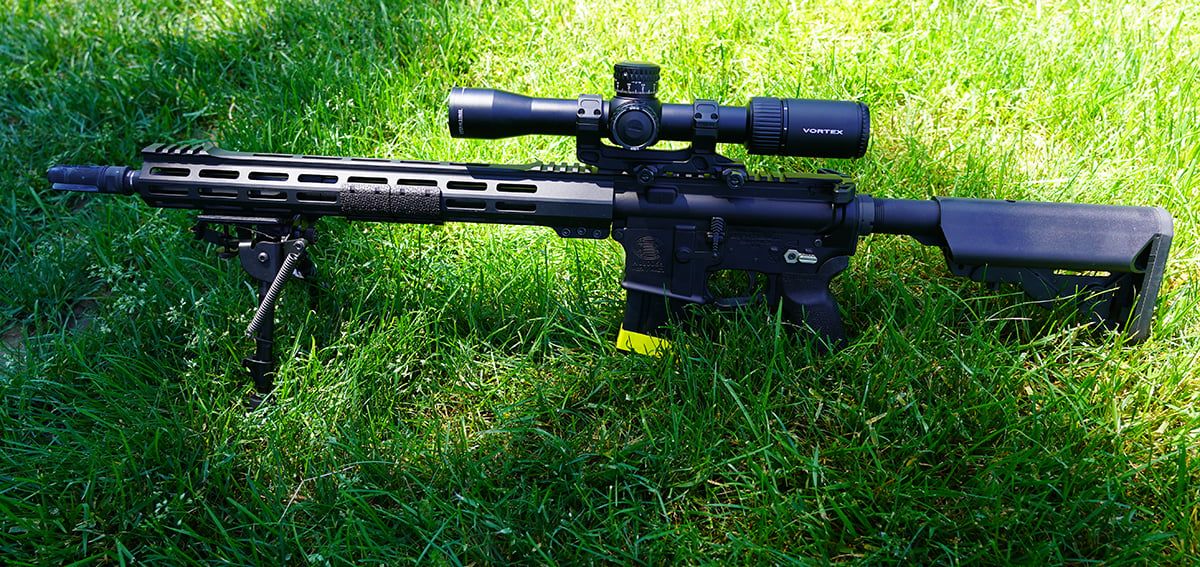 For the past year, my go-to build has been a simple, reliable rifle put together using a Dirty Bird complete upper and lower I configured via the AR15Discounts.com website. It's seen a lot of use as a complete rifle. The build features an accurate upper and a fantastic ambidextrous lower receiver that most certainly deserves your attention.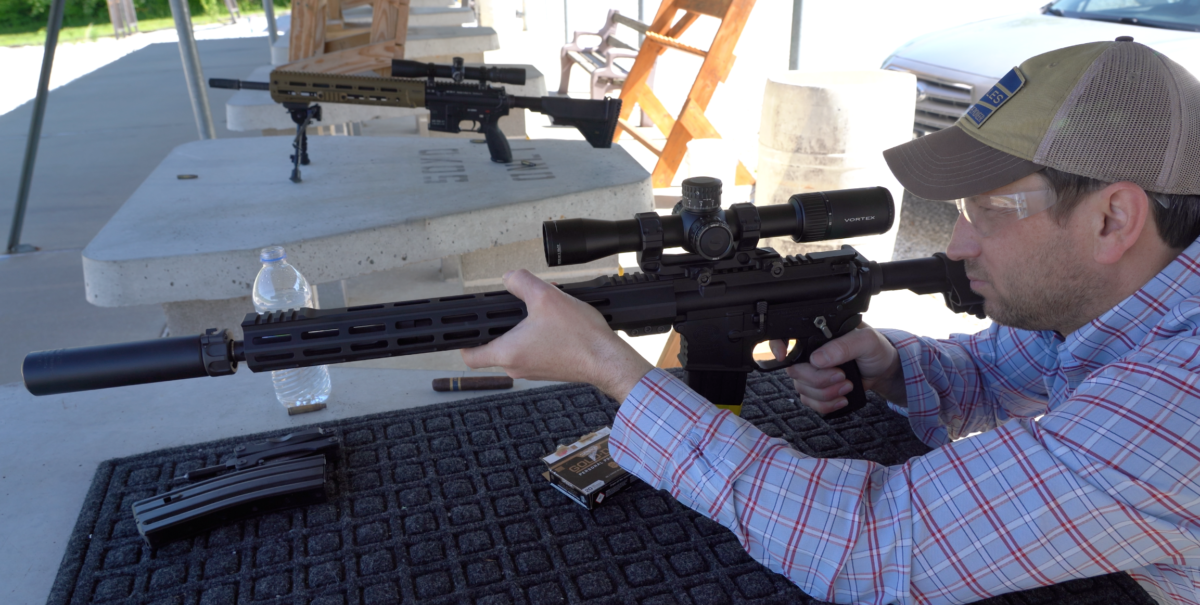 Full disclosure, ARBuildJunkie is sponsored by AR15Discounts/Dirty Bird Industries, so please keep that in mind as you read the following article. As with any firearms purchase, do your research before you buy. Never rely on a single source of information. That said, if you do research this website, you'll know we strive to bring you useful information about quality companies who care about the products they sell.
To discuss Dirty Bird Industries, their complete upper and lower receiver, we recently reached out to Dustin Pitcher, owner of Dirty Bird Industries and AR15Discounts.com.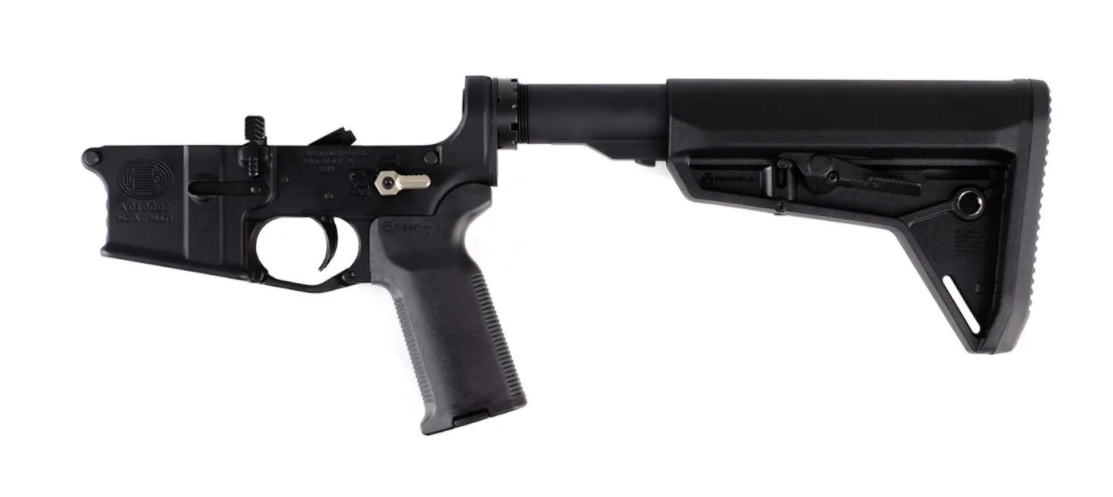 Q: Dustin, can we start with a bit about the Dirty Bird complete upper receiver you offer?
Dustin Pitcher – Dirty Bird Industries/AR15Discounts.com: The idea was to put together a well-rounded 16″ RECCE-style upper that would allow customers to get the most out of the AR platform. Everyone has their own idea of what the best barrel length is for something like this, and my idea was to have a medium-profile barrel that was fluted on the fore-end. This takes some weight off of the barrel, but you don't lose rigidity. It closely mimics the SOCOM profile, which has a bit more material present to withstand higher rates of fire. We didn't want to go with a super-light barrel that would heat up quickly and cause groups to open up. We wanted something that would stay accurate and consistent at range.

The barrel is chambered in 5.56 with a 1:8 twist. This gives you a lot of freedom in terms of bullet weight of the ammo, and the barrel will stabilize just about anything you'd want to feed through it. It is created from domestically sourced 416R stainless steel that has been nitrated. The nitriding makes a difference as far as the longevity of the barrel. The barrel will hold MOA or better depending on the ammo and shooting technique. We then finished it off with a properly installed Surefire SF3P-556-1/2-28 three-prong flash hider. I am always reluctant to put a muzzle brake on a 5.56 gun, and a lot of folks are using that brand of suppressor.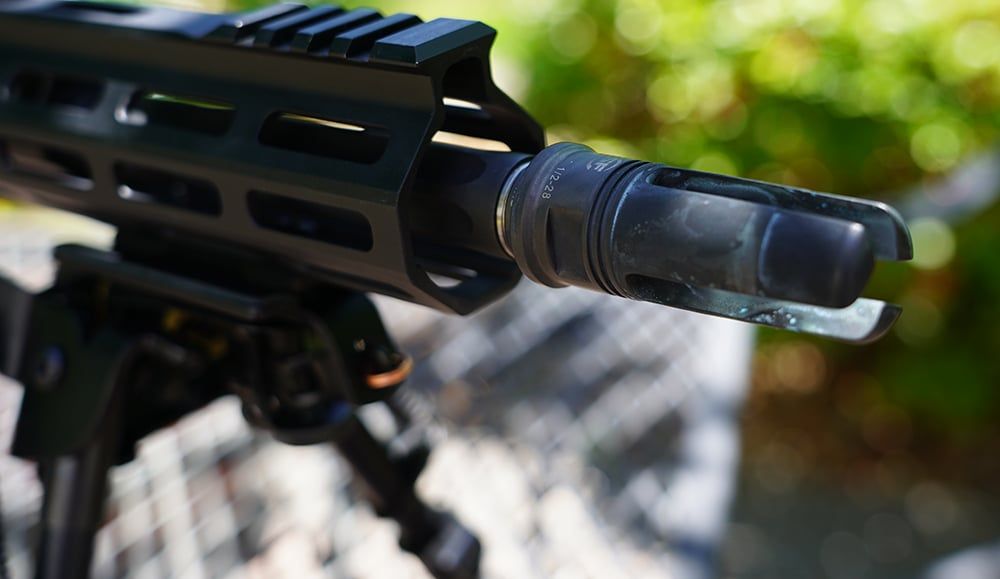 The Dirty Bird rail on this upper is domestically sourced extruded 6061 aluminum like many handguards are. They are machined in close proximity to us. It's no secret that we don't actually machine any of our parts. We have a retail outlet that we are mostly known for, which is AR15Discounts.com. When we get a product coming in that we really like, we will contact a manufacturer and see if they'll do something for our Dirty Bird house brand. We are picking what we want and having our own stuff made to our own specs, and so far, it has worked out really well for us. The rail is undoubtedly an excellent example of that.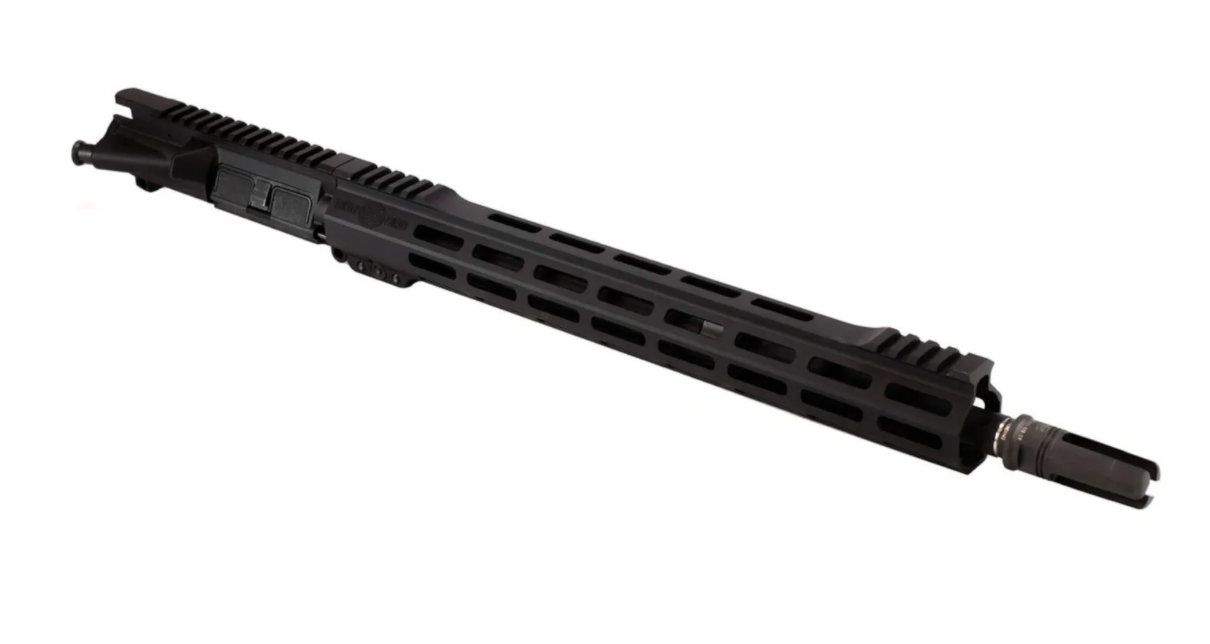 Dirty Bird 16″ RECCE V2 5.56 M-LOK Upper Assembly
This particular rail features MLOK on all sides and has a shaved center portion of the top rail called a competition cut…I also anticipate a full top rail version of this rail being released as well. We released the competition cut first because they sell better, people really like it, as it feels wonderful in hand. The only downfall is that it does limit some of the accessories that you mount, so that's something to keep in mind if you were planning to run a tape switch. If that's the case, you might want to run something with more top rail real estate. For my purposes, I run a Cloud Defensive OWL on my personal rifle, and it has worked really well for me.
The rail we feature uses what is called an ASAL attachment method, which means "anti-slip, anti-lift." A lot of rails use pinch or clamp attachment methods. This particular Dirty Bird rail combines the clamp style with a cam nut design. It drastically reduces the upward lift on the rail and creates a very positive attachment method that does not slip or rotate. We've had great luck with it.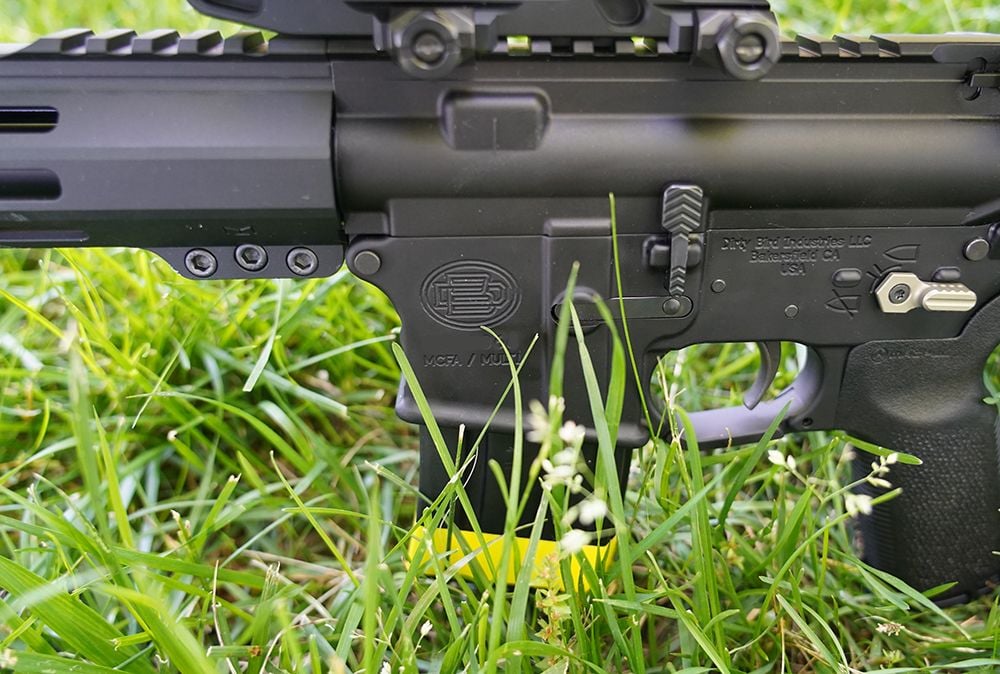 Q: Let's talk about the lower. I love it so much that I've been using it to host a SR-15 Mod 2 upper. The fit, finish, and build quality is fantastic, and it's a product that I think more people should take a look at as they research lowers.
Dirty Bird Industries/AR15Discounts.com: The lower is something we did with a company called MVB. One of their reps had contacted us to see if AR15Discounts.com would sell their PDW stock, which is an outstanding stock and truly one of the best on the market. Their engineers there are really clever and doing a bit of research on them, I stumbled across their Mil-Spec forged lower. They were not trying to pitch me on it, but it was interesting to me for a few reasons. They were using Cerro forgings, which are known for being high quality. The ambidextrous bolt catch it features has a dual function so that one press of the bolt catch lifts the bolt catch up, giving you the ability to lock the bolt with your index finger.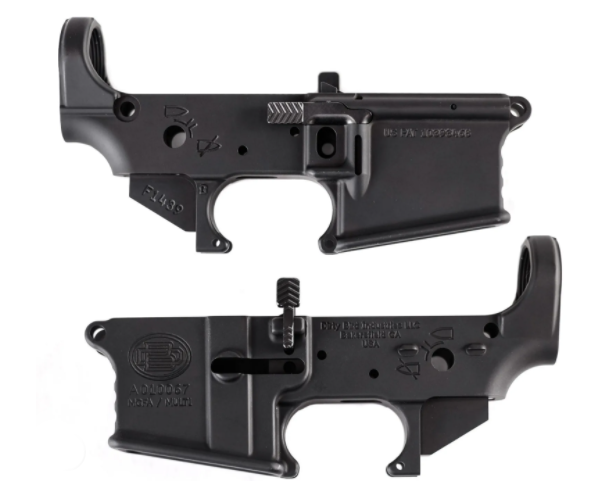 Dirty Bird MCF-A Ambidextrous Lower Receiver
That same press will drop the bolt catch if it is already locked back. It's a non-interfering mechanism. This is ideal because you don't want an ambidextrous system where if something gets jammed up in that interface, your bolt release is not going working properly. If something were to get jammed up with this setup, your support side bolt release is still going to function. All of the lower components are machined from S7 tool steel, which is very high quality. It also nitrited, so it is pretty much indestructible. I think it's just one of the best ambidextrous lower receivers on the market, but it's also a lower that gives you options.
The lower also has an upper/lower tension system, which is a common option on lowers. It's a nylon set screw riding on the upper receiver's lug, reducing the wobble between the upper and lower. With this system, though, you don't have to worry about setting the nylon screw. Instead, there is a spring-loaded plunger that sits, ready to go. When you put the upper on the lower, it provides just enough tension to reduce the majority of wobble you might encounter. It makes for a nice positive setup.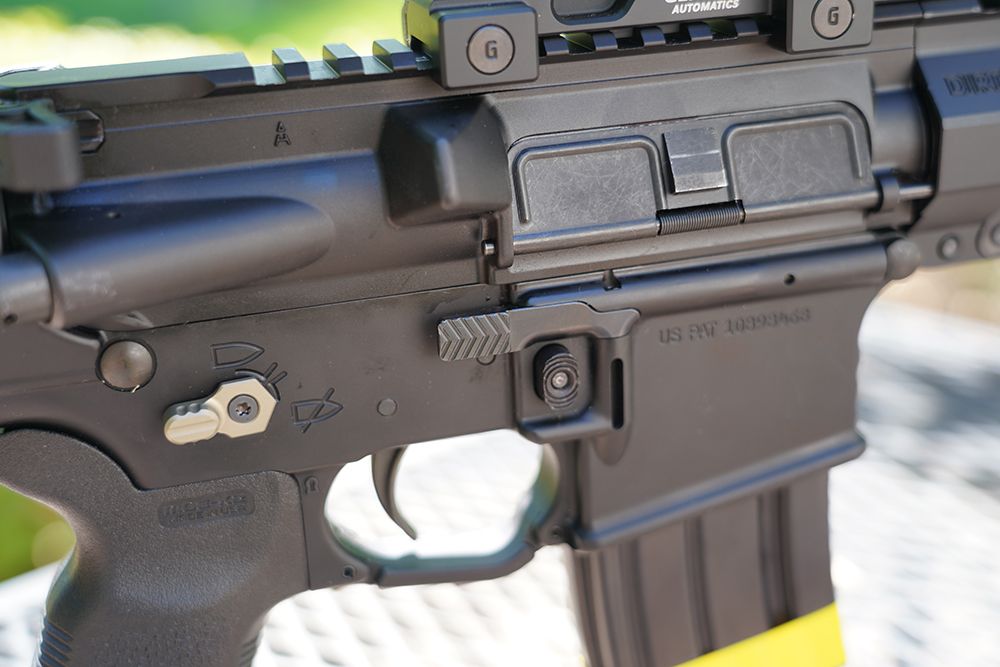 Q: So, do you sell complete lowers, or is the best way to buy via the website configurator you have?
Dirty Bird Industries/AR15Discounts.com: We don't sell complete lowers just yet. Our best customers are builders. We are really focused on acquiring and selling outstanding parts. Most of the folks buying Dirty Bird components really know how to build these things, but when we are asked to construct complete lowers, we really put a lot of attention into it. We don't build a lot, so we make sure we do it the right way when we do.
We do sell the complete upper. Right now, you can buy a complete lower configured just how you want it on the complete lower configurator on AR15Discounts.com. We do not do complete rifles, as we just don't have the time to do that right now.
For builders, though who do have the time, I'd ask them to look at what we are offering. We're very proud of what we've got here with both our uppers and our lower receiver. I think that anyone in the market for affordable, high quality, no-compromise components should take the time to check us out.
###
We are sorry that this post was not useful for you!
Let us improve this post!
Tell us how we can improve this post?