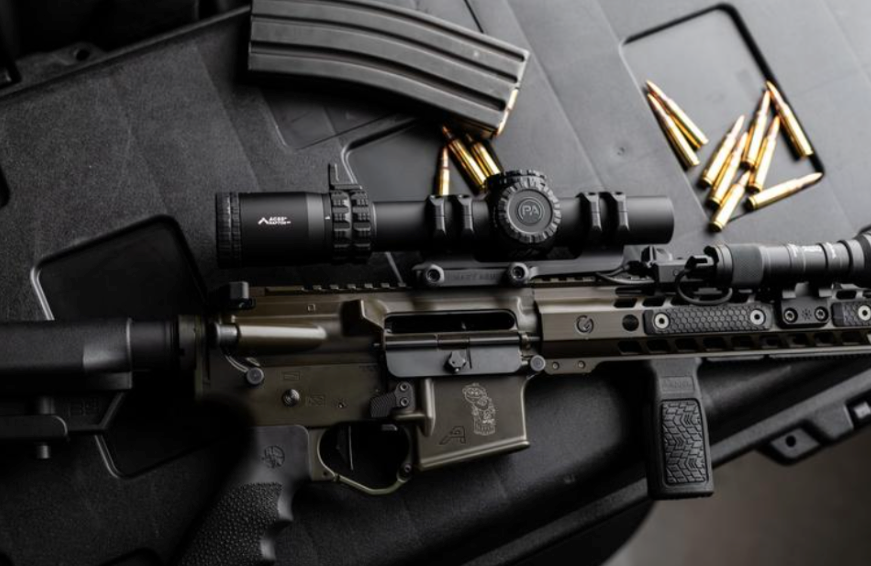 If you're in the market for an LPVO for your AR-15, it's hard to ignore Primary Arms optics and their wide variety of offerings. To discuss Primary Arms PLx, Glx and SLx optics, and why they might be worth considering we recently reached out to Stephen Morgan of Primary Arms. In addition to his role as Director of Product Marketing, he also assists with new product development and innovation.
Q: Stephen, it's been quite interesting to see Primary Arms become a more popular choice for shooters…can you talk about how that growth happened?
When we began with Primary Arms, it started with us selling everyone's stuff. Our owner, Marshall Lerner, started our Primary Arms optics division with the idea of 'wouldn't it be neat if…' kind of thing. There was an initial offering of products, but we did not expect it to grow into what it has developed into today. It was the idea of having our own branded stuff and tailoring it to the market as we saw fit. As the popularity continued to grow, we realized it was something that we needed to pay a little bit more attention to.
Fast forward to today, and Primary Arms has its own 50,000-square-foot building; we're building up our clean room to start producing domestically made, domestically assembled products and open up our options.
Right now, we have our premium PLx line, our GLx mid-tier, the SLx entry-level, and then our Classic series of Primary Arms optics, which are some of the more budget-conscious optics out there. The growth has been very exciting for us, from just an idea to now having over 80 SKUs to offer to the shooting public.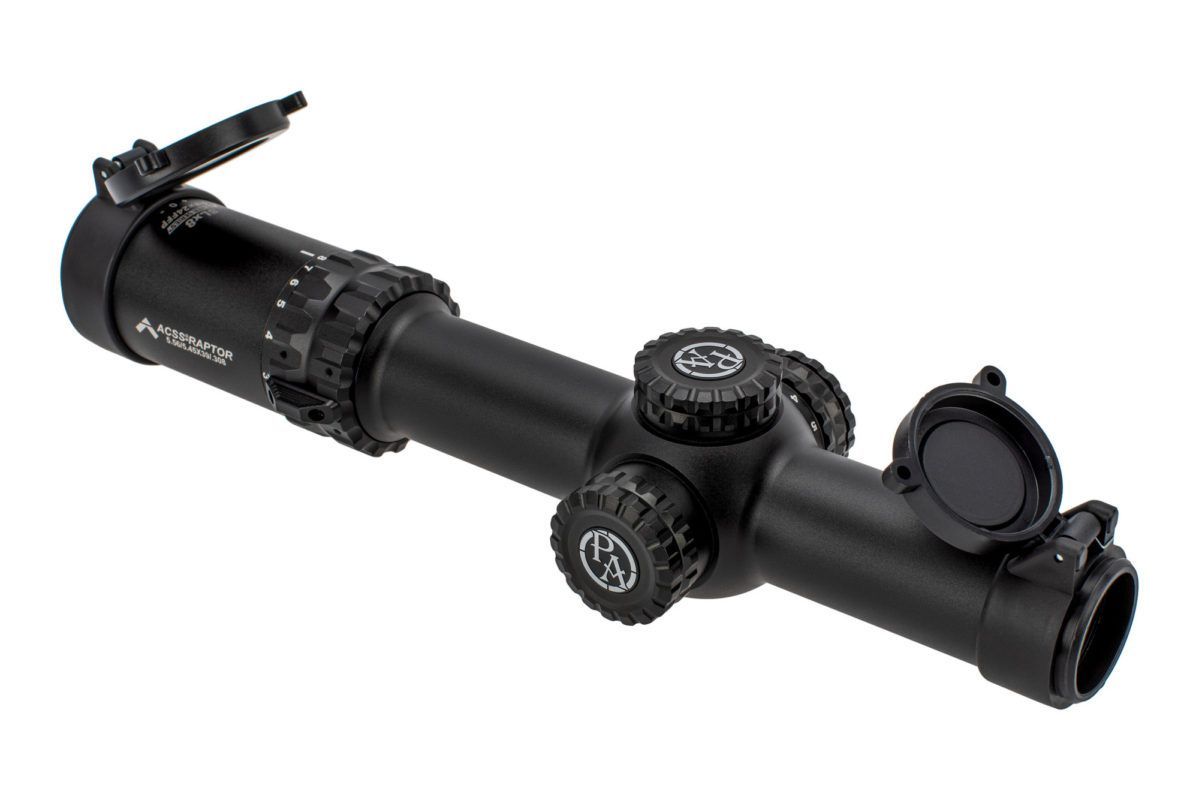 Primary Arms SLx 1-8×24 FFP Rifle Scope
Q: Can you talk about the different lines of Primary Arms optics, where they are made, and why they are optics that shooters can trust?
Stephen Morgan, Primary Arms – The difference between the PLx, GLx, and our SLx is feature sets. We do source from a few different countries at the moment. Some of our more entry-level Primary Arms optics do come out of China. Some of our mid-tier stuff tends to come out of the Philippines. Our higher-end stuff comes out of Japan. Regardless of where they come from, we still control the design and the quality control. We have rigorous inspections regarding quality control requirements for the factories. Every product that ships out of our door, regardless of the tier or the price, gets inspected by our in-house inspection team here in Houston.
We guarantee the quality and functionality of Primary Arms optics as well. We test turret travel and click values and ensure there is no point-of-aim/point-of-impact shift. We do all of our recoil testing and prototyping very stringently. We put multiple thousands of rounds through things like the SCAR-17 Heavy (known to be very rough on optics), and that is for every product tier, not just our higher-end offerings. They all have the same quality control standards.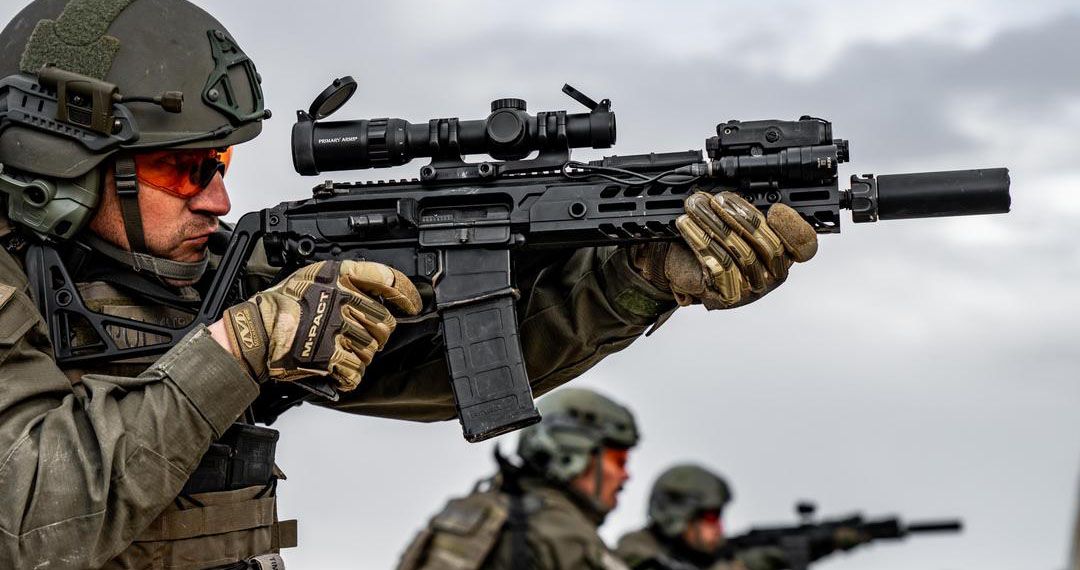 These high round counts on the SCAR can be expensive, but it's worth it in the end. We've got no problems beating our stuff up and finding the failure point. If we cannot break it during testing, we want to find out what we can do to actually break it. We want to know what our limits are, what's within the realm of possibility, and what is completely outlandish for an optic to be able to handle. In the end, this is important, and it means you can be confident the most significant difference you will see with Primary Arms optics is the feature sets, glass quality, and clarity.
Our customer service is also something that we pride ourselves on. Whenever you call Primary Arms, there is a live person on the other end of the phone who is a subject matter expert. They are trained well to answer any questions a customer might have, especially on the in-house Primary Arms optics.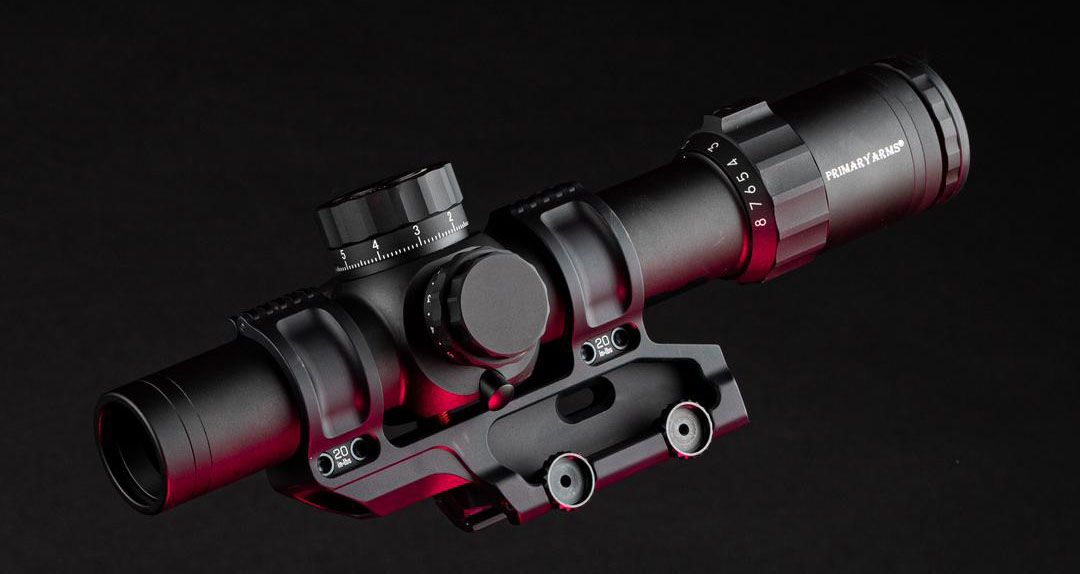 Q: You mention controlling the design and quality control of Primary Arms optics. Can you dive a bit deeper into what that means?
Stephen Morgan, Primary Arms – In regards to materials, we specify everything that the scope is made out of…what type of glass, what type of aluminum, what kind of materials are used in the erector assemblies, saddles, turret assemblies, etc. We control these things because we know that the scope is just the sum of its parts. If you have a few cheaper components in there, you will lose out on, say, the tactile feel of the turrets.
One of the big things with our GLx line of Primary Arms optics is that we have a steel-on-steel turret assembly, meaning the clicks are tactile and positive. You won't skip clicks and can feel and hear your adjustments, and it will not wear out over time. Some other companies out there use softer, cheaper materials like brass because it is easier to machine, but over time as you spin that steel ball bearing over brass, it tends to wear down, leading to 'mushy' clicks after a while. We don't have those issues.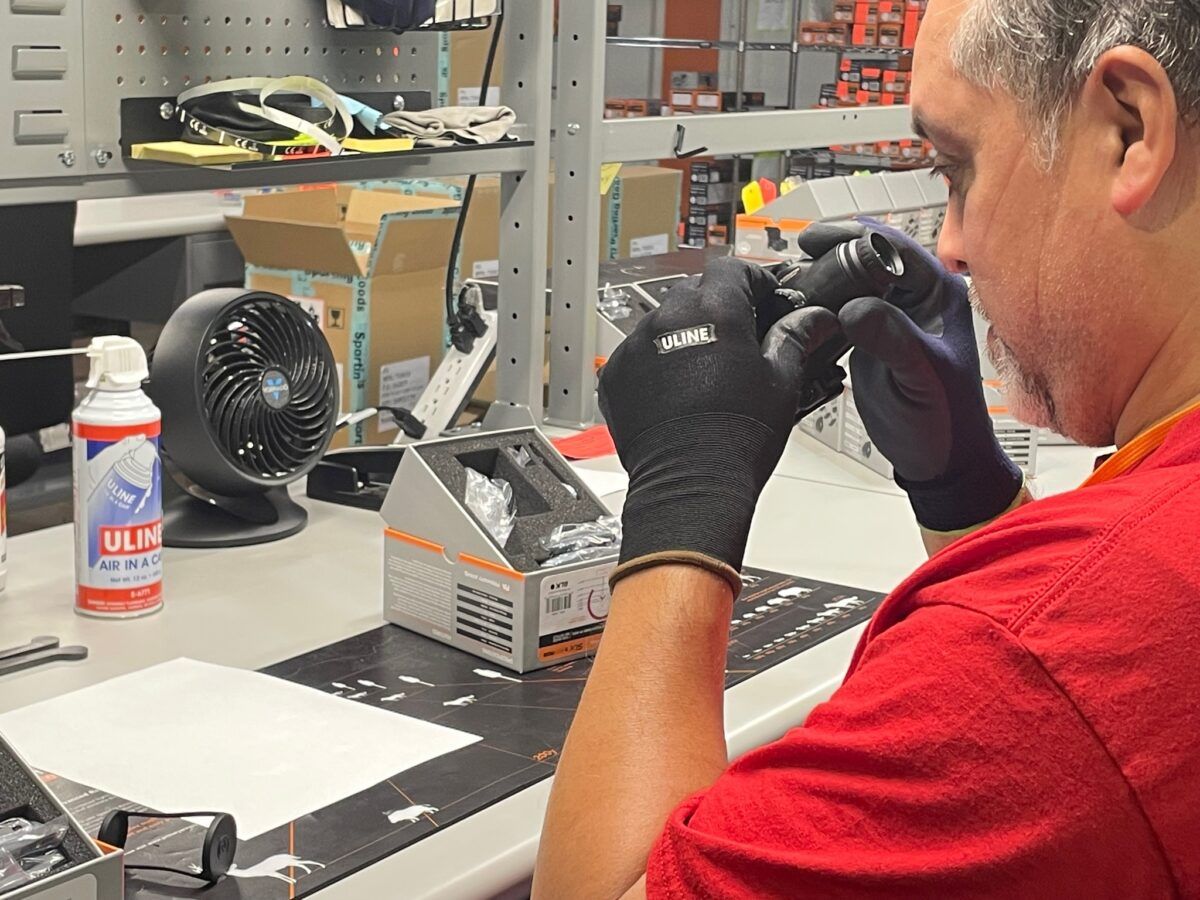 Once the scopes come to us, we have five quality control lines with multiple people working on each line. Once the Primary Arms optics are unloaded from the truck, they go over to QC, and every piece goes through a quality assurance process. They are testing impact shift, ensuring there are no loose components, that the scopes track correctly, that the reticles are cut cleanly and that there is no debris or dust inside the assemblies. We can guarantee that once the customer gets that scope, it has been gone through with a fine-tooth comb to ensure that it is precisely what they expected it to be. We then combine that with a lifetime warranty. We'll certainly take care of the customer if anything ever goes wrong.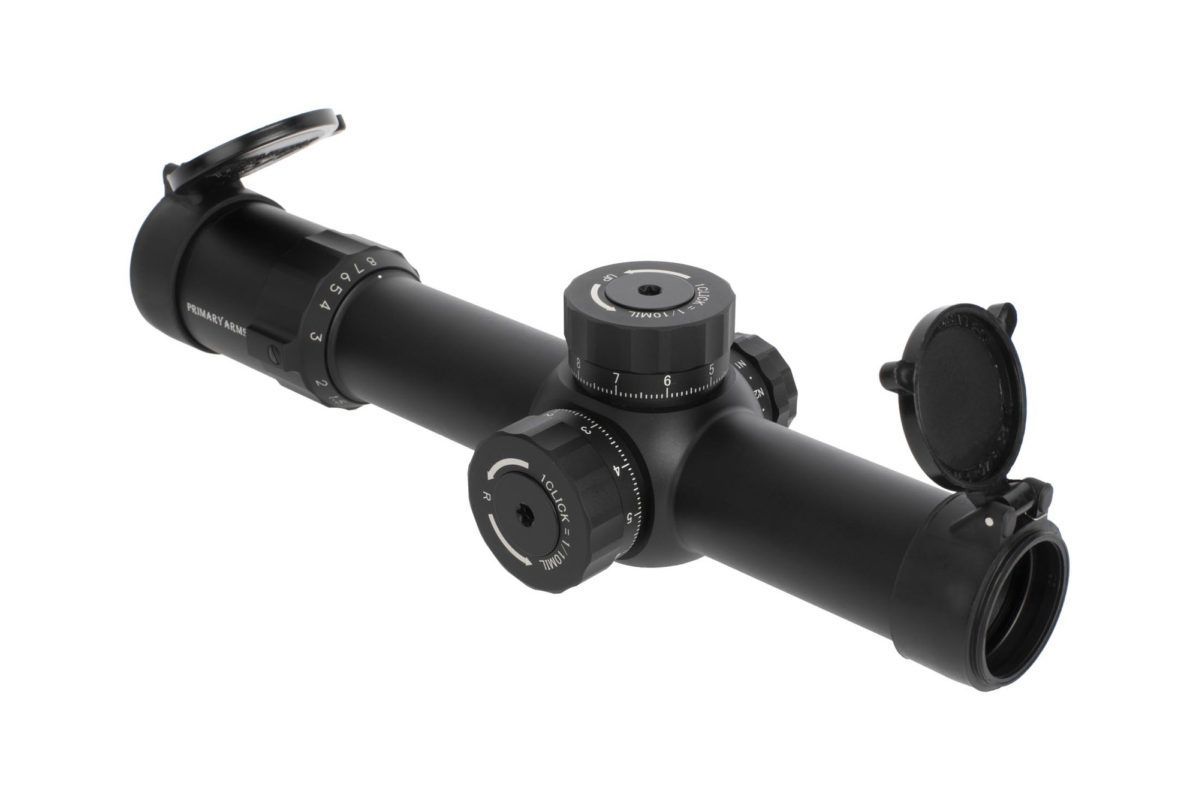 Primary Arms PLx 1-8x24mm FFP Rifle Scope
Regarding design, most of us here at Primary Arms are shooters and are passionate about what we do. We've got our own shooting team that some folks here are on. Some of the Primary Arms optics that we design are based on things that we once wished we had, things that we wanted were on the market, or holes that we saw out there. It's so nice to pull from this 'brain' pool and give that to our engineering team, which is the most brilliant collection of guys and girls I have ever met. They have just crazy ways to figure out how to do the impossible.
We also get much input from our customer base. We will launch a new product, and we'll see comments on forums and social media that say something to the effect of "this is great, but I wish it did x," or "I like this feature, but I wish it were a little bit more like this." We consider those comments as we do future iterations and modifications to our Primary Arms optics. Using steel-on-steel turrets on the GLx is an example of that. Creating a prism optic that is not impacted by astigmatism is another example.
Q: Can you talk about the reticles that you offer?
One of our optics' most recognizable features is the reticle we use. The reticle system in most of our products is the ACSS reticle system. It's not just a single reticle but rather a family of reticles, and there are quite a few of them.
We have reticles with BDCs that are caliber-specific for things like 5.56, 300 Blackout/7.62 x 39, .308/6.5 Creedmoor, 6.5 Grendel, and .224 Valkyrie. So, we have a wide range available in all the series of our Primary Arms optics and a more traditional MIL-based "Christmas tree-style" reticle for high-powered scopes for long-range shooters.
Our LPVOs are heavily weighted towards our ACSS Raptor series reticles, which is BDC. The two primary ones are our Raptor 5.56 series and Raptor 762 series. We then have another popular ACSS reticle called our Griffin MIL series, which is more of a MIL-based system.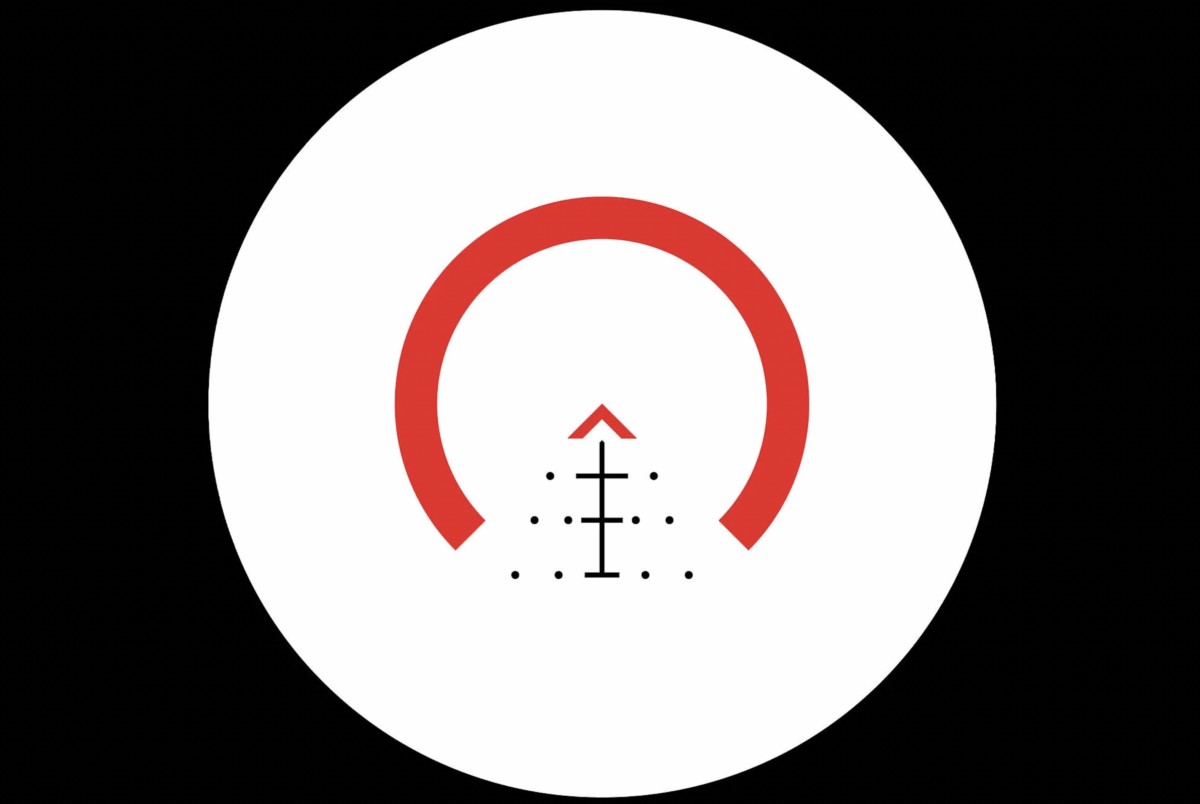 Q: The GLx seems intriguing for the price point. Can you talk more about that optic and why it's worth considering compared to a high-tier PLx offering?
Stephen Morgan, Primary Arms – Since we announced the GLx in 1-6, it has been extremely popular. It's a first focal plane scope with a 30mm tube. It has user-selectable turret configurations and our new power adjustment lever interface so that you can swap out the power adjustment level on there with a length-adjustable folding lever. If you're a 3-gun guy and you want a huge lever hanging off there, you can. If you are a tactical guy and want something lower profile that can fold out of the way, you can do the same.
The most significant difference between our premium PLx and GLx is the glass. For the PLx, we're using the best glass we can get in there, and it is extremely clear. That's the main benefit that you will see over the GLx line.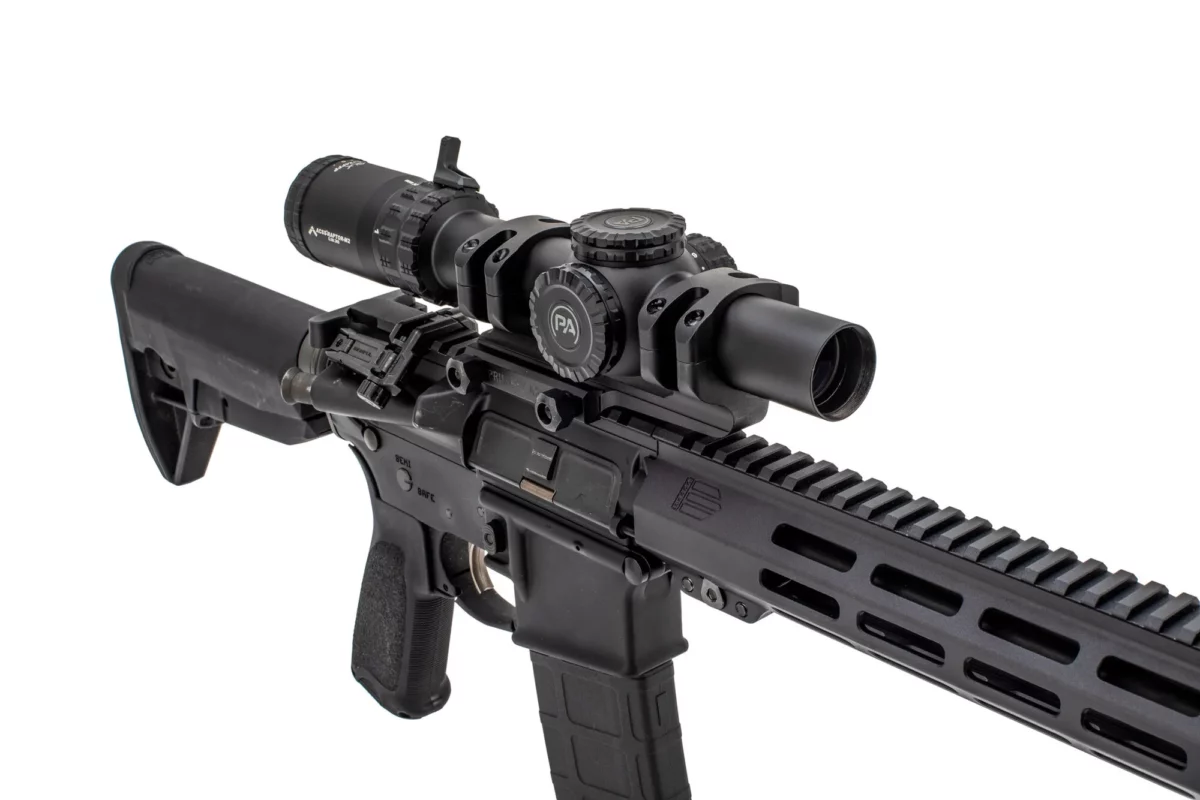 The GLx is still phenomenal glass. Compared to our new compact PLx, the GLx is a bit heavier and longer, but if you look at the price difference, the GLx is still a solid competitor. The PLx has a bit of an edge regarding the clarity and brightness of the image that comes through the system.
As for the PLx Compact, The first time I picked up a PLx Compact prototype, I thought it was a cosmetic sample that it didn't have any guts in it because it was just too light. When I looked through it and saw a reticle and a clear image, I couldn't believe that what I was holding was real. It is the lightest LPVO that I have ever picked up.
Q: At the price point that the PLx sits at, there is a lot of other competition. Why should someone consider Primary Arms versus alternatives?
Stephen Morgan, Primary Arms – I'd say this is not the first optics company I've worked for. I've worked for some of the big names in the optics industry, and I've looked through many scopes. There are some great scopes out there. The Razor Gen II and the Gen II-E are phenomenal scopes with a wide field of view and super clear glass – it's a great scope. It is a little heavy.
You have optics like the Nightforce NSX, which is excellent. It's super short, has great glass, and good reticles, but look at that price versus our PLx. I'd put our glass quality and clarity toe-to-toe with anybody else. With ours, you're still in that premium $1,500 dollar-plus price point, but we swing above our weight class. We're still a few hundred dollars less expensive than our closest competitor. We've got just as good or better features, and as I said, I'd put our glass quality and clarity against anyone. There's nothing wrong with our competitors, but I believe we edge theirs out with our build quality, feature sets, and glass clarity.
Q: Anything else you'd like to add?
Stephen Morgan, Primary Arms – We've got some pretty exciting products coming later this year and into 2023. There's a lot of innovation coming in 2023. Everyone at Primary Arms Optics is very excited to see how far we've come thus far and to see how far we will continue to go in the future.
We're going to keep growing and we're constantly bringing in new top minds within the industry as far as engineering, project management, quality control, etc. We're doing all of this to set up for the future. From where I can see, growth and innovation are not going to stop. I've not seen anything like it in our industry for a long, long time. It's refreshing to see, and we're extremely excited to keep moving forward and keep growing our brand.
###
We are sorry that this post was not useful for you!
Let us improve this post!
Tell us how we can improve this post?