In part two of our recent conversation with Q CEO Kevin Brittingham, we get an update on the status of 8.6 Creedmoor and discuss the development of the new Q Side Chick, a modular precision rifle chassis for short action Remington 700 actions. The Q Side Chick chassis shares many features with the Q FIX, including a fully-adjustable side folding stock, an aluminum center section, a free-floating hand guard, removable zero-MOA M1913 Picatinny top rail, ambidextrous magazine release, and AR grip compatibility.
Before we begin, in case you missed part 1 of our discussion with Kevin Brittingham about the Q Sugar Weasel you can read that here. Also be sure to check out our overview of Q that we did a few months back to learn more about the company.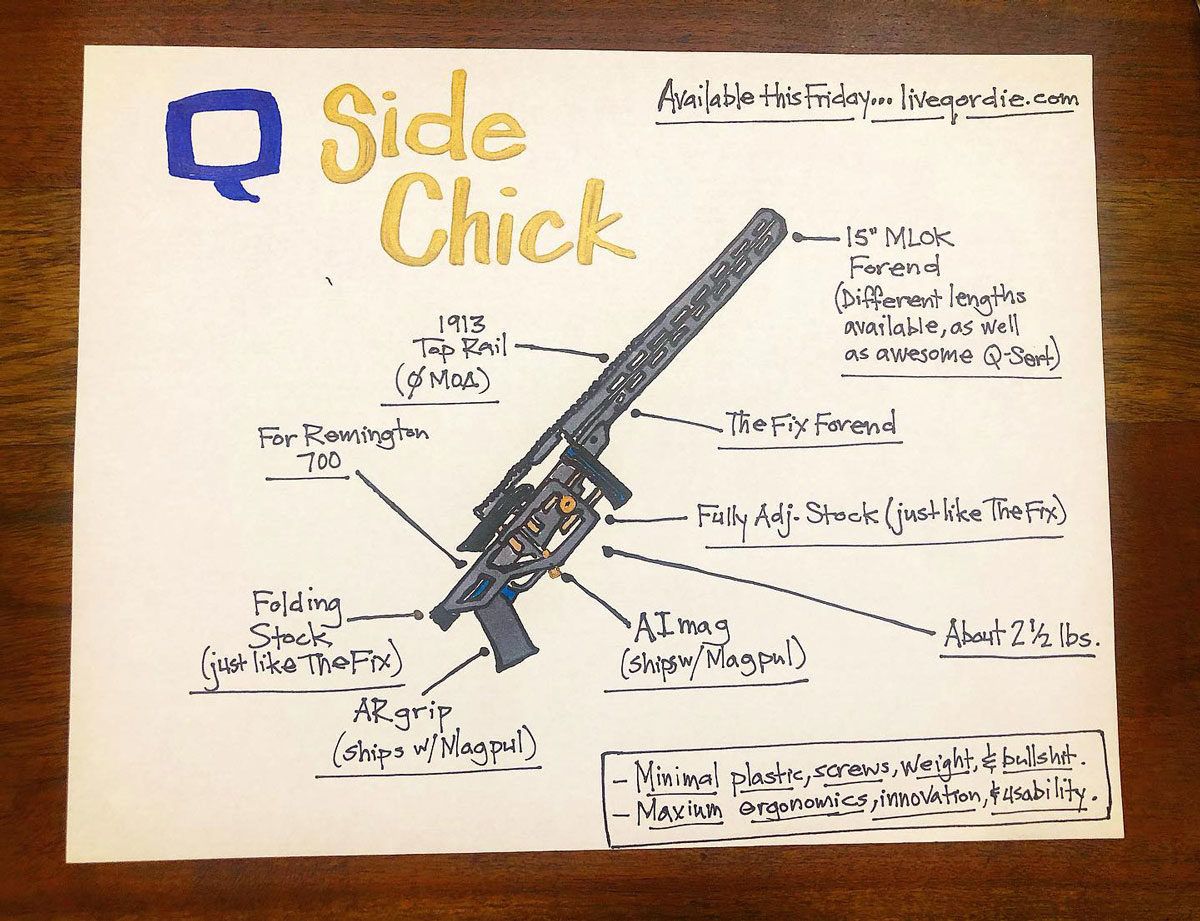 Q: Kevin, can you talk about the development process for the Q Side Chick?
Kevin Brittingham: At Q, we always have one big project that the engineers are working on. The Fix was one example of that. The Honey Badger as well, but that didn't take as long because a lot of work was already done. But they all work on that one big project and then the project gets handed off to where someone is the lead on it.
When we developed the Fix, that was like a two-year process really. In six months, we had guns and we were shooting them. Then we made changes and we had to wait for some parts. So, during that down time, everyone has side projects that they are working on. That's the way that I can employ a lot of engineers.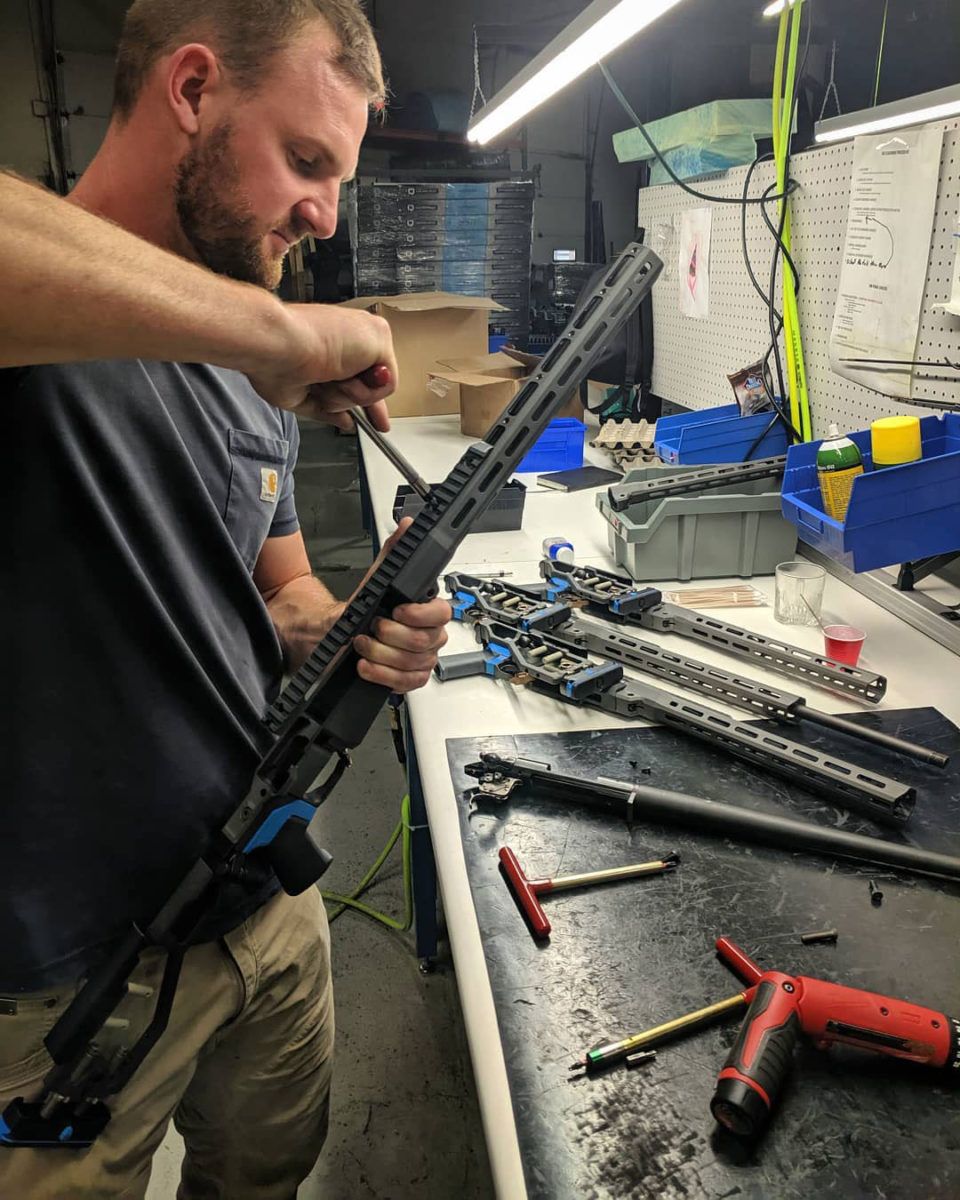 A lot of times, those side things are accessories. So Mitch Brusie, he is one of our engineers and he was Ethan Lessard's intern back in the day…most of these guys have worked together for years. He was part of The Fix development. What we saw during development of that rifle was that there were something like twelve million 700s on the market. We then saw that we had some parts commonality where we could build a chassis for the 700. And so, that chassis…the Q Side Chick chassis was Mitch's first independent project.
"It was a cool idea"
He simply came to me and told me he wanted to do the chassis. We all looked at it and hell…it was a cool idea. We were not in a hurry to roll it out so I said, let's design and print some and look at them.
From there, we went to building metal prototypes. Soon after that, the guys began going out and shooting them…I will say Mitch ended up putting a LOT of work into the Q Side Chick, making it look like The Fix and having all the same cool features it does like the folding, adjustable stock and the easy removable handguard.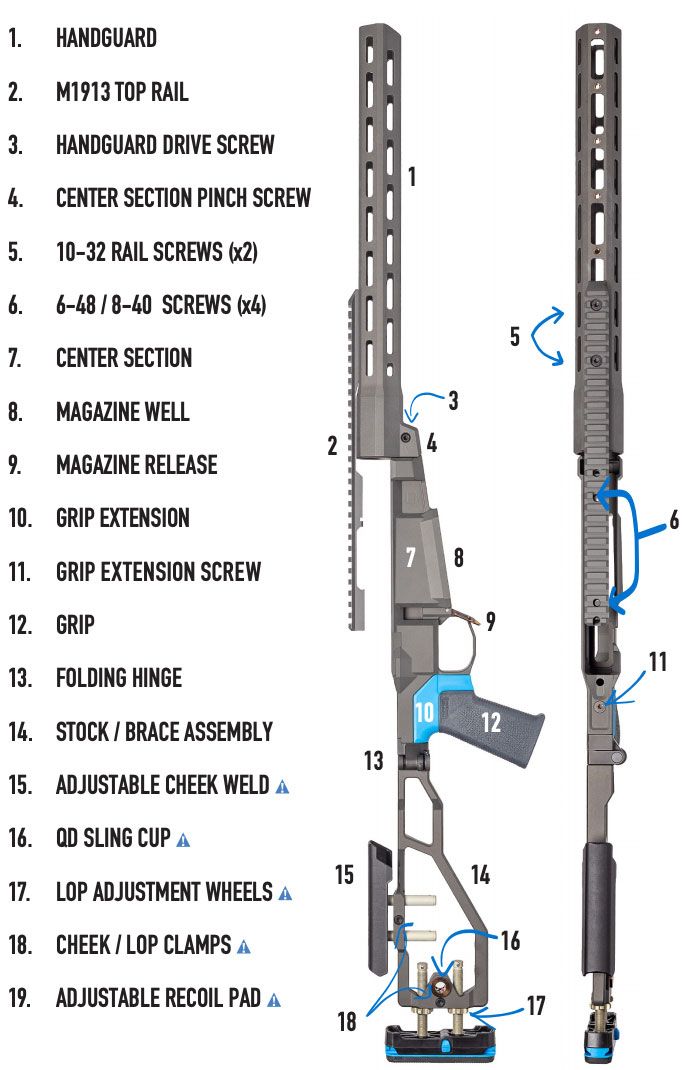 Q: Weight saving is also a huge benefit too, correct? As is the fact it's not technically a firearm but something you can just send out…
Kevin Brittingham: The Q Side Chick has come out now weighing 2.5 pounds…and yes, it is a simple thing that we can sell that goes in our accessories bucket. We have have three buckets – accessories, guns and silencers. We try to just maintain all of that stuff, just to stay diversified. The reason we do that are things like the government shutdown for instance, where we couldn't ship silencers for a month. That hurt.
With the firearms being regulated by the ATF, shipping can be a pain with that too. Whereas the Q Side Chick is something we can indeed ship direct that is a useful product. Finally, and this is important…it's also something that we, ourselves would buy…and that's a key prerequisite. We have to want to spend our own money on it.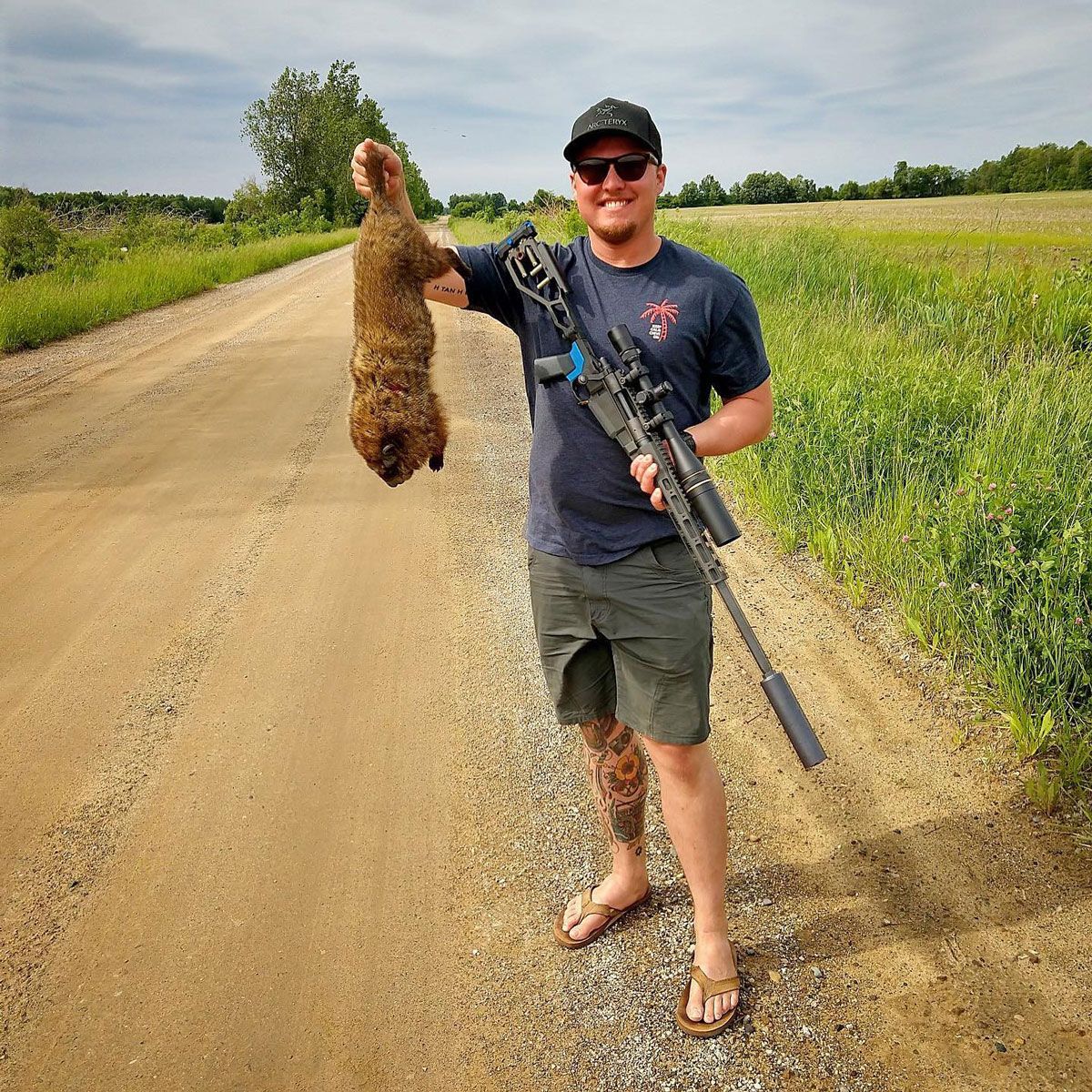 Better Than Anticipated
In the end, the Q Side Chick chassis turned out even better than I anticipated. It looks so great and more importantly, it is super functional. As a quick example…everybody from Q just went on a hunting trip. We just got back a few days ago. One of our engineers, his family is from Michigan. They're farmers and they have a lot of land. So, the trip was basically five days of riding around and shooting groundhogs and things. We really like to do testing like that as well. For instance, one of the engineers with a 12.5" .308 Fix pistol we're also testing now, was hitting groundhogs at 300 yards, which was very cool.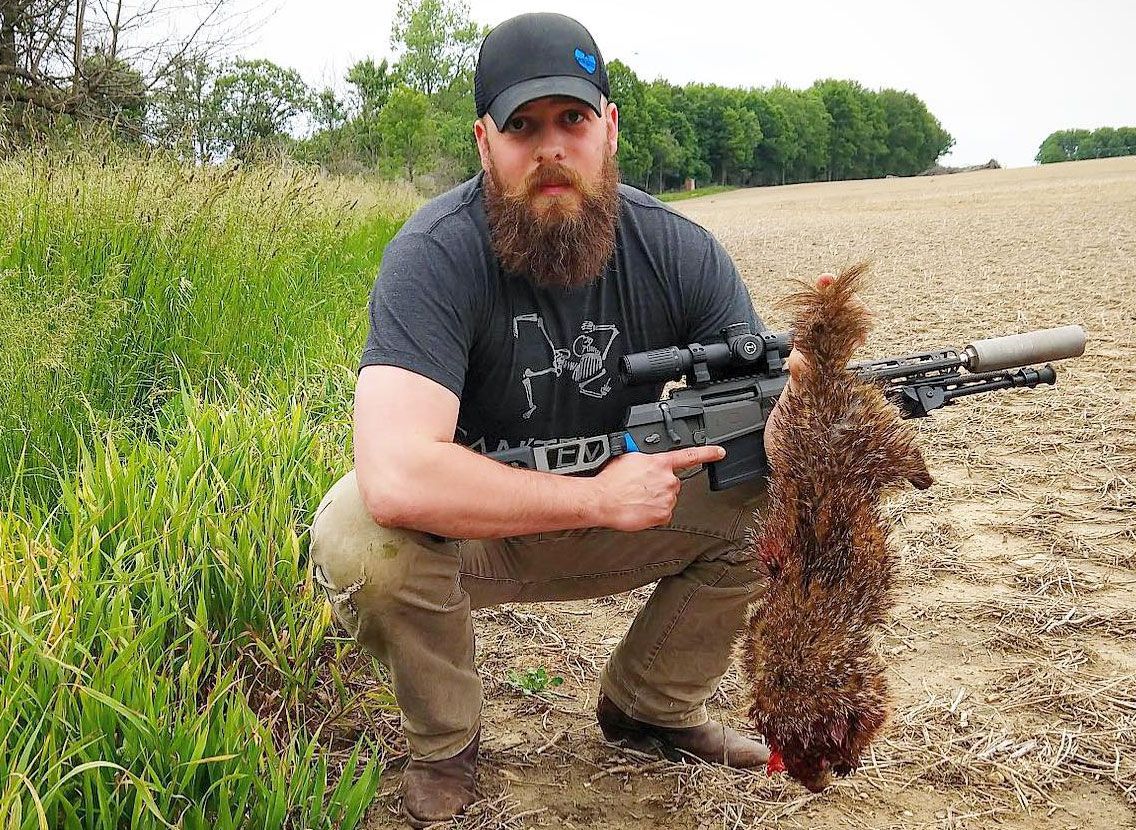 I'd imagine that sort of real-world testing is valuable on something like the Q Side Chick.
Kevin Brittingham: For sure…trips like that are also a great place for us to do field testing before we ship. We put several Remingtons in the Q Side Chick chassis and we just went out and tested them in some of the ways that can be harder to measure…things just related to the functionality and usability of the guns. I do think it is an area we excel at.
We have an industrial designer that is full-time…and his job is to make stuff look good, and also be ergonomically correct. I think that we've succeeded with both the Q Side Chick and the Q Fix rifle. I think I've mentioned this to you before, but in our minds, the AR-15 is the most ergonomic rifle there is. One of the biggest compliments Rob Curtis from Recoil gave us is that the Fix is even more ergonomic than that. To me, that's so huge.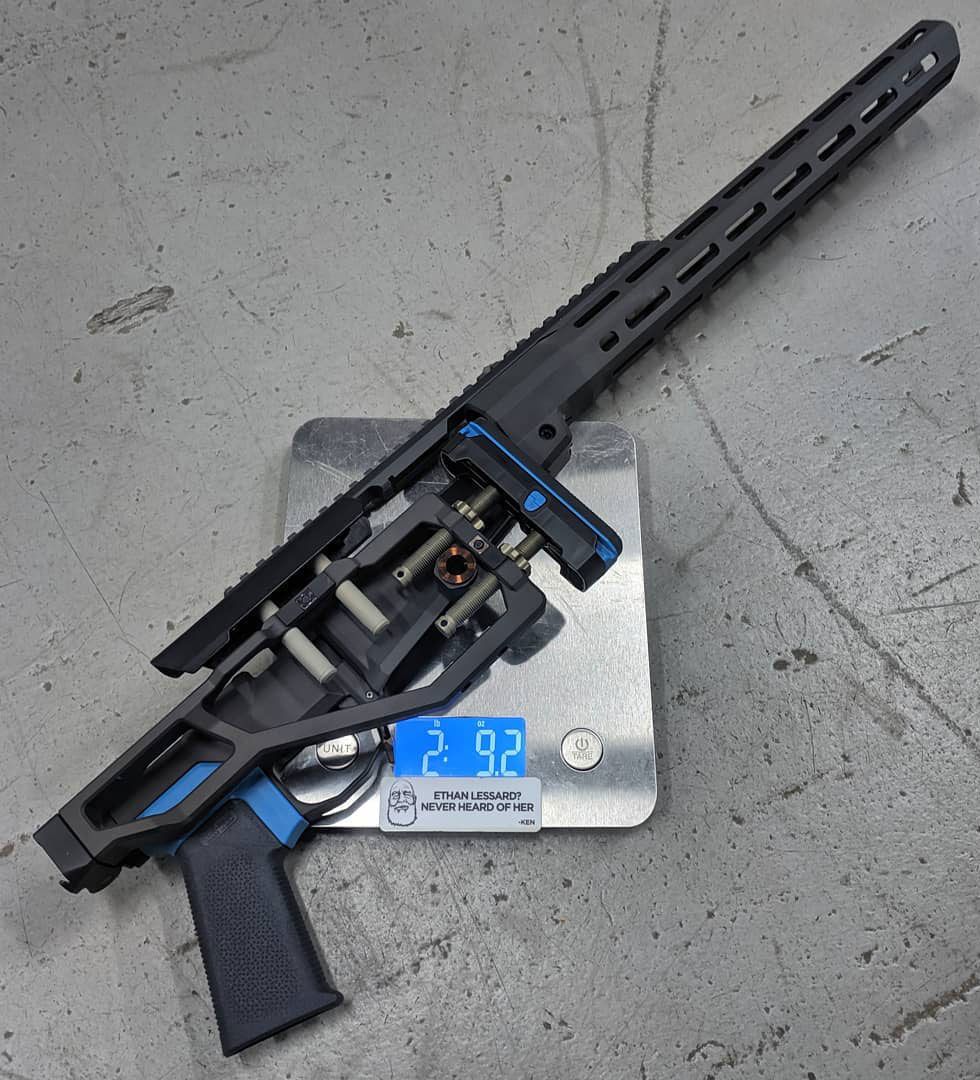 Q: The Q Side Chick seems to have a lot of the Fix DNA present. At a glance, it's hard to tell the two a part.
Kevin Brittingham: Well, it's a modular concept. With the Q Side Chick, you'll be able to get different length top rails, a fully adjustable stock…we have a bigger butt-pad coming out for it if you're shooting magnum calibers. It can use AI mags. The Side Chick gives you the ability to build a super lightweight Remington 700 with a chassis without sacrificing a fully round handguard…so it's really stiff and you can load the bipod. Overall, the Q Side Chick has the same attention to detail as the Fix.
Now, it's not going to be cheap and we're not going to produce a ton of them…but I can assure you we're going to produce them correctly and it is going to be the best, most usable chassis you can get.
Q Side Chick – Weight and Ergonomics
It's not something we're building for PRS…but it doesn't weigh six pounds. If all you do is go to your range, and you open up the back of your truck, and you set your rifle on the bench and you shoot…it doesn't matter if your gun weighs 20 pounds or has a 28" barrel on it. However, if you're hunting or if you're mounting night vision and stuff that is heavy on the gun…the weight and ergonomics make a huge difference.
I don't like hunting with the 700s that much, especially night hunting because I don't like the safety configuration and the trigger all that much. I love AR controls. You know when the gun is on 'safe' or 'fire'. The muscle memory is just there with that stuff. No matter how much I hunt with a bolt gun, I shoot ARs more.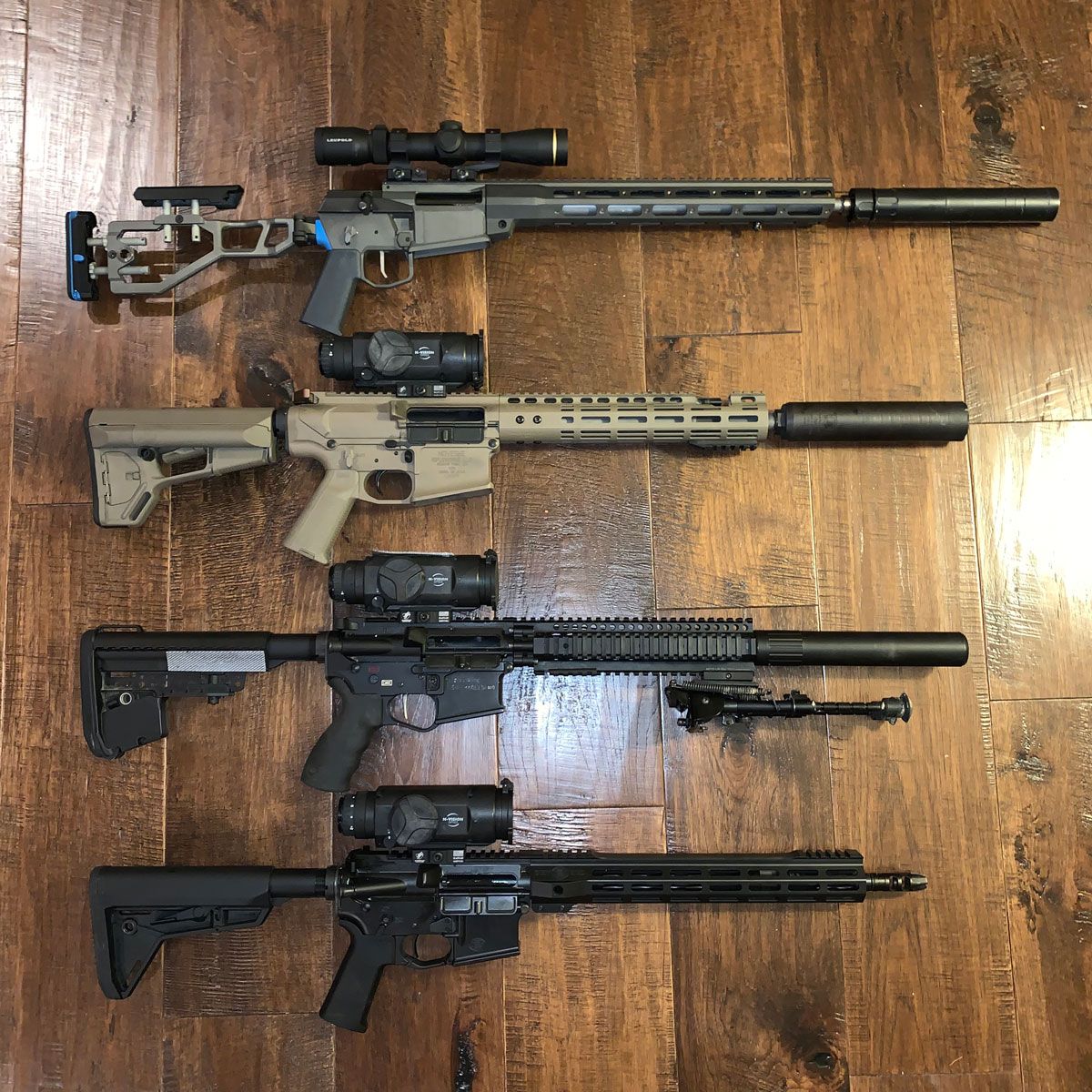 Q: Kevin, before we wrap up, would you be willing to share with our readers the status of the upcoming 8.6 Creedmoor?
Kevin Brittingham: We're still doing testing, trying to finalize everything. We're anticipating a SHOT Show launch in 2020. We'll see if we get there. It's just one of those things. It takes a lot of resources from us, as well as from a few other large companies…so timing just has to coincide for testing, and then there's just figuring out things like the accuracy requirements for subsonic and supersonic…
The end goal for us with 8.6 Creedmoor is to have an improved big brother to 300 Blackout. 300 Blackout turned out really great. But for us to be able to surpass expectations about what that round is able to do…that takes work. We want it to work in a gas gun as well as a bolt gun. Also, we want subsonic and supersonic to be accurate. We want supersonic to deliver more energy than .308…all the things that we have said.
8.6 Creedmoor – "This isn't just us in the backyard."
It's a tall order and we're just not in control of all of it…all of the testing. This isn't just us in the backyard. This is some of the largest ammo companies in the world that are utilizing their resources for some of the testing and development. So, in some degree, we're just on their timeline. Could I release it now? Yeah, I could…but everyone would be loading their own ammo.
Big companies just move a little slower. I want them to all be comfortable with it and have us all be in agreement, and have everything to be launched at once…and so that's still our target: SHOT Show 2020.
We're not trying to build some wildcat where everybody has to load it. I want the big ammo companies to come out of the gate with it, and have super and subsonic loads, and have them really support it. I'm just not in control of that like I am with everything in our company.
I've had one foot in the corporate world…Progress can certainly be slow when there's more than one team involved.
Kevin Brittingham: Certainly…and these projects are big. That said, I can't imagine trying to make airplanes (laughs). Hornady is awesome, and they get it….but some of these other companies, there are people there that make decisions who have never even heard of 300 Blackout. That's where I start with some of these companies. Getting these guys who were maybe executives at Home Depot five years ago, on board with how 8.6 Creedmoor can be a big thing…sometimes it doesn't quite make sense. Some of these people have never shot silencers…so it's not always like trying to educate you or other dudes that already know how cool 8.6 is going to be once it's finally launched.
###
We are sorry that this post was not useful for you!
Let us improve this post!
Tell us how we can improve this post?