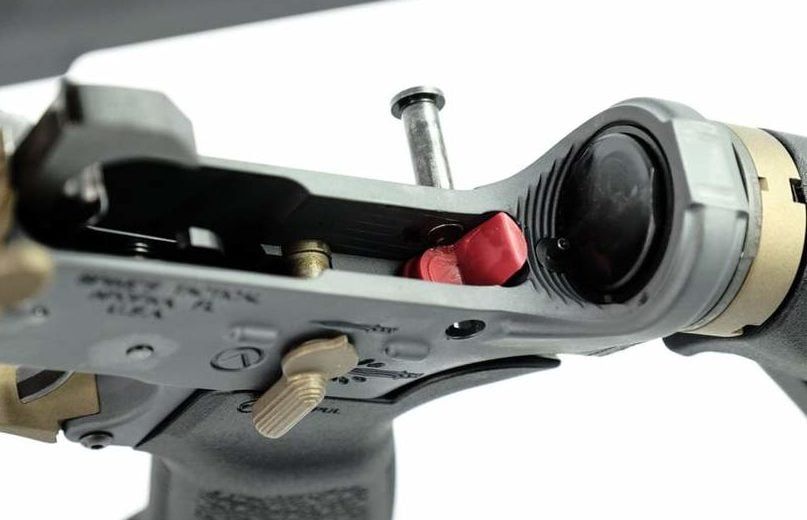 When building an AR-15, you will encounter many small parts and components such as pivot pins, detents, springs, nuts, screws, and so on. These parts are crucial, as, without them, the AR-15 will not run.  Or, if it does, it certainly won't do so efficiently.
For builders, the question arises – does upgrading any of these small parts and components make a difference? 

While making upgrades to original components can be considered optional, some upgrades will prove to be beneficial for the longevity and accuracy of your weapon. Let's consider a few upgrades below.
Anti-Walk Pins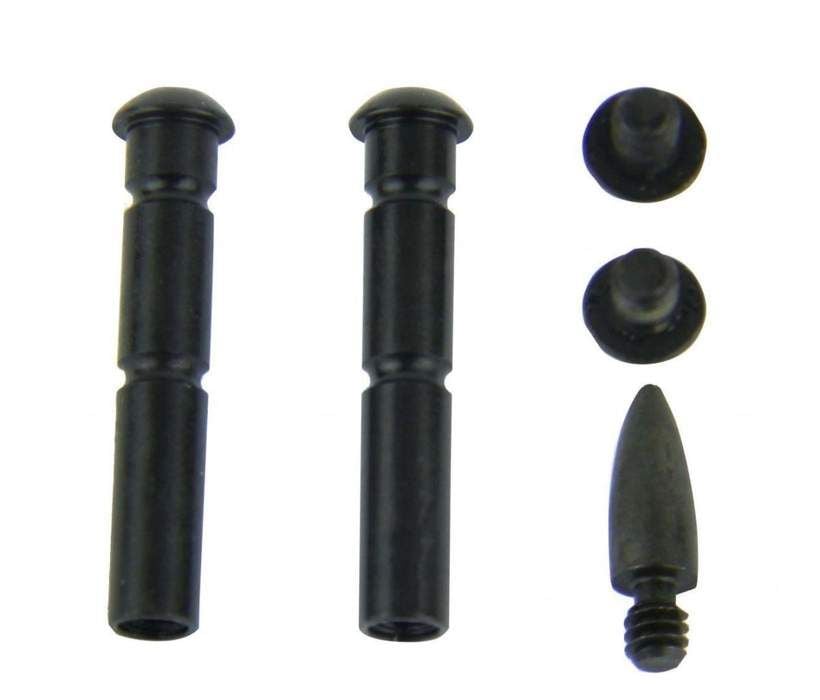 Although they are not essential, we do recommend using anti-walk pins, especially when paired with a "drop-in" trigger.  The shock of the firing cycle of the AR can cause the pins of your rifle or pistol to start to drift out, or "walk".
Factory pins are made of steel, and sometimes, the pins are so tightly fitted to the fire control group that they begin to cause wear in the AR receiver's trigger pin holes. While this is not overly common, it does happen.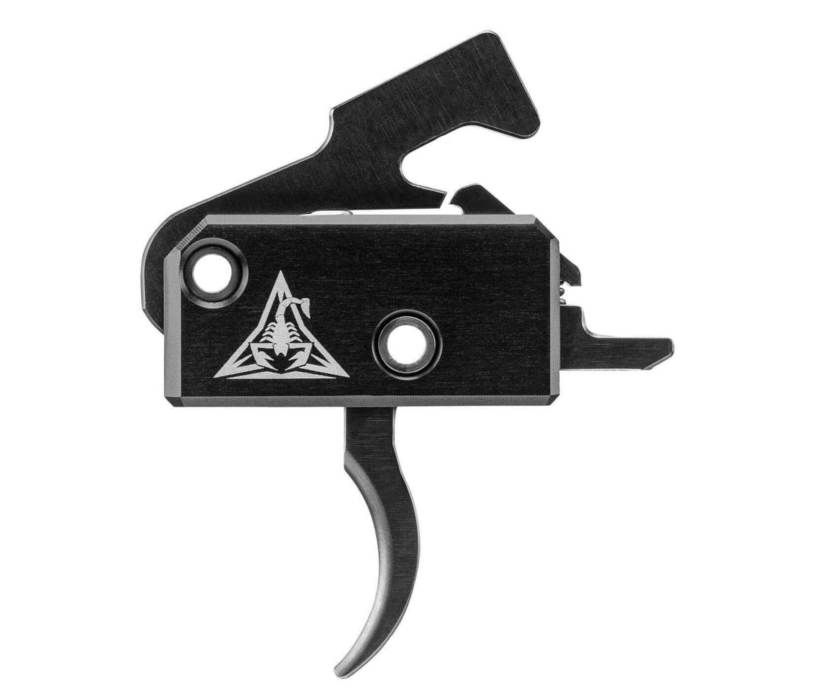 With anti-walk pins, both trigger pins are drilled and threaded so a screw can thread into them from either end. There is usually a bar or a "link" that has two holes in it, attaching it to both pins on either side of the receiver.  This holds the pins in the correct position, consistently.
Anti-walk pins are essentially like an extremely inexpensive insurance policy for your rifle.  You'll never have to worry about having pins "walk out" on you while shooting with that "anti-walk" insurance in place.
Even if you've never experienced "walk out", or you don't expect to, a bonus of anti-walk pins is that they will make a mil-spec trigger pull feel easier and less gritty. 
Ambidextrous Safety Selectors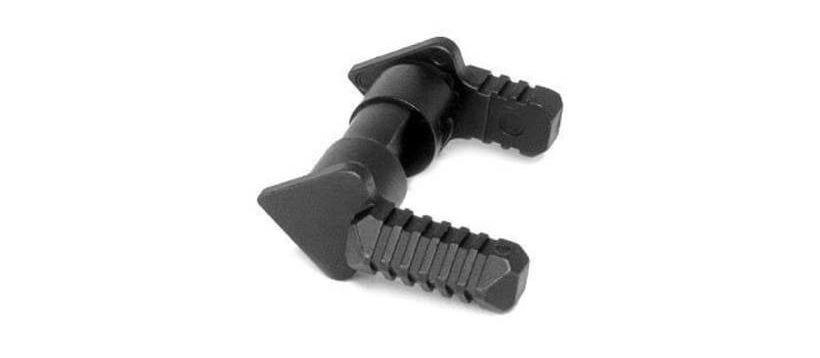 Safety selectors, in general, should not be overlooked. They are essential for shooting smoothly and safely, and you should routinely check to make sure your safety is in working order.
Ambidextrous safety selectors function when engaged on either the right or left side of the rifle.  They make it much faster to "safe" a weapon than a standard factory selector switch. You can use your whole hand to apply the safety rather than just your thumb. In tactical situations, it's essential for the controls to be as easy to operate as possible because if you do experience an adrenaline dump, it is going to impact your tactile sensation.
Extended Charging Handle Latches
An extended charging handle latch provides a simple, yet extremely useful upgrade for your standard AR charging handle. It can also be much cheaper than buying an entire new charging handle.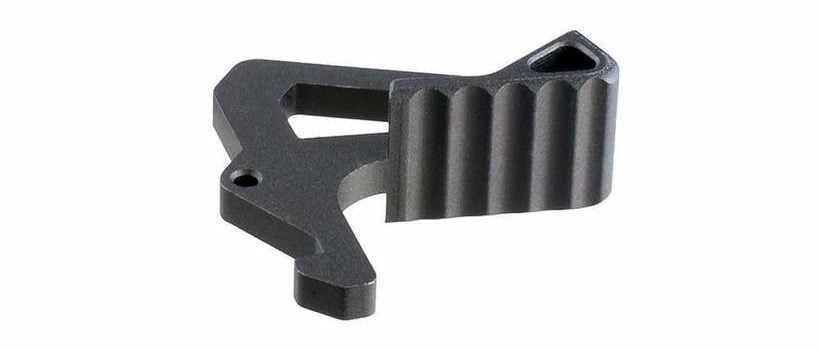 We recommend the budget-friendly, top-quality Strike Industries Extended Charging Handle Latch.  It features a large aluminum latch surface (the only one of its kind made in aluminum), that won't wear your receiver as fast as one of the steel latches would.
It's easy to install and it allows for smooth operation under stress or the most extreme conditions.  You'll find that it's easy to operate, even while wearing gloves.   In addition, it will keep your fingers from being pinched on the stock.
Having optics mounted on your AR can making operating the charging handle tougher, but an extended charging handle latch solves that problem too.
Pivot and Takedown Pins
Takedown and pivot pins are the perfect solution for shooters who use multiple upper receivers with a single lower. They function as a replacement/upgrade for standard AR-15/M16/M4 takedown pins and allow for quick disassembly of the rifle. They can also be aesthetically pleasing and they eliminate the need for a pin punch.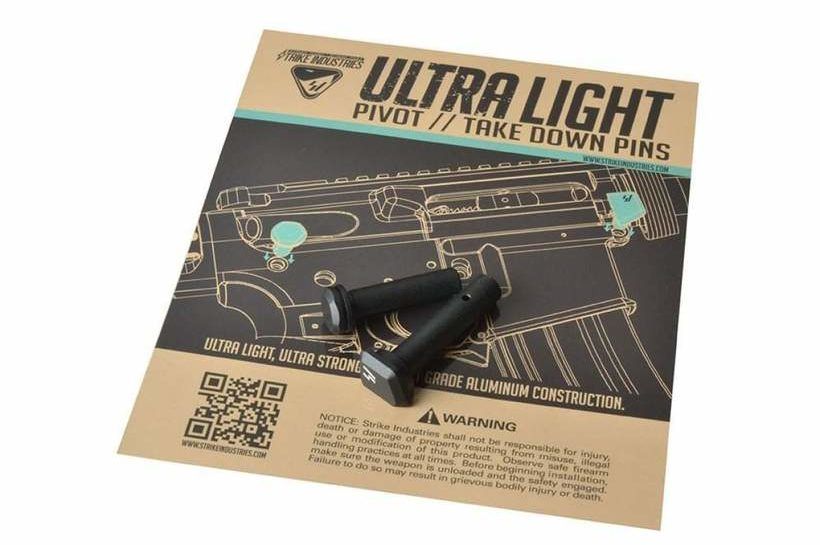 Strike Industries offers an incredible ultra light set of pivot/takedown Pins machined from durable 7075 billet aluminum. These won't add any extra bulk or any additional weight to your weapon and are a simple, easy upgrade over standard mil-spec pins.
ACCU- Wedge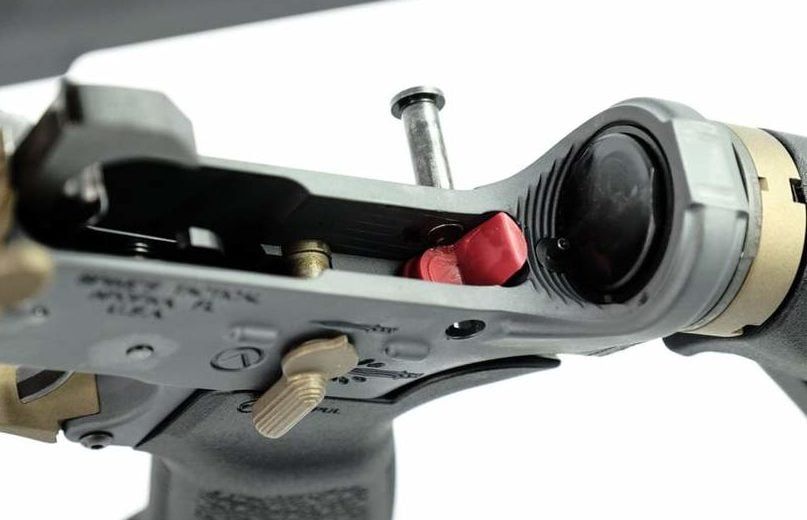 There's nothing more annoying than "slop" or "play"— that unwanted movement or rattle between the upper and lower receivers.
A quick fix for this is an accu-wedge that can be trimmed to size for an extremely cost-effective perfect fit. They won't hinder the operation of the takedown pin, and they will quiet that "battle rattle".
AR-15 End Plates
An end plate keeps the rear takedown pin detent and spring where they are supposed to be, but it can also provide a sling attachment point option that nothing else can.  As a bonus, it also protects the rear of the lower receiver from scuffing and marring.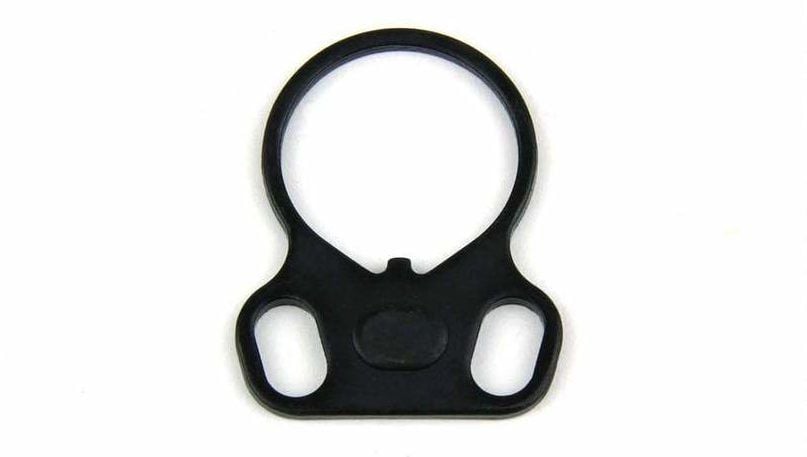 For example, the inexpensive NBS AR15 End Plate W/ Center Ambi QD Sling Attachment allows you to attach slings with QD (Quick Detach) sling swivels. It's manufactured from durable steel and is compatible with both mil-spec and commercial buffer tubes.
It's a quick, easy-to-install, budget-friendly upgrade to replace your original factory receiver end plate. Just be sure to follow the directions carefully for removal and install so you don't lose the spring or takedown pin detent, and so you don't kink the takedown pin spring upon reassembly.
Conclusion
Once you have your AR-15 built, you can decide to upgrade almost any part of your firearm at-will. But you don't need to wait until it's built to begin the process of upgrading specific parts. You can do it during the initial build if you prefer.
That way, you build the rifle or pistol you wanted the first time around, instead of doing it piece by piece. Doing all the upgrades at once is great because you get to see the final product right away, but upgrading piece by piece is awesome too because you get to watch your dream gun coming together a little bit at a time.
We are sorry that this post was not useful for you!
Let us improve this post!
Tell us how we can improve this post?