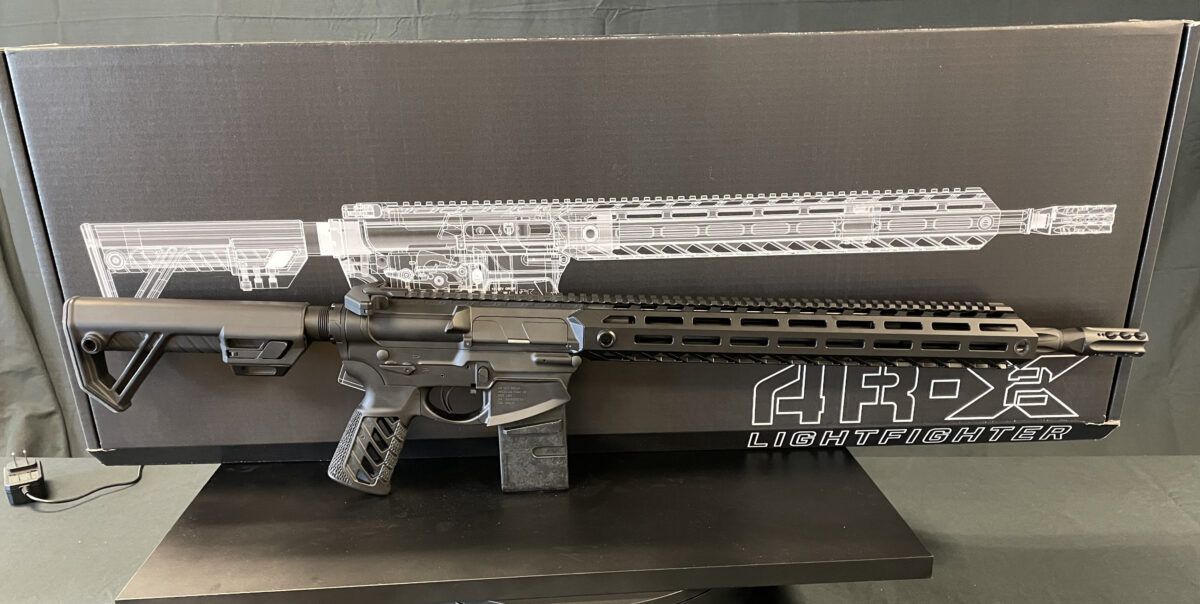 With the impending launch of the AR-X LightFighter in early 2022, we sat down with Ernie Bray of X2 Development Group to discuss the rifle's distinctive style, its impressive weight (5.8 lbs), and sub-MOA accuracy, and the internal and external changes that set it apart from other AR-15's.
Also, don't miss our interview with Bray about his company's unique suppressor designs.
Q: Ernie, thank you for taking the time to talk about the AR-X LightFighter. Can you first start with why you decided to do a complete rifle?
Ernie Bray, X2 Development Group – My work on creating the AR-X LightFighter started when unit guys at Ft. Bragg and a few others like Buck Doyle, began encouraging me to do a complete gun and solve some of the issues that had plagued other designs.
Q: What sorts of issues were they experiencing?
Ernie Bray, X2 Development Group – Take adjustable gas blocks, for example, which I have seen mostly fail in other guns. Well, I had previously designed a worm drive system that doesn't have those kinds of problems. I already had it basically patented, with another patent pending.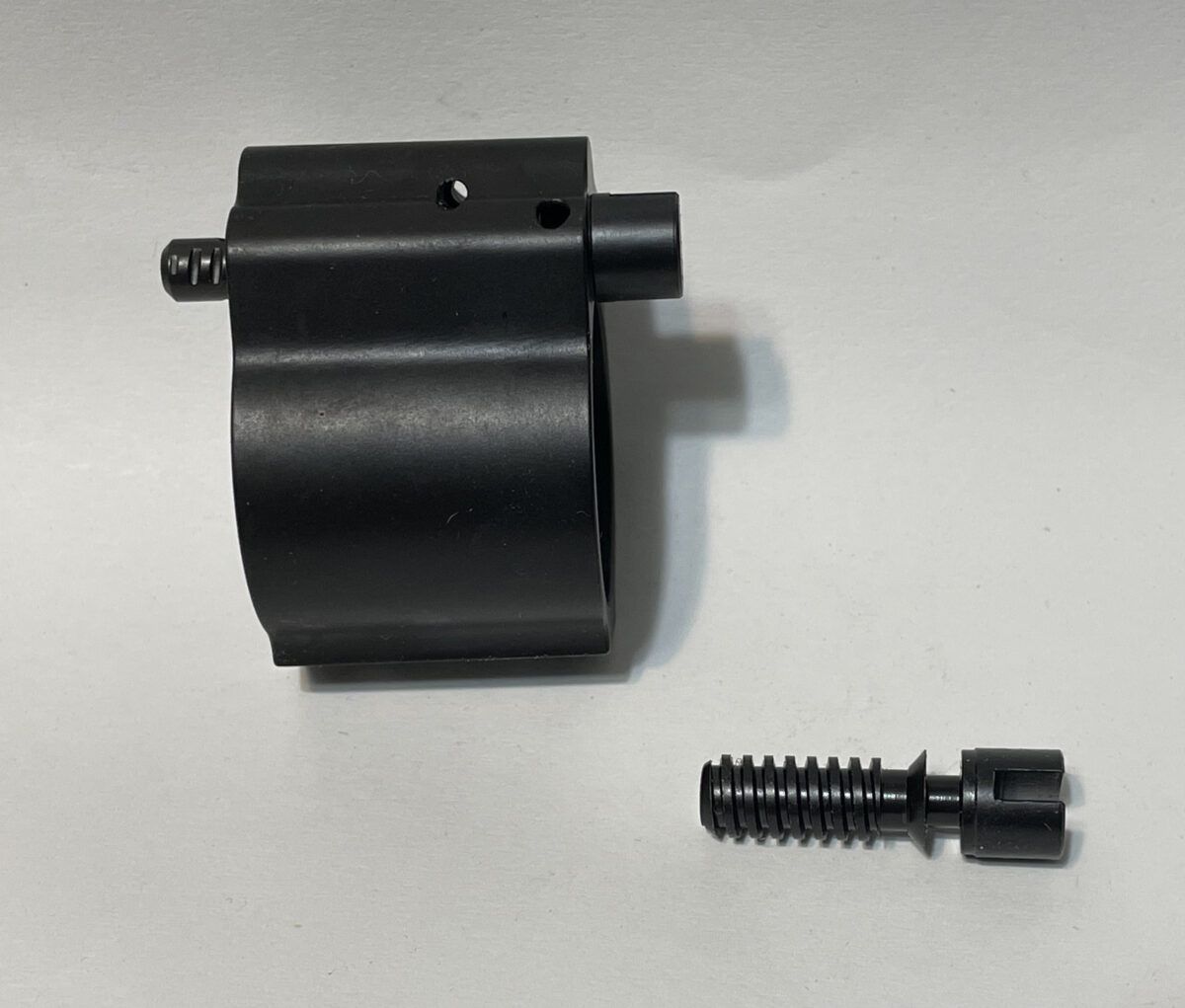 Another issue was with the lowers. However, in looking at perhaps creating an ambi lower, there were already a lot of patents out there. I was hesitant to do it, but they kept pressing me, and I ended up bluntly asking, "What is it that you want and need? What are your complaints about what's out there now?"
For starters, they said they didn't like how the controls were laid out, nor did they function how they wanted. For instance, on the ambi bolt catch, most of them you see are like a paddle, or perhaps a button that you press on the right-hand side, very close to the magazine release button.
Some of these guys are wearing welding gloves while they rappel, which has a severe impact on their gross motor skills. They can't simply poke their finger and engage those controls like they might without gloves. So, as a result, they end up inserting a magazine and slapping the side of the receiver, only to end up dropping the mag while closing the bolt. As you can imagine, that's a bad thing (laughs).
I asked these guys what they liked, and they said that while they liked the B.A.D. Lever, it's sometimes finicky, and it sticks out the side, and down through the trigger guard. Our bolt catch on the AR-X LightFighter comes through the trigger guard, but it's all machined flush. It pivots, it's pinned, and it engages the bottom part of the bolt catch, not the top, so you're not loading the spring, and it's right there, and it's a simple up or down motion. So it's very fast and optimizes how fast they can load the gun and allow them to run the gun right or left-handed, up in the pocket, without modifying their shooting grip.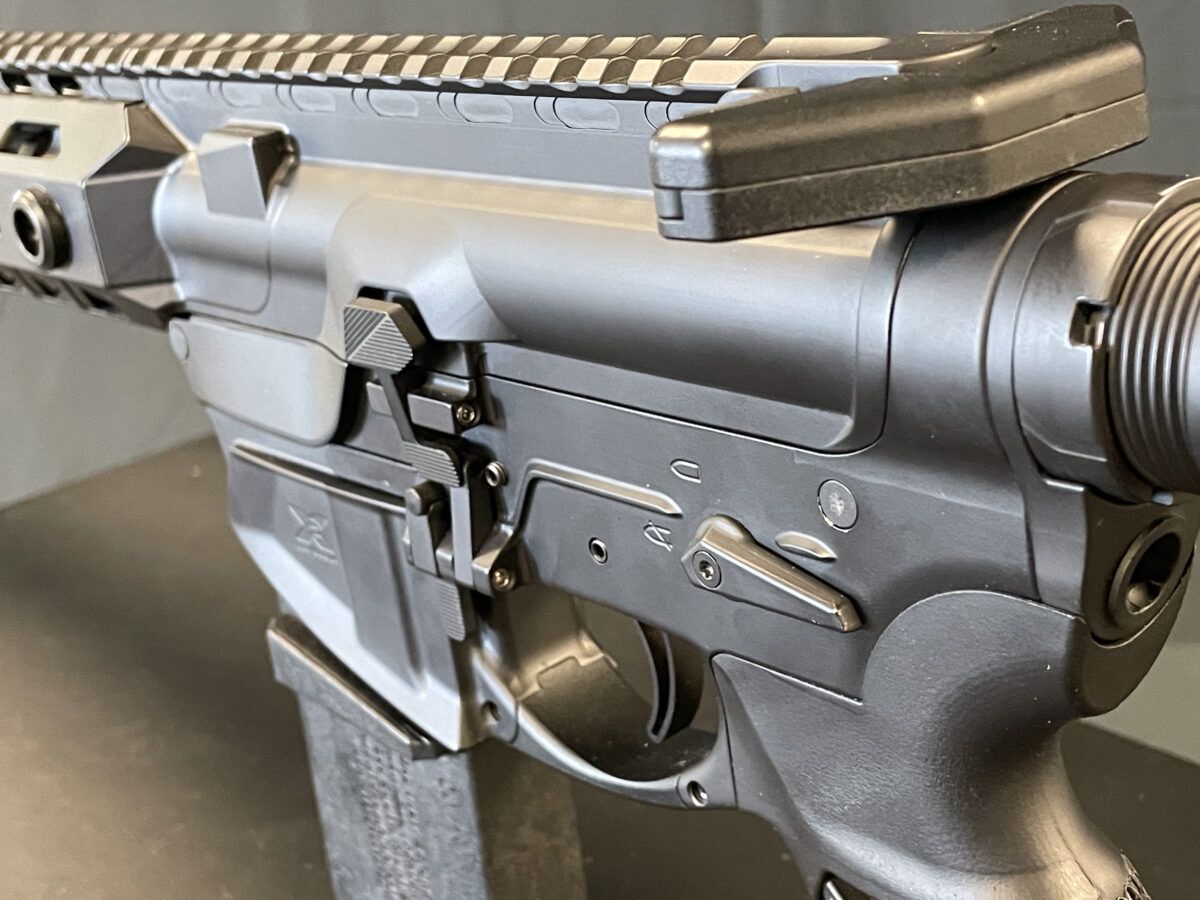 More than fast, my AR-X LightFighter lower design is simple. When you look at many ambi lower designs out there, if you pull up their patent drawings, there are just so many shafts and springs and detents proprietary parts in them. As a 30-year gunsmith, I would not want to take one apart on my bench for fear that a spring shoots somewhere and I'm screwed. If dirt gets in there, these lowers may not function in an ambi or non-ambi role.
I was asked to make something different and brutally simple. On the left mag release, I have just a simple fulcrum or lever, and it pins at the same location the L-shaped right side bolt catch does. There's just one dog nose screw and those two parts, and that's it. If you take those off, you're down to a stock, non-ambi lower. Again, it's all straightforward, and it comes from listening to what is needed.
Q: What trigger are you using?
Ernie Bray, X2 Development Group – On triggers, right now, we are using the Elftmann Tactical, which we licensed from Art Elftmann so we could make it in our shop and not have supply chain issues. I have since designed a linear trigger that I have not yet put into production. This trigger moves straight back and forth like a 1911 so it does not rotate on a pin.
This allows for a consistent pull even when indexing at the top of the trigger shoe. With it, you're also going against compression springs instead of torsion springs, which can be imprecise. This is patent-pending and will eventually go into the AR-X LightFighter.
Q: Talk a bit about what you feel makes your handguard special on the AR-X LightFighter?
Ernie Bray, X2 Development Group – was told longitudinal rigidity was an issue in existing handguards. When loading the gun against a barricade, they were experiencing too much longitudinal flex on the handguard. Most handguards are connected to the barrel nut, and the barrel nut is connected to the barrel, which dampens your barrel harmonics. In many cases, with some of their high-end, premium guns, they were getting a significant amount of POI shift…They told me it was a big issue, and it was something I wanted to address with the AR-X LightFighter.
Another issue with handguards is ensuring they do not get knocked out of rotation when they get hit. Screws also eventually come loose. So, when I made my AR-X LightFighter handguard, there is no longitudinal flex at all. Instead of screws, you take off the two QD sling swivels to take the handguard off. Those rotate out, and then you can slide on and slide off the handguard. When you slide the handguard back on, it precisely re-aligns. There's no way to misalign it.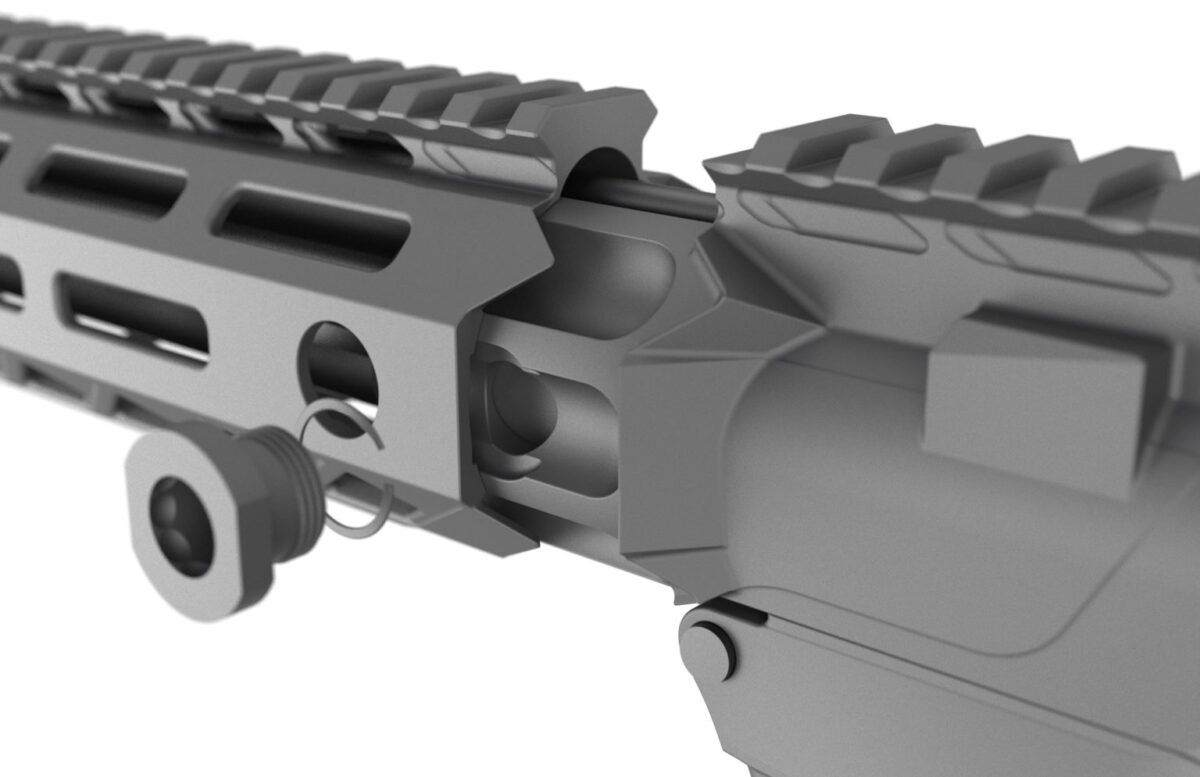 The same thing applies to the gas block, which you can take off by loosening the two dog nose screws that engage with two dog nose sockets on the barrel. So, you'll never have gas block misalignment, nor will you ever have handguard misalignment. There's no way you can knock the handguard out of alignment. You'd have to destroy it, literally. You'd have to run over it with an M1 Abrams. That said, it's still light. We're talking about a 5.8-pound gun.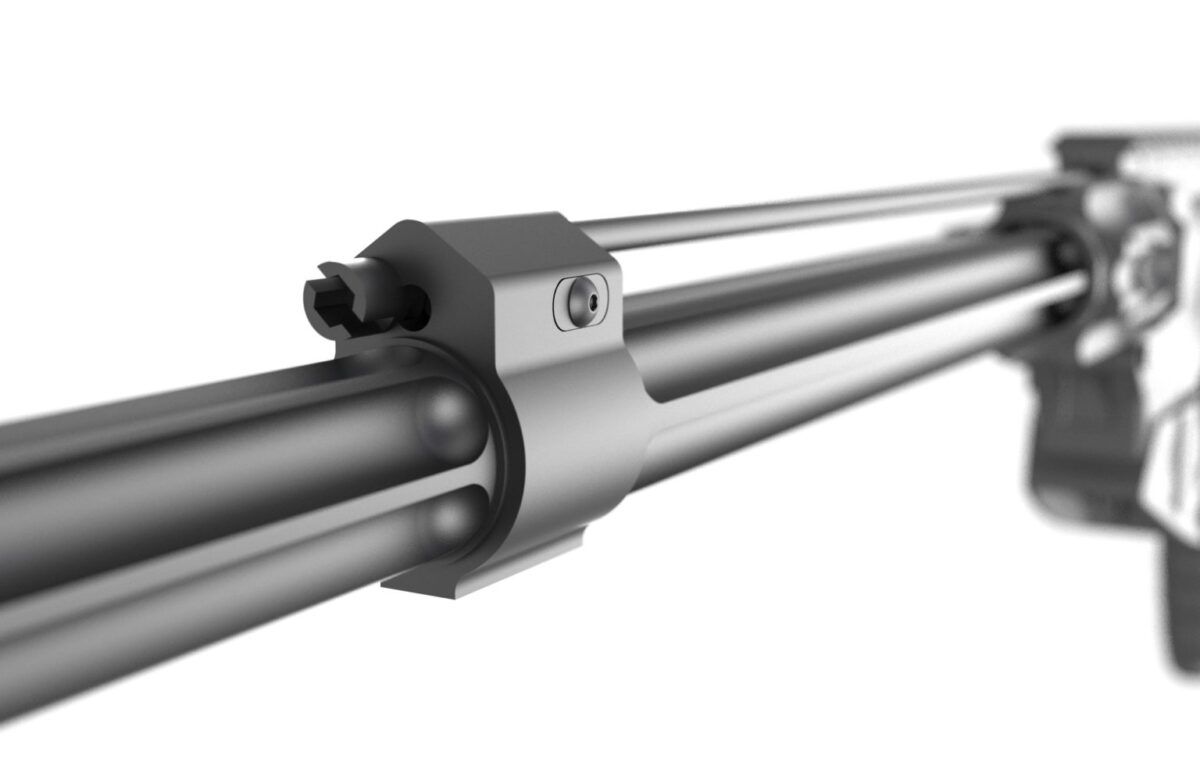 Q: Can you talk about the barrel of the AR-X LightFighter?
Ernie Bray, X2 Development Group – When I was working on the 5.56 Optimized round, I worked on gas port location, barrel harmonics, and other things. The Trident barrel in the AR-X LightFighter is a 16″, 1 lb. 4 oz. barrel that shoots lights out. I've gotten credible reports of half MOA or less at 600 yards. Again, this accuracy comes from understanding barrel harmonics, barrel vibration, and heating and cooling profile.
A lot of thought went into the barrel versus me going with a simple profile that goes up and down in diameter. With those barrels, they're not accounting for heat distribution or cooling…You've got to get heat out of the core so that you don't get thermal point of impact shift. The barrel in the AR-X LightFighter provides approximately 300% more surface cooling area than a standard AR barrel. You also have to isolate the barrel in the upper so that when applying pressure to the handguard, you are not dampening the barrel harmonics.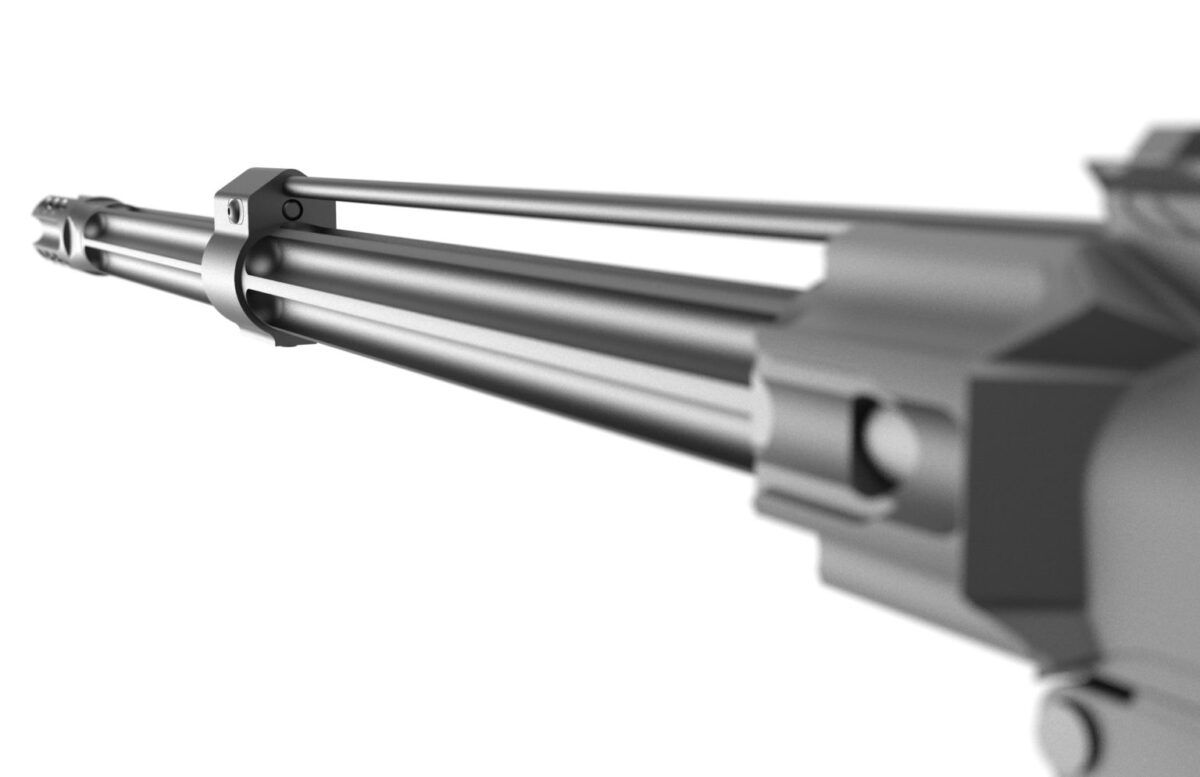 Q: Can you talk about the bolt carrier on the AR-X LightFighter?
Ernie Bray, X2 Development Group – The bolt carrier is something I worked on with Paul Leitner-Wise, who founded LWRC. We're using his long cam path with our gas venting. Our gas venting vents the gasses forward at a lower pressure and lower velocity. As such, you get quieter operation and safer venting of the gas.
A long cam path also delays your unlocking. A heavier carrier or buffer will also delay the unlocking as it takes longer to get the mass moving, but what will happen with the long cam path is that it takes slightly longer to unlock. As a result, I can use our titanium carrier that behaves like a heavy carrier.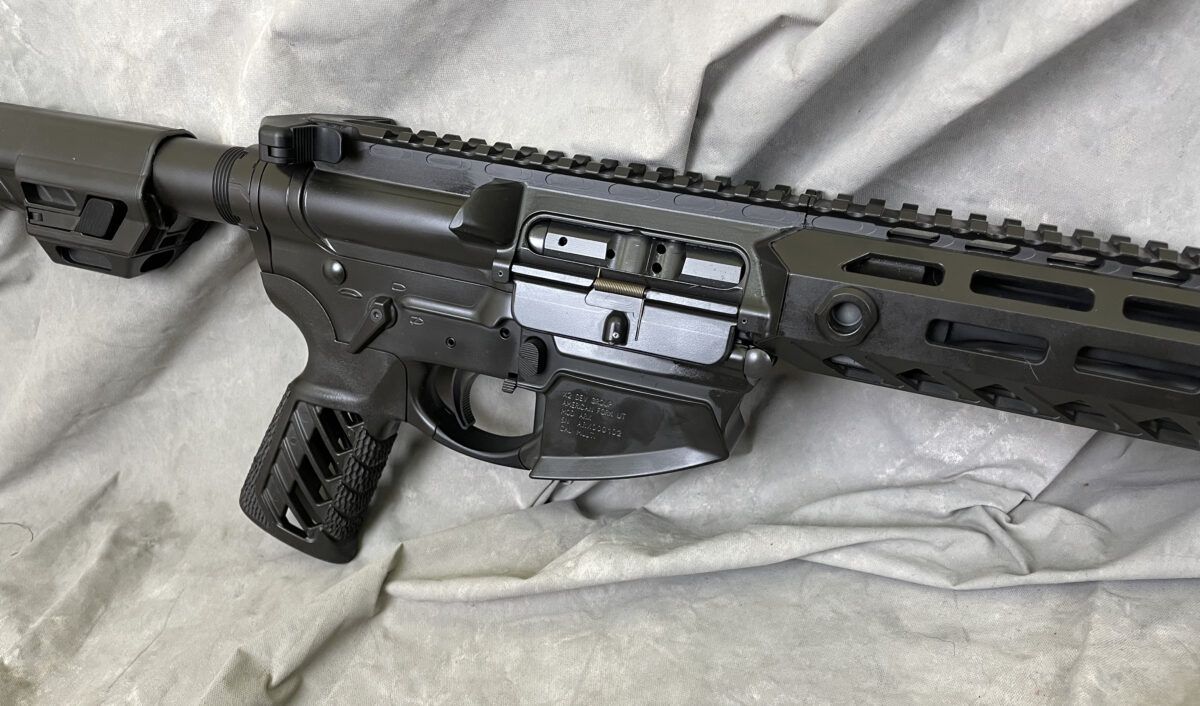 Moving onto the stock, when they would put their red dot sight at 45 degrees and their primary optic at 90, as they would rotate the gun from the offset to main, the stock would catch and it was stripping out the buffer tube as it only has one anti-rotation tab. The buffer retainer comes out, and the spring comes out, then you're screwed, as it's difficult to fix that sort of thing while you're in the field. To prevent this, I use three anti-rotation tabs on the AR-X LightFighter.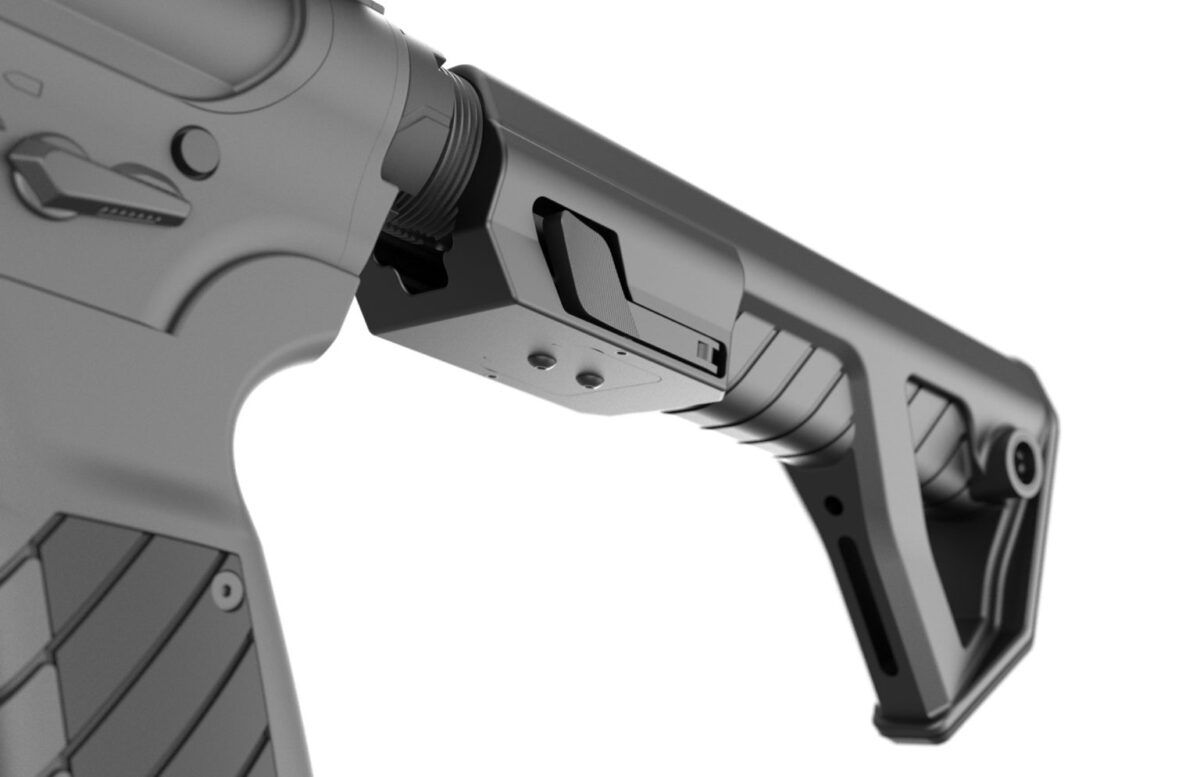 Q Anything else you'd like to add?
Ernie Bray, X2 Development Group – Overall, with the AR-X LightFighter, I wanted the ergonomics and the look to be right, so I went to BYU's industrial design school and hired two guys who had just graduated. We spent hundreds of hours in industrial design on the gun. We focused on the grip interface to make it feel like a high-quality pistol like the Walther. You want that higher grip. We didn't want any hard edges; rather everything perfectly blended. The bolt catch doesn't stick out. We knew we couldn't have things snagging. It needed to be protected yet accessible.
I'd also briefly mention that the AR-X LightFighter features our Jackal-X charging handle, which was born out of requests and issues they were having with existing charging handles. The Jackal-X was designed to reduce the chances of un-latching from snagging on gear or break due to stress on level pivot pins.
On every single part of the AR-X LightFighter, I stopped, looked at it, and sought feedback on every part. I would then think about it, and if it needed to be fixed, I fixed it, all the way through the gun from front to back. You have the VF18 on the muzzle, the Trident barrel, our Jackal-X charging handle, the worm drive gas block, the handguard, the ambi controls, bolt carrier, mag well, the stock…everything, all the way back.
In the end, with the AR-X LightFighter,, we have a 5.8-pound gun that can shoot quarter MOA groups. It has the reliability and durability, it's all there. If I was going to take on something like this, I was going to do it right, and I think I've succeeded. Everything that was requested I've done.
###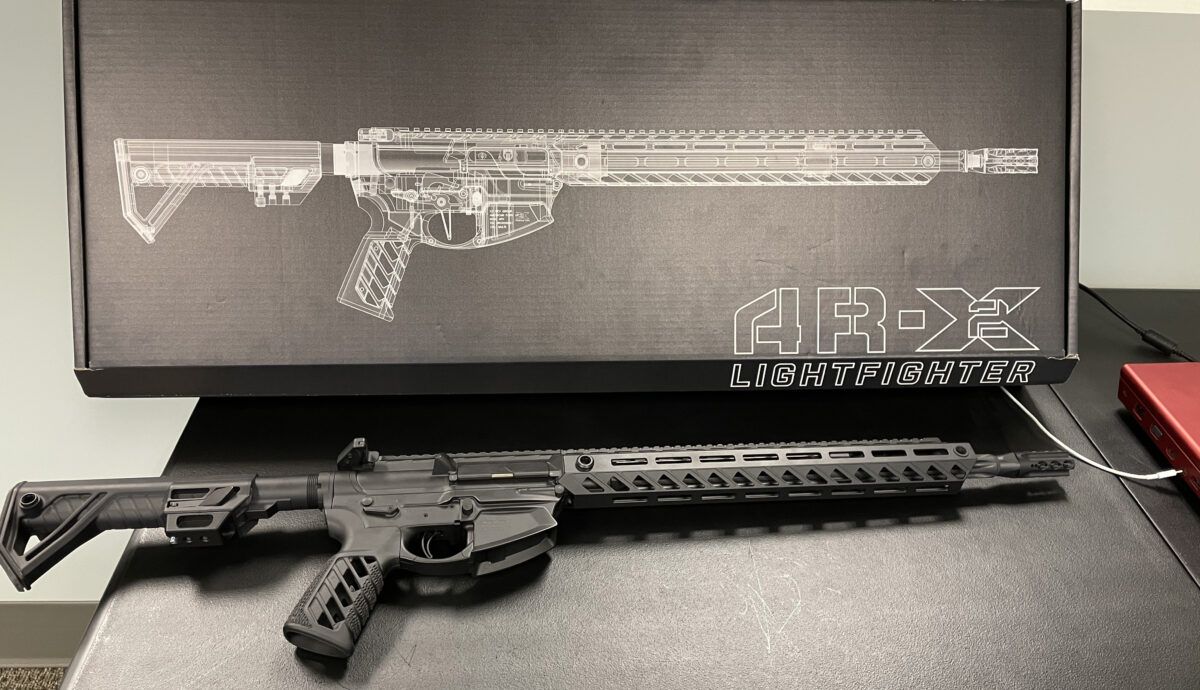 We are sorry that this post was not useful for you!
Let us improve this post!
Tell us how we can improve this post?