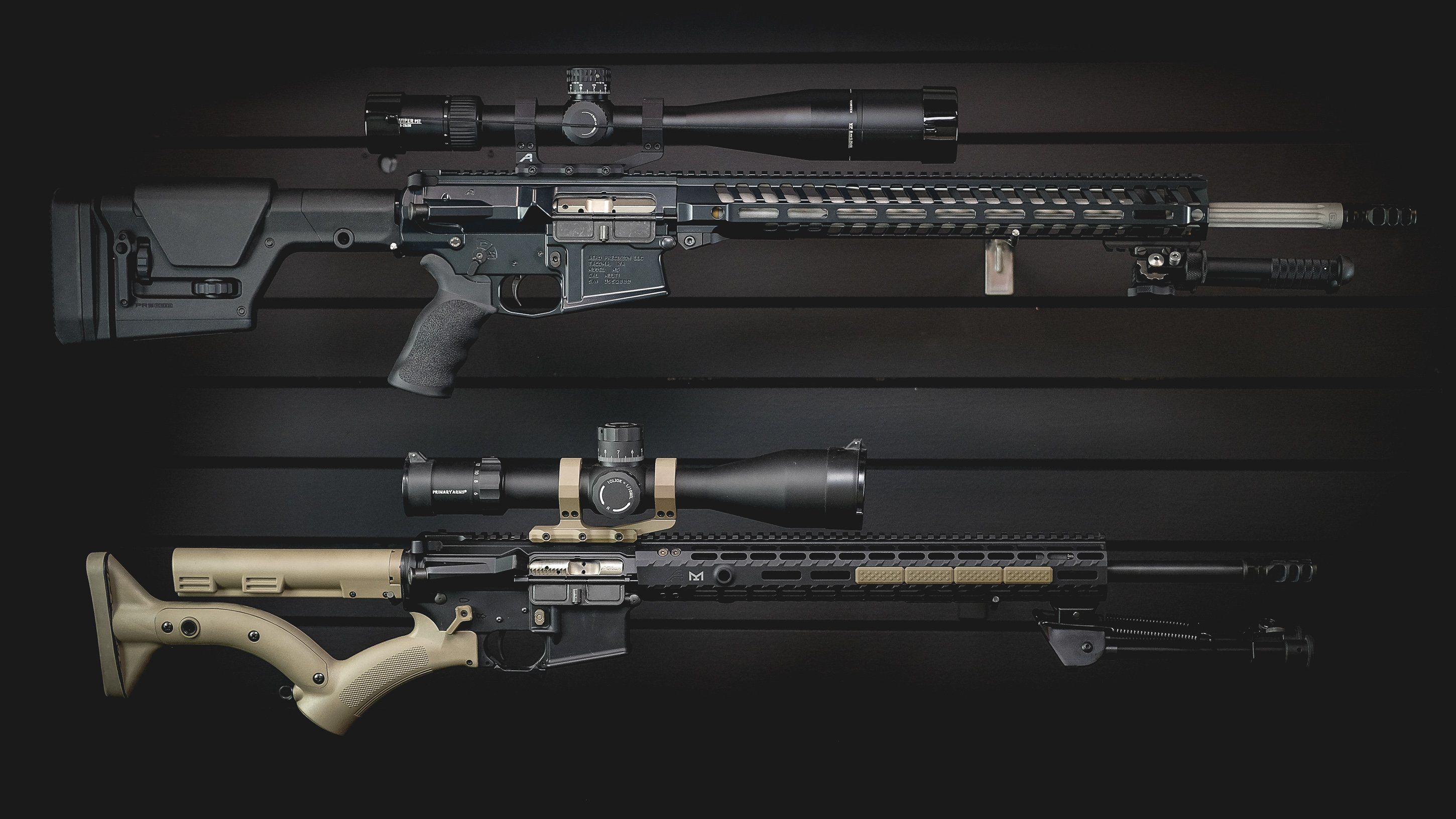 Let's discuss AR-15 or AR-10…Obviously, building your own custom AR has never been easier or more affordable.  You've helped make it the most popular firearm in the United States for many very good reasons.
Hunting? Check.  Defensive firearm?  Check. Range toy?  Check.  Competition? Check.

The catch?  There have also never been as many decision points.  The amount of choices are overwhelming.  Rail systems, uppers receivers, lower receivers, bolt carriers, charging handles, triggers, barrel lengths, piston vs. DI, even different colors and finishes. But even more basic than these choices is the question we hear most often: "Do I build an AR-15 or go with an AR-10?" 
The correct answer is to simply build both.  Seriously…lowers have never been cheaper.  What are you waiting for? However, if budget or time is limiting you to one, then the answer is: It depends.
AR-15 or AR-10: Other Variables Making the Decision Harder
Making this decision even harder is the advent of exciting cartridges like the 300 AAC Blackout, .224 Valkyrie and 6.5 Grendel. You might ask yourself why invest and build a larger, heavier AR-10 when a simple upper receiver swap might just as easily provide the extra 'ooomph' you're desiring downrange…all with the simple swap out of your upper receiver?
This is a good question…one we'll explore more in future articles, but for now, just know there's a bit of grey area here.
AR-15 or AR-10: Why should you build an AR-15?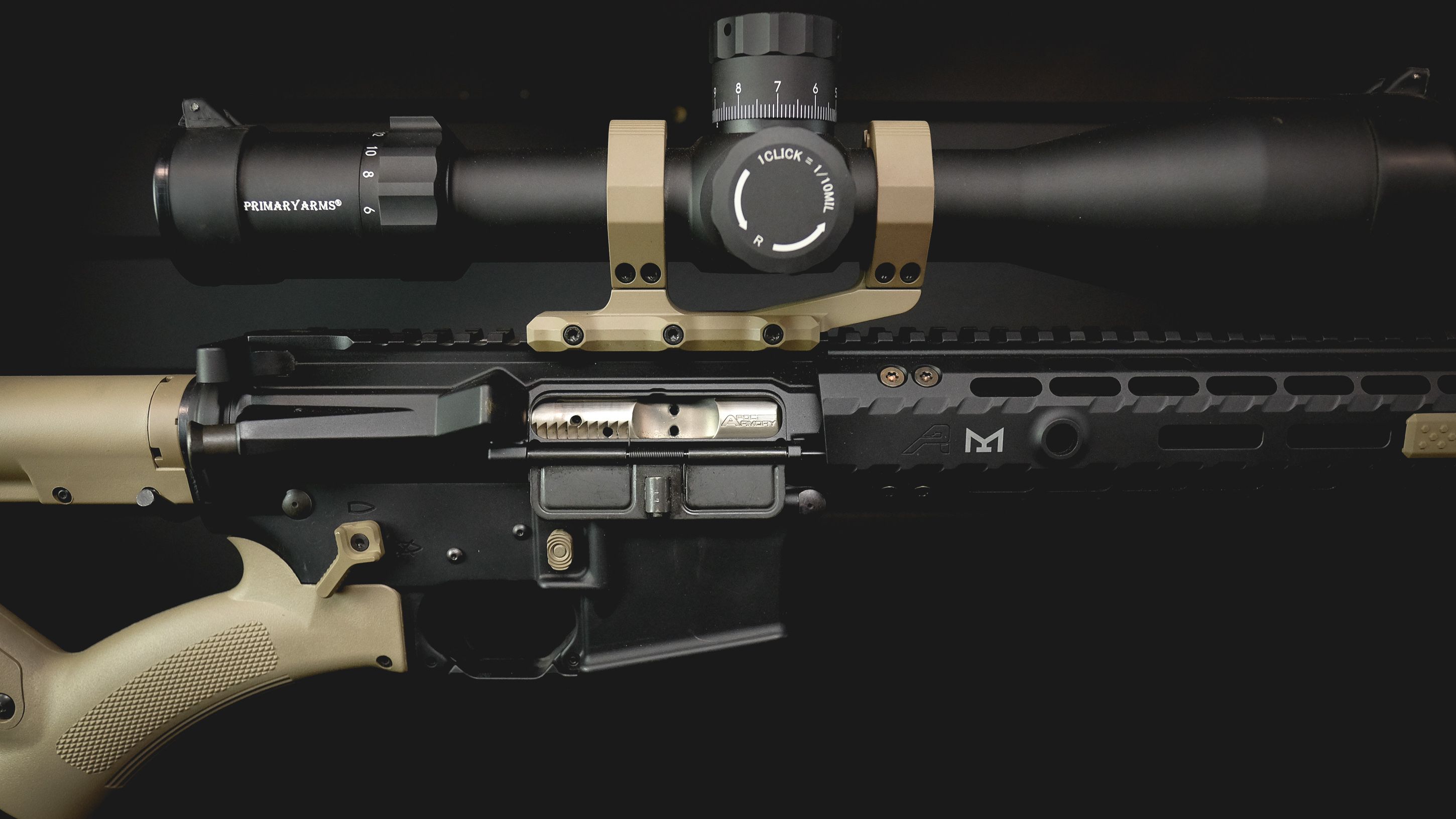 AR's are a bit like Legos…and this is especially so with the AR-15 platform. Visualize many interchangeable, common parts coming together to build a massive variety of different firearms. The possibilities are endless and tremendously addictive. Just think of all the different calibers that are able to function out of the same lower…everything from .50 Beowulf to .22 LR.
So, why should you start with the AR-15?
Benefits of an AR-15 include:
AR-15 or AR-10: AR-15 as the Gateway Drug
Plentiful, affordable ammo…unless you choose a more oddball chambering. In that case, your best bet might be reloading.
An endless array of affordable, often interchangeable parts.
It's easy and there are lots of resources exist to help your build be successful.
Light recoil compared to an AR-10.
Light weight compared to an AR-10.
Higher capacity magazines.
Your First Rifle?
If I were building my very first rifle from the ground up, I'd probably go with an AR-15 with a 16" upper assembly. To keep things more stress free, I'd probably just opt for a complete upper assembly. However, building from parts can be a tremendous amount of fun. It really just depends on what you're comfortable with.

Regardless of how you approach your build…you'll quickly find that ammo is cheap, parts and assistance are plentiful, and the end result of your effort is a versatile, dependable, affordable firearm, perfect for the range, small game hunting and for defensive applications.
Beyond Varmints
Many consider the AR-15 a varmint rifle…and it certainly is that.  That said, with the right loads, I have ZERO issues using an AR-15 for medium game.  Rounds like the Barnes VOR-TX 70gr. 5.56 offering and their 110 gr. VOR-TX offering in .300blk are absolutely devastating on deer and hogs.  I've seen this first hand and could post some pictures, but I'll spare you the gory details. 
Quick and Less Worry
One final thing to consider, if you're building your FIRST rifle…an AR-15 is probably going to be an easier bet. You can occasionally run into compatibility issues with an AR-10. It's not impossibly difficult to navigate, but certainly one less thing to worry about as you take your first steps into this highly addictive world.
Why an AR-10? Is bigger really better?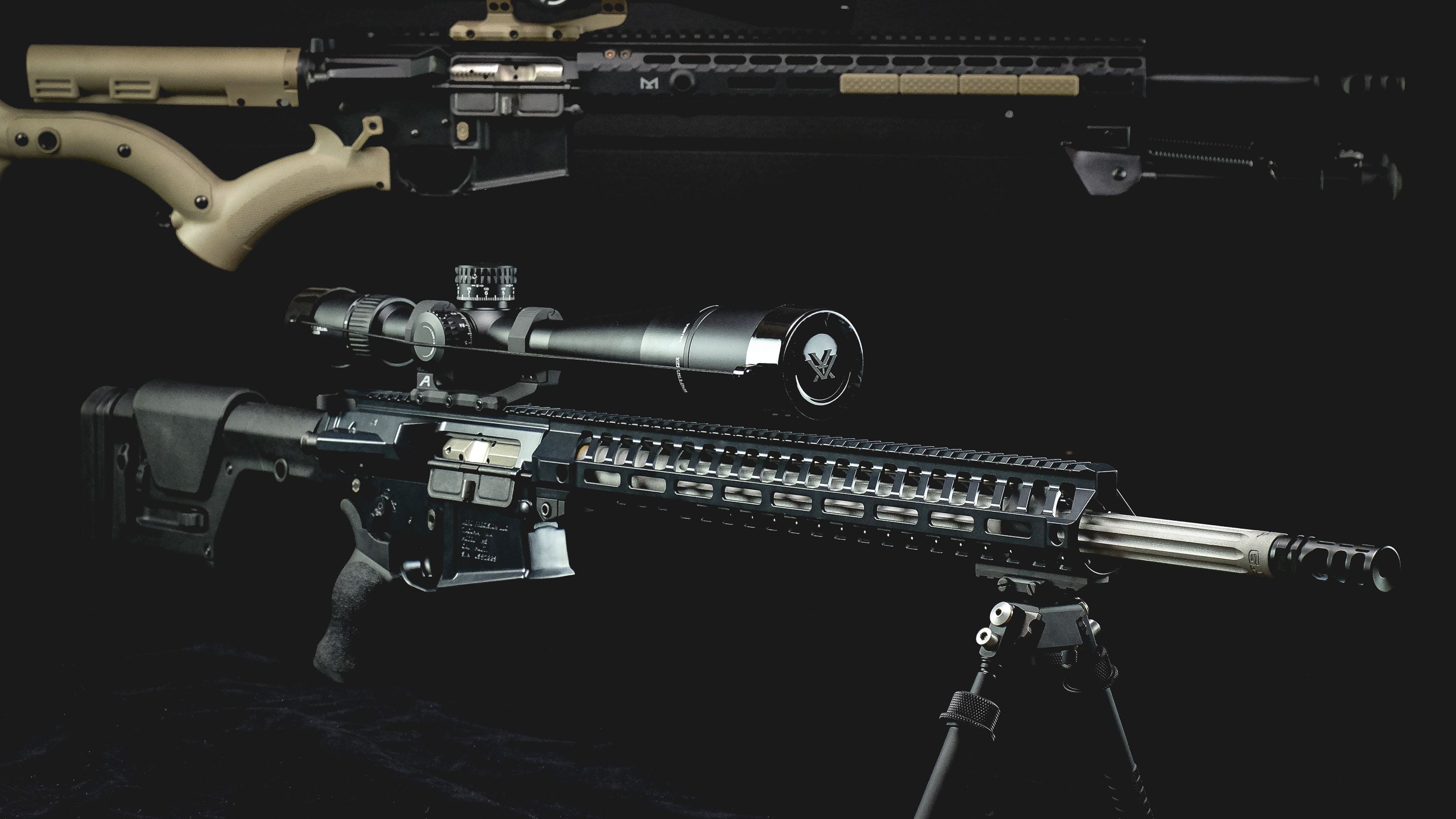 The AR10 was first…it's the original big brother of the scaled-down AR-15 we all know and love today.

What do you get when you build an AR-10? In a nutshell…Accuracy. Range. Power. Fast follow up.
All with the ergonomic benefits of an AR. That's a hard combo to beat.

Also remember, we're way past the days of AR-10 rifles being 7.62 only. For example, AR's in 6.5 Creedmoor have recently been taking off in a big way. At distance, this caliber is a total game changer, and makes building the larger AR a more attractive option than ever before. The round, introduced in 2008, has even been adopted by USSCOM.
That said, 7.62 mm NATO / .308 Win is certainly no slouch.  There's tremendous kinetic energy and stopping power at play here. It's been the de facto standard for longer range target engagement for decades for good reason.
AR-15 or AR-10 for Hunting
Extra power with the ability to put fast follow up shots also comes in handy if you ever find yourself in a Texas field at night staring down a very angry hog. Your mileage may vary, but more times than not, I've been less than impressed with 5.56 performance in these situations. 
If not for the Barnes Blacktip round chambered in 300 Blackout, from direct experience I'd very likely not use an AR-15 in the field against these particular animals. Then again, you may very likely be braver or a better shot than I am.

Bottom line…For big and/or dangerous game, or at distance, I'll probably take the AR-10. While the .224 and the 6.5 Grendel can certainly reach out, I'd still be more comfortable with larger, heavier platform that the AR-10 provides.
AR-15 or AR-10: A Bigger & Badder Build…What's the Catch?
If all this talk of range and power has you excited, please remember there is an important consideration before you start piecing together components:  not all AR-10 components are interchangeable.
Depending on manufacturer, variations do exist and can impact the success of your build. You're going to want to do a bit deeper of a dive to ensure what you buy all plays friendly together.
AR-15 or AR-10: A Quick Grain of Salt
One final point about AR-10s… Most of us are civilians, blessed to be nowhere near a combat zone.  Many who dismiss the AR-10 and end up building an AR-15 do so due to the amount of ammo they can carry at any given time.  I have to ask:  How often is this truly going to be an issue during the life of you and your rifle?  Well…I pray never.  I would not let this be the deciding factor in what to build.
AR-15 or AR-10: So which one should you choose?
AR-15 or AR-10? Again…its personal.  Since you've read this far, you do deserve an attempt at an answer.

If it's your first build, I'd go with an AR-15, most likely chambered in 5.56. It can do almost anything you need done. Then, should the bug catch you, I'd then look into another build in 300 Blackout…ideally as a registered short barreled rifle (SBR) should the laws in your state allow it.  At the time of this writing, I'm not convinced there's a more versatile weapon on the planet for home defense and hunting medium sized game…especially when paired with 110gr. Barnes Blacktip and a suppressor.

Later, if you've become addicted and want to take the next step…or if you simply need more range and thump, then I'd then dive into the world of AR-10s.
For your first AR-10 build, I'd probably recommend starting with one chambered in 7.62 mm NATO. Just remember, as you research and purchase your AR-10 parts, just do so a bit more slowly.
What do you think? Is there a glaring reason to go with one over the other? Let us know in the comments.
We are sorry that this post was not useful for you!
Let us improve this post!
Tell us how we can improve this post?