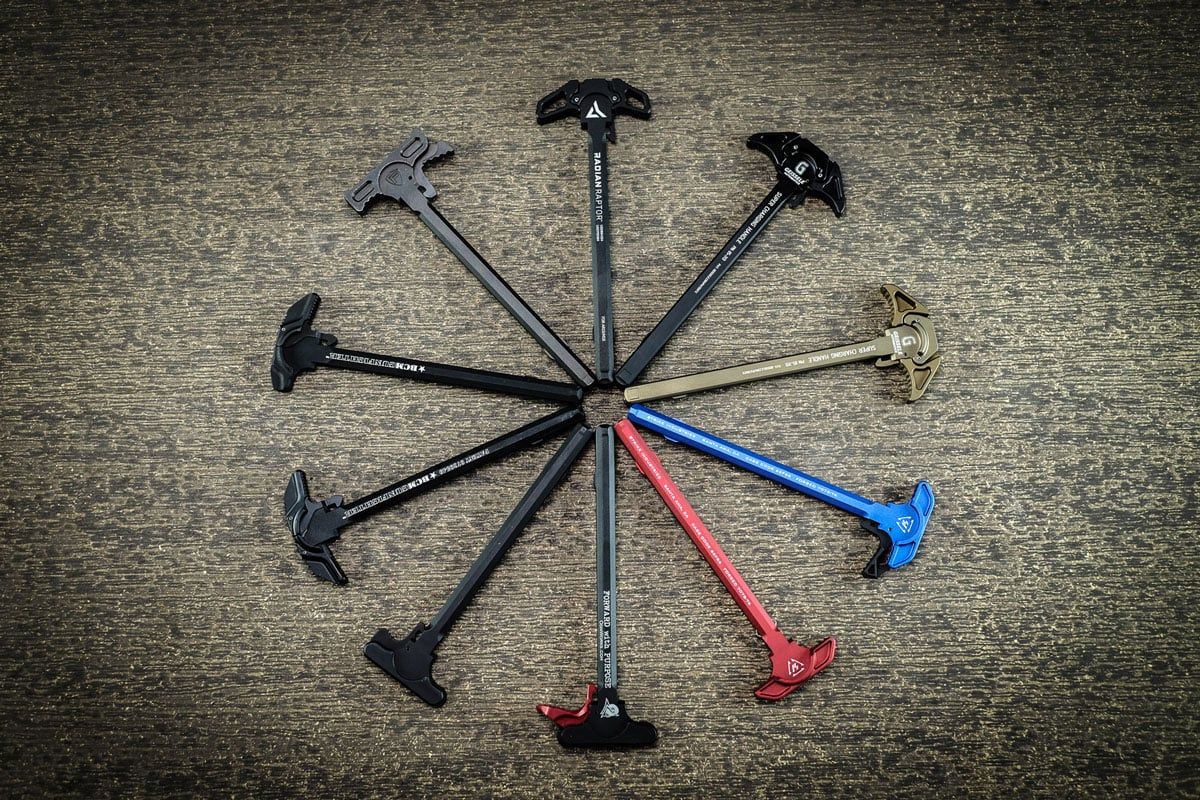 What are the best AR-15 charging handles? In a recent article, we explored just why a charging handle can be such an important part of your build.  Thankfully, it is a relatively inexpensive part to replace.  With so many different charging handles on the market, we thought it would be helpful to narrow it down to the ones we think are the best AR-15 charging handles.
BCMGUNFIGHTER Ambidextrous Charging Handle (5.56mm/.223) Mod 4X4 – Best AR-15 Charging Handles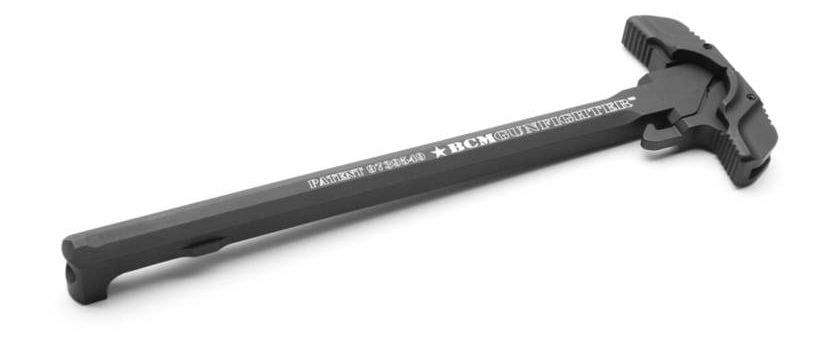 This is usually my go-to charging handle when I'm looking to replace a standard mil-spec.  Its size is very similar, and it's just a super well-built charging handle from a company that's earned my trust.  The Mod 4's latch is also just the right size for me if I'm gloved or gloveless.  It has not proved prone to snagging, and the grip on it just seems to match my hand perfectly.  If you want a slightly larger latch, check out the Mod 3 version…but for most, I think the Mod 4 is the perfect length.
For a non-ambidextrous option in the BCMGUNFIGHTER line, I would highly recommend the BCMGUNFIGHTER Mod 4.
Fortis Hammer 556 Charging Handle – Black – Best AR-15 Charging Handles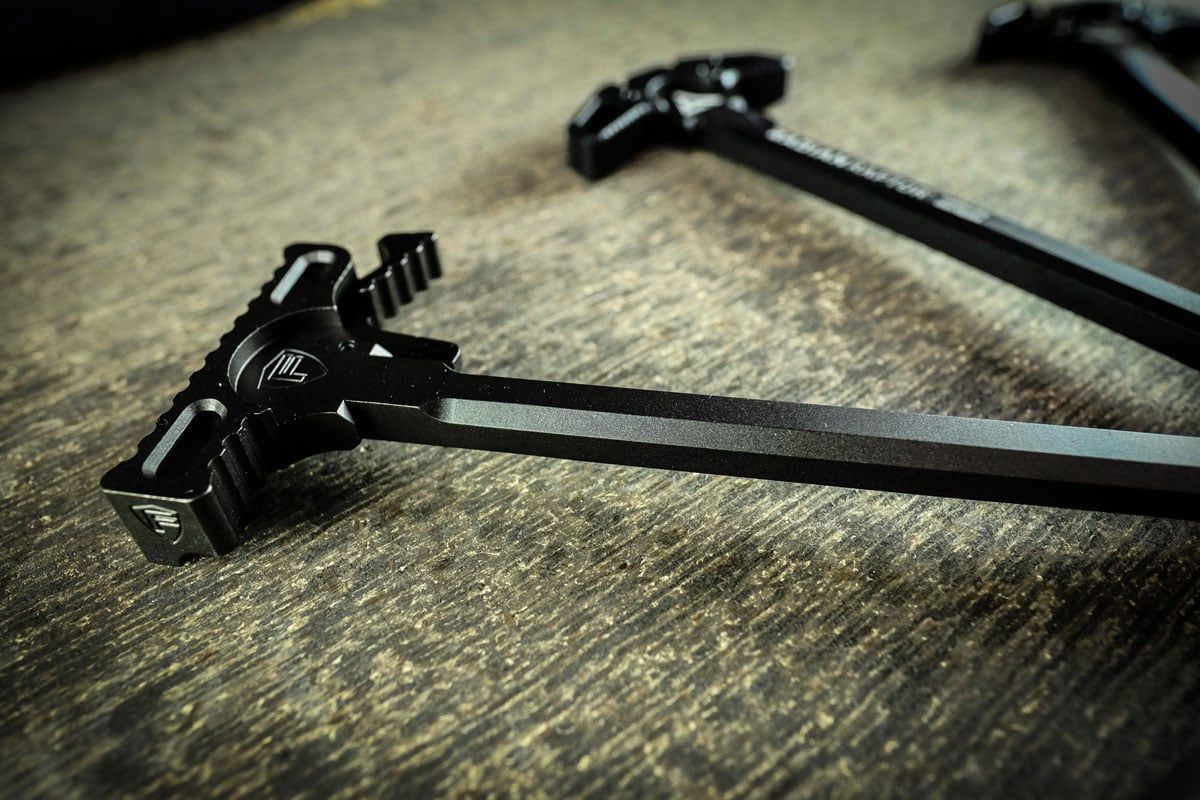 Pictures may not convey the increased dimensions of the Fortis Hammer…but the name sure does.  This is a very robust, heavy-duty handle that would work well if you're wearing gloves.  With its very large grip surface and aggressive serrations, it's going to be easy to grasp and utilize.  It also has a very distinctive look with its block-like shape and an almost gunmetal grey finish to it.  I really love the feel and the overall quality of this charging handle, but this is one where you might want to try before you buy.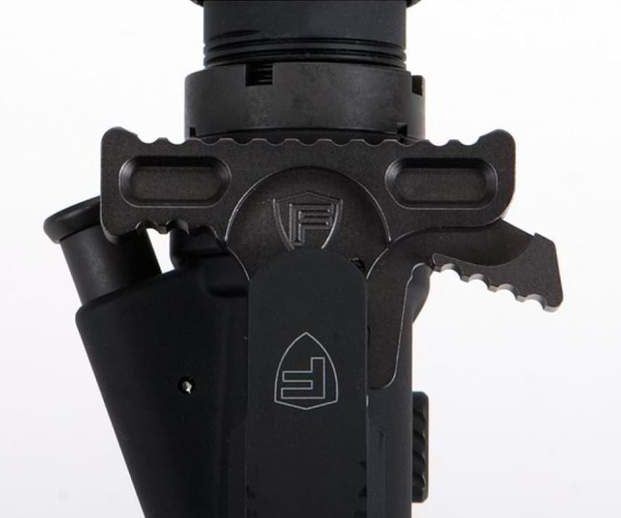 If it feels good for you, then by all means go for it, as the quality is there.  That said, some find the edges to be too aggressive (or sharp), although you might find it fine for your purposes.  Some 3-Gun shooters prefer the extensively grippy surface because they feel like they can operate their ARs faster on the range. Personal preference plays a huge role in this choice.
Geissele Super Charging Handle – Best AR-15 Charging Handles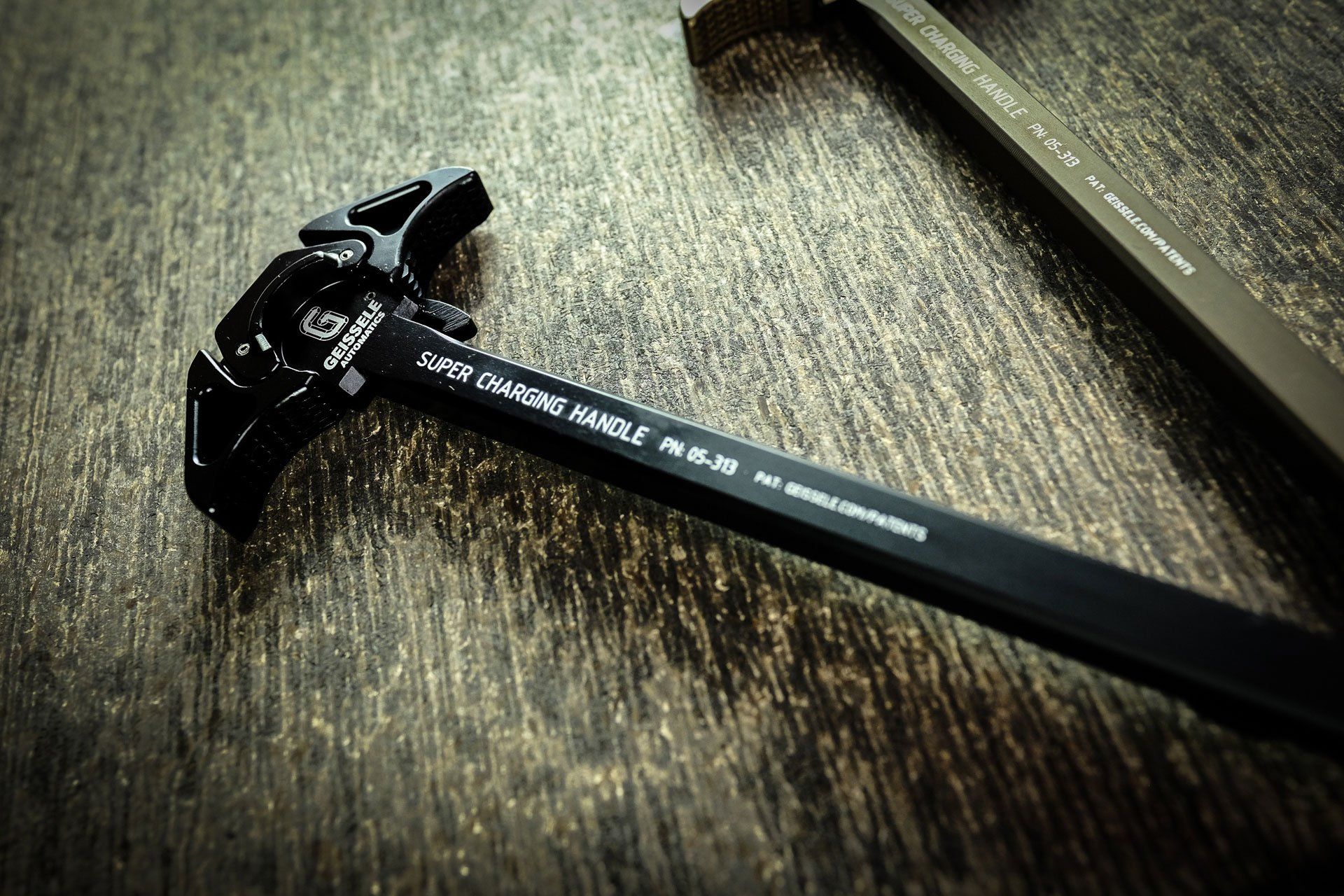 This one is special.  Giessele makes one of the best triggers in the world.  You might hear about them, but actually feeling one is what makes you a believer.  Ditto with the Geissele Super Charging Handle. If I were numbering this list, this would be #1.  It's my personal favorite charging handle, but especially so on my suppressed builds as it has a nice tall rear lip that helps a bit with gas blowback.  I don't usually run charging handles like the Radion Raptor SD, which some folks go with when shooting suppressed, just because the gas hasn't been a problem when using the Geissele.
The Geissele Super Charging handle has an ambidextrous, easy to grasp charging handle (even with gloves) that just exudes quality, and you really need to feel it to appreciate it…from the way the levers contour to the very nicely checkered surface. This is an absolutely top-tier charging handle I can recommend to anyone with out any hesitation, regardless of their usage requirements.  That said, you do pay a bit of a premium for the privilege.
Radion Raptor Ambidextrous Charging Handle – Best AR-15 Charging Handles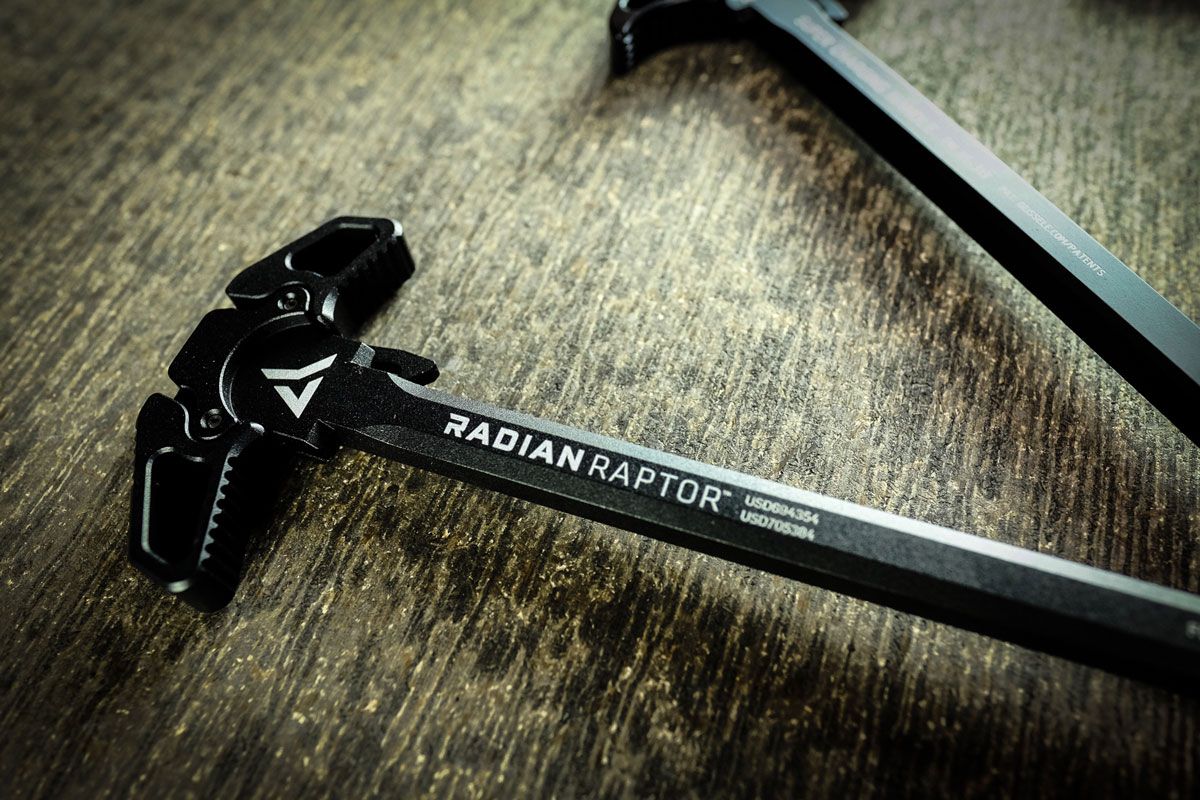 This one is tremendously popular for good reason.  It just screams quality and having the two huge ambidextrous activation levers on each side has an incredibly nice feel to it. When you have to activate the charging handle while wearing gloves or if you are in a dangerous situation, those large charging handle latches come in handy. It's a very well thought out and uniquely designed charging handle made of 7075-T6 Aircraft Aluminum from one of the best companies in the industry.  If you've got bigger hands, this would also be on my short list to consider.  
Radian Raptor-LT Ambidextrous Charging Handle – Best AR-15 Charging Handles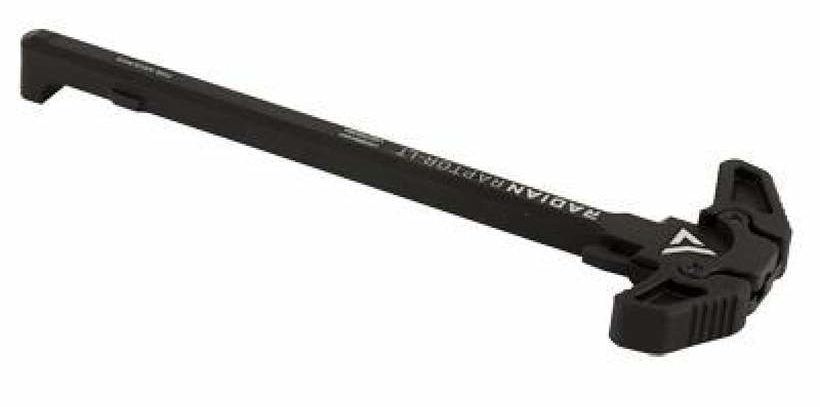 First impression of the Radian Raptor-LT is how light it is…which is good, since its reason for existing is to bring some additional weight reduction to your AR.  It's very similar to other charging handles in the Radian Raptor family (see directly above), but I think this is the one I'd choose, as I'm prone to keep things as light as possible.  When it comes to weight, bottom line, you cut it where you can.
To keep it both light and strong, it is built 7075 T6 Aluminum handles which have been over-molded with high-strength, fiberglass reinforced polymer. No worries about bending here.
Frankly, in use, it functions just like the other Raptors, which we are also big fans of.  Just like the original Radion Raptor, it feels very robust. Even though touted as lightweight, it does not feel like a compromise at all. A bonus here is that the design here really excels when you're working with a large optic.  It's easy to lock on to and get it quickly into action.  As an ambidextrous charging handle, it is indeed very smooth and easy to manipulate.  Also, if looks are a concern, I'd also put this one near the top.  It has a cool look that's not too over the top.  Finally, if you were to have any concerns about durability (not that you should) this one comes with a limited lifetime warranty.
ODIN Works Extended Latch Charging Handle – Best AR-15 Charging Handles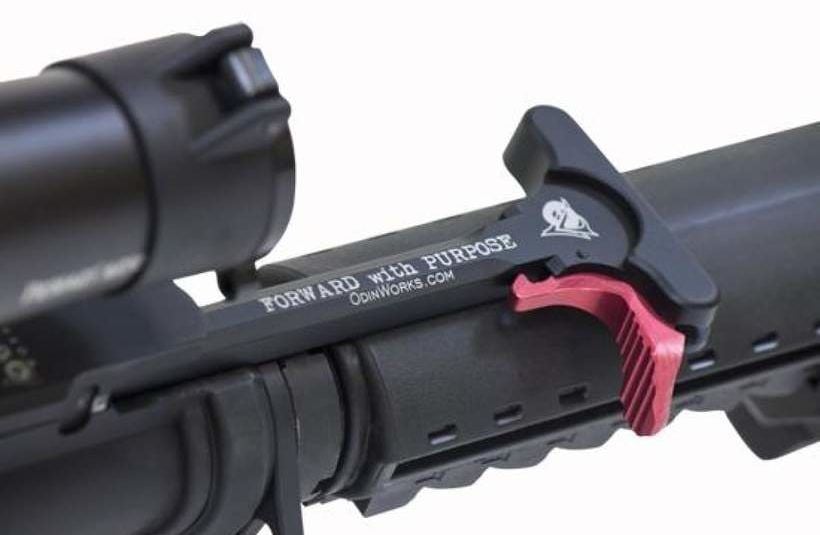 If you are wearing gloves, or if you are in a cold or wet environment, having an extended latch-charging handle just makes a lot of sense.  The XCH latch on the ODIN Works is very large and pronounced and easily grab-able.  It also comes in red, which actually makes finding it a bit easier when you're half looking it while staring through your scope.  It also adds a nice subtle splash of color, if you're into that sort of thing.
If I had an AR that had a large scope permanently attached, the ODIN Works Extended Charging handle would definitely be on my short list for the best AR-15 charging handle.  It's made from 7075 Billet Aluminum and has not bent or felt flimsy in any way during my time with it.  I would say that while I don't wear combat gear, the latch on this thing is very pronounced.  If you're prone to snagging things, keep that in mind.  That said, if you're buying because you need to be able to reach out and grab and have control of an extended latch, you're certainly getting that here.
Strike Industries Extended Latch Charging Handle – Best AR-15 Charging Handles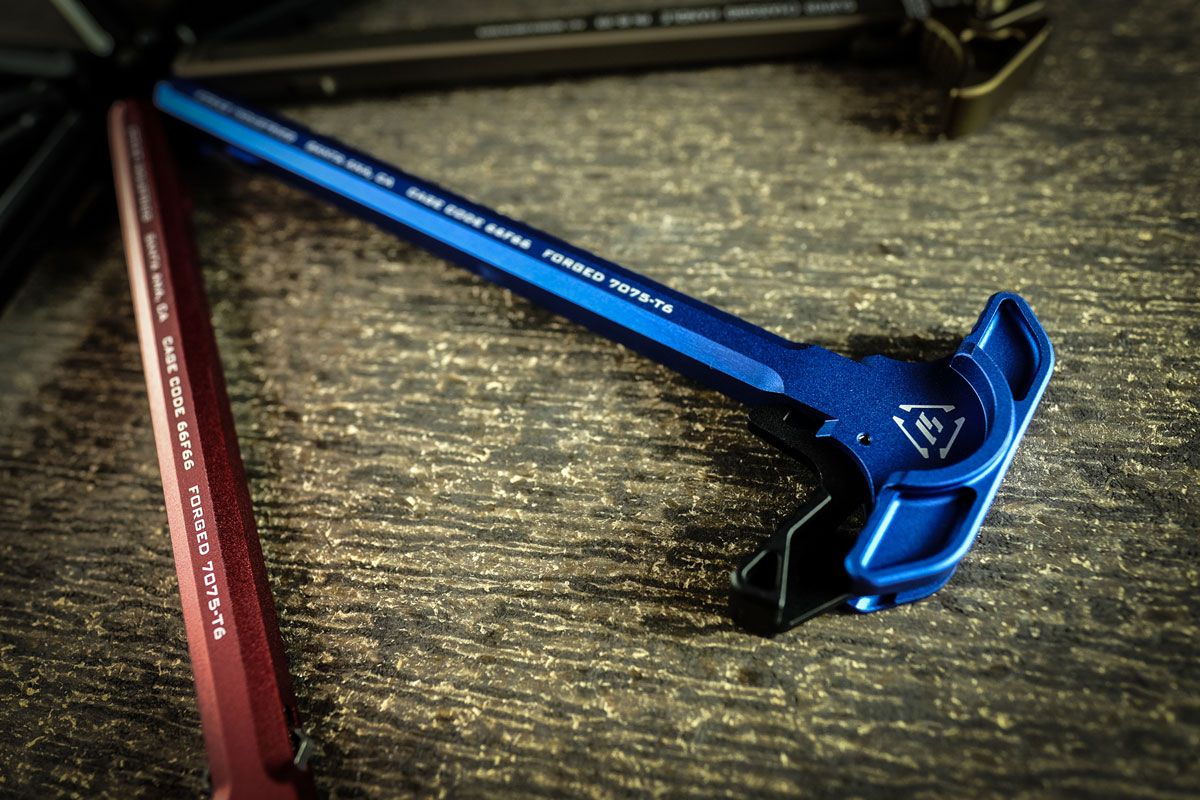 This one compares well with what the Odin Works above offers, but is slightly less expensive.  Like the Radion and the Odin Works, it works well if optic clearance is a concern.  It's also got a very good look to it, like the Raptor.  Another benefit of this particular charging handle is that the latch itself is made of aluminum.  This slightly reduces wear on your receiver when compared to steel latches.  This isn't something I really think about that often, but its something that you'll see noted when you go online to purchase this one.
Strike Industries Latchless Charging Handle – Best AR-15 Charging Handles
Strike Industries also offers this simple, well priced, ambidextrous handle constructed of high-end 7075-T6 aluminum. Once you get grip on it, it charges perfectly.  That said, in hand, it is quite small.  The big difference here is that this one is latchless.
Why latchless?  Well, again, it certainly keeps it simple.  But for me, the takeaway is that it won't get snagged on your gear.  There's no latch to get hung up.  Instead, the handle locks into the receiver via hidden u-shaped spring mechanism that uses the charging handle insertion slot in the upper receiver charging handle channel. 
In practice, this all works very, very well. It's a simple, elegant design. That said, there's some important caveats that disqualify if for me.  This is a charging handle that is made for standard mil-spec AR-15 only. It is not rated for suppressors and /or full auto fire. Nor is it suggested for use on SBRs or pistol length barrels.
Standard Charging Handle – Best AR-15 Charging Handles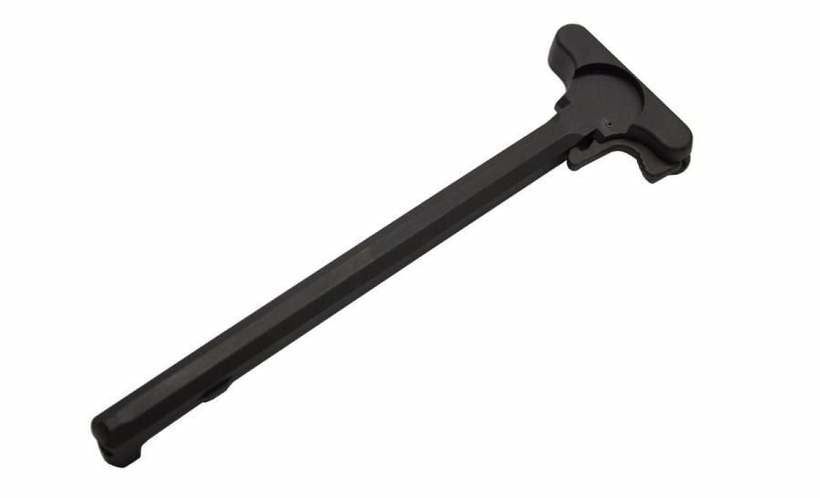 Finally…its bare bones, and its what you probably have already.  Perhaps on your rifle, or perhaps in your junk drawer.  It is not the best AR-15 charging handle, but when it comes to standard charging handles, there is sometimes some truth the old "if it isn't broke, don't fix it" axiom.
Let's say you're a right-handed shooter who got a basic budget carbine.  You're not competing with it.  You don't have a scope. It works well.  You might be thinking why spend money on something that is going to impact your day-to-day use very little.  If that's the case, then there is absolutely nothing wrong with a standard charging handle.  It's easy to overlook these with all of the other amazing charging handles on the market, but the standard charging handle most definitely still has its place and with its long service life, most certainly deserves a spot on our list.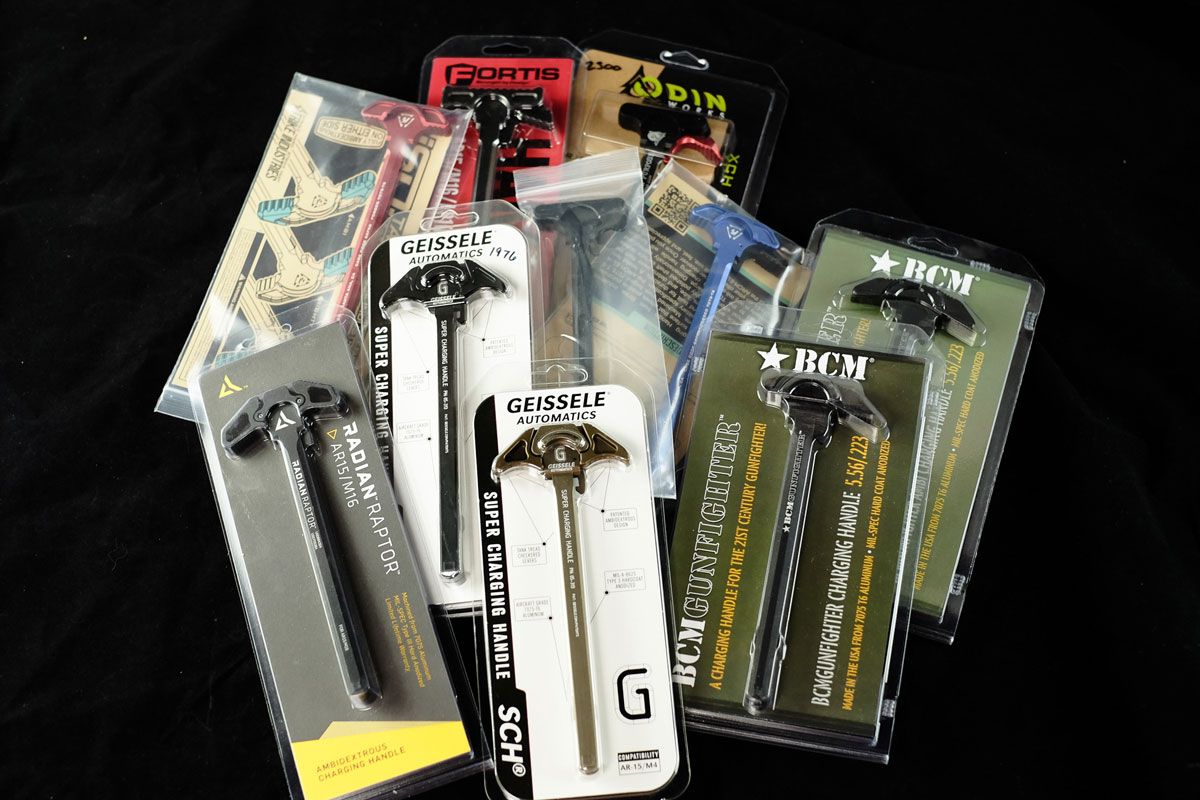 So this wraps up what I consider to be the best AR-15 charging handles. You may have a few other ones you would like to see reviewed or maybe you have a favorite of your own. Feel free to comment or post about your favorite charging handle, and tell us which one you are running and what AR you are running it on.
We are sorry that this post was not useful for you!
Let us improve this post!
Tell us how we can improve this post?