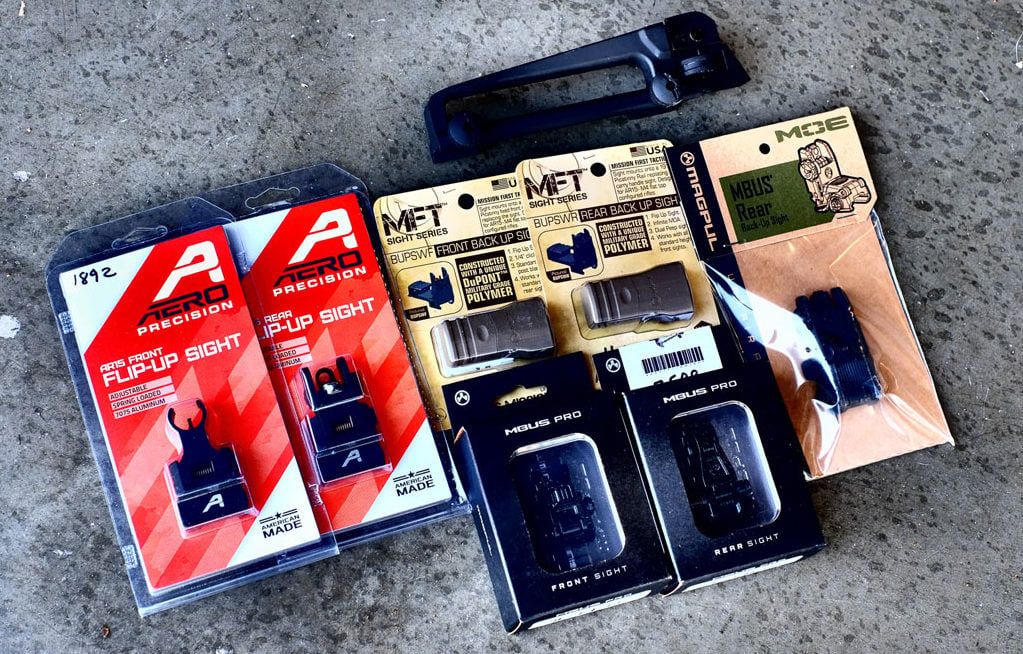 Just what are the best back up iron sights?

You've just built your AR and perhaps selected an optic…but you've decided you wanted iron sights too. Or maybe you're skipping the optic and you just want a solid set of fixed sights.  But which set do you want?  Let's take a look at each type and see which one will best fit your needs.
Which Companies to Look At for the Best Back Up Iron Sights
When it comes to BUIS, many large firearms companies make some type of product in this category. That said, one of the giants when it comes to sights is Magpul.  They have a basic MBUS Flip-Up Rear Sight and Flip-Up Front Sight available. These are a very basic set of impact resistant, polymer sights with a spring-loaded design that allows them to sit flat on your rifle until needed.
The rear flip up features a dual aperture design for long and short range use and large windage knob.  They can mount to any MIL-STD-1913 Picatinny type rail system, and they give you the same height-over-bore as a set of factory M-16A2 iron sights.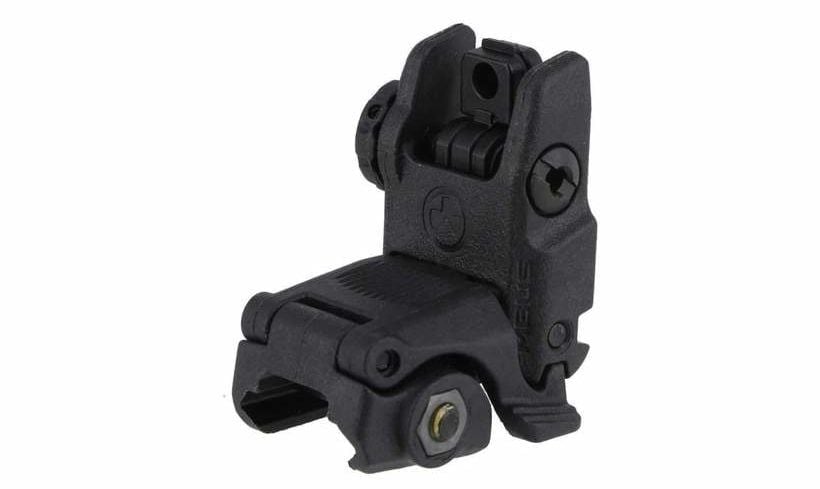 Magpul also manufactures a higher-end series called Magpul MBUS Pro Sights, featuring all-steel construction and a case-hardened QPQ/Melonite finish.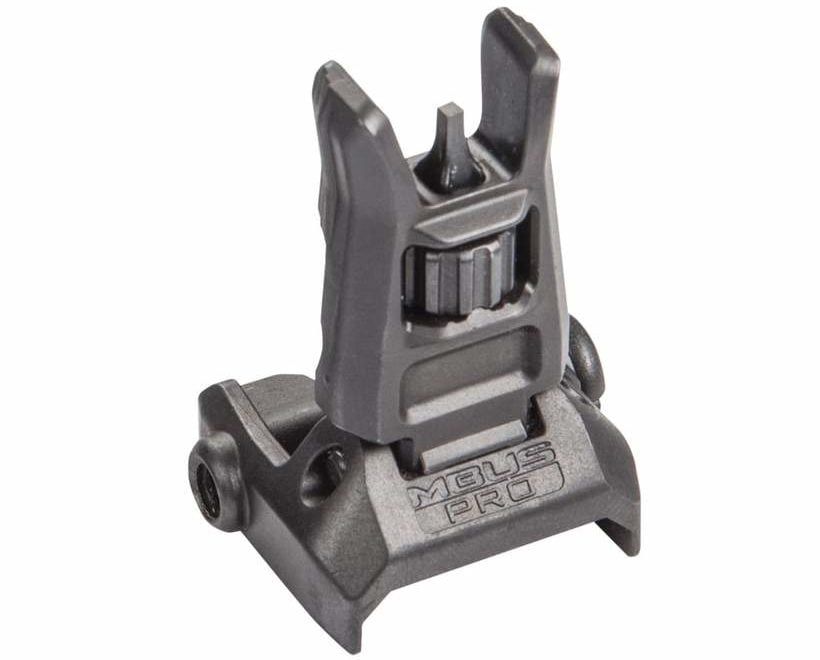 Keep in mind, Magpul is just one company making some of the best back up iron sights. Other companies include Aero Precision, Mission First Tactical, NBS, Troy Industries, Daniel Defense, XS Sights, Trinity Force, Diamondhead, Samson, GG&G, YHM, Strike Industries…the list goes on and on.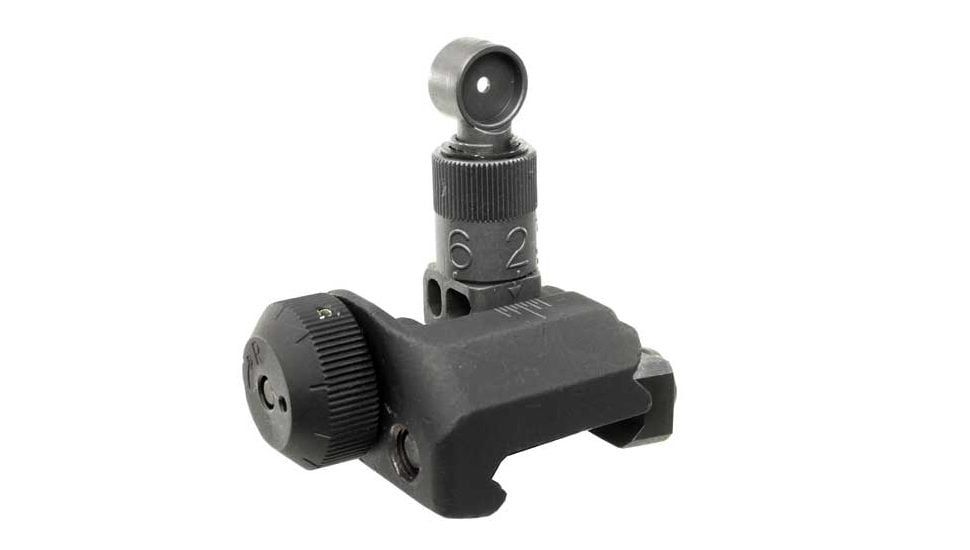 Types of Back Up Iron Sights
Iron sights are readily available in both flip-up and fixed configurations, as well as angled sights, offset 45-degree sight sets, and hybrid designs that offer both a 45-degree or inline sight picture. "Night sights" or Tritium iron sights are available too.
What you should select depends on the task you are going to be using them for. Is it going to be a CQB type build, a suppressed build, or is it going to be a long range build? What about an SBR, pistol or a PDW build? With so many options, taking time to consider the role of your build is wise.
Inline, Angled, and Hybrid Back Up Iron Sights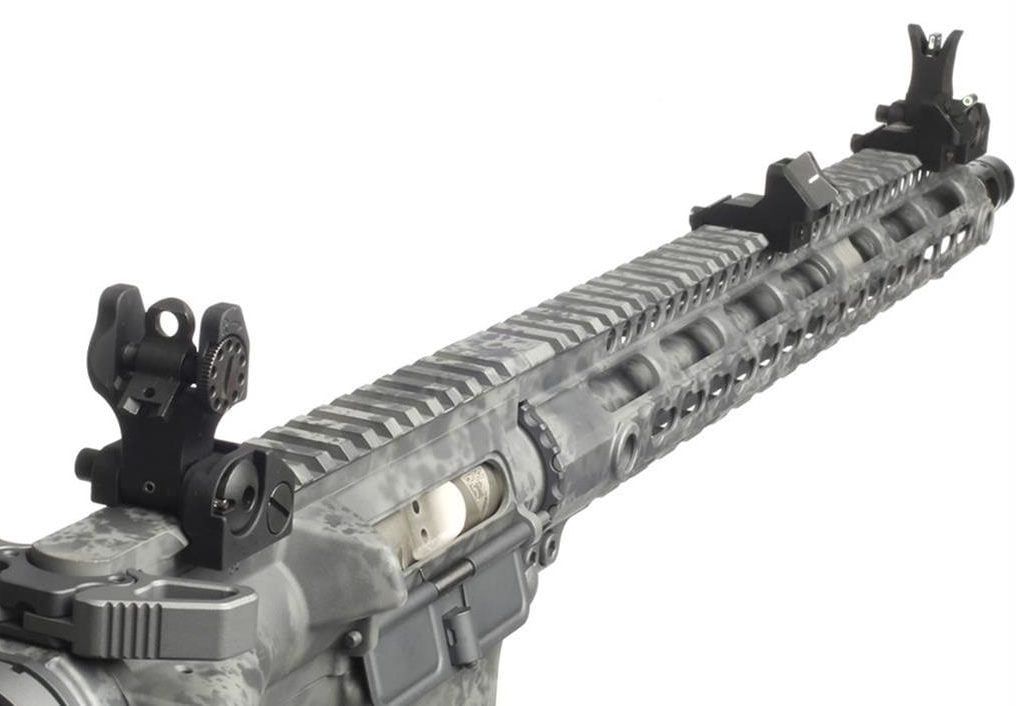 Many 3-gun shooters have optics, so they will often buy a set of back up iron sights "offset" at a 45-degree angle. A great example of this design is the XTI DXW Standard Dot Offset Night Sight. All you have to do is line up the big dot front sight with the white stripe rear sight by "dotting the I".
Another example is the Strike Industries Sidewinder BUIS, which is a hybrid type of sight. You can use at a 45-degree angle when you have an optic on your rifle, or use them as an inline sight.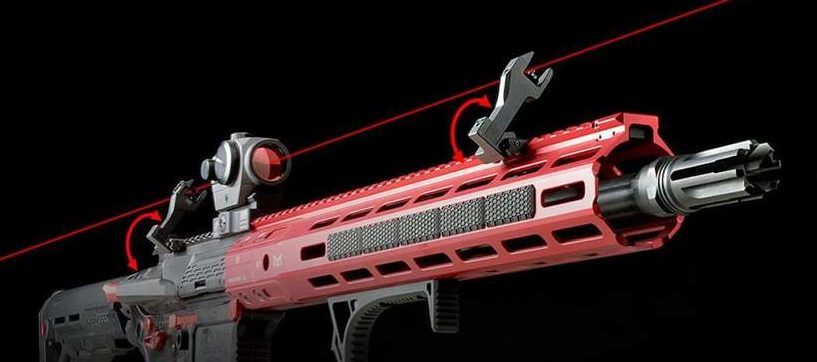 In addition to these features, the Sidewinder BUIS set also has the ability to fold out of the way, giving you more options than many other sights on the market.
The previously mentioned Magpul MBUS or MBUS Pro are also good examples of a low profile flip up sight set.
For a fixed set of BUIS, I'd take a good look at the Scalarworks Peak Sights.  Designed in collaboration with Larry Vickers, these sights are very robust and offer adjustable windage and elevation.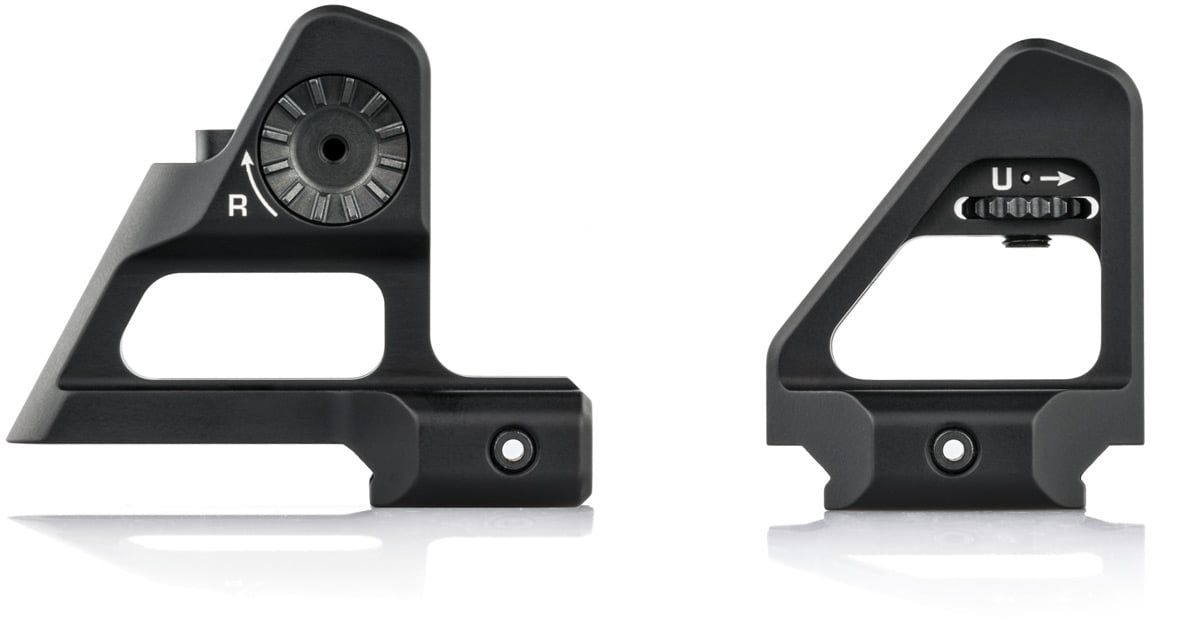 The TacFire Inc. A2 Style AR Detachable Carry Handle is another example of a fixed back up iron sight. It has the usual parkerized finish to the steel and black finish to the aircraft grade aluminum so it will match your black rifle without fail. It has a dual-aperture flip-up rear sight that has adjustable windage and elevation as a part of the factory features. The great things about this sight are that it doesn't have to be installed by a gunsmith, it can mount on most flat-top AR-15 rifles, and you can use it as both a sight and a carry handle.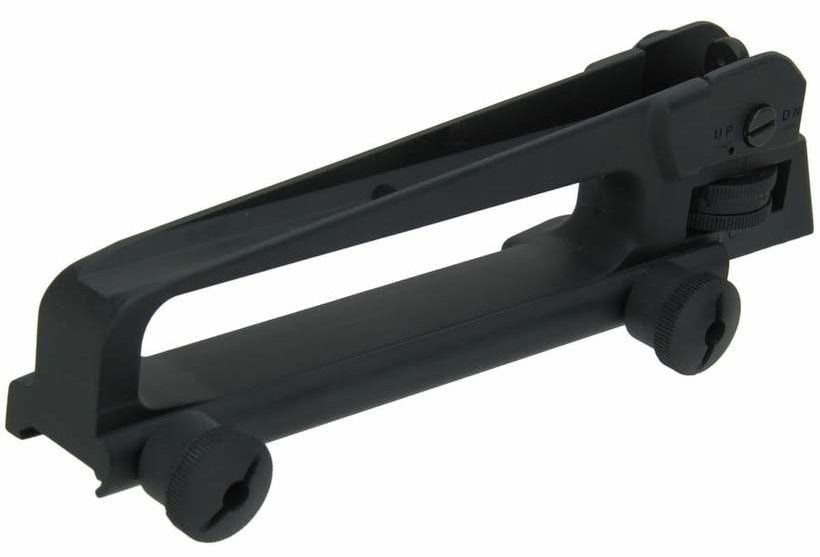 There are detachable front sights and fixed front sights available too. Some can be attached to a low-profile rail or on a railed gas block. Others can be screwed down to the forward portion of the barrel.  Of course, there is the standard A1 front sight base that attaches via clamping pressure and screws, or the standard "tapered pin" configuration.
All of these are suitable options, but the tapered pin and the clamping pressure style front sights may impact the accuracy of the barrel. Armalite offers a Clamp-On A1 Front Sight Base. Troy Industries offers a front sight that can attach to a railed gas block or a railed front sight base.
To Glow or Not To Glow
Tritium iron sights have low light capabilities that some might find attractive, depending on their needs. Troy Industries makes a high-end set of Tritium Battle Sights called the Troy Micro M4 Sight Set. They are available separately or as a set of front and rear, and they are available in black or FDE. They feature a dioptic rear sight and an M4 type front sight. They are constructed of aircraft aluminum and designed to be low profile.
There are also companies that offer just the front sight post with Tritium installed.  Some of these Tritium sight posts have the lamp placed horizontally so the glow you see is from the end/tip of the Tritium lamp. However, some of the front sight posts have the Tritium facing vertically so you see the entire length of the lamp, giving you a larger glowing "dash" to take aim with.
XS Sights, Meprolight, Ameriglo, Blitzkrieg Components, Trijicon, and many others offer separate tritium front sight posts to upgrade your existing AR-15 front sight or front sight tower. 
The previously mentioned XS Sights XTI DXW is an example of 45-degree angled sights with Tritium in the front, surrounded by a circle for rapid target acquisition.  While the rear sight does not have a tritium lamp, it does have the white stripe incorporated into the design so they are extremely easy to aim.
Co-Witness
A co-witness set up consists of your front and rear iron sights, and your chosen red dot optic in between the BUIS set. So the order from the charging handle going forward would be: Rear BUIS, red dot optic, front BUIS. There are generally considered to be two ways you can set up your co-witnessed sights… Absolute and Lower 1/3rd. An absolute co-witness is when the rear sight, red dot, and front sight post all line up and the tip of the front sight post is lined up with the red dot.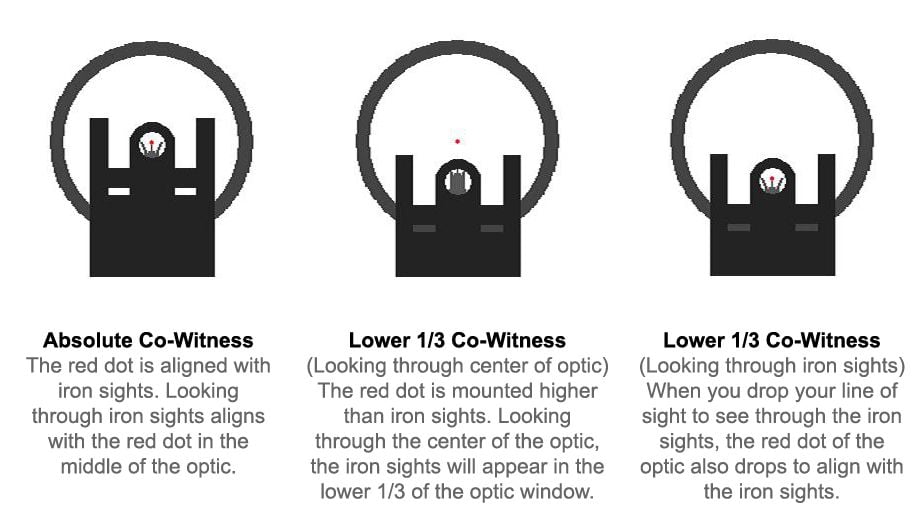 Whereas the lower 1/3rd set up is where the BUIS set is mounted a bit lower on the receiver, or the red dot is mounted higher with a riser. With a lower 1/3rd configuration, when you look thru the sights, you would see the red dot a little bit above the iron sights.  If you were using the red dot, you would probably only see the upper part of the front and rear sights.
Each set up has advantages. The absolute co-witness allows rapid acquisition of your targets. This means you don't have to adjust when you switch from low light areas to brightly lit areas and back again. If the reticle or dot on your optic disappears from the glare of the bright light or sunlight, you still have your irons to engage the target.
The lower 1/3rd co-witness is nice because you don't have the iron sights in the sight picture with the red dot there too. Some shooters feel like the absolute co-witness sight picture is too cluttered, so they usually go with a lower 1/3rd setup. I'd suggest you try both and see what works.
Conclusion
In the iron sight market, there are only so many ways to draw the same picture.  Ultimately, the choice is yours, so buy what falls within your budget, but don't skimp.  A quality sighting system is worth every penny.
We are sorry that this post was not useful for you!
Let us improve this post!
Tell us how we can improve this post?