What are the best back up iron sights (BUIS) for your AR build? In a previous article, we reviewed various types of BUIS's, how they are constructed, and the companies that offer them. Now, I'll briefly review several of my preferred back-up sights and help you choose which sights are best for your platform.
MAGPUL PRO Sights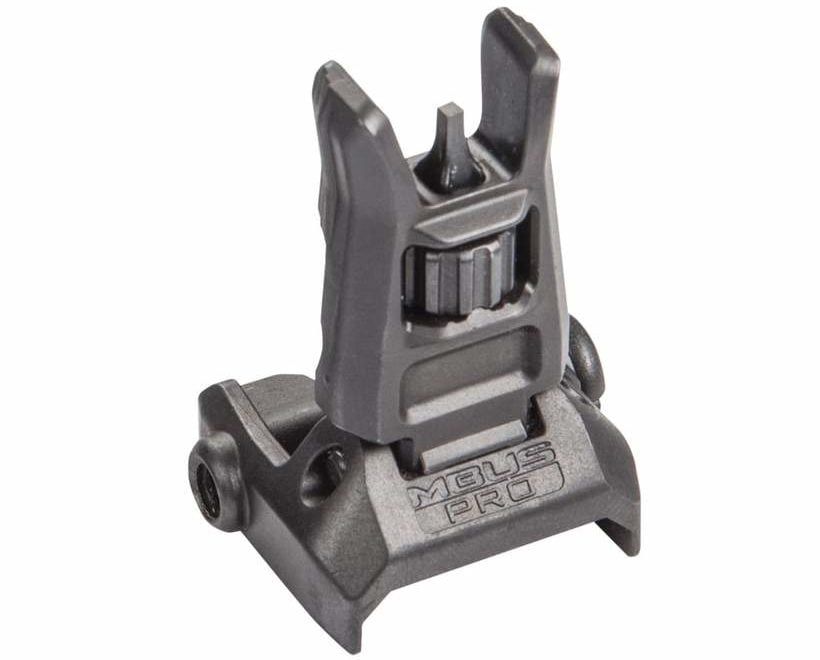 Magpul sights are going to be on most shortlists, and for very good reason. Of their offerings, the MBUS Pro is the standout for me. The Magpul Pro Flip Up Sights are 100% made of steel and have a case-hardened Melonite/QPQ finish for corrosion resistance and a beautiful low-profile appearance. The Magpul Pro Front Sights (MAG275) and the Magpul Pro Rear Sights (MAG276) both have the capability to fold down out of the way and stay there until you are ready for them. They can snap into action just as fast as the MBUS sights, and they have windage & elevation adjustments built in just like the MBUS sights do.
In the end, I like the Magpul Pro sights better than the Magpul MBUS because they will have a longer "lifespan" than the polymer sets. Don't get me wrong…I'm a fan of the Magpul MBUS Sights, and they are on this list of my favorites, but if you are looking for a long-lasting sight set, then certainly consider putting the Magpul Pro Sight set into your shopping cart.

Scalarworks Peak Sights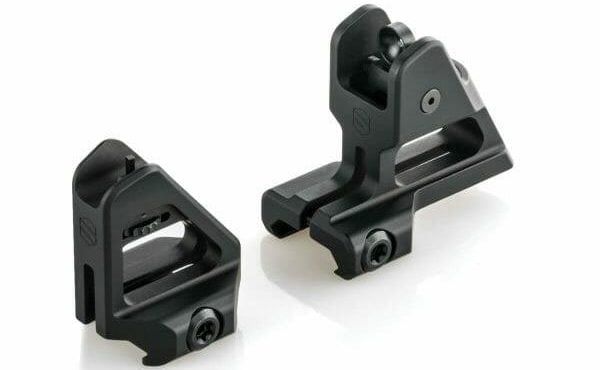 If I'm not going with a set of flip-ups, then my go-to just might be this beautiful bolt-on, fixed set of Scalarworks Peak Sights. They are very robust, milled from 7075-T6 aluminum, and offer adjustable windage and elevation. What's great here is that the adjustments can be made without tools…and can be made in 0.5MOA/click increments.
Again, this is a gorgeous set of sights and one that is definitely built to last. They're also smooth and hard to snag on clothing and gear. As of today, they are on my very short list of what I'd put on my AR.
That said, Daniel Defense and Precision Reflex are also worth taking the time to look into if you like this style.
MAGPUL MBUS Sights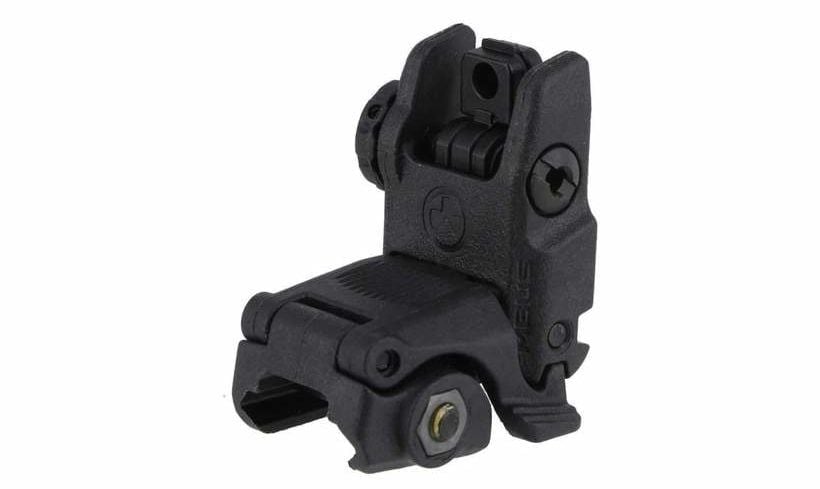 From a cost/quality perspective, this set is very hard to beat. I'd be hard pressed to find a more popular pair of back-up sights. The design here is durable and well thought out. Magpul MBUS are built with a low profile design in mind. They have an ambidextrous spring-loaded release button so they can be released and quickly pop up into place.
If you are a fan of having a red dot on your rifle, these sights can still be mounted without adding much weight. The front sight comes in at just 1.2 ounces and the rear sight weighs just 1.3 ounces.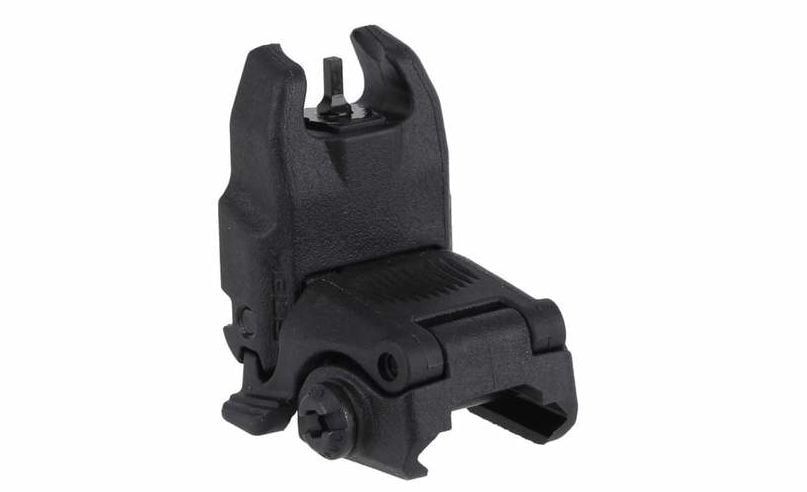 The Magpul MBUS sights also have the exact same height-over-bore that the Military A2 sights have, so getting them sighted in will be no problem for a shooter. I also really like the fact that these sights fold down out of the way and won't snag on my gear so easily. I would gladly recommend them to any friend or customer. When you can get the high-quality MBUS Front and Rear Sight set for around $100.00, that's a tough deal to pass up!
Knights Armament Company Folding Micro Front and Rear Sight (Rear: 200-600 Meter Adjustable)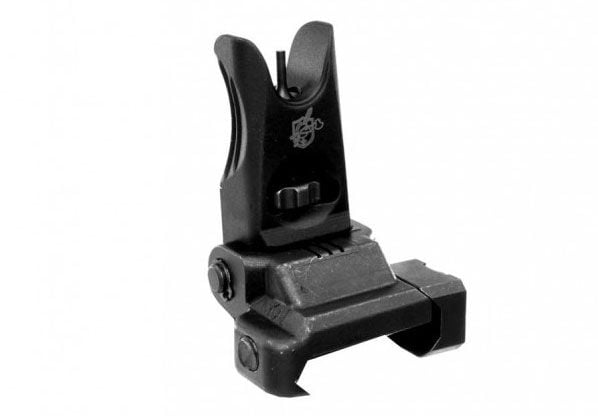 Knights Armament has been synonymous with top-tier quality in the firearms community for many years. When it comes to a pair of sights that just scream quality, these are it. They are built to extremely high-quality control standards and are in use with the United States Army, Marine Corps and law enforcement agencies worldwide.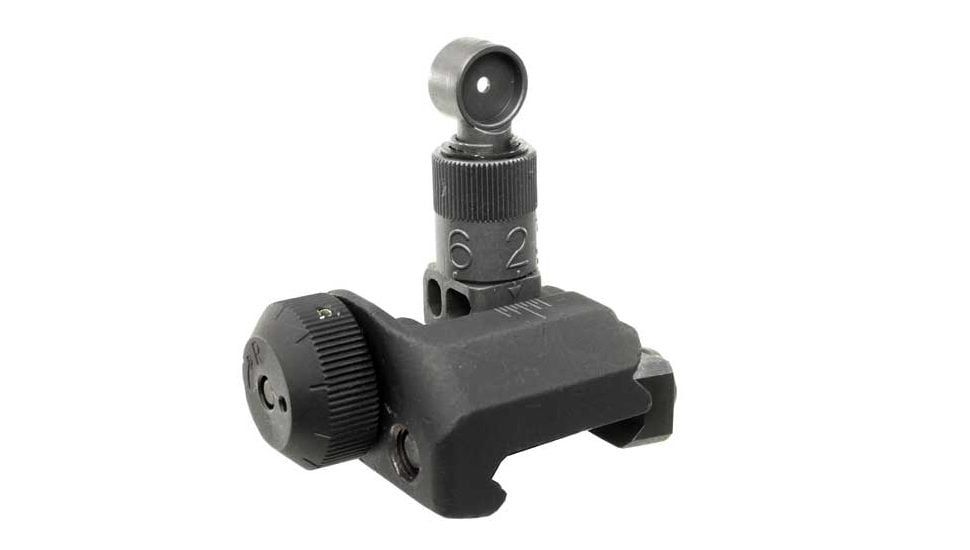 The Folding Micro Rear sight has a small easy-to-dial-in drum that is used for adjusting the aperture between 200-600 meters. This set rides lower on the receiver than most other low-profile sight sets I have seen. If you don't mind the price, then this is a set you can buy with complete confidence.
Troy Industries HK Style Tritium Back Up Iron Sights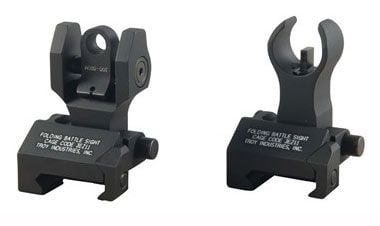 Troy Industries, a well-known heavy hitter in the world of firearms accessories, has always brought out great products. These HK style front and rear sights are no different. The Troy sights can fold down out of the way and they can quickly flip-up when needed. They have a specialized design that protects the rear aperture and the front sight post from damage. These can easily attach to any Picatinny/1913 rail system too.
The HK Style rear sight has two apertures that allow for engaging targets in close and taking on targets further away. It has a .170″ aperture for the 0-200 meter or shorter-range targets, and a .070″ diameter aperture for the 300-600 meter longer range engagements. They're made of steel and aluminum, so you know longevity is not going to be an issue. The rear sight has 2 Tritium lanterns, one on either side of the 0-200 meter aperture, and it has one Tritium lantern on the tip of the front sight post. If you want to pick up quality sights that are ideal for low-light work, definitely check out this set.
GG&G 45 Degree Iron Sights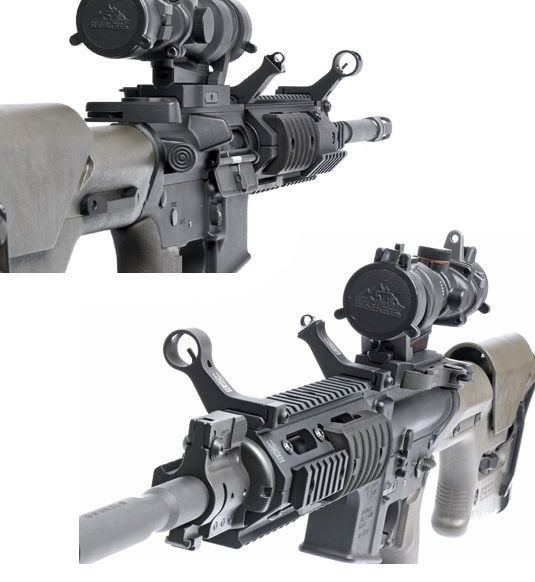 When you have an optic on your AR-15 and you still want a set of iron sights, what is the solution? My personal recommendation is GG&G 45 Degree Iron Sights. They're super simple, easy to install, and they won't get in the way of your scope or red dot. They are also ambidextrous. These lightweight sights are only .75 ounces each, adding just 1.50 ounces to the overall weight of your AR-15. These sights have the mil-spec Type III hard coat matte black anodized finish to protect them from corrosion.
The hooded front sight is built to protect the front sight post. It uses a standard mil-spec A2 type unit that can be replaced with a Tritium post if you prefer. The front sight is easily adjustable for elevation, and the rear sight is built so you can adjust it for windage. The rear sight is designed like a "ghost ring" sight with a wide-open aperture for rapid target engagement, high-quality, and either sight can mount to any standard 1913 dovetail.

Also keep in mind that 45 Degree sights are available from Knights Armament, Troy Industries and Magpul too. Any of their products are a great choice.

Conclusion
When you are searching for a set of iron sights, there are many variables to keep in mind. You must look at quality, research the brand name, and see what kind of warranty they're offering. Pay attention to the materials being used and find a set that fits your budget. There are a lot of quality sight sets out there for you to choose from. Just keep the preceding factors in mind when narrowing down your options, and once you finally make your choice, it will be an informed decision.
We are sorry that this post was not useful for you!
Let us improve this post!
Tell us how we can improve this post?