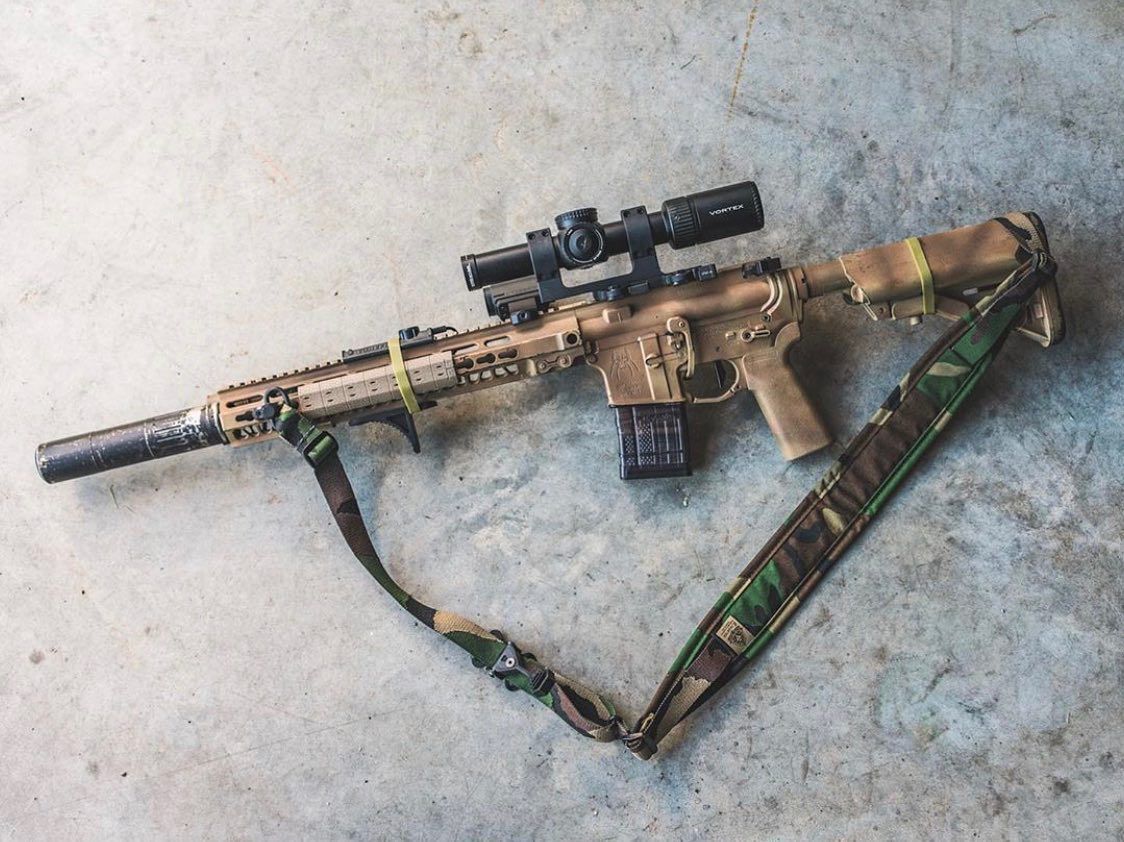 Slings are a necessary expense when it comes to owning an AR-15, and I frequently see questions on what is the best rifle sling on the market. Hopefully this article can start to answer that important question. Bottom line is that a quality rifle sling is one of the top three things you should be purchasing for your AR, as I mentioned in this article. I won't get into what a sling does, as I've already touched on that. However, I will tell you that not all slings are created equal, and that you must address a few things before choosing the right sling for you.
Best Rifle Sling – Types of Rifle Sling For Your AR
Single point slings create a loop with a single point of contact (usually on the stock or end plate) through which the user slides their head and one arm through. They are useful for retaining a gun in small spaces (like if you are in a vehicle) but offer unrestricted gun movement. This has led to more than one user getting hit in the groin by a bouncing rifle while moving.
Two-point slings attach to two points of the gun. Generally, these will be the stock or castle nut and then a point on the front of the rail. The actual positioning can vary, but two points of contact with the gun are maintained. These allow various carrying methods and easy access to the firearm but come with a couple of drawbacks that need to be considered. First, moving the gun from one shoulder to another (switching hands while shooting) can be difficult, depending on sling length. Second, due to the way the sling is attached and around you, it can allow people to grab a hold and control you.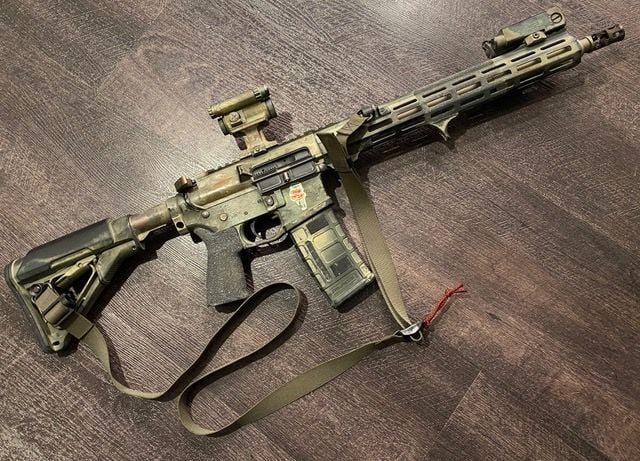 Triple point slings are a combination of the two above. They attach at two points on the gun like a two-point sling would. Additionally, the sling attaches to itself like a single point, securing the rifle to your body. This has mostly been replaced with 2-1 slings, though, and is a bit of an older carry method.
2-1 slings attach like a two-point sling but offer a method to convert them to single point slings very rapidly. This usually involves running some sort of quick detach or clip, which allows the sling to convert back and forth with minimal effort. These represent some of the more popular slings for the AR platform and are generally what I recommend for an AR-15.
Best Rifle Sling For Your AR-15 – Slings to Consider
Scissor Runner Solutions
One of my favorite slings on the market is newer and relatively unknown to most. Scissor Runner Solution @scissor_runner_solutions on Instagram is a minimalist sling that was designed to move past common issues seen in other slings. The SRS sling is a 2-1 convertible sling with no excess fluff or padding. The sling features an adjustable slider for cinching your gun tight or creating room for moving the gun around.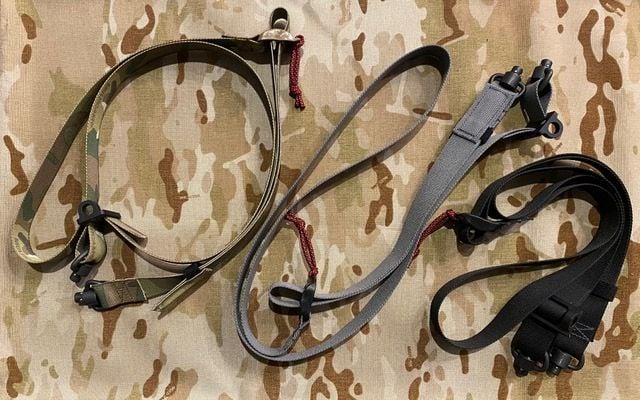 Where the SRS sling stands out is the thought put into the design. This sling has no plastic triglides (a point of failure on some slings), the slider is stitched, and there are no metal buckles or clasps to snag on gear or scratch your gun.
The entire design of the sling was to eliminate anything that wasn't needed, excel at what is, and make, "your kit work for you, not the other way around." If you're looking for the best rifle sling for your AR-15, this is most certainly one to research before making a final decision.
Forward Controls Design
Roger doesn't make things unless they are an improvement. Objectives were clearly stated, testing was done to engineer a sling that would meet or exceed them, and the end user benefits from an easy to use, minimalist sling that is ready for hard use, and can easily be considered on the short list of best rifle sling.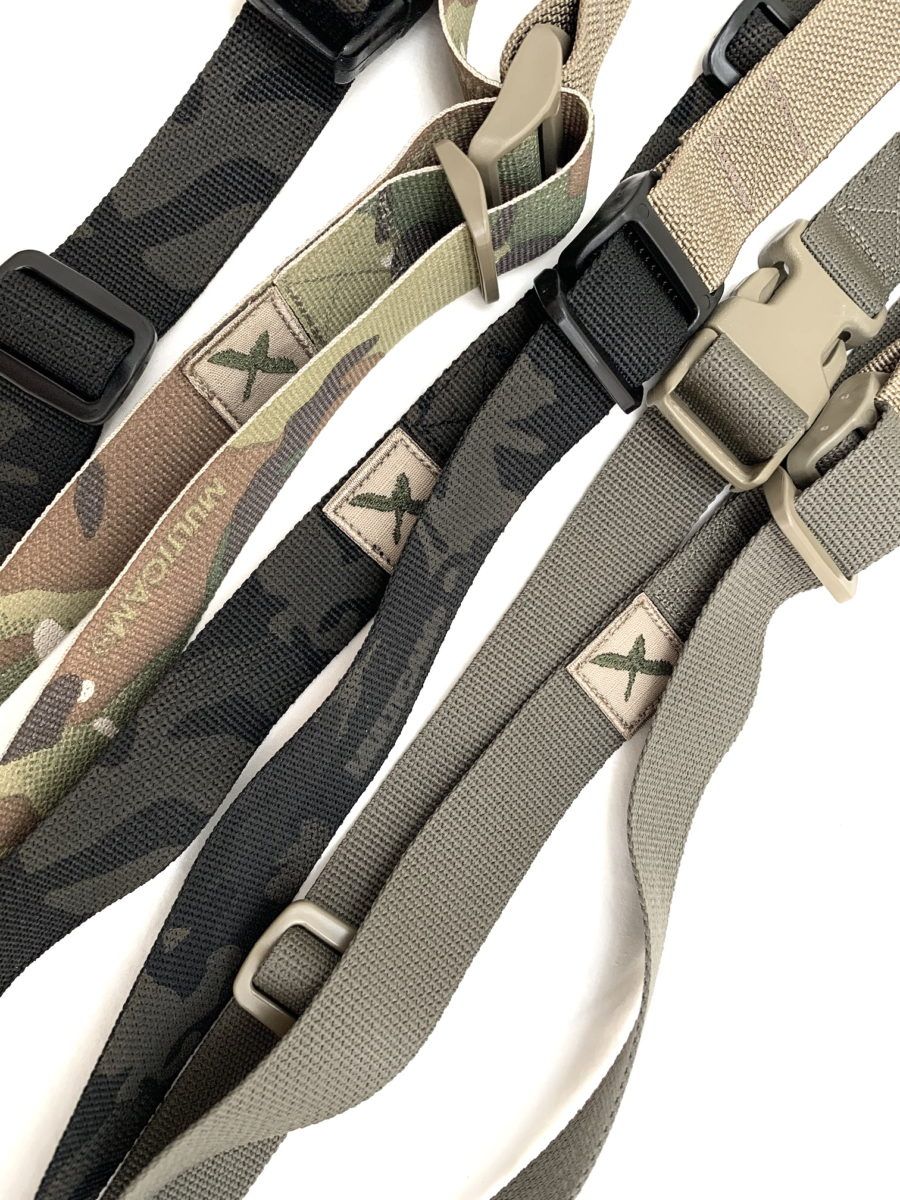 The CSF (Carbine Sling, Forward Controls) uses a mix of textured webbing for different parts, allowing the user textile feedback when touching the sling. The sling body is smooth, while the quick-adjust tab is rougher. The fabric pull tab also allows for a variety of grips to make it easy to grab and use.
A standard quick-detach buckle on the rear is designed to minimize interaction if there is a need to drop the gun quickly, even designed so far as to account for gravity in different positions. Finally, front and rear webbing allows for extra reinforcement near the QD buckles by doubling up the sling when securing the ends.
Edgar Sherman Design
ESD slings are another example of market research and hard use testing brought to life. The slings feature two adjustable sections, a newly improved pull tab for easy adjustment, over twenty-inches of adjustment, and an open-ended design for trimming and attachment.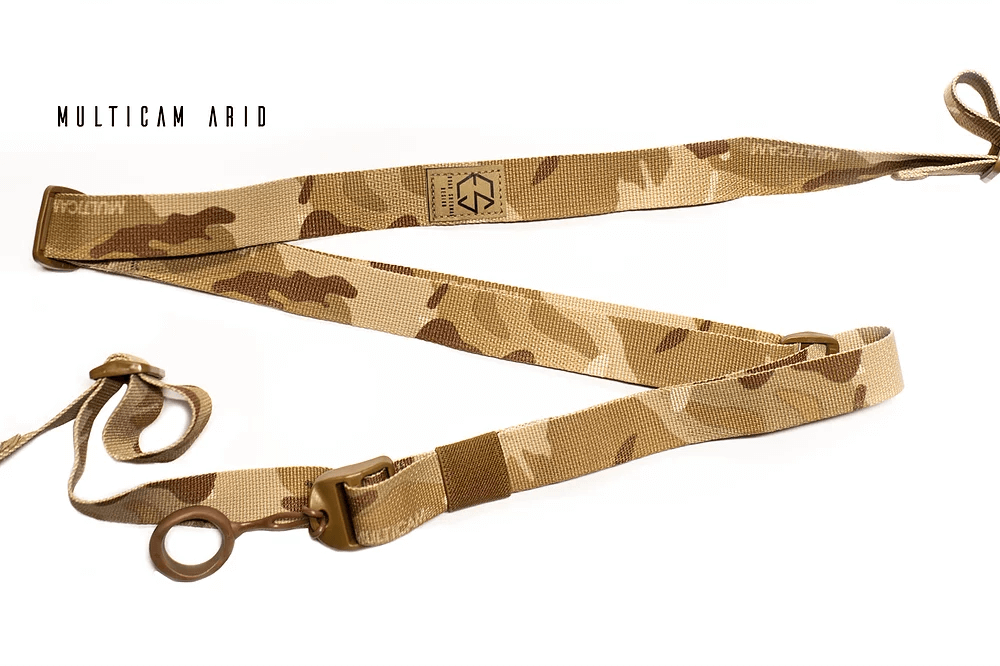 The ESD slings are in high demand for a reason. They are another fine example of cutting out anything that isn't needed to streamline the sling. The one-inch wide slide offers one triglide, leaving the rest of the sling bare so as not to snag on gear. One of the only downsides is that they can be hard to find in certain colors due to demand. (looking at you Multicam arid and m81).
Blue Force Gear Vickers
Arguably the gold standard to which all other slings are compared, the Vickers slings come in a variety of setups and styles. Ranging from standard two-point through padded 2-1 slings, for years they were the go-to and are still great slings.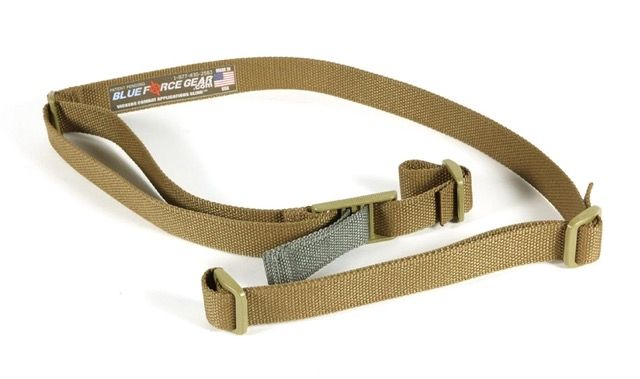 The Vickers slings are durable, well-made slings that offer something for everyone. On the adjustable slings, metal buckles were replaced with plastic to minimize wear on gear. Stitched pull handles were incorporated for varied hand positions while grabbing to adjust, padding was kept minimal and not bulky, and the slings are built for hard use.
Ferro Concepts Slingster
The Slingster is a modular sling with several good features. It is primarily a two-point sling, but with the correct hardware installed, it can be a 2-1 as well. It offers adjustable padding for extra comfort while slinging a gun for long periods (the pad can be removed if desired, which is my preference). A custom plastic pull tab allows for quick adjustments of the sling, and the sliding section is smooth when operated.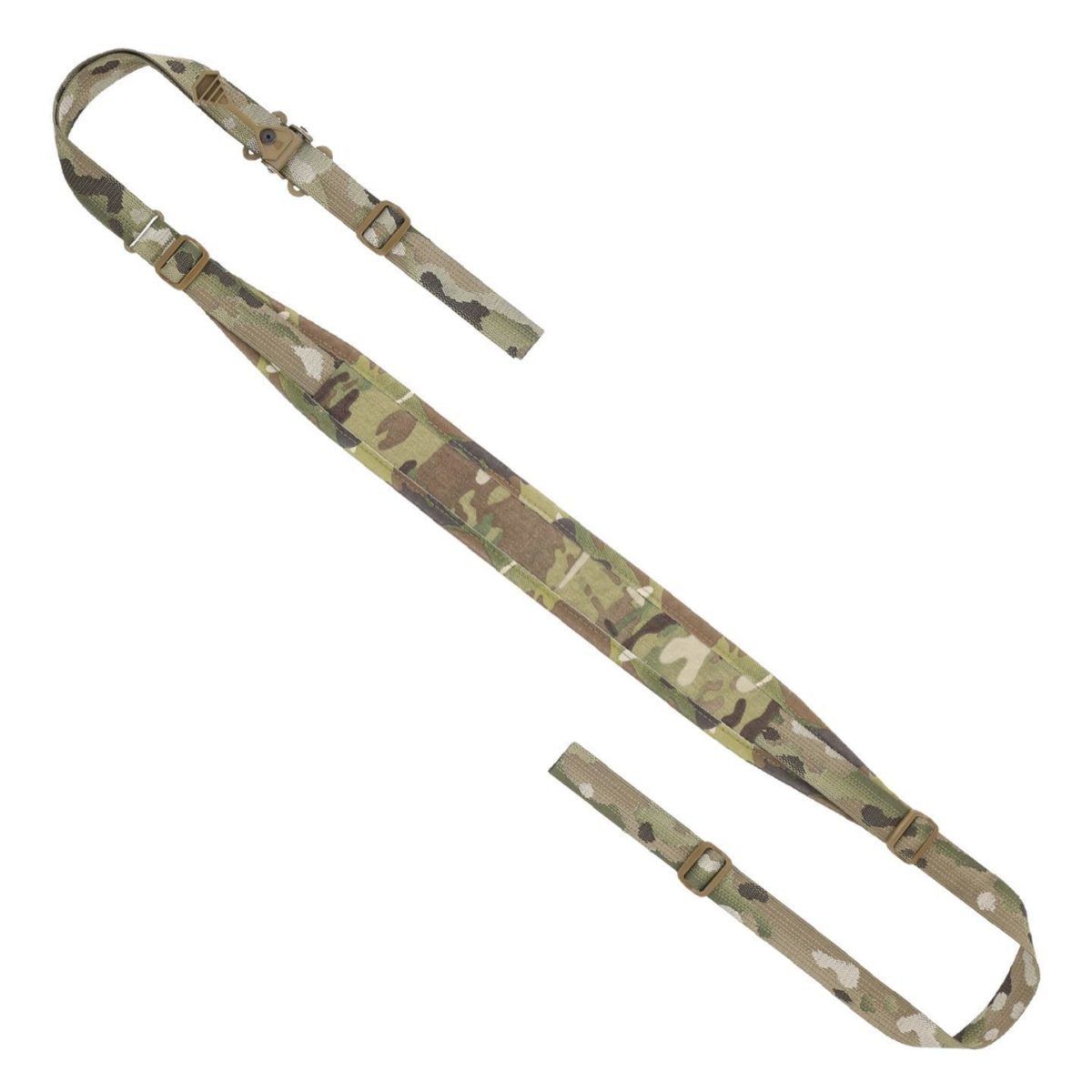 The only complaints you will hear about the Slingster are two things. First, they are in very high demand, so at times finding one can be difficult. Also, the welded common loop can take a toll on gear, especially receivers. If you are using your gun hard already, this isn't a concern for you, but it is something to bear in mind if you mind scratches.
Lunar Concepts Contour Sling
Lunar Concepts took the design of the common two-point sling and twisted it to make it better. Their slings offer what they call a "ContourKink shoulder pad", which is an angled turn where the sling sits on the shoulder. This helps to combat fatigue as well as reducing the sling wrapping.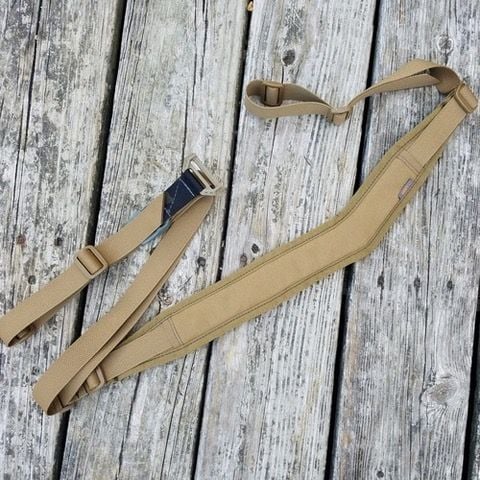 The bulk of the sling is made of one-inch webbing, with plenty of extra webbing present for adjustment. There is a removable padded section in the form of a foam sleeve, or if you prefer the padding in place, it can be adjusted along the entire length of the sling. The SwiftAdjust assembly is smooth in operation and allows rapid lengthening or cinching of the sling without any trouble.
Lead Faucet Tactical
Dan Brokos and Lead Faucet Tactical offers possibly the most flexible sling on the list. The material used in their slings is manufactured by the folks at Armageddon Gear. It is a high strength, great support, but flexible enough that LFT advertises it can almost be rolled up into a can of Copenhagen.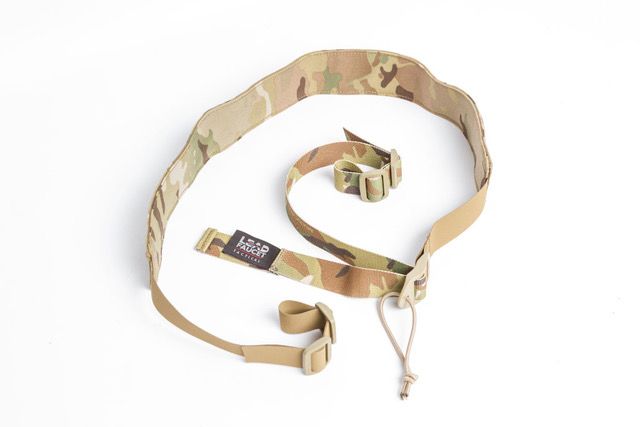 The LFT sling is a standard two-point configuration but offers a quick-adjust pull tab for transitioning from cinched to let out. Plastic buckles keep gear from getting banged up, while the pull tab itself is shock cord for easy manipulation. Due to the materials used in construction, the sling is virtually friction-free, important if it is going to be rubbing on your skin or gear for extended periods.
Best Rifle Sling For Your AR-15 – Conclusion
Many additional brands are offering a variety of great slings to the market. Do your research and figure out what you need out of your sling. Are you going to be carrying your gun for the better part of the day? Do you need something that won't snag on your kit? Do you just need something to keep the gun tight to you while bugging out of your house? Riding around in the back of a vehicle all day on patrol or rapid deploy, maybe you do need a single point option? Find the sling that will meet your needs, and for god's sake, please get some sort of sling retention strap for when you stow it.
About the Author
Todd is a gunsmith based out of Las Vegas, Nevada. After receiving his degree from Sonoran Desert Institute, Todd has spent his time building and maintaining a variety of machine guns and product testing for various companies. His main focus is expanding his knowledge on the AR-15 platform and helping bring better quality products to the market for end-users to enjoy. You can read a collection of his past articles here.
###
We are sorry that this post was not useful for you!
Let us improve this post!
Tell us how we can improve this post?