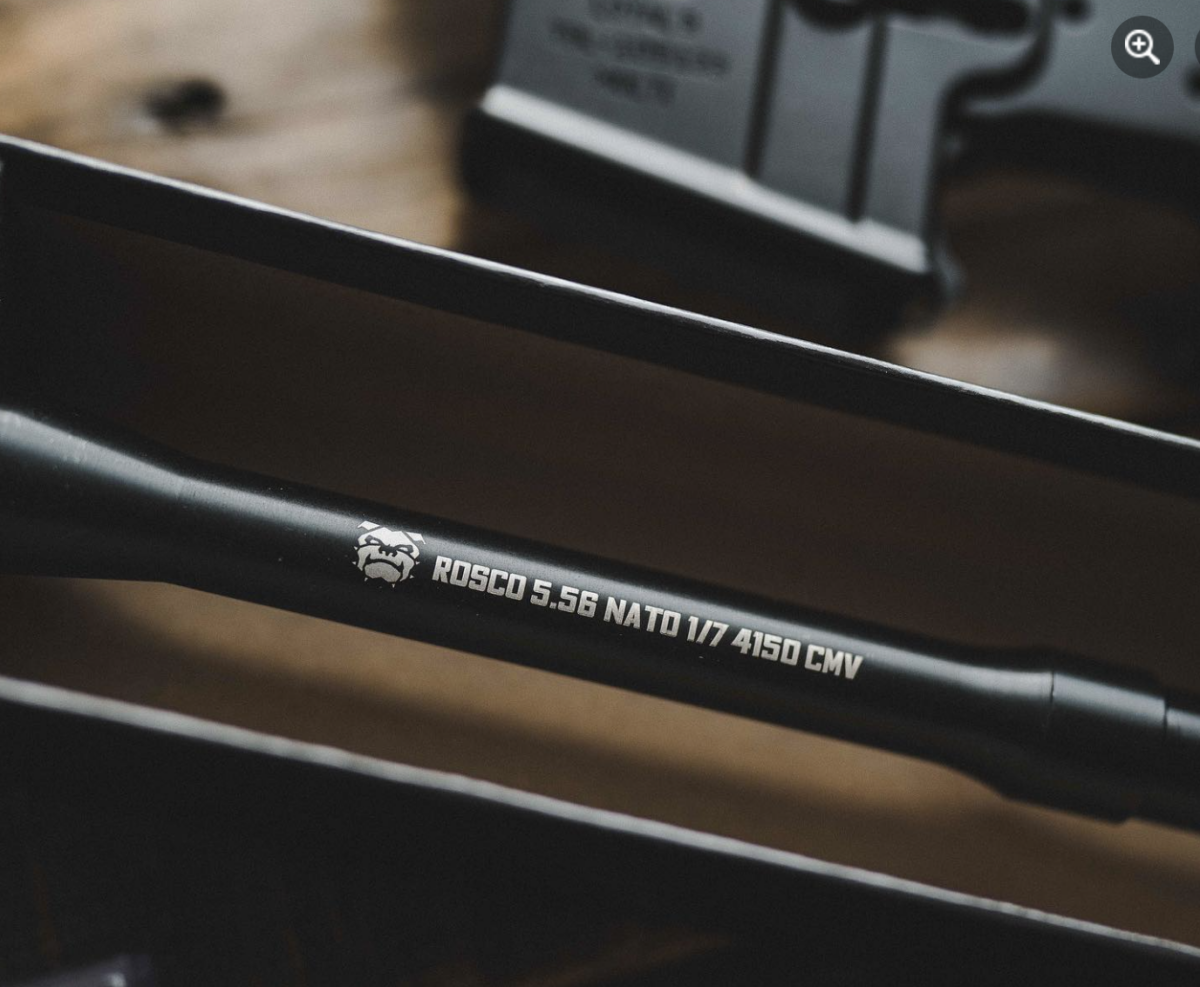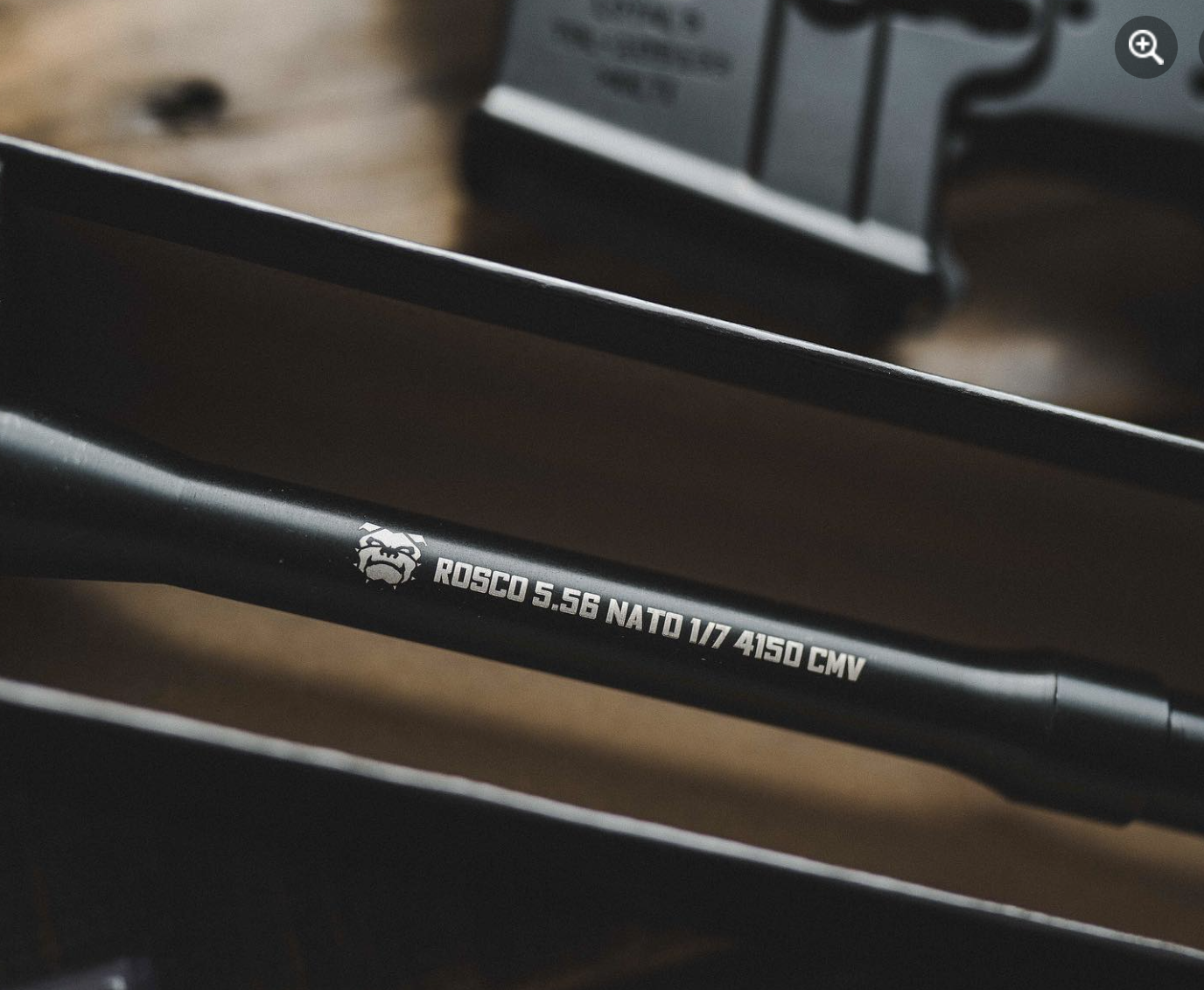 When researching respected, high-quality, yet affordable barrels for the AR platform, one name that pops up continuously is Rosco Manufacturing. Known for years as a dependable OEM manufacturer, the company also offers its Bloodline, Purebred, and very recently, it's new K9 line of barrels. To learn more about the company and the barrels it offers, we reached out to Rosco's Tiberious Giblin.
Q: Tiberious, can we start with a bit about the background of Rosco?
Tiberious Giblin, Rosco Manufacturing – The Rosco brand side of the company started about eight years ago, but we've been making barrels a lot longer than that. The company's previous name was ESS Solutions, and under that name, we made barrels for around fifteen years. We started out making barrels for other rifle companies within the industry. That is still our core business. If I had to guess, I'd say that 80 percent of our business is OEM, making barrels for other folks. The other 20 percent is producing barrels for the Rosco line.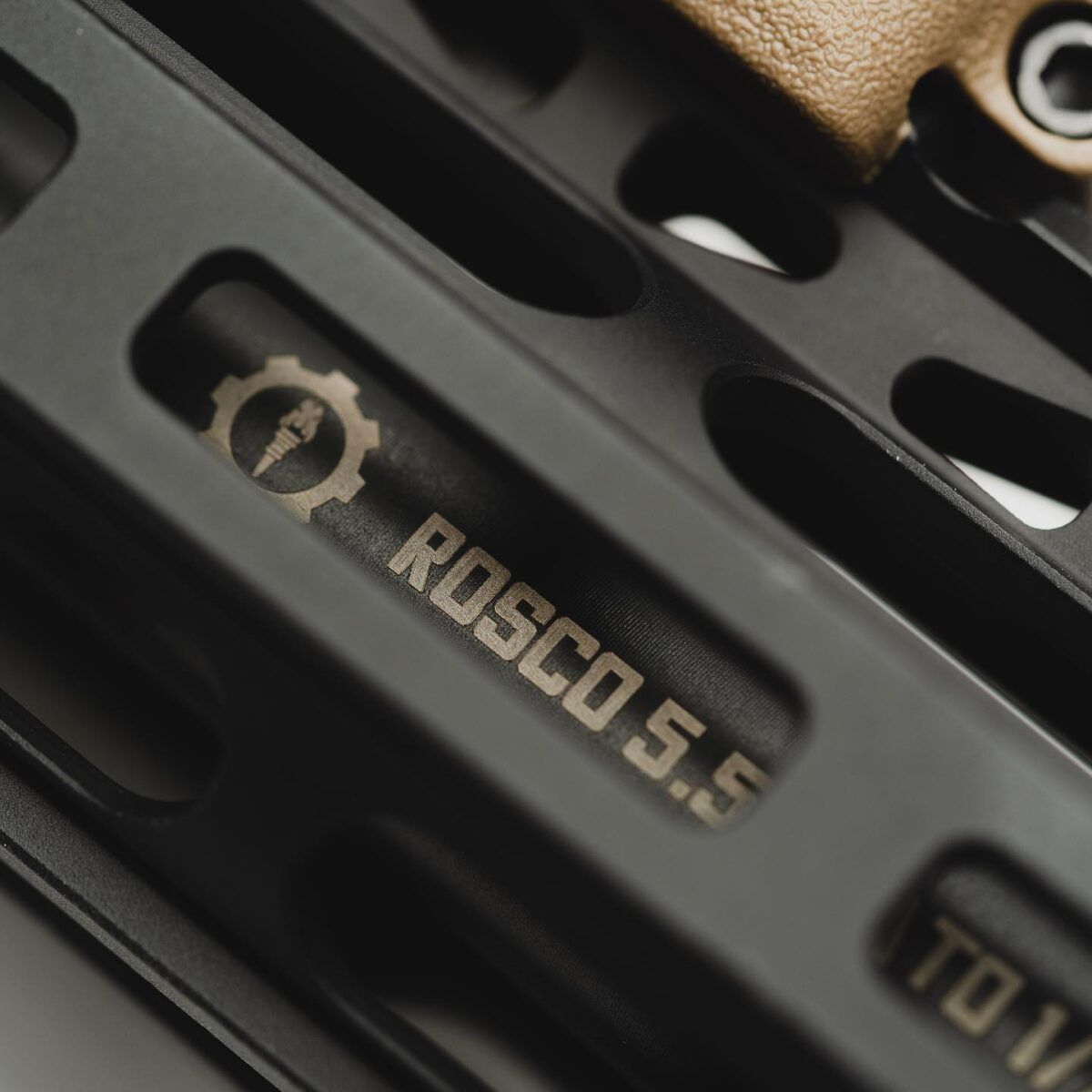 Q: Can you talk a bit about how your barrels are manufactured?
Tiberious Giblin, Rosco Manufacturing – Our goal is to make the highest quality, all US-made barrel, while still making them affordable. The hashtag we use on the internet is #AffordableAccuracy, while still being made in the United States. That's our goal and the motto that we try to achieve. We make our barrels from scratch.
We get in over 20-foot lengths of bar stock, and we cut the barrel blanks in-house. Once the barrel blanks are cut, we drill the hole, ream the barrel, etc. We do button rifling, and we could spend weeks on the internet reading about different types of rifling, but button rifling is a very affordable and consistent way of rifling a barrel, and that's why we do it.
Once the process of drilling and reaming is complete, the barrel moves to the other side of our shop, where we chamber the barrels and profile them into whatever particular profile it is being made into. The only thing we don't do in-house is the finishing, whether the barrel is getting a nitride finish or phosphate and chrome. That is something we partner with third-party sources on, but it is all done in the United States with U.S.-made products.
After that, we have a very, very strict quality control process. Our quality team inspects the barrels we make multiple times throughout the manufacturing process. As they are drilled, rifled, profiled, chambered, and when they come back from the third-party finishing, someone from our quality team inspects those barrels to make sure they are up to our standard.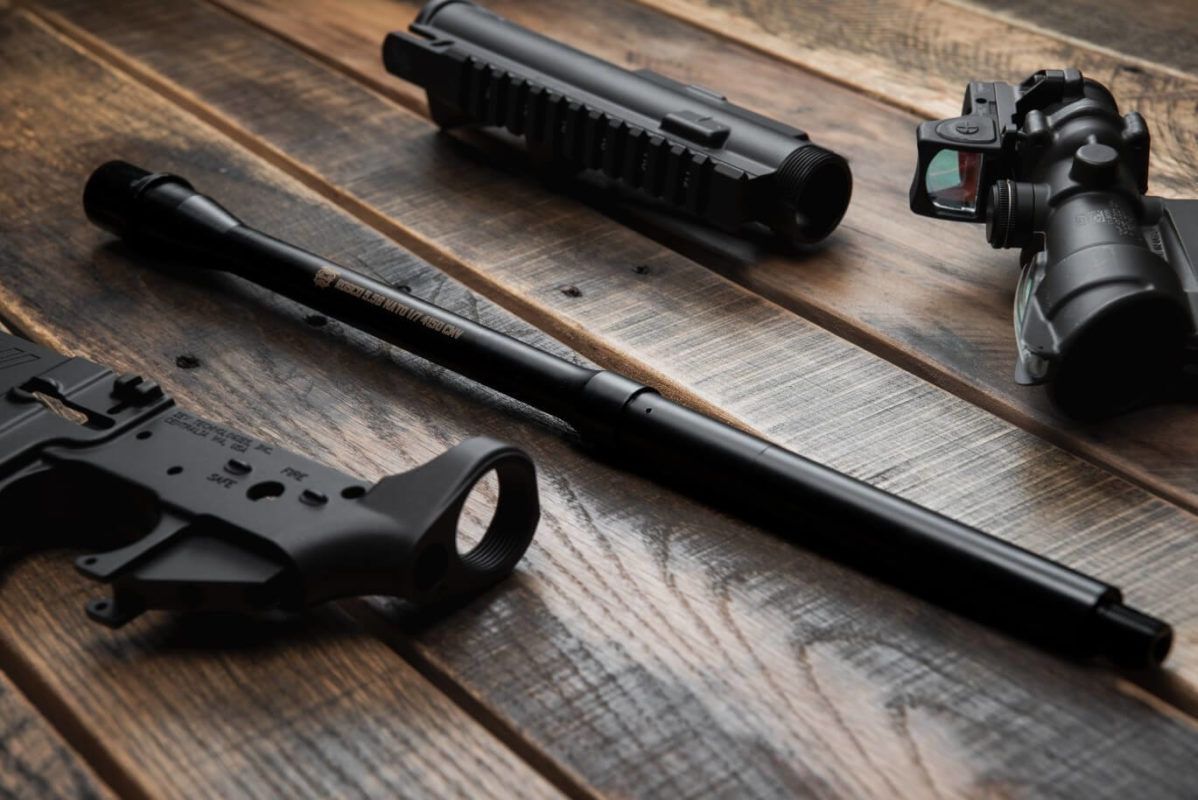 Rosco Manufacturing Bloodline 16″ 5.56 Government 1:7 Twist Black Nitride Midlength Barrel
Q: Do you make your own barrel extensions?
Tiberious Giblin, Rosco Manufacturing – We do make most of them in-house, like the 5.56/.223 barrel extensions. Some of the larger .30 caliber barrel extensions we do not. We do outsource those. Some of our OEM customers have custom barrel extensions made, and they send them to us as well, but a majority of the barrels we sell are 5.56/.223, and those extensions are made in-house. Then for our 9mm barrels, those don't have traditional extensions but rather, it is machined into the barrel.
Q: Can you talk about the differences in your different barrel lines?
Tiberious Giblin, Rosco Manufacturing – Absolutely, we have three different barrel lines now. We have the Bloodline, the Purebred, and our new one is the K9. The Bloodline is our workhorse, and it is a hard-use barrel made from 4150 chrome moly vanadium. It's built to have long longevity and long life. You can put tens of thousands of rounds through a Rosco Bloodline barrel before you start to see any impact shift. It's affordable and very, very durable. Most of them have a government profile, which is lightweight and durable, and features a durable nitride finish.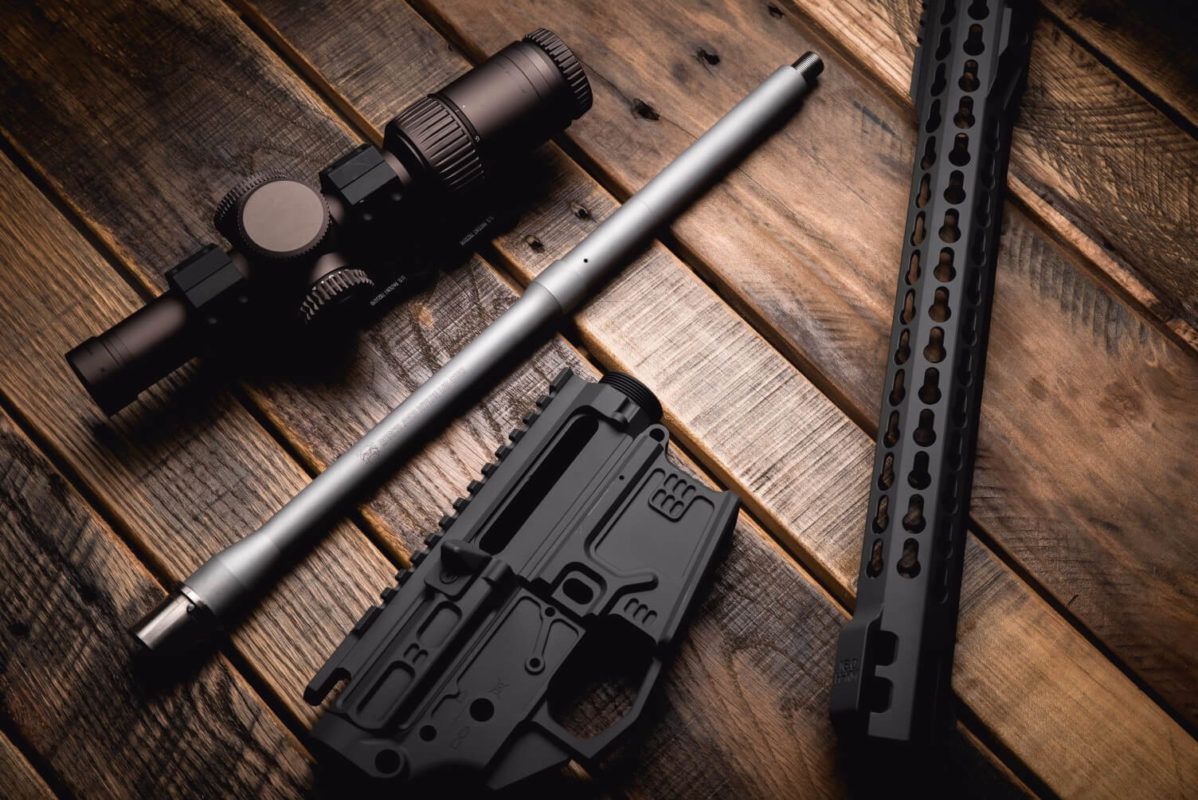 Rosco Manufacturing Purebred 13.7″ .223 Wylde Government 1:8 Twist Midlength Stainless Barre
Our Purebred is a more accurate, premium barrel, I would say. The barrels are made from 416 Stainless which has the potential to be a more accurate barrel. I say 'potential' because we, as shooters, still need to do our part. We need to have proper ammo to get that extra accuracy. Being that they are stainless, they do not get a nitride finish. Rather, they just get a bead blast finish on them. If your readers are trying to squeak out every little bit of accuracy that they can out of their builds, then I believe the Purebred is the way they should go.
Our third and newest line is called the K9 series, and in my opinion, it's the best of both worlds. You get the nitride finish of the Bloodline, but it's made from stainless steel, so if you need to squeak out a bit of extra accuracy, you can do so. Another thing I like is that the K9 has a different profile than anything we've done before. It has a continuous taper, so that it's a bit of a fatter, profile.
The thing I like about that is when the barrel heats up, you're less likely to have point of impact shifts, whereas a government profile, when it really heats up, you can have a slight point of impact shitft.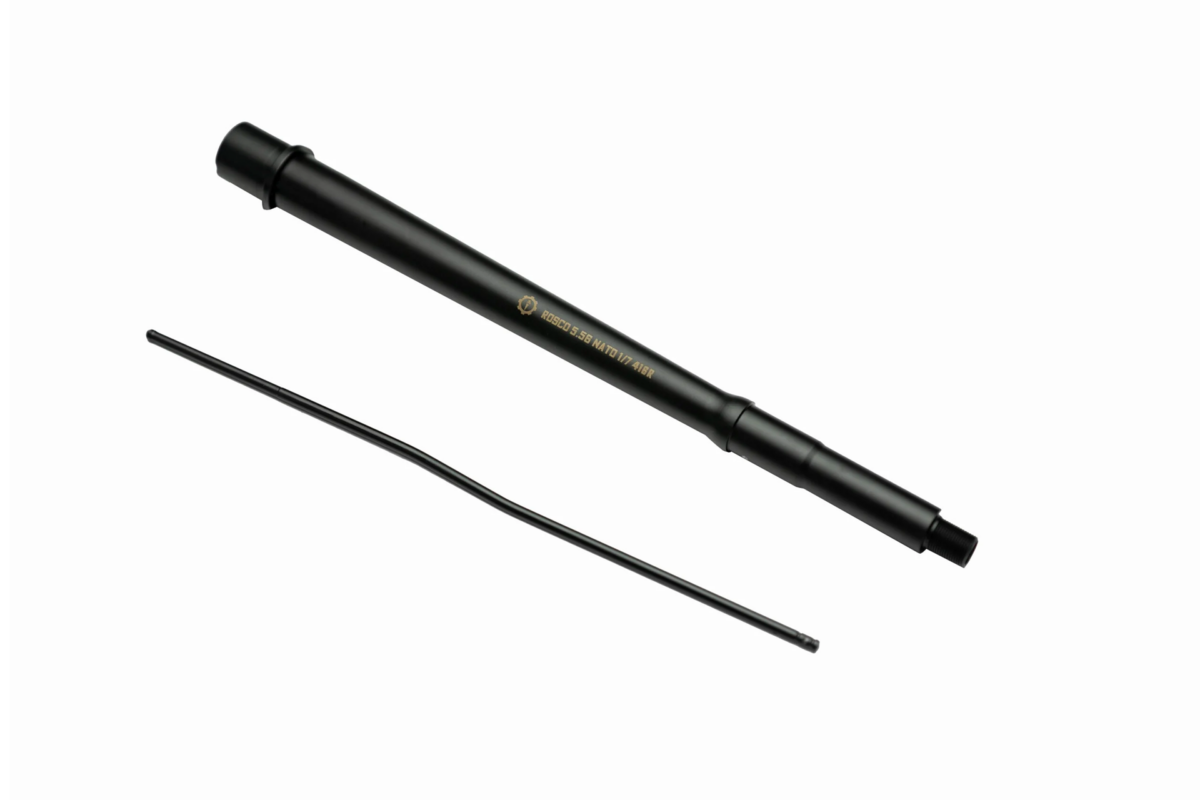 Rosco Manufacturing K9 12.5″ Sage Dynamics 5.56 Hybrid 1:7 Twist Black Nitride Patrol Barrel
Q: Can you talk about the gas system on the K9?
Tiberious Giblin, Rosco Manufacturing – The third unique feature of the 12.5″ K9 barrel is a custom-length gas tube. Most 12.5″ barrels on the market have a carbine-length gas tube. That's great in that it's reliable, but as a result, it's not the softest shooting barrel out there. Other companies have tried doing a 12.5″ barrel with a mid-length gas tube. This makes it softer shooting, but it's perhaps not the most reliable If you are running suppressed, it can be tough to get them running correctly. We went right in the middle between carbine and mid-length, and we think it gives you the best of both worlds where it's a very soft shooting 12.5″ barrel, while at the same time being very reliable.
All of our K9 barrels will come packaged with this custom-length gas tube. The gas block is a standard gas block, and any gas block will work. That said, we also sell what we call 'sauce packs' on our website, which might be our most popular item. Each sauce pack comes with a barrel, gas tube, gas block and a BGC – all of the critical components that comprise what is the heart of the rifle. These are components that dictate accuracy and reliability, and it is imperative that they work together.
When you buy these components from different companies, you run a greater risk of buying something that is out of spec, and you're potentially setting yourself up for failure on a new rifle build, and nobody wants that. Having a high-quality barrel you can trust ensures that the accuracy is there. Obviously, having a quality gas tube and gas block is a critical part of the build. Then having a bolt and BCG of the highest possible quality is critical. These parts are under tremendous pressure and are an area where a builder should absolutely not skimp on.
Our BCG, the carrier itself, is made from 8620, and the bolt is made from 9310. They are properly heat-treated, which is very important. They are magnetic particle inspected; high pressure tested so that they can withstand all of the pressures of modern ammunition.
Q: Can you talk a bit about how K9 and Sage Dynamics connection came about?
Tiberious Giblin, Rosco Manufacturing – We developed the 12.5″ K9 barrel with Aaron from Sage Dynamics. I was not with the company at the time, but the person who handled marketing before me, Gabe, reached out to him, said they wanted to do a custom line of barrels, and between Gabe and Aaron, they came up with the 12.5″ K9 Sage Dynamics barrel. They wanted that custom profile that I mentioned earlier. They wanted to optimize the gas length for that 11.5 to 12.5″ barrel. They wanted something stainless that you could get the accuracy out of, but they also wanted the durability of the black nitride. Aaron had a big say, gave us a lot of information, did a lot of testing, and came up with the name of the gas tube, which he called the 'Patrol' length.
Q: Are there other lengths of K9 in the works besides just the 12.5′?
Tiberious Giblin, Rosco Manufacturing – Besides the 12.5″ K9, we are also testing a 11.5″ K9. The testing on that is getting very close to completion. We should have those in a few months. After the 11.5″, we are doing a 13.9″, and that one is probably a couple of months away. We also plan to do a 16″, but we have not even started testing that one yet.
Q: How does doing OEM work put Rosco at an advantage over other barrel manufacturers?
Tiberious Giblin, Rosco Manufacturing – I think doing as much OEM work as we do benefits us in a few ways. One, it helps us streamline our process to get the most consistent, high-quality barrels as quickly and efficiently as possible. We also do learn a lot of don'ts as well. You can imagine working with some huge multimillion-dollar companies on new barrels, new barrel materials and profiles. As they test them, when we see something that doesn't work out, we can quickly learn that it is a direction we would not want to go towards. Long story short, I think that by partnering with so many partners and having so many minds come together for a common goal, it naturally leads to better products for our customers.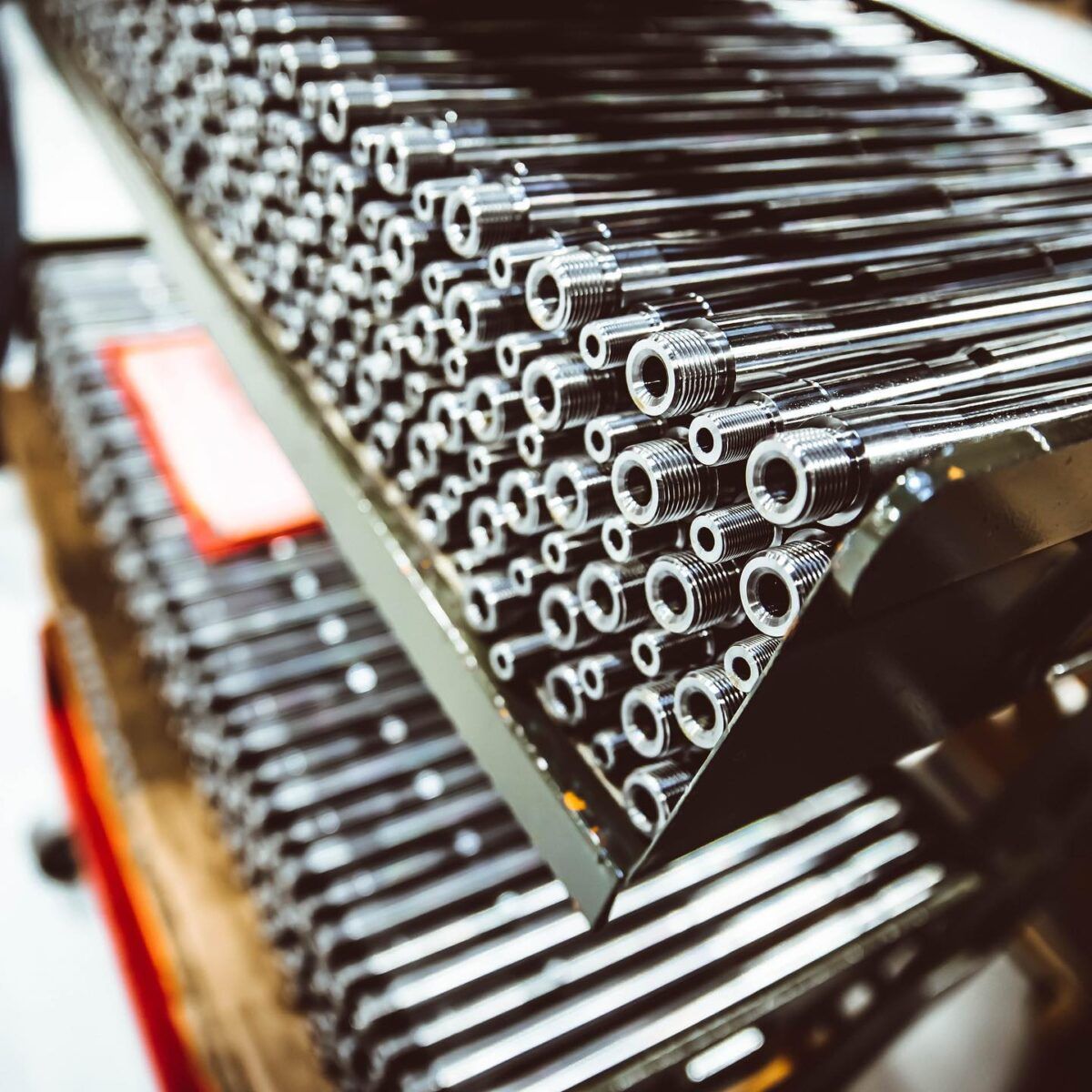 Q: You also offer complete uppers. Can you touch briefly on those?
Tiberious Giblin, Rosco Manufacturing – They are offered in a variety of different lengths, and we are currently working on a custom 'build your own' setup where people can choose the barrel, handguard, and muzzle device that they want. Right now, we, have 10.5, 12.5, and 16″ lengths available on the website.

We partner with American Defense Manufacturing or ADM. They made some of the highest quality uppers and handguards on the market. The lockup between the handguard and the upper is very, very solid. When you purchase a complete upper, you can be confident knowing it was assembled by some of the best gunsmiths here in Rhode Island.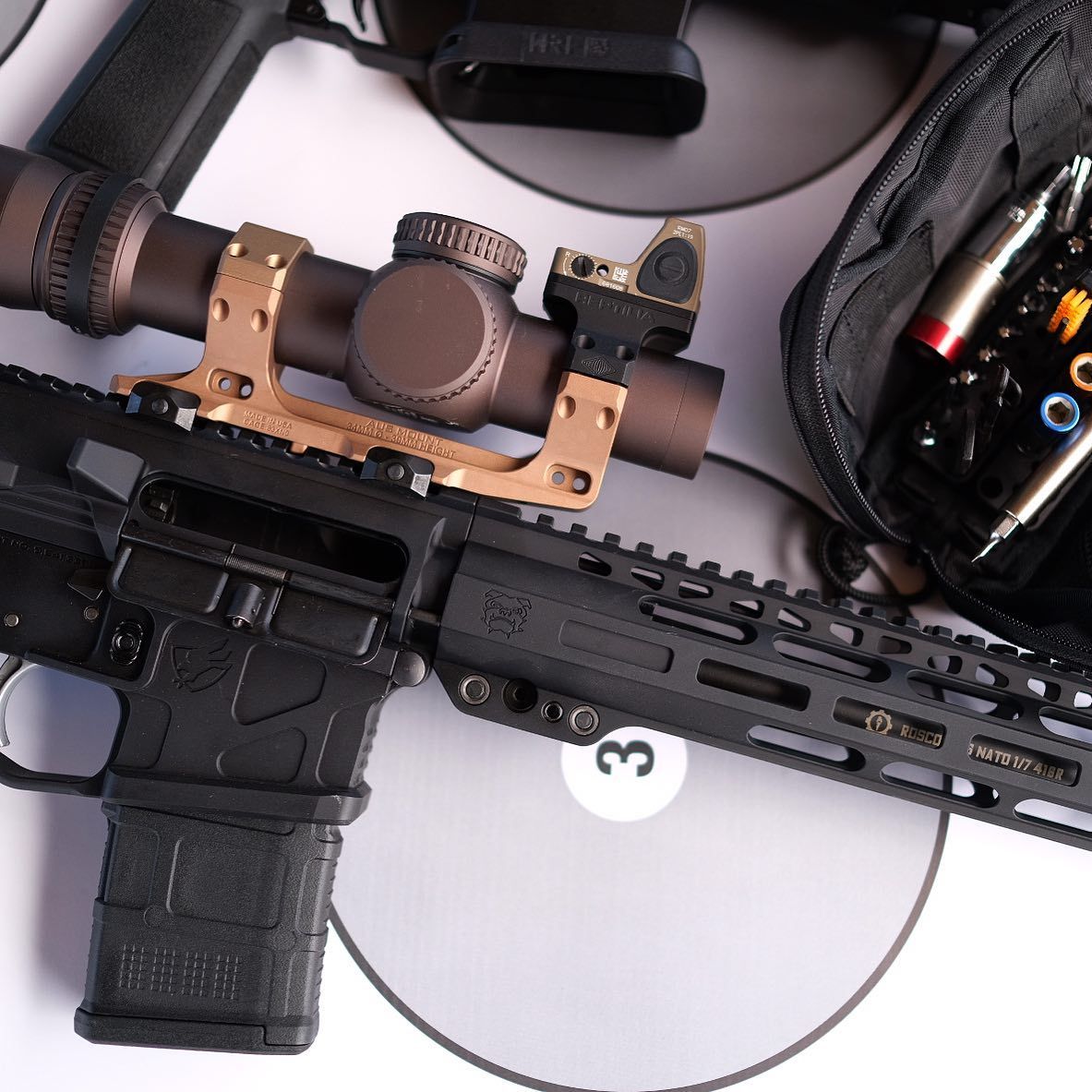 Q: Any other new products on the immediate horizon other than the new lengths of K9 barrels?
Tiberious Giblin, Rosco Manufacturing – We've started to test a new profile on our Purebred barrels, which again are our accuracy-focused, high-end barrels. We are beefing up that profile a bit. I call it a modified SPR profile. We're still months away from that. We are also starting to focus on other calibers as well. We are looking at 6mm ARC, .350 Legend, .308 AR-10 barrels. I don't have any release dates, but I can assure you we are working on them.
###
We are sorry that this post was not useful for you!
Let us improve this post!
Tell us how we can improve this post?