If you're torn on whether to use a magnifier + red dot versus an LPVO, your choice might have just become more difficult with the launch of the Vortex Micro6X.

Lots of new products are expected to be showcased at this year's SHOT Show. One of which is the new Vortex Micro6x. This new optic will be at home on carbines hosting red dots and holographic sights, and allows you to go from 1x immediately to 6x with a simple flip. MSRP is currently listed at $549.99.
Designed to be "easy on, easy off," the Vortex Micro6x built to fit seamlessly onto your rifle, the Micro6x Magnifier delivers an incredibly compact 6x optical system that takes your red dot farther. The magnifier is designed to be mounted on a carbine and paired behind a holographic or red dot sight (not just Vortex brand optics), and is an ideal way to bring your target in closer. Features on the Micro6x are essentially the same as Vortex's existing Micro3X, but is larger due to it now allowing the user 6x magnification. It is 4.3 inches long and weighs 10.3 ounces.
When you purchase the Micro6x, you can select between three mounting heights (absolute co-witness, lower 1/3 co-witness, and 1.93 inches with included risers). This is critical as the magnifier needs to be mounted at the same height as your existing holographic or red dot sight. The new Vortex Micro6x comes with a shim that will allow you to reach the 1.93 inch height should you desire, in a addition to the sim that allows absolute co-witness, lower 1/3 co-witness heights.
The Micro6x Magnifier does not come mounted to the flip mount. This allows the user to select their preferred mounting height.The Micro6x Magnifier can be mounted to flip to the right or the left based on shooter preference. To attach, open the Flip Mount and position the magnifier's base so it can flip to the right or left based on preference. Insert mounting screws through the selected riser plates and tighten using the included 3mm Hex Wrench.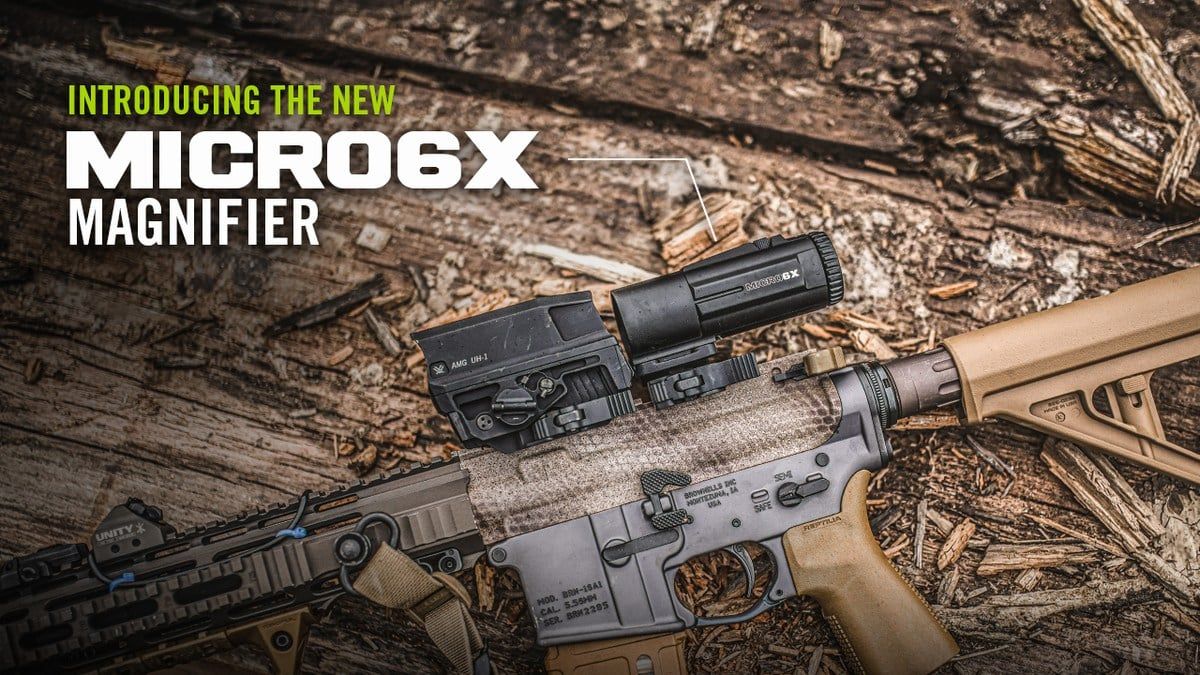 Vortex Micro6X features include:
Integrated quick-release allows for fast attach/detach while camlock engages/disengages magnifer with direct pressure.
Anti-reflective coatings on all airto-glass surfaces provide increased light transmission for greater clarity and low-light performance.
Constructed from a solid block of aircraft-grade aluminum for strength and rigidity.
Designed to withstand harsh weather conditions, and to withstand the highest levels of recoil and impact.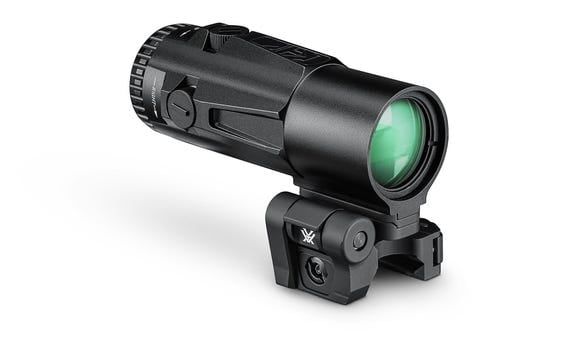 Micro6X Highlights
• Magnification – 6x
• Length – 4.3 inches
• Weight – 10.9 oz
• Eye Relief – 2.5 inches
• Lens Diameter – 28 mm
• Linear Field of View – 19 feet at 100 yards
• Angular Field of View – 3.7 degrees
• Turrets – Recessed, Capped and Snag-Free design
Further Thoughts on Magnifiers
Nick Young from Velox Training Group gives a great overview of how to best set up a magnifier behind your red dot, and what to expect from such a configuration. There's a lot to consider before simply slapping an magnifier behind your existing red dot, including the mount you select for your magnifier, eye relief considerations you may not have thought of, adjusting your magnifier's diopter, and more.
Vortex on Using a 6X Magnifier vs. a 1-6 LPVO
We are sorry that this post was not useful for you!
Let us improve this post!
Tell us how we can improve this post?