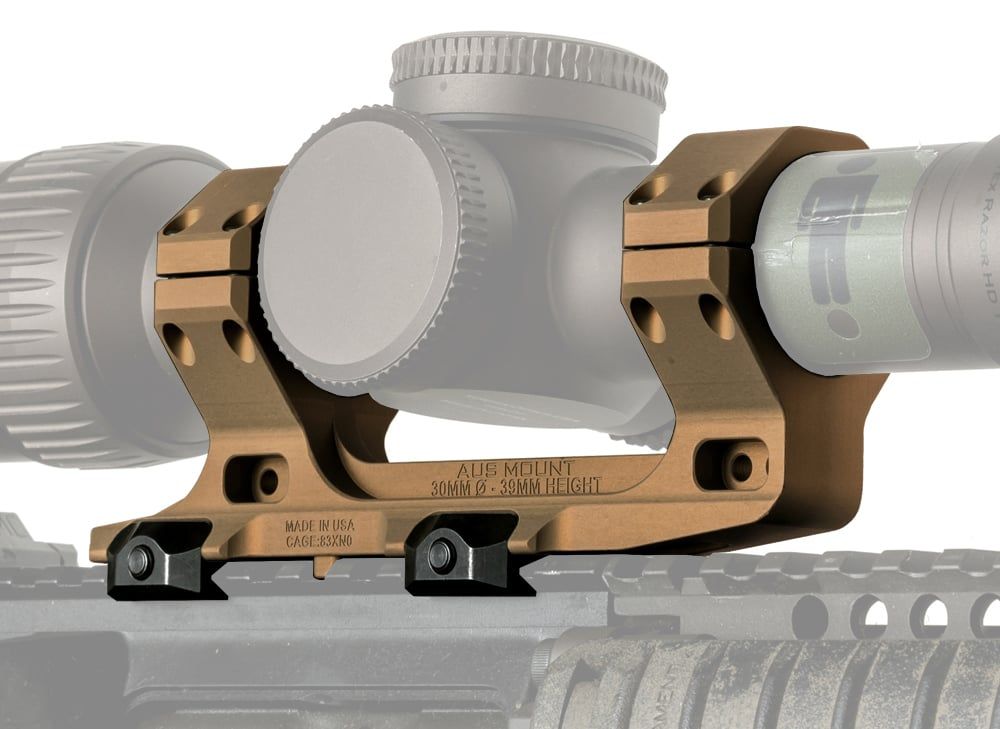 In our last conversation with Nick Booras at Reptilia, we got a sneak peek at the Reptilia AUS mount for 30mm optics. Developed by the request of an end user group, the AUS Mount is the culmination of a 2 year development program. Now that the optic is officially announced on their website, we decided to reach out to Nick and learn a bit more about the optic features and why it was created.
Q: Nick, thanks for taking the time to join us. How long ago did you start planning to do the Reptilia AUS mount?
Nick Booras, Reptilia – This was a little over two years ago. We had a customer who is essentially going through a new rifle program. They are replacing their existing assault rifles with a new system that includes the rifle, the scope, the suppressor, laser. It's an entire refresh. As a part of that, one of the components they needed was a mount for their optic. This customer was already heavily invested into our Reptilia ROF system, which is the RMR top mount for Geissele rings. When they approached us, they had a wish list of things that they wanted.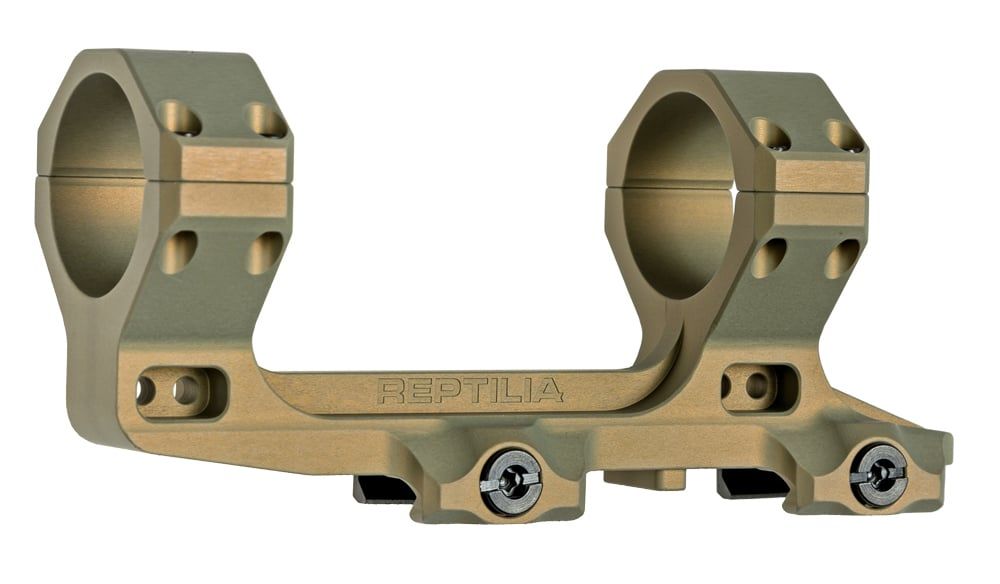 Q: Can you share what those wishes were for their mount and why existing solutions wouldn't meet their needs?
Nick Booras, Reptilia – They wanted something that was backward compatible with the Reptilia ROFs that they had already purchased. They want it to be slimmer than the Geissele and the Badger Ordnance offerings, meaning no big bolts on the side. They wanted a provision to mount either backup iron sights or an offset red dot, just to meet their government's requirements for small arms. They have a requirement to say every small arm in their inventory necessitates a non-battery-powered sighting system. So, there wasn't anything on the market that could meet all of those specific needs. Badger, Geissele, Knight's…they didn't have anything that could meet those precise requirements, so we reluctantly said, "yeah, we can make you one." (laughs) What we ended up with is the Reptilia AUS mount.
As far as the design process and timing of this product, it was something that we tried to make as slim and svelte as possible. During our development, COVID kind of interrupted some of their funding, and they ended up needing to invest in PPE, which pushed back the timeline, and it didn't go as fast as we had initially planned. We're now back on track, and the Reptilia AUS mount is currently being tested throughout Europe and in a few other different artic places at the moment.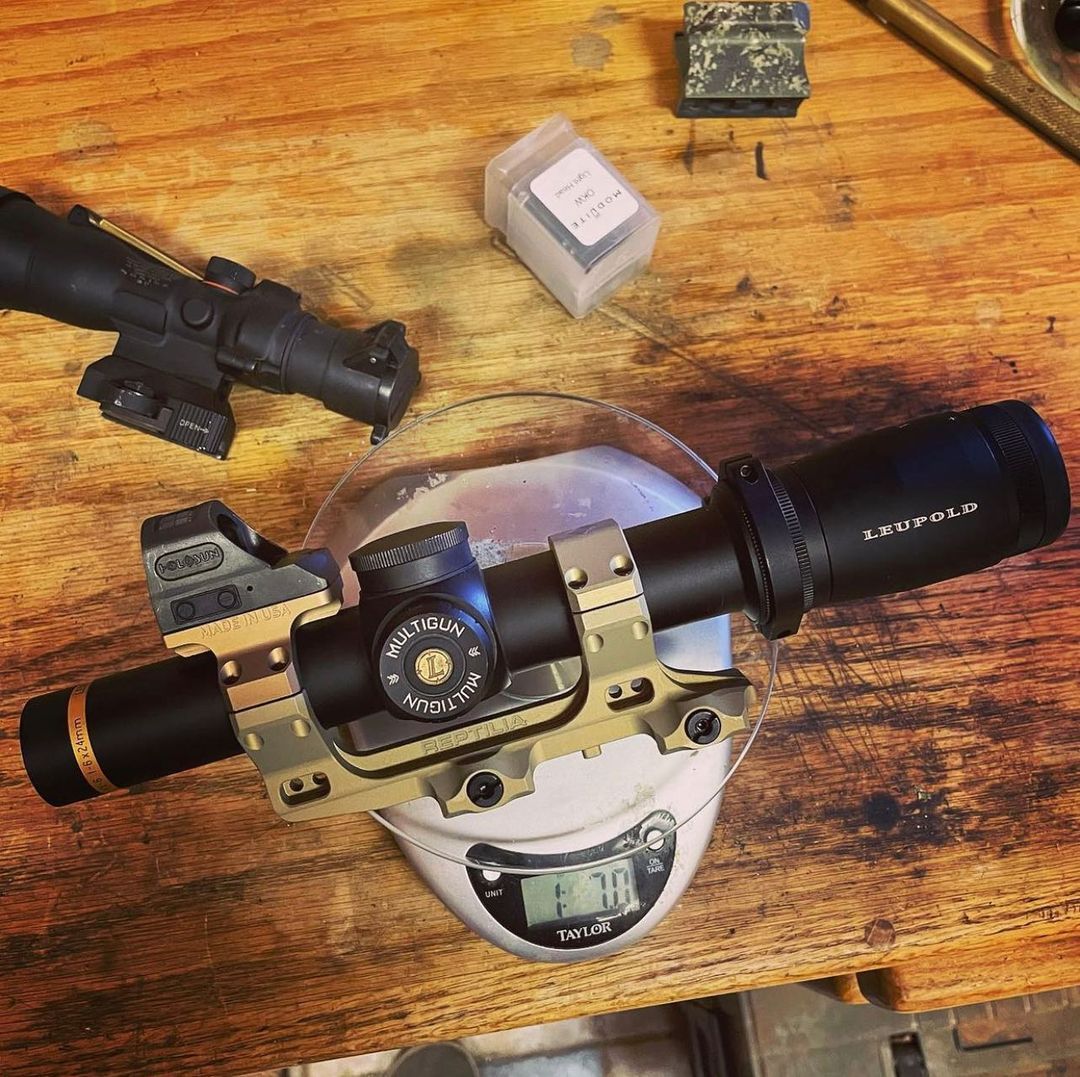 I can also mention that another one of the driving factors behind the AUS, is that there is a new, very compact prototype optic out there that necessitates a custom scope mount. The downselect has not been done yet, so we are not sure who is going to win for the rifle or the optic yet, but in theory, if that new, small sub-compact optic wins, the Reptilia AUS mount is ideal for it.
We will probably end up with two different variations of our 34mm Reptilia AUS mount…one that is very short and compact that is still probably a year or two from being released, and then we'll have a standard one for something like the Vortex Gen III 1-10x. It will all make a lot more sense when that prototype either leaks or hits the market. Until then, I understand that it's a little bit of a head scratcher.
We also have the 30mm tube offering because one of the optics in trial is a Nightforce NX8. The customer in question also currently uses the Vortex Gen II 1-6, which is 30mm, but there was not anything on the market that ticked all of their boxes in the way they needed it to. The Badger offered the offsets, but it had big bolts. The Geiselle had compatibility with our ROF, but it didn't have offset provisions. It was one of those things that we decided we could help them with, and melt everything they needed into one unibody scope mount and give this one customer their perfect dream solution.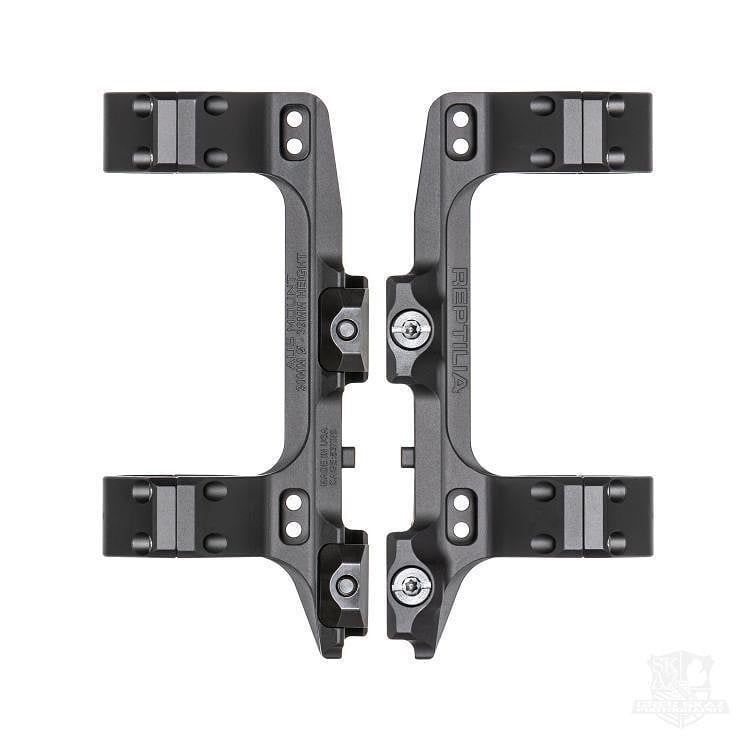 Q: Can you talk about the Reptilia AUS mount's construction and anything else you'd like readers to know?
Nick Booras, Reptilia – The material is standard 7075 aluminum. It's all Type 3 Mil-Spec hard anodized. We're offering it in black and flat dark earth to dealers and distributors. We have an exclusive clear anodized version that we're offering through Q. The clear matches up with the Honey Badger and the Fix quite nicely.
We will be offering it in both 30mm and 34mm in both 1.54 and 1.93 heights. The offsets are kind of up in the air right now. Again, this is being driven by a foreign military requirement, so we wait for those guys to choose their primary optic and whatever mini red dot they want. It will probably be one of the standards like an RMR, DeltaPoint Pro, or perhaps an ACRO. We will end up making the offset arms depending on what and when they choose the mini red dots.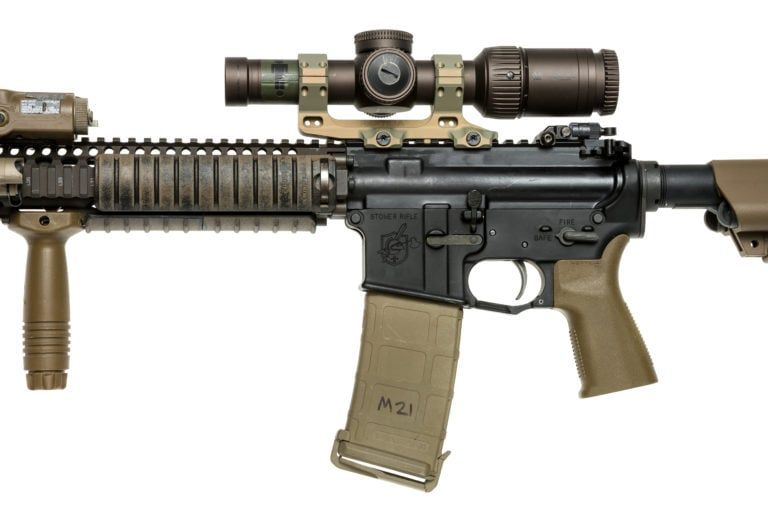 Q: I noticed on your website a hint that there might be new ROF-related items coming soon. Can you talk about that, as well as any details you can provide on the offset arms?
Nick Booras, Reptilia – We are expanding that line. We've had some military and law enforcement interest in the ACRO, as well as some of the Holosun products. So we will probably expand to support those, and we'll also maintain backward compatibility, so it will work on a Geiselle Super Precision Mount or our AUS mount. In addition, it's a little bit customer-dependent on the arms that we are going to use. I am not sure what they are going to pick for their red dot. The obvious ones are the Trijicon RMR, probably the ACRO, maybe the DeltaPoint Pro. Holosun is also extremely friendly and is growing in popularity based on price and improved quality over the years. I think there will be a suite of different arms for 45-degree offsets in the very near future.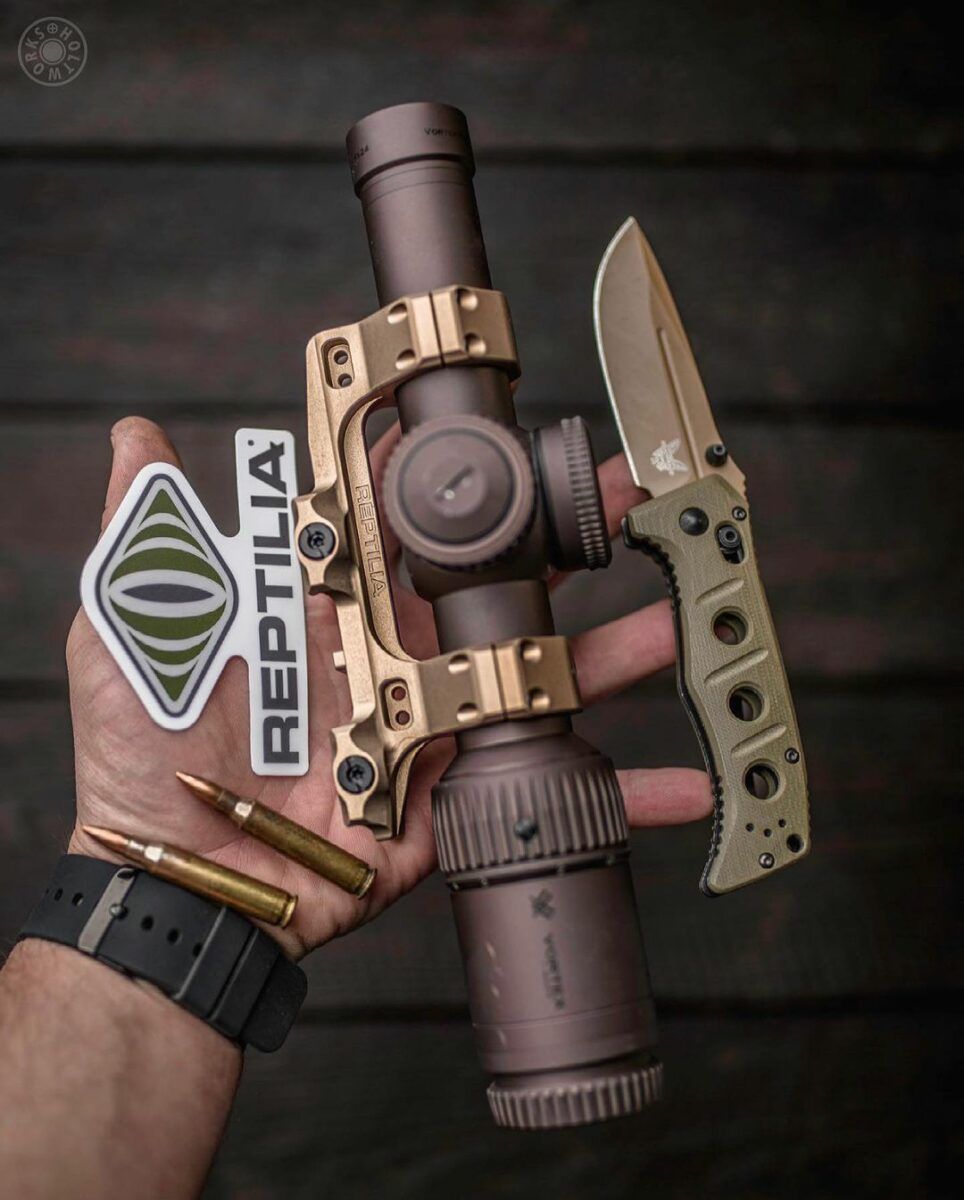 Q: Can you talk briefly about the single recoil lug on the Reptilia AUS mount?
Nick Booras, Reptilia – We initially had two recoil lugs, but in our conversation with the end-user and the engineers at Q, we concluded that one is better, specifically due to tolerance stacking. You're not going to actually have perfect engagement on both lugs, so you don't need it, and you don't want it. If you look at a lot of the scope mounts that are out there right now, the single recoil lug is actually preferred by the guys that understand engineering and tolerance stacking.
Q: Anything else you'd like to add?
Nick Booras, Reptilia – We had a fair number of Reptilia AUS mounts allocated for commercial sales at launch, but the customer for who we made these essentially doubled their order and wiped out about 80 percent of what we had allocated for the commercial market. We know the demand for the mount is quite high, and we're moving as quickly as we can without sacrificing quality to manufacture more of these and still make them affordable.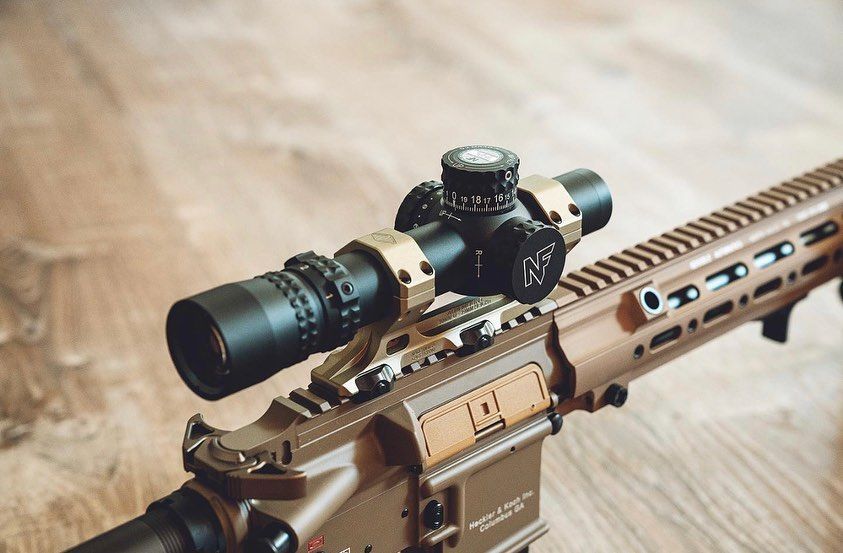 One of the things I always tell our dealers and distributors is we try to make the price point reasonable and that they can actually make margin on this, despite the fact that we really don't want to be making mounts. The Reptilia AUS mount is something that we did for our friends, we may continue to do so, but again, it's not something that we actively tried to get into. It was a "yep, you need a thing that does not exist? We'll go ahead and make it for you."
###
We are sorry that this post was not useful for you!
Let us improve this post!
Tell us how we can improve this post?